More Details
JEWELL WASHINGTON
CASHMERE KNIT BEANIE & MITTENS
For all knitters, from beginner to advanced, it's time to embrace slow living through our craft as we create a cozy beanie and mitt set with luxurious custom eco-friendly yarn. In this workshop, Jewell Washington, the entrepreneurial designer of Northknits, walks us through a set of weekend projects as she shares her tips for joyful knitting. 
With three balls of our Lusso cashmere blend yarn, bamboo circular needles, locking stitch markers, tape measure, and tapestry needle, each kit contains everything needed to knit a matching beanie and mitt set in the color of your choice. 
MINDFUL KNITTING
Have no fear if you're a beginner, Jewell explains each technique in a clear and approachable way so you can master the basics. Intermediate and experienced knitters will appreciate the clean and clever construction of the patterns that make them quick and customizable—our mittens will especially offer an opportunity to stretch your creative talents. For all skill levels, Jewell reminds us to focus on the joys of mindful knitting. "Each time that I pick up my yarn and needles and hooks, I feel like I understand the meaning of what it means to live happily and simply," she shares.
The thoughtful construction of the beanie utilizes the magic loop method as we knit a hat from the bottom up with classic stockinette stitch to highlight the texture of the yarn. The double  brim is created using a simple technique, knitting live stitches together with the cast-on edge. This makes a tidy and sturdy base while eliminating the need for hand-sewn finishing. Fingerless mitts complete your set and are also knit using magic loop in-the-round. As Jewell explains each step, she also shares an option for creating a full mitten so we can decide our favorite style. Both projects knit up quickly and make perfect last-minute gifts to give use or as our own go-to comfy matching set.
LUXURY MEETS ECO-FRIENDLY IN OUR CUSTOM CASHMERE BLEND YARN
We're launching a new yarn collection with this workshop and Lusso, our custom cashmere blend sustainable yarn, is available in four rich colors. This eco-friendly yarn features recycled cashmere and merino wool and is brought to you through a partnership with a family-run Italian mill.This DK weight yarn is made from recycled cashmere yarn and merino wool fibers, giving existing luxury (but no longer needed) yarns a second life.  
Located in the picturesque and historic town of Montemurlo, Italy, Massimo and Carlo Signori have been managing their family mill through several generations of growth. Founded in 1978, their environmentally friendly ethos is evident throughout their custom yarn collections, including Lusso. The story of Lusso is fascinating and inspiring; after collecting salvaged high-end sweaters from around the world, fibers are carefully sorted and organized by color to be brought down to a fiber pulp, blended with man-made polyamide for strength and tension, and respun into their original form again. The result is a cozy, sustainable yarn that's ideal for close contact making it our choice for warm beanies and mittens.
SUSTAINABLE YARN
With this kit, we aren't just embracing slow living through joyful knitting, but also through slow and sustainable fashion. As makers, we need to consider the materials we reach for when starting a project. If possible, can we utilize or reuse something that's already in this world? According to the Princeton Student Climate Initiative, "The fashion industry consumes one tenth of all of the water used industrially to run factories and clean products," and "more annual carbon emissions than all international flights and maritime shipping combined."
All this, while discarded garments are piling up in landfills during an era of fast fashion. Even luxury garments, including cashmere, are being tossed aside. The use of recycled fibers in our Lusso yarn not only makes use of existing materials but reduces water and energy consumption along the way. Happy knitting, happy planet.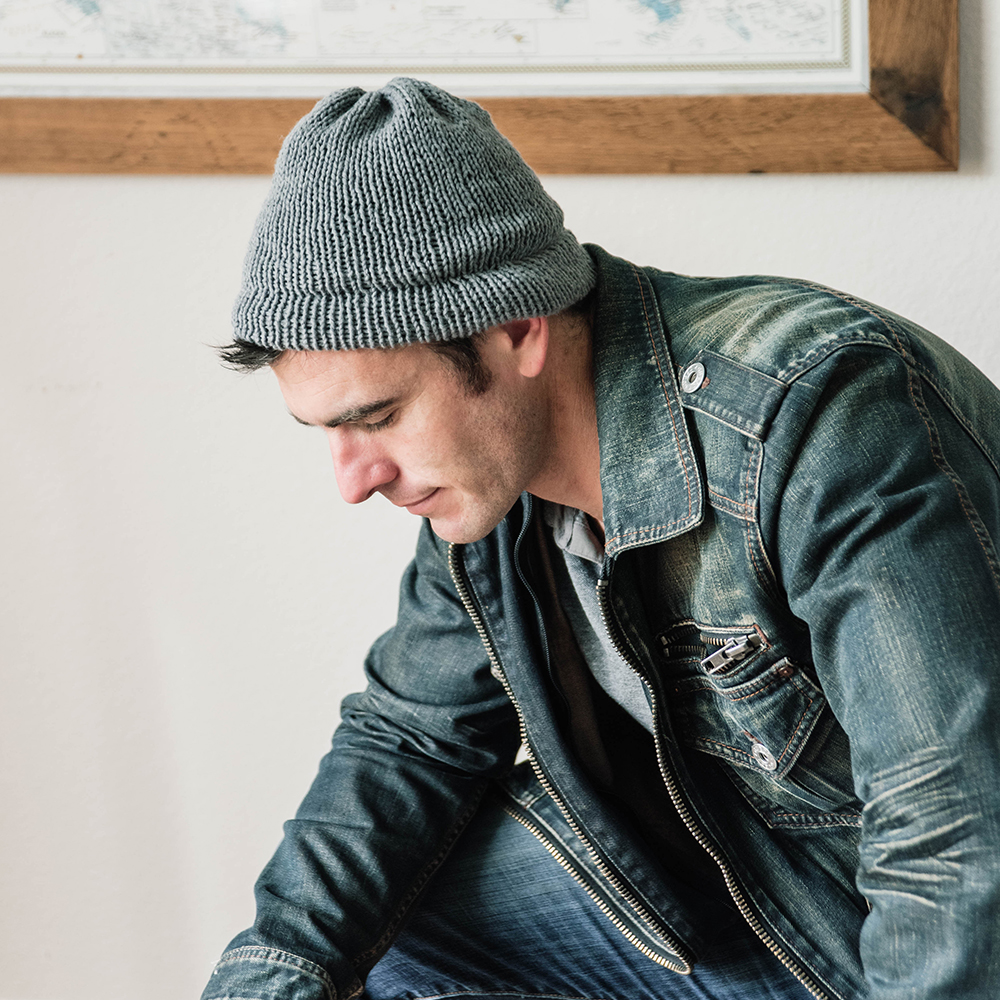 More About Our Artist: Jewell Washington, Designer of Northknits
Jewell Washington is the Chicago-based maker and entrepreneurial designer of Northknits. She learned to knit in college and launched Northknits in 2014. Jewell pursues simple living through her passion for DIY, pattern design, stacking her yarn shelf, and providing business and entrepreneurial advice to fellow crafters. As the founder of Our Maker Life, a global maker movement, she has connected more than 120,000 fellow fiber creatives in the knit, crochet, and yarn industry via maker meetups, published books, and social media. She enjoys traveling and sweet cuddles with her kitten Dewey. 
"To me, knitting and crochet feels like a cool journey, it feels like peace, it feels like joy, it feels like ambition, it feels like adventure. it feels like DIY, and to me, that feels like magic. I have had the pleasure of being able to pursue passion through my designs and pattern kits, and to connect with others who find this craft equally as passionate, and it really sparks my joy. Each time that I pick up my yarn and needles and hooks, I feel like I understand the meaning of what it means to live happily and simply.  Knitting is a fiber craft that can truly calm the mind and ease the heart, it's a place where you can commit and discover your creativity in the coziest way. It's why I wake and smile in the morning and it's why I work really hard to be successful and accomplished in my business centered on this fiber art. Decades from now, I know that I'll look back on things I've knit and patterns I designed and memories that I can cherish and  feel like 'wow, I did that, I shared that—what a wonderful feeling.'"
We're so excited to have you join us, Jewell.
Jewell Washington's
Podcast Interview
We look forward to sharing this fulfilling and joyful experience with you and cannot wait to see how your knit beanie and mitts  turn out. Be sure to share your creative journey and finished creation with us by tagging @thecraftersbox and @northknits in your social posts, and use #thecraftersbox so our community can also see your workshop come to life! Happy making.