The Crafter's Box was built for those who love to make.
Our mission is to deliver a joyful crafting experience by providing all the tools, materials, and expert instruction you need to create artisan-level projects that inspire and fulfill your creative spirit. The Crafter's Box connects makers at every level, building a community around the comfort of creating. We source the best artist instructors, high-quality tools, and materials so that you can count on the products you receive from us to build something beautiful.
With diversity and inclusivity in mind, we collaborate with professional artists of all backgrounds, sharing the techniques and skills they specialize in. Through our artist collaborations, we support their business, mission, and vision, giving them a platform and audience so they can reach more people and share their passion. We continue to support artists and makers through our curated marketplace, providing additional workshops, bundles, raw materials, and tools for continued making.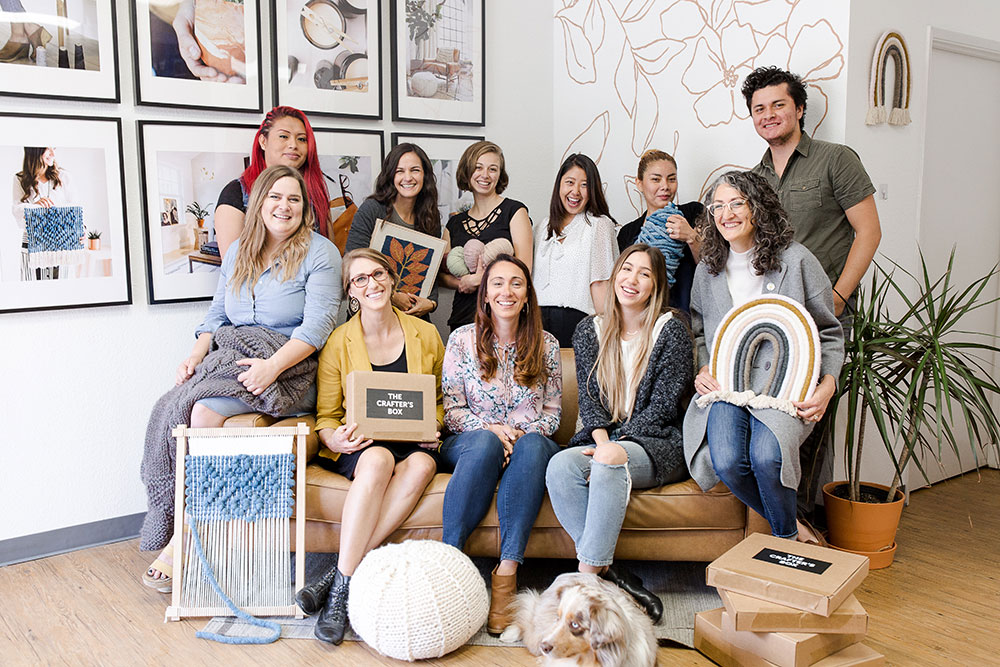 Meet Our Founder & Our Team
Morgan Spenla founded The Crafter's Box in 2016 after realizing how difficult it was to pursue her creative passions and learn new crafts, especially those that utilized beautiful, artisan-made materials.
"I decided to change the antiquated way we learn how to craft, make, and build with our hands. We partner with some of the most talented artists in the world to bring back the adventure and joy of block printing, natural dyeing, weaving, jewelry making, woodworking, and so many others," Morgan shares.
What started as a monthly subscription box has evolved into additional premium workshops and a marketplace full of craft kits and materials.
Our team focuses on growing The Crafter's Box through artist collaborations and sourcing the highest quality materials. As Morgan says, "A wall weaving crafted with your own hands is already special, but it tells a new story when you know the wool that it was made of is milled from a family farm where the sheep are tended to onsite. We try to build stories into all of our projects and we work hard to support makers of all kinds."
Community
Community is central to our human experience. We believe in connecting makers to each other and to our artist partners. We are a safe space to share projects, frustrations, and successes in the crafting journey. Whether you prefer to craft alone or gather together, we share opportunities to make the most of all experiences.
Quality & Curation
Our makers trust us to curate and provide premium tools & materials to complete all types of projects. We are thoughtful in our product and artist choices, giving you just what you need without cluttering your crafting space. We make an effort to source project assets from small businesses with sustainability in mind.
Mental Harmony Through Making
The process of making creates deep connections, helps us practice skills in problem-solving, and find joy by taking time to slow down for meaningful and fulfilling activities. Through our products and services, we hope to inspire mental harmony and balance, allowing you to experience joy through the journey of making.