More Details
CRAFTER KIDS
ICE DYEING
Watch raw yarn skeins transform into beautifully dyed yarn in this Ice Dyeing Workshop. Liz will walk through each step and offer tips for pairing and blending different colors. With three vibrant dyes (golden yellow, teal, and petal pink), ice cubes, and a little bit of creativity, you will create your own colorful yarn skeins that are perfect for making pom poms, tassels, and garland.
The sun ultimately decides how your yarn looks! One of the fun parts of this craft is letting go of control and allowing heat to determine where your colors end up. Because of this, a completely unique skein of yarn is created with each dye batch.

The yarn in your kit is called 'fingering weight'. This yarn thickness is not only great for pom poms and tassels, but for knitting socks and lace shawls. 

Ice dyeing is considered 'cool dyeing'. Most fiber dyeing involves heating water along with dye-stuffs like plants, minerals, or even bugs to transfer color. Bug soup, anyone?

The word pom pom originates from the French "Pom-pon". Pom poms and tassels atop hats have both been used across Europe to indicate status. And of course, pom poms are loved for their representation of celebration and excitement—just think of cheerleaders!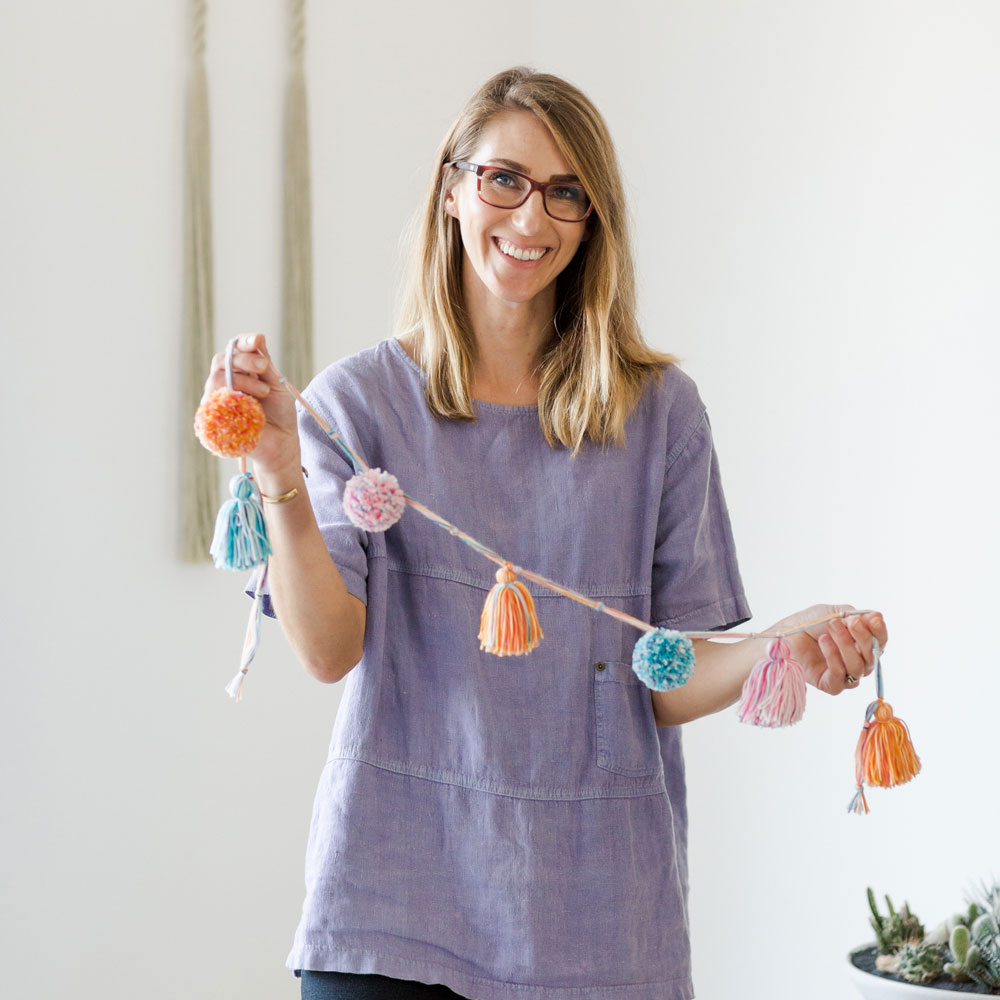 About the Artist: Liz Wagner
Liz Wagner finds joy in guiding crafters of all ages through the creative process. As a mother of five and kindergarten educator, she delights in the innate and uninhibited creative spirit that young makers bring to the workshop table. 
"One of the first crafts I remember making when I was a kid were yarn dolls. These adorable dolls are just a slight variation on a yarn tassel. It would have been even more rewarding if I had dyed the yarn myself! Even a simple project such as this can be a wonderful entry into the world of yarn craft."
Liz lives in sunny San Diego with her family of 7. She is crazy about her four chickens, gardening, and making something from nothing.
We can't wait to see how your Ice Dyeing project turns out. Share your creative journey and finished creation with us by tagging @thecraftersbox in your social posts. Don't forget to use #crafterkids so our community can also see your workshop come to life. Happy making!