More Details
LAUREN MCELROY
DROP SPINDLE
If you've ever been curious about how to spin your own yarn for all of your favorite fiber arts, this workshop is what you've been waiting for. We are learning how to spin custom yarn from fiber on a drop spindle with incredible fiber artist and pattern designer Lauren McElroy. In her own practice, Lauren sources and curates her yarn from fleece to wearable art. In this workshop, Lauren teaches us how to start with top wool and spin it into a beautiful skein of hand-spun yarn.
This workshop comes with everything you need; including two wooden drop spindles, combed top wool, cotton leader yarn, spools and wooden dowels. We've also lined up the perfect set of add-ons to really take your spinning skills to the next level — like a blending board and niddy noddy (don't worry, Lauren covers all of these in her digital tutorial).
We begin by learning the fundamentals of drop spinning: how to split wool in preparation for spinning, how to draft and park to spin singles, and how to ply and finish the yarn. Combed top wool is the perfect fiber for beginners to learn how to spin on a drop spindle. It's incredibly accessible and all of the fine fibers are aligned making it much easier to work with and more predictable. By the end, you'll have a completely custom skein of yarn with the satisfaction of turning raw fiber into a workable thread.
What exactly is drop spinning? A spindle is a simple tool consisting of a shaft, a weight (called a whorl) and a hook that is usually made from wood. It is used for twisting and compressing fibers into yarn such as wool, flax, hemp, and cotton. The natural fibers are very short and pre-spun are commonly referred to as a staple. There are three steps to spinning yarn: drafting, twisting, and winding. The process of drawing out the short fibers and twisting them together, or spinning, produces strong yarn as the individual fibers create friction and wind together in a helix. The harder you pull lengthwise, the harder the staples will press against each other transversely.
Once you get the feel for it, spinning becomes like a second nature. The meditative and rhythmic process is a wonderful stress reliever. Another benefit of using a drop spindle is not only the ease of use, but they are also incredibly simple to store and transport. In fact, most spinners would multitask spinning with other household chores or socializing in the early days. Our own creative team members have been known to spin on an airplane while traveling! The possibilities are endless when you start experimenting with dyeing and ply strengths, weaving and knitting…the only question we have is what will you create with your yarn?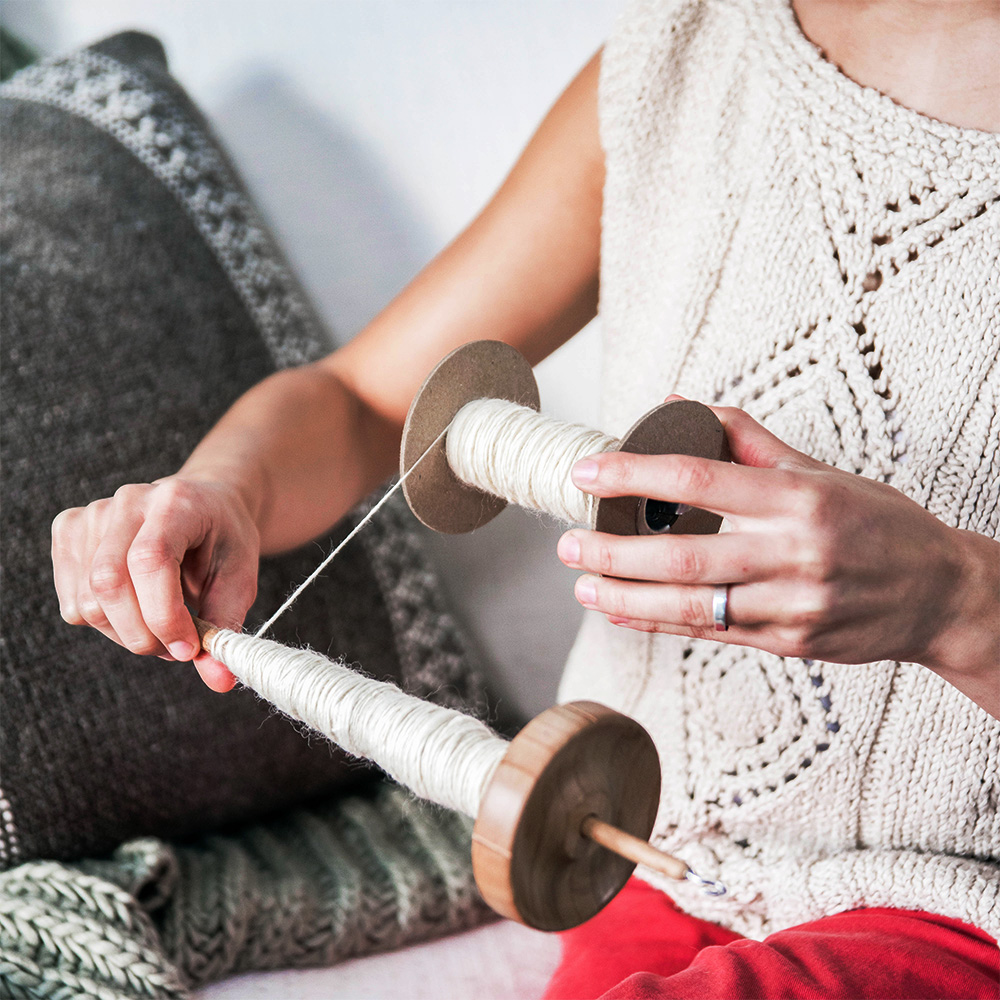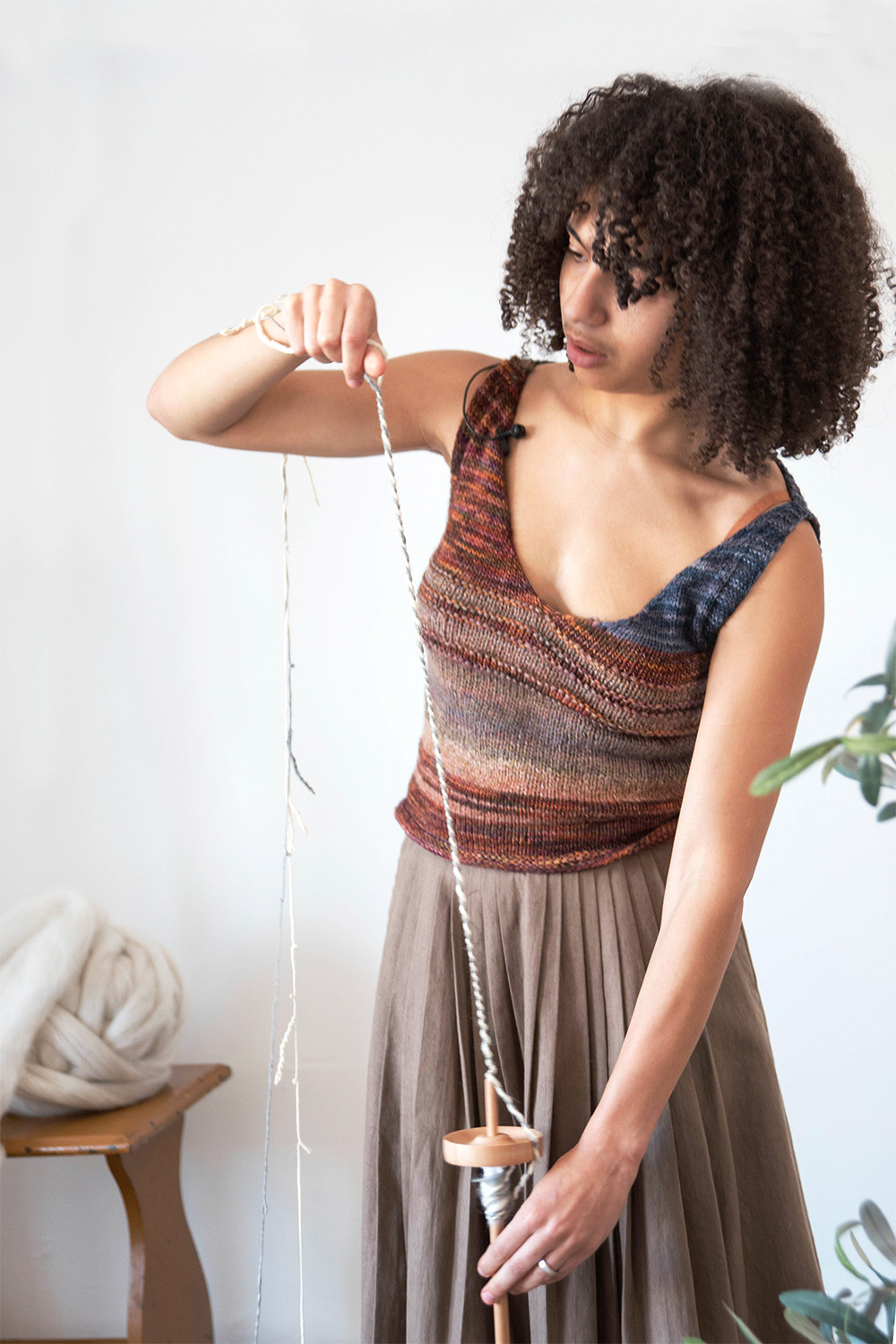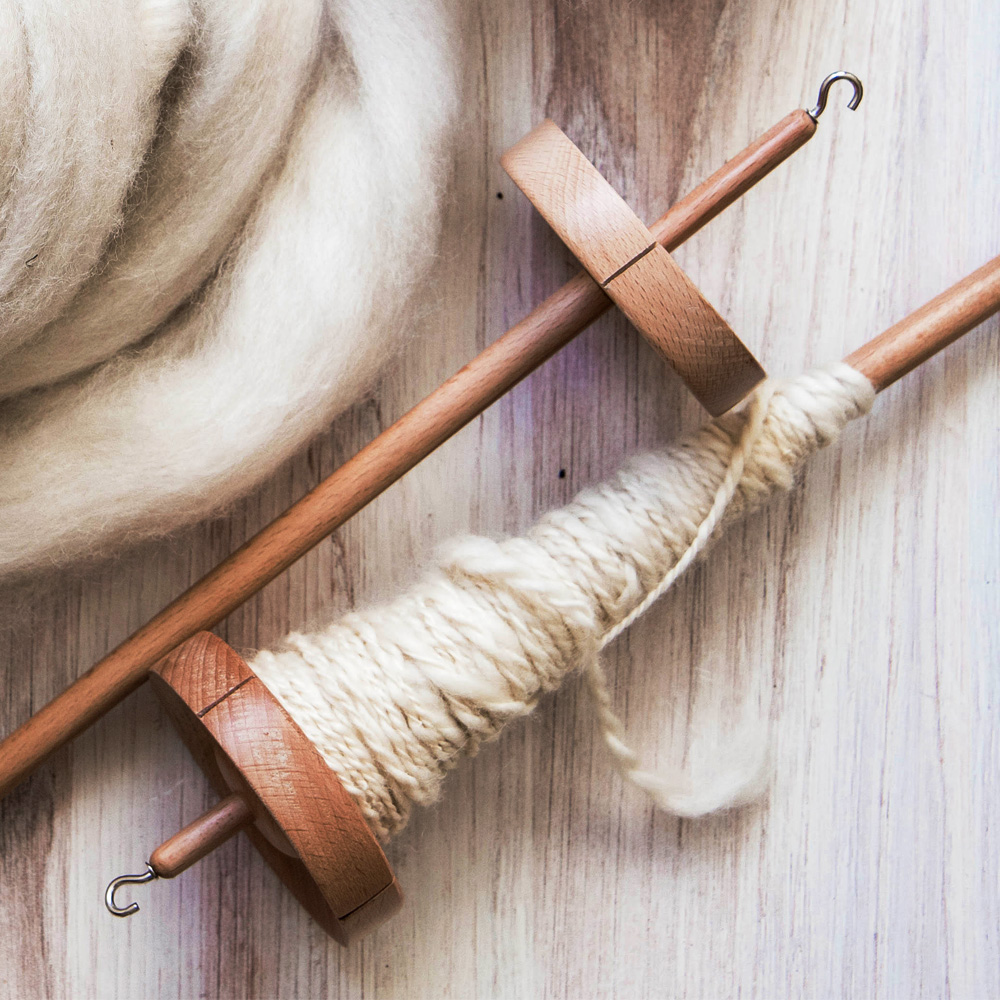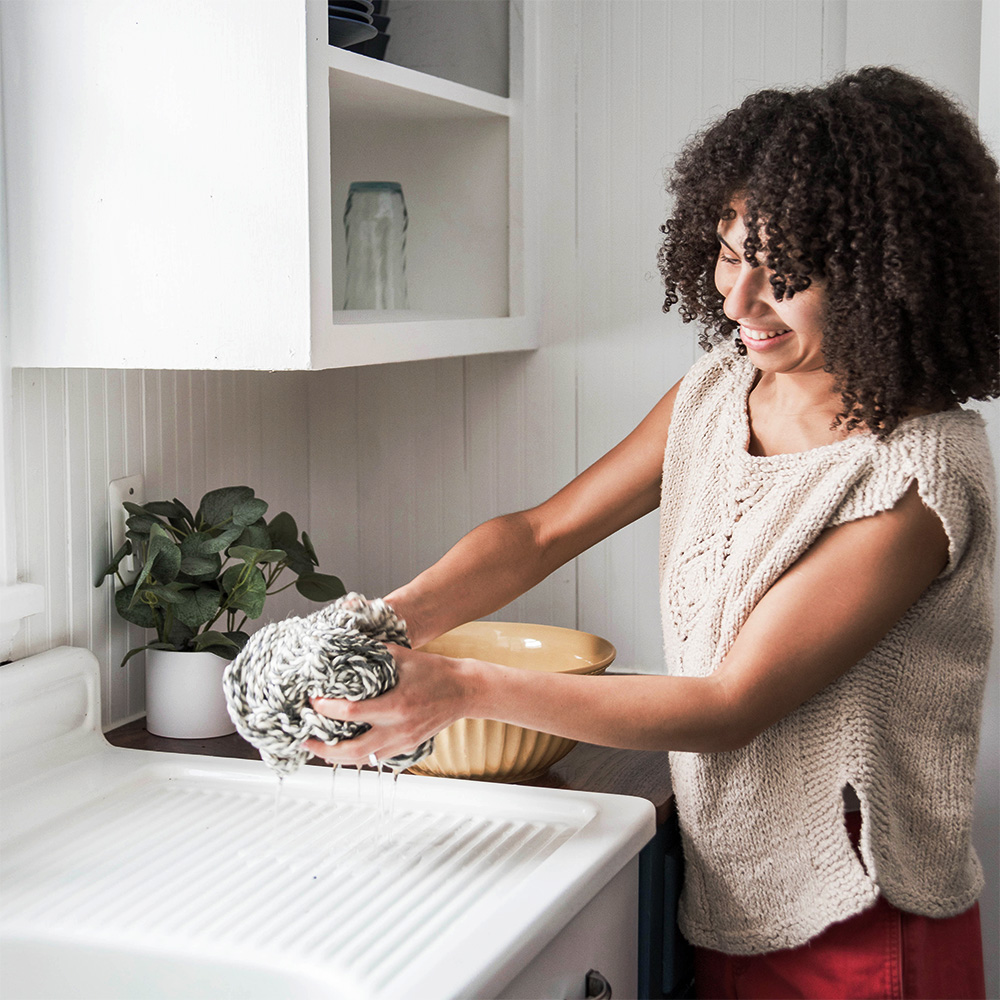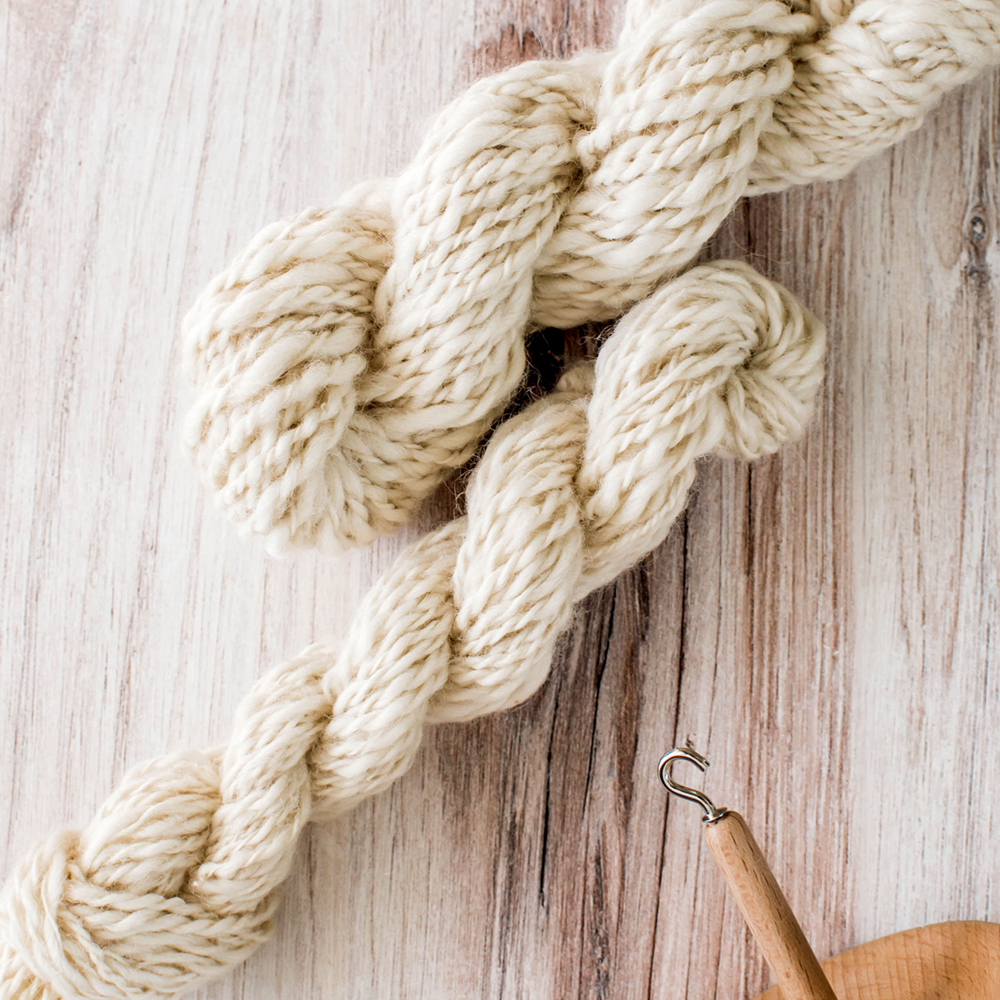 We Love a Spinster: In almost every culture, both men and women were known for weaving textiles, but only women would spin the fibers. The term spinster was originally coined in reference to women who spun thread and fibers to earn a living which alleviated the pressure to find a husband and be financially independent. Now, it's commonly used as a derogatory term to define an unmarried woman — but we like to think of the word by its natural meaning: independent creatives supporting themselves and others.
Historically speaking, hand spun thread is considered the most important technology developed in the Stone Age. It's commonly considered to be the first form of the wheel. It wasn't load bearing but the principle of rotation is present, and it was one of the earliest tools known to exist. We aren't quite sure exactly how far hand spinning dates back, as most of the spindles were made from wood that decomposed over time. However, evidence of textile production and spinning have been found all over the world in many different ancient civilizations — even predating pottery, metallurgy, and agricultural stock breeding.
The earliest found spindle whorls date back to over 7000 years ago. They have been found all over the world, from South and North America dating back to the pre-Columbian era, to Europe and the Middle East. While every society and culture may have adapted the practice to fit the resources they had available, the concept remained consistent throughout the world. Most spindles were made of wood, while whorls could be made from stone, clay, bone, wood, metal, shells…whatever the people of the time had access to. The types of fiber being spun played a factor, too. If cotton was the primary fiber being spun, that whorl would be crafted a little differently than one that would be used for another fiber like wool or silk. 
Some of the finest yarns and threads ever produced were made on hand spindles. Think of the high quality Chinese and Egyptian fine threads. Or the super fine alpaca fibers and muslin cotton from India. All of these beautiful textiles were produced before spinning wheels and looms were developed.
More About Our Artist: Lauren McElroy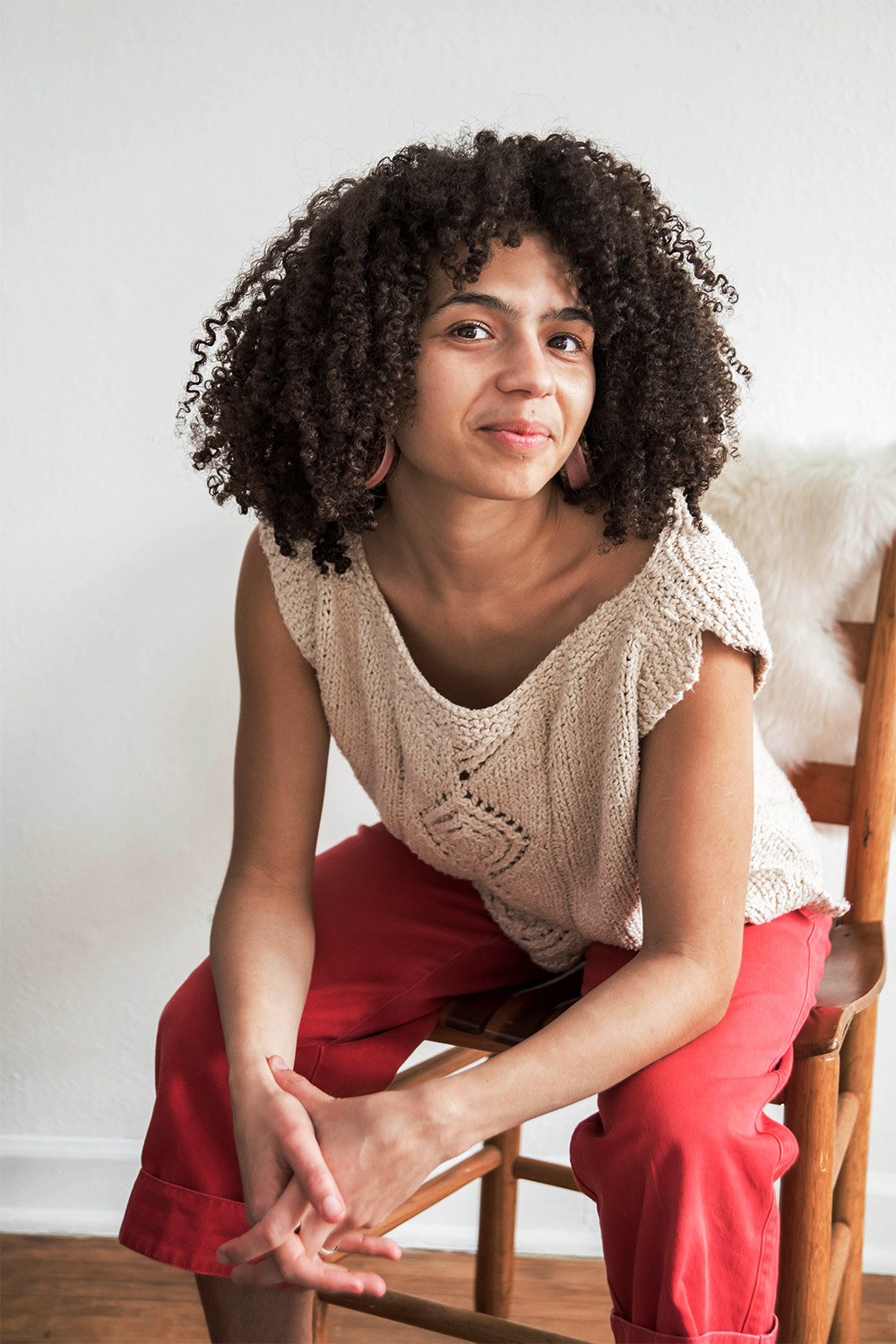 Lauren is a multidisciplinary fiber artist specializing in knitwear design and spinning yarn. In 2016, she started Mother of Purl. What began as a commissioned knitting brand, quickly evolved and transitioned to knitwear design. Once Lauren realized just how much yarn she was using in her designs, she became inspired to learn the process of spinning her own yarn. It was important to her to fully understand and learn the whole process straight from sheep's fleece to a finished garment. In her own practice, Lauren processes local sheep wool from scratch which you can read all about her experience here! 
"Being someone with an intersection of many identities it is important that my artwork is for the liberation of all oppressed people and the uplifting of my ancestors." 
Each time Lauren starts the process from scratch — hand skirting, washing, picking, carding, combing, dyeing, spinning fibers into yarn, and making beautiful masterpieces of wearable art; she does so to honor her ancestors and herself when she's able to offer her art to the world. Lauren incorporates sustainable practices into her art such as sourcing local fiber and natural dye materials in her designs. Her style is inspired by traditional crafts and contemporary styles. Lauren's aim is to use her art to effect positive social and environmental change.
You can find Lauren in the beautiful rolling hills of rural Wisconsin designing, knitting, dyeing, and spinning daily, as well as teaching classes. She is deeply moved by the natural beauty and the pure aliveness that she is surrounded by. In addition to her love for the fiber arts, she also enjoys gardening and singing (often at the same time).
We're so excited to have you join us, Lauren.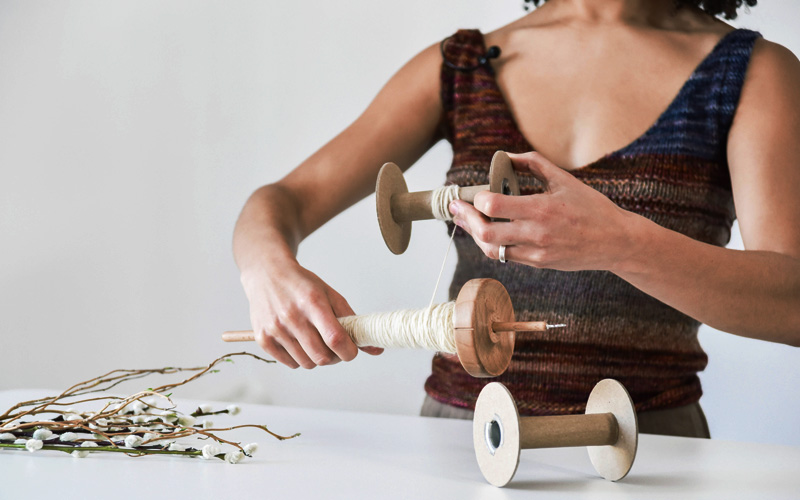 Lauren McElroy's
Podcast Interview