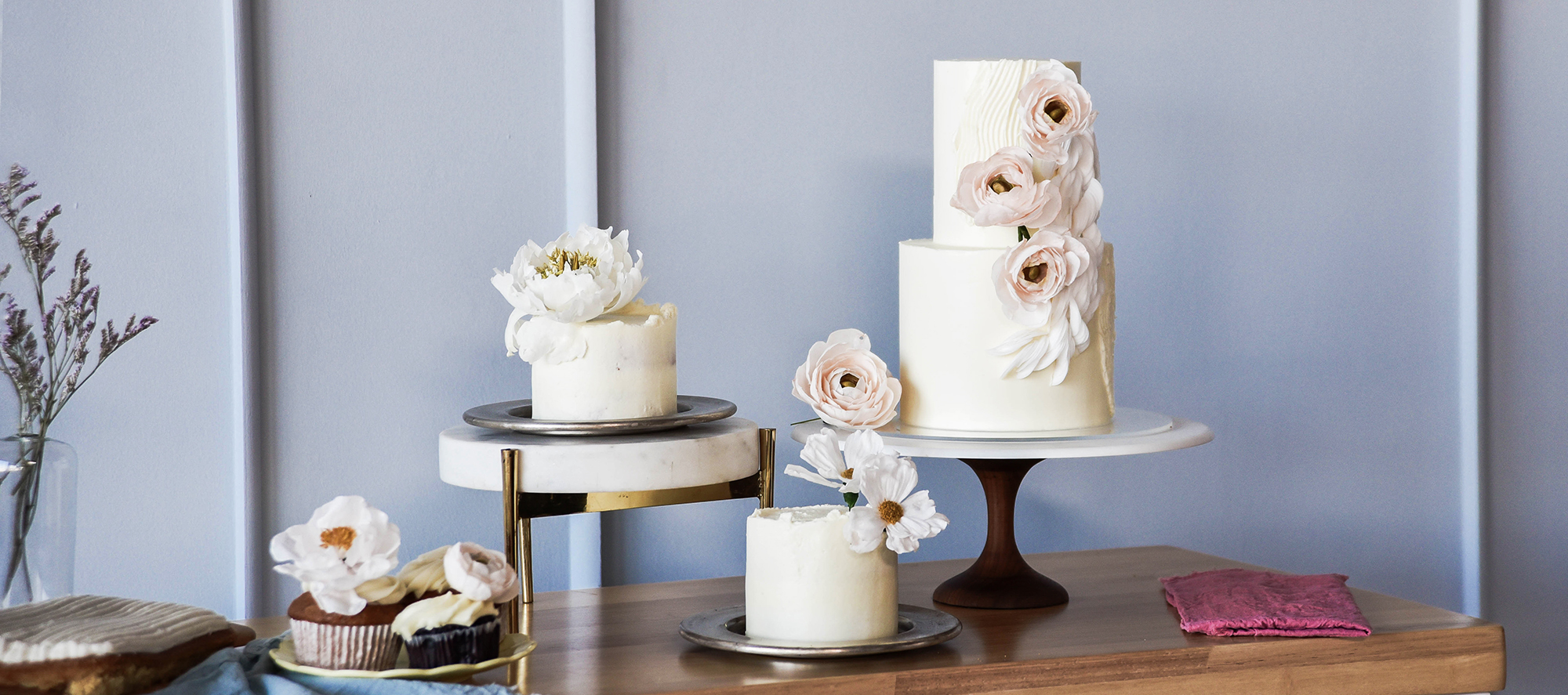 STEVI AUBLE
DELICATE WAFER PAPER FLORALS
In her premium workshop focused on modern cake design and handcrafting delicate wafer paper florals, sugar artisan Stevi Auble encourages, inspires and educates bakers and makers of all skill levels. This immersive workshop is a true masterclass that guides us through the intricate art of building botanically-accurate wafer paper florals for professionally decorating beautiful sweets and cakes.
Your floral exploration includes instructions, materials and specialized tools to handcraft—in stunning detail—ranunculus, peonies, cosmos, garden roses, anemones and accompanying leaf embellishments. You'll have enough materials to make five of each flower, giving you the flexibility to practice and perfect your craft. Learn more about each of these floral varieties and the modeling techniques shared below. 
In addition to our featured embellishments, Stevi leads us through the process of building a tiered romantic buttercream cake design—learn tips for stacking and filling tiers, creating a crumb coat, expertly applying buttercream, and decorating a finished cake with perfection. Stevi introduces a plethora of information to transform makers into seasoned sweet designers. Each step of the cake constructing and decorating process is broken down into bite-size, comprehensible steps. Ready to bake your own tiered cake? Explore our add-on bundles to find a curated selection of Stevi's preferred tools & materials for tiered cakes. We're including a downloadable recipe (tried and true favorites from Stevi's studio kitchen) for her favorite sponge cake and buttercream to accompany as well.
After exploring this immersive workshop, you'll uncover your expert skills in detailed wafer paper floral art. Through Stevi's professional guidance, you'll have all the skills and tips to construct cakes for every celebration.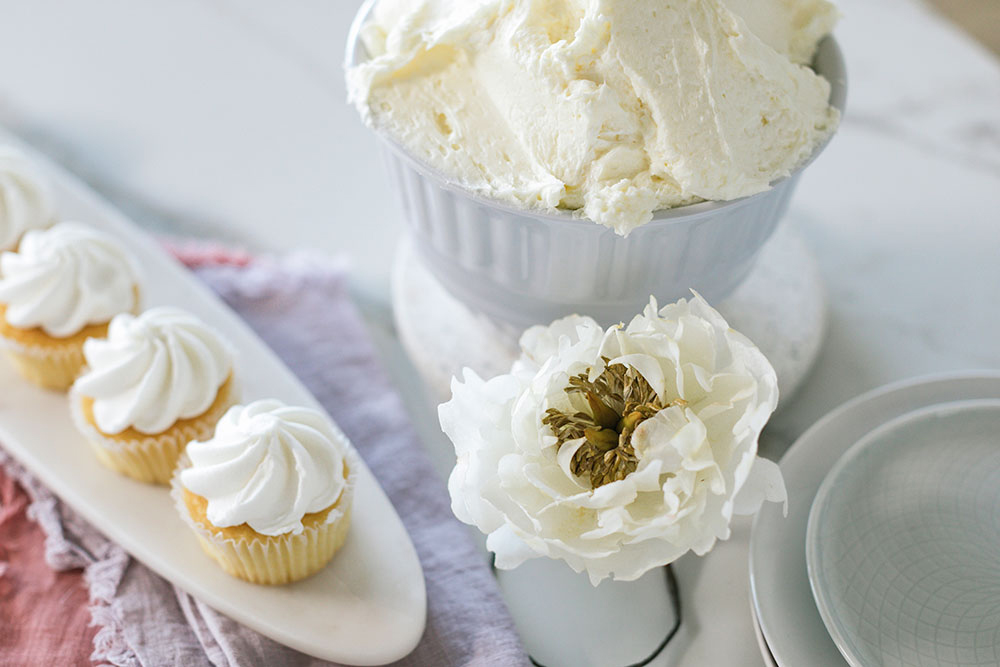 PEONIES
Peonies, known for their delicate, whimsical petals and full, golden centers are a dream to layer and build. Stevi walks us through her custom petal mold (to create those subtle waves and perfectly imperfect edges) and the art of blending petal dust to achieve desired results. Stevi demonstrates a cream peony but with your new dust collection, explore traditional soft pinks, blush, rose crimson and yellow.
In this video, Stevi uses her peony petal template, five petal dust pigments, tools such as a ball tool, wooden blade tool and foam pad, confectionary edibles such as gumpaste and wafer paper. These tools & materials can be found in the full kit that accompanies this workshop.
ANEMONES
The contrast between the open, free-flowing anemone petals and their dark centers is what is most recognizable about this striking flower. Each petal seems to reach up and out towards the sky, layer upon layer, revealing black stamen and equally dark pollen center. The botanically-accurate replication of this flower is most appreciated in the detail at the heart of this flower.
Stevi demonstrates her anemone in a bright white, but using your custom petal dust palette we invite you to explore in the soft hues that these blooms can naturally be found as well.
In this tutorial, Stevi introduces a two part anemone petal silicone veining mold and a Dresden & veining tool. She introduces black gumpaste and gelatin granules as new elements. Wire in three complementary gauges is the secret behind the structure.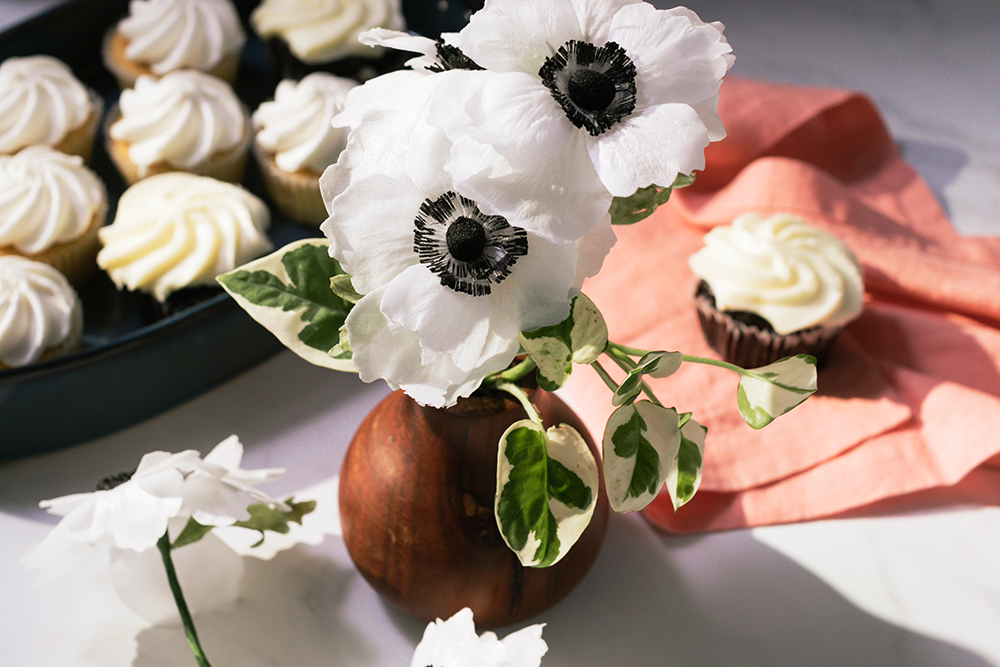 GARDEN ROSES
In this workshop, Stevi explores an open garden rose - the highlight of the romantic gardener's harvest! These wafer paper florals are best described as fanciful and dreamy.
Each of our floral videos is broken out into chaptered tutorials, when you're ready to explore Stevi's blush garden rose, we're introducing a new mold and template.
Let's explore together how to use extra strong upholstery thread in your wafer paper florals (a brand new technique), three complementary petal dusts, a two part rose silicone veining mold + Dreden & veining tool to follow along with Stevi's instruction and custom template.
RANUNCULUS
Stevi introduces her delicate ranunculus in our full Romantic Cake tutorial, a chaptered video provided in great detail with this workshop.
Painting with apricot & cream pigments, Stevi brings to life one of the world's most popular flowers. The multi-part center of the ranunculus is of special consideration.
Finally, we get to watch Stevi's unique cake construction and how she assembles her trailing bouquet on her new tiered cake. A mastery instruction to decorating.
This video tutorial highlights new petal dust pigments (chocolate, kiwi, mustard, apricot & cream) and the art of blending - we work with high density smooth foam for the first time and return to gumpaste and wafer paper as our base. The custom bloom petal formers and a 3D egg mold bring this flower to life.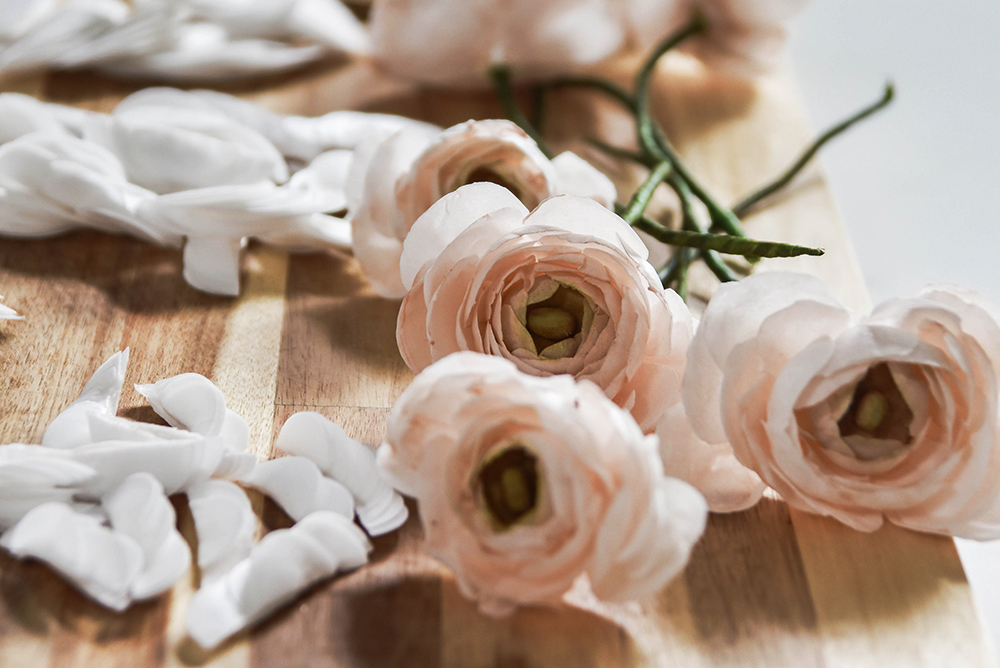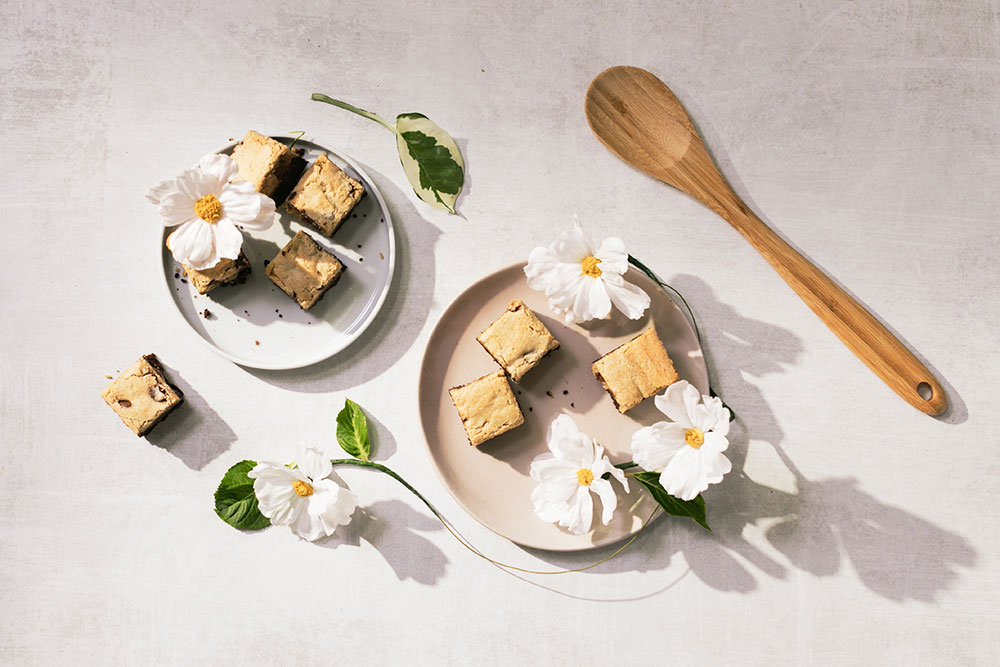 COSMOS
Soft and cascading, the cosmo structure offers deep cuts and wide petals to complement the delicate nature of the granular centers. Stevi keeps our color palette beautifully neutral but invites exploration as you customize your feature embellishments.
In this video tutorial, we introduce a new silicone veining mold, a new custom petal template, and we return to gelatin techniques to achieve texture and realism. Bunched together as a bouquet of five stems or presented as a single bloom on a small cupcake or cookie, the cosmo shines as a flower of focus.
In this workshop, you'll revisit the use of upholstery thread, two-part silicone veining molds, drying foam, pigment application with a soft paint brush, petal tools such as a blade and veiner.
CAKE CONSTRUCTION & DESIGN
A highlight of this workshop is the instruction on baking, building and constructing tiered cakes. Stevi introduces a custom sponge cake and buttercream recipe and demonstrates how to crumb coat and finish a beautifully clean application.
Stevi embellishes her romantic-inspired buttercream cake with two new elements: wafer paper scallops that are custom cut from three optional tools as well as a textural surface tool. We're offering this optional bundle to this workshop for the maker.
Our additional bundles allow you to construct an entire cake (and then some), we invite you to fully participate in the baking & buttercream basic instructions offered by adding to your workshop - see our options below.
The optional tools & materials include bundles for the beginning baker (the ideal straight-sided cake pans, a large serrated knife) as well as a one-time use product bundle that can be purchased again and again (structural supports for your cake tiers, paper rounds for your layers). Finally, find a preferred aluminum cake turntable for the avid baker.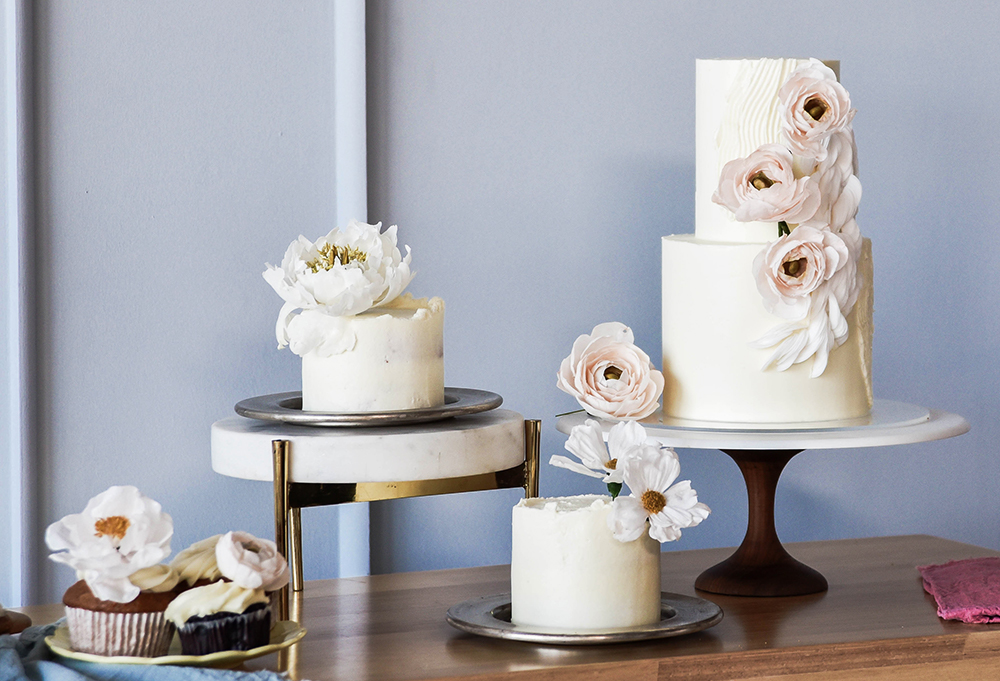 The Curated Kit of Tools & Materials
In the kit that accompanies Stevi's masterclass in Delicate Wafer Paper Florals, you'll receive the tools and supplies to make ranunculus, garden rose, anemonie, cosmo and peony flowers. You'll also learn, through an additional chapter in her digital workshop, how to build a tiered cake from scratch. Optional cake baking & decorating bundles are offered through the checkout process.
This workshop includes: 
A detailed, digital workshop by

Stevi Auble of Hey There, Cupcake!

A live Maker Chat Q&A for our community to join in creative conversation
Tools and materials from artisan suppliers, curated for you, by

Stevi
The Tools & Materials included in this workshop:
Premium edible wafer paper

Custom petal patterns designed by Stevi Auble for The Crafter's Box, featuring patterns for peony petals, cosmos petals, garden rose petals, anemone petals and leaf, and ranunculus petals

Digital White Party Cake Recipe Card by Stevi Auble
Digital White Chocolate Swiss Meringue Buttercream Recipe Card by Stevi Auble

Rose guard petal veiner, large

Cosmos petal veiner, medium

Anemone petal veiner, XL 

Double ended ball tool

Dresden and veining 2-in-1 tool 

Scallop & comb modeling tool

Blossom & petal former 

Boxwood modeling tool

Sugar paste edible pigmented petal dust in cream, apricot, blush, golden corn, mustard, brick, foliage, kiwi, chocolate, and black, 0.5 oz/each

Satin ice gum paste in black (4oz) and white (8oz)

15ml Sweet Sticks edible paint, in black

Fondant and sugar flower drying foam mat

4oz cornstarch

Unflavored gelatin granules

Five bunches of pre-made peony stamens in white

3D Plain egg chocolate candy mold

Paint tray

Flat head paint brushes 

Scissors 

Floral stem tape, brown and green

Paper covered floral wire in 3 gauges, green and white

Extra strong upholstery thread

1 inch high density smoothfoam balls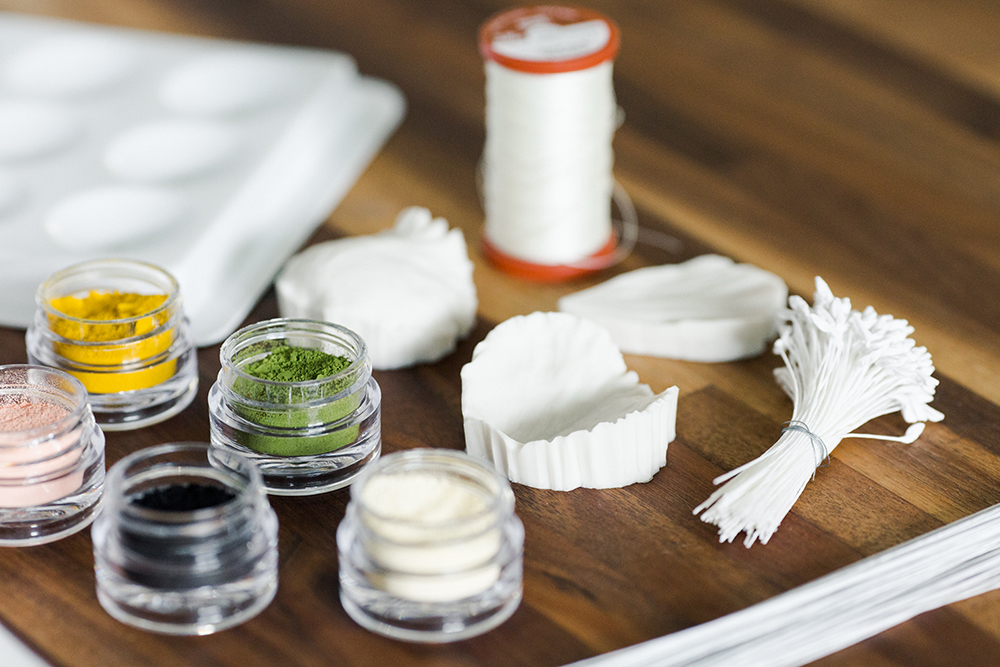 Bundle Your Workshop with these Optional Kits:
Romantic Buttercream Cake Design Bundle
Essential to achieving the romantic buttercream design, these optional scallop & cutting decorating tools + extra wafer papers will help you duplicate Stevi's custom Romantic Cake.
Cake Baking Basics Bundle
Stevi shares basic cake construction direction (from baking to buttercream) for those who are brand new to tiered cakes. Scoop up this optional cake basics tool bundle to get you started on future cake adventures.
One-Time Use Cake Building Bundle
Add Stevi's preferred one-time use baking supplies for tiered cake building. You'll need these supplies (or multiple bundles) if you are planning on lots of future cake exploration - we've broken this bundle out of our full kit so you can keep making. 
Cast Iron & Aluminum Cake Turntable
For our bakers that will continue to make, consider adding a professional turn table to your collection. This artist favorite comes with a cast iron base, aluminum top and durable "powder coat" finish.
More About Our Artist: Stevi Auble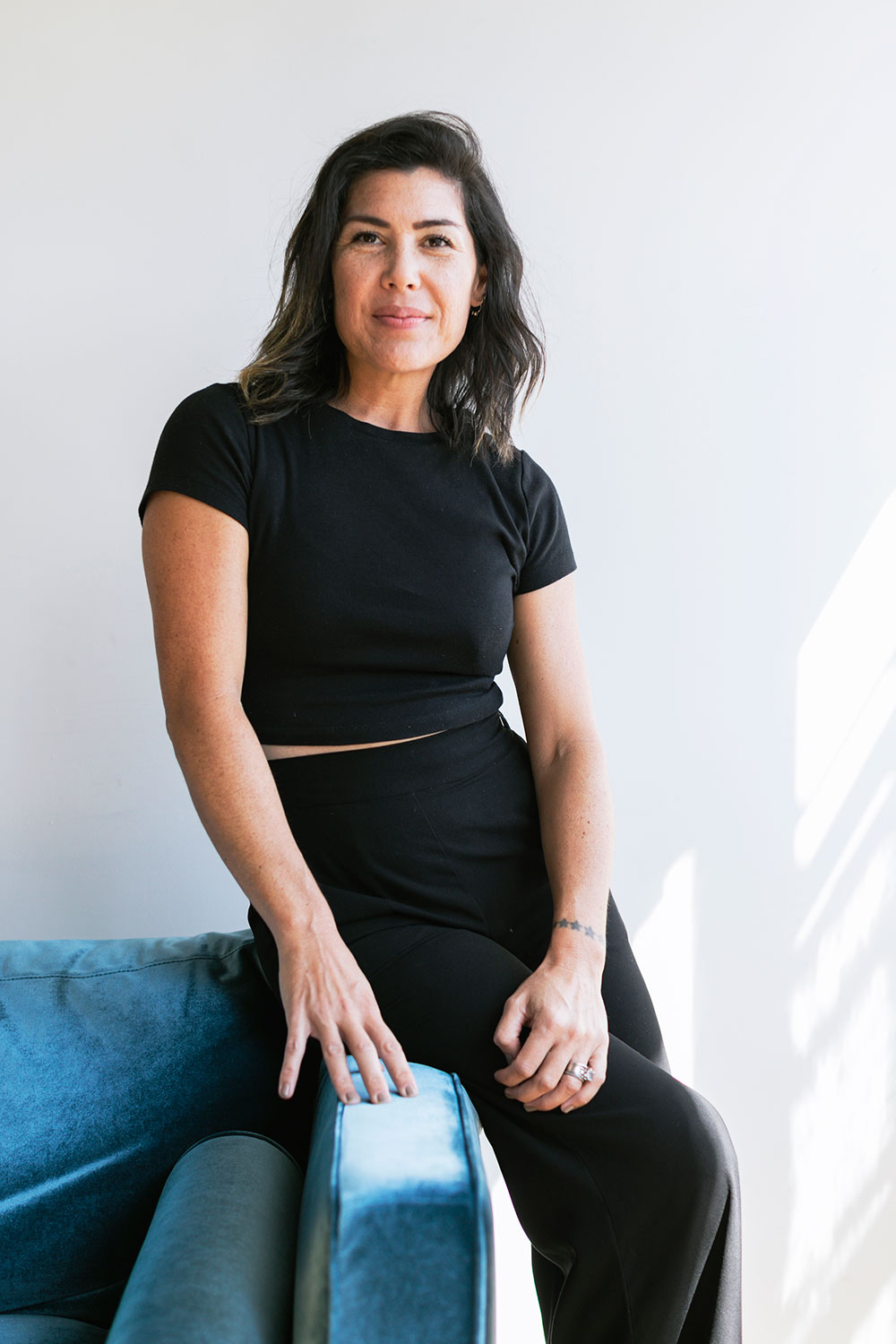 Stevi Auble is an award-winning artist and international masterclass instructor. She is a native of Southern Californian and is the creative force behind Hey There, Cupcake! a custom cake and petite dessert business located in San Diego. Stevi began her professional pastry career in 2010 with the inception of Hey there, Cupcake! after she stepped back from her previous career as an interior designer. She is a self-taught artist that focused heavily on the use of wafer paper, a traditionally unused medium, when she first started in the cake industry. Stevi has spent the past few years focusing on innovating techniques and methods to transform the unassuming thin sheets of edible paper into lifelike flowers and unique edible finishes. Those techniques have brought the medium into full light as a common product currently used in sugar art worldwide.
Aside from wafer paper art innovation Stevi is known for her modern aesthetic and substantial use of negative space and interesting color combinations to create her unique signature cake designs. Her designs are heavily rooted in her interior design beginnings and continue to be inspired by the shapes, colors & textures from architectural articles.
When she's not in her shop or behind her laptop she spends her time with her husband & two daughters laughing, listening to music, golfing, playing trivia & questioning the universe.
We're so excited to have you join us, Stevi.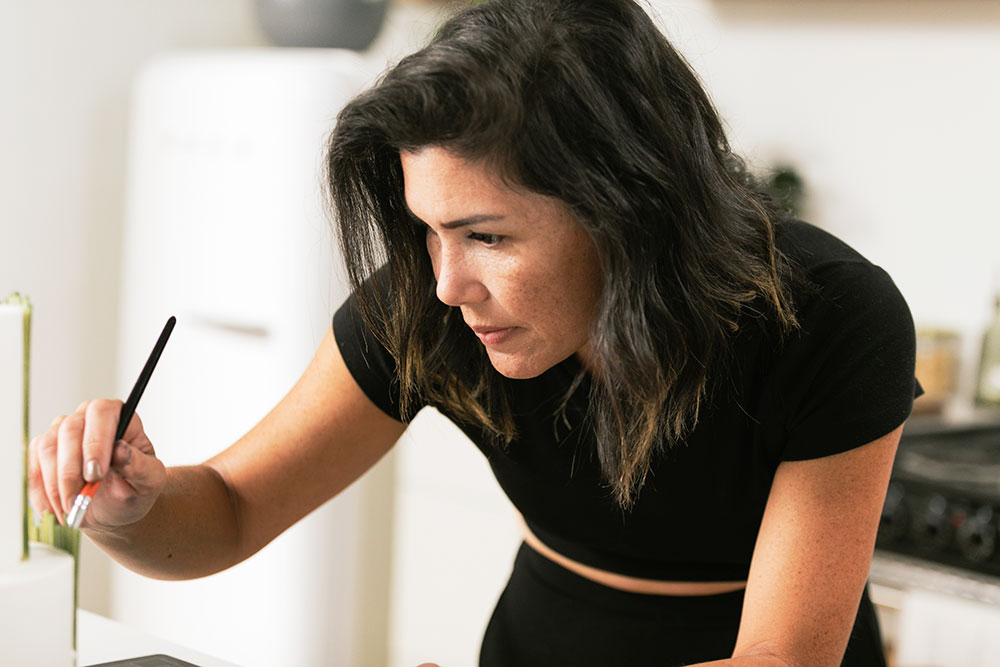 Stevi Auble's
Podcast Interview
Share with us! We can't wait to see all of the beautiful cakes you create and adorn in your own designs using Stevi Auble's skills and techniques. We hope you enjoy this workshop, we'd love to see how you are inspired to create. Be sure to share with us by tagging @thecraftersbox, our featured artist @heytherecupcake_ and use #thecraftersbox so all can follow along in your creative journey. Happy making with this special workshop.