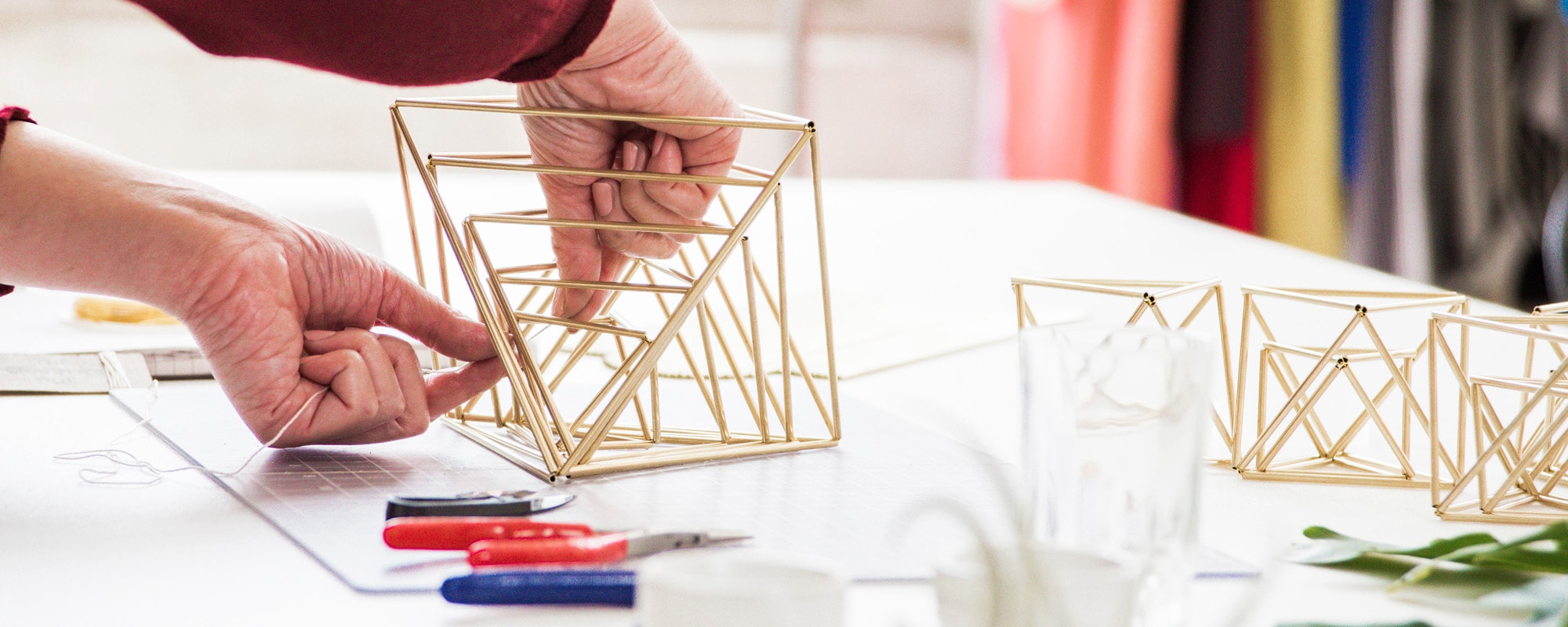 SAMANTHA
LEUNG
THE ART OF HIMMELI
Welcome to our workshop exploring the intricate art of Finnish Himmeli. Artist and designer Samantha Leung of HEMLEVA introduces her craft with a detailed, digital workshop and a curated kit of tools & materials. Samantha begins by introducing the fundamentals of geometric pattern design and leads each student through the journey of creating both ornaments and mobiles.
Himmeli finds its roots in Nordic culture - traditional Himmeli are made from wheat straws, this workshop explores both wheat and a modern brass twist.
This unique workshop is set up to be a 'choose your own adventure' — once you learn the basics from Samantha, she'll show you how to transfer those skills into new and beautiful patterns. Samantha starts off by showing how to make an ornament, a fundamental shape when it comes to traditional Himmeli. Next, she walks through a more complex mobile with varying sizes. To complete the trifecta of patterns and skill-levels, Samantha finishes the tutorial by teaching a custom ornament pattern that she's designed just for us.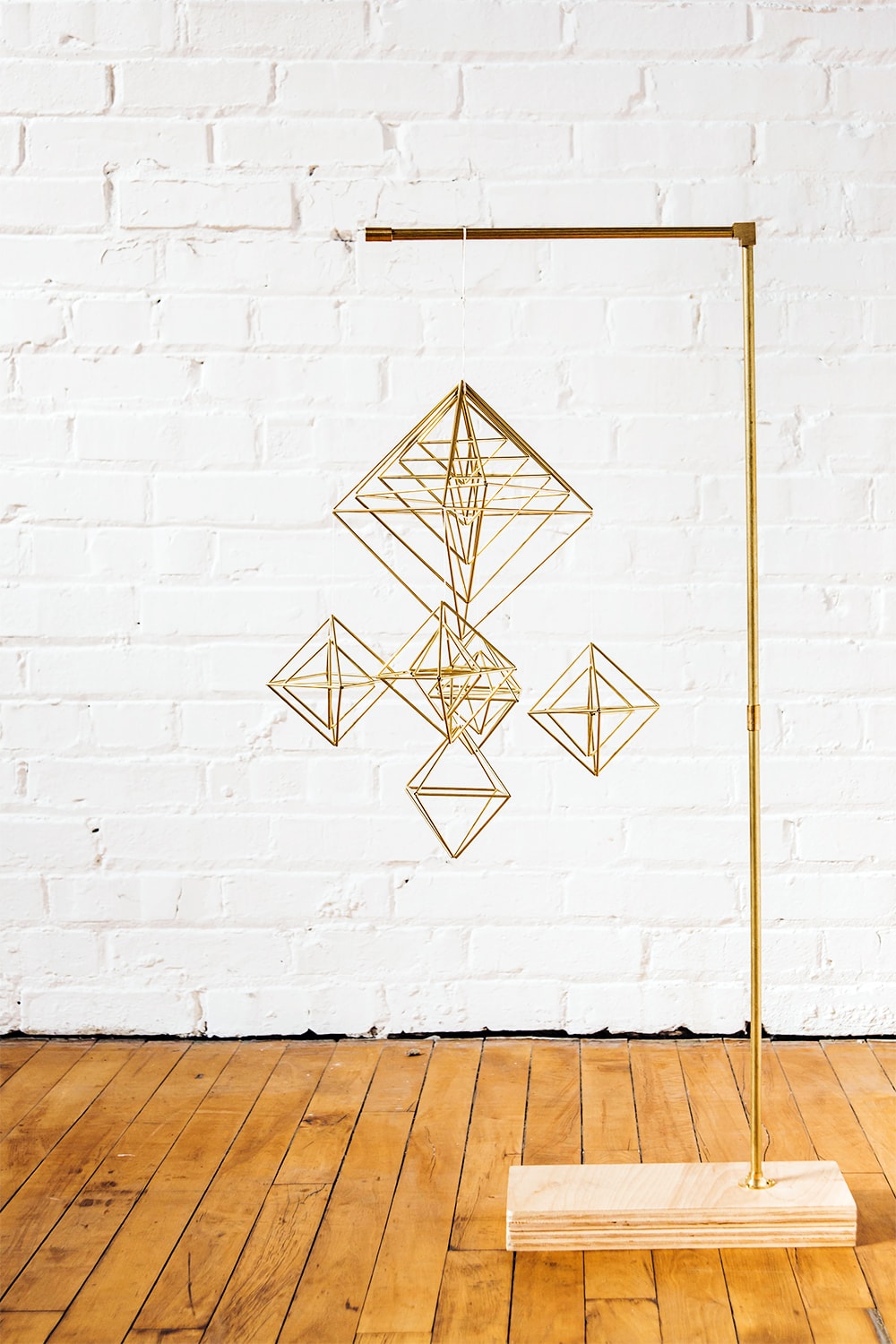 Materials Kits for More Exploration
Additional Brass Himmeli Materials
Continue exploring the raw material of brass to create ornaments, mobiles, garland and beautifully constructed geometric air plant holders. Once you've mastered the techniques shared in this workshop the possibilities are endless.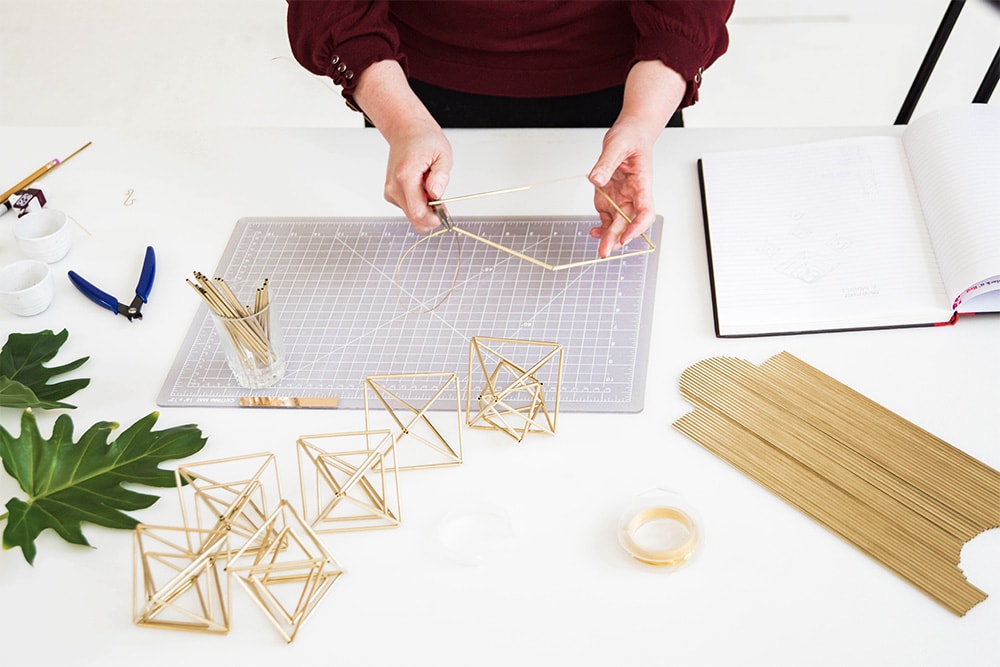 A brief history: Originating from the Swedish word for sky or heaven — himmel, the Himmeli are a traditional Finnish ornament or mobile decoration that is traditionally made out of wheat, rye or reeds in Finland. Following the harvest, wheat would be dried out until it formed narrow tubes. The ornate straw sculptures could then be suspended above the dinner table during the holiday season. It is thought that the larger the Himmeli, the larger the rye crop will be in the coming year. In Nordic countries, it's not uncommon to see dining room ceilings covered with these intricate mobiles.
The designs by HEMLEVA that we are learning in this kit are a modern and minimalist interpretation of the traditional Himmeli. These designs are demonstrated in beautiful brass, and then Samantha introduces us to the traditional (and very fragile) wheat ornament. These geometric ornaments can be placed on any surface, suspended, or even embraced as an air plant holder (another fun modern interpretation!).
The Curated Kit of Tools & Materials
This workshop includes: 
A detailed, digital workshop by Samantha Leung featuring intricate geometric patterns
A live Maker Chat Q&A for our community to join in creative conversation
Tools and materials from artisan suppliers, curated for you, by Samantha
The tools & materials included in our kit:
54 1/8" brass tubes
K&S tubing cutter
22 gauge gold floral wire
Wire cutters
Round nose jewelry pliers
10/2 mercerized Perle Cotton Yarn in white
Precious metal polishing cloth
10 wheat straws measuring 12" each
6" upholstery needle
More About Our Artist: Samantha Leung
Samantha is the artist, maker and entrepreneur behind HEMLEVA. She is guided by a love for botanicals, Scandanavian designs, and the benefits of an intentional creative process. Samantha's artistic passions took root at a young age: crocheting at four, wood-burning at six, screen-printing at eleven, oil painting at twelve, developing film, hand-pouring candles, and sewing costumes in her teens. After graduating with a BA in Law, Politics, and Society (plus four minors!) from Drake University, Samantha taught English and American culture in Northern China for a year. Upon returning, she married her college sweetheart and moved to Seattle. During their move, they were in an accident that totaled their car. While recovering in physical therapy for months, Samantha decided to start her own business creating a mix of both traditional and original handmade pieces. Today her handmade designs include keychains, enamel pins, brass mobiles, and wall sconces and can be found in hundreds of retail stores around the world.
We're so excited to have you join us, Samantha.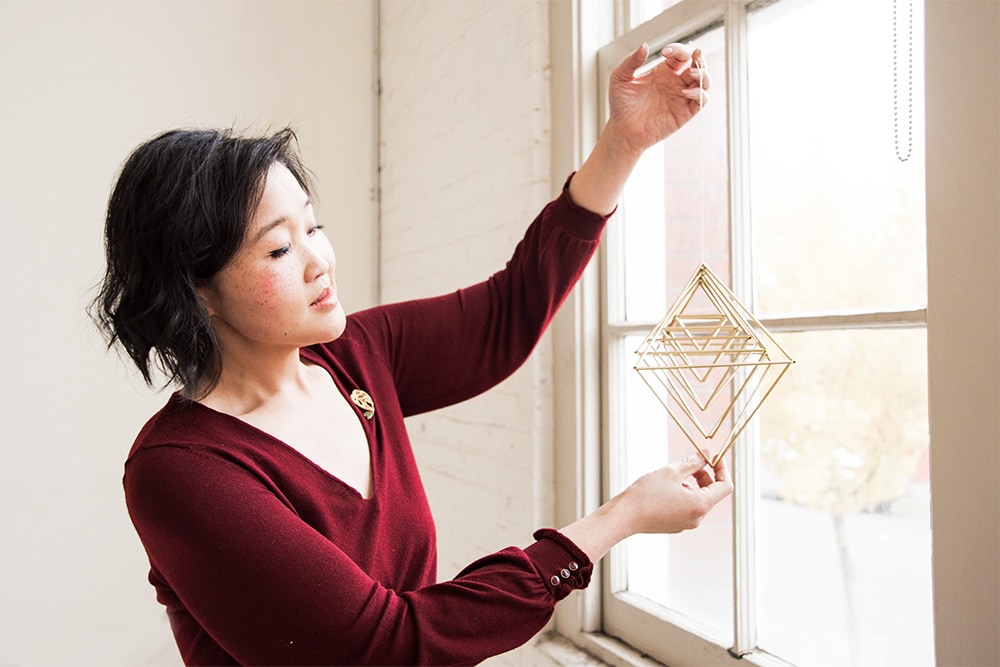 Samantha Leung's
Podcast Interview
Share with us! We can't wait for you to join us. We hope you enjoy this workshop, we'd love to see how you are inspired to create using these techniques. Be sure to share with us by tagging @thecraftersbox, our featured artist @hemleva, and using #thecraftersbox so all can see your work! Happy making with this special workshop.