More Details
DANI IVES
WOOL FELTED PUMPKINS
Discover the tactile and soothing art of wool felting as we sculpt a trio of charming pumpkins in luscious Merino wool roving. Fiber artist Dani Ives was introduced to needle felting in 2010 and has been hooked ever since, combining her background in biology and conservation education with her love of art. Dani shares her expertise and passion for the craft as we create our pumpkins in different sizes and silhouettes, learning how to turn soft wool fibers into shapes by sculpting and felting them together with a barbed needle.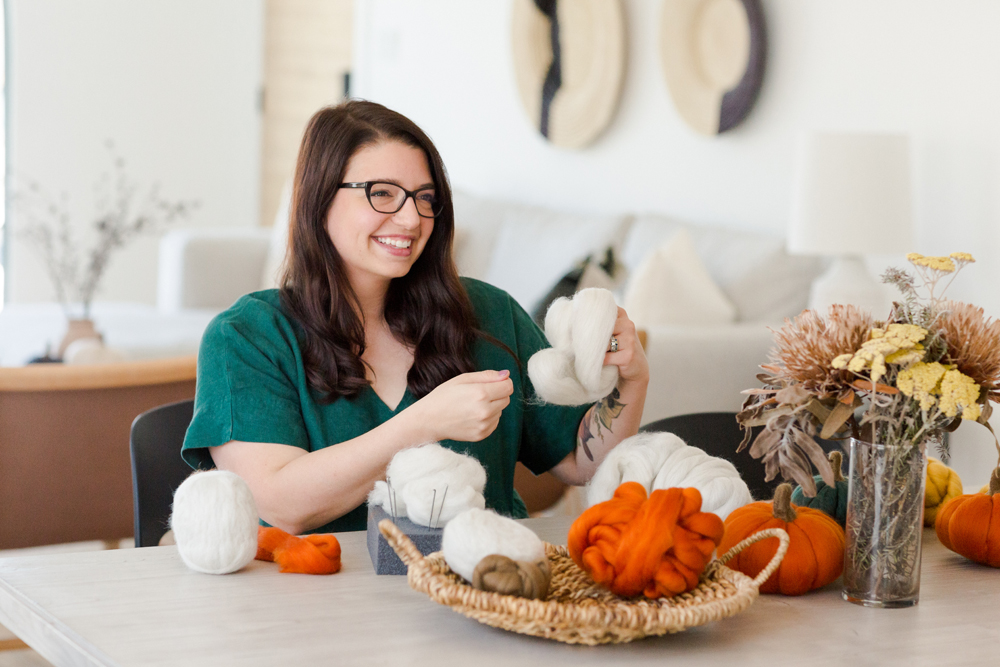 FELTED WOOL KIT
Dani's curated kit includes everything needed to create three wool felted pumpkins, including wool roving and a needle felting foam block to use as a work surface. A variety of needle sizes and barb shapes allows for both quick, larger-scale felting as well as detail work. The 38 star felting needles are perfect for all-purpose use and Dani's favorite. The 42 triangle needle is slightly smaller and is ideal for detail work and fine fibers such as Merino wool. A handy 8-needle tool helps to speed up the felting process, and needles can be removed as necessary to achieve less resistance.
EXPLORING DIFFERENT TYPES OF FELTING WOOL
In the workshop, we begin by molding the basic shape of each pumpkin by rolling, tucking, and felting Corriedale wool. This core wool is a thicker, less processed heritage wool from Corriedale sheep, a breed that was developed by crossing fine wool Merino sheep with longwool Lincoln sheep. Its density serves as an ideal felting base and you'll notice a difference in weight as you work.
The exterior extra fine Merino wool is most known for its super soft feel and smooth texture. As its name implies, it's extra fine and combed to offer an almost a wisp-like quality. It's the perfect outer layer for wrapping, finessing and shaping your treasured handmade pumpkins. 
Wool felting is forgiving and gratifying, making it a wonderful artform for fiber artists and other crafters looking for a new medium to explore. Dani shares some advice for those getting started, "the materials and process take just a little bit of time and practice to get used to," she shares. "So, if it seems like things are not happening as you expect, keep poking. And remember that mistakes are easy to fix. You can remove wool that is already felted down, or you can layer more wool on top to make changes."
Dani shares her favorite tips in creating with both wools in this workshop.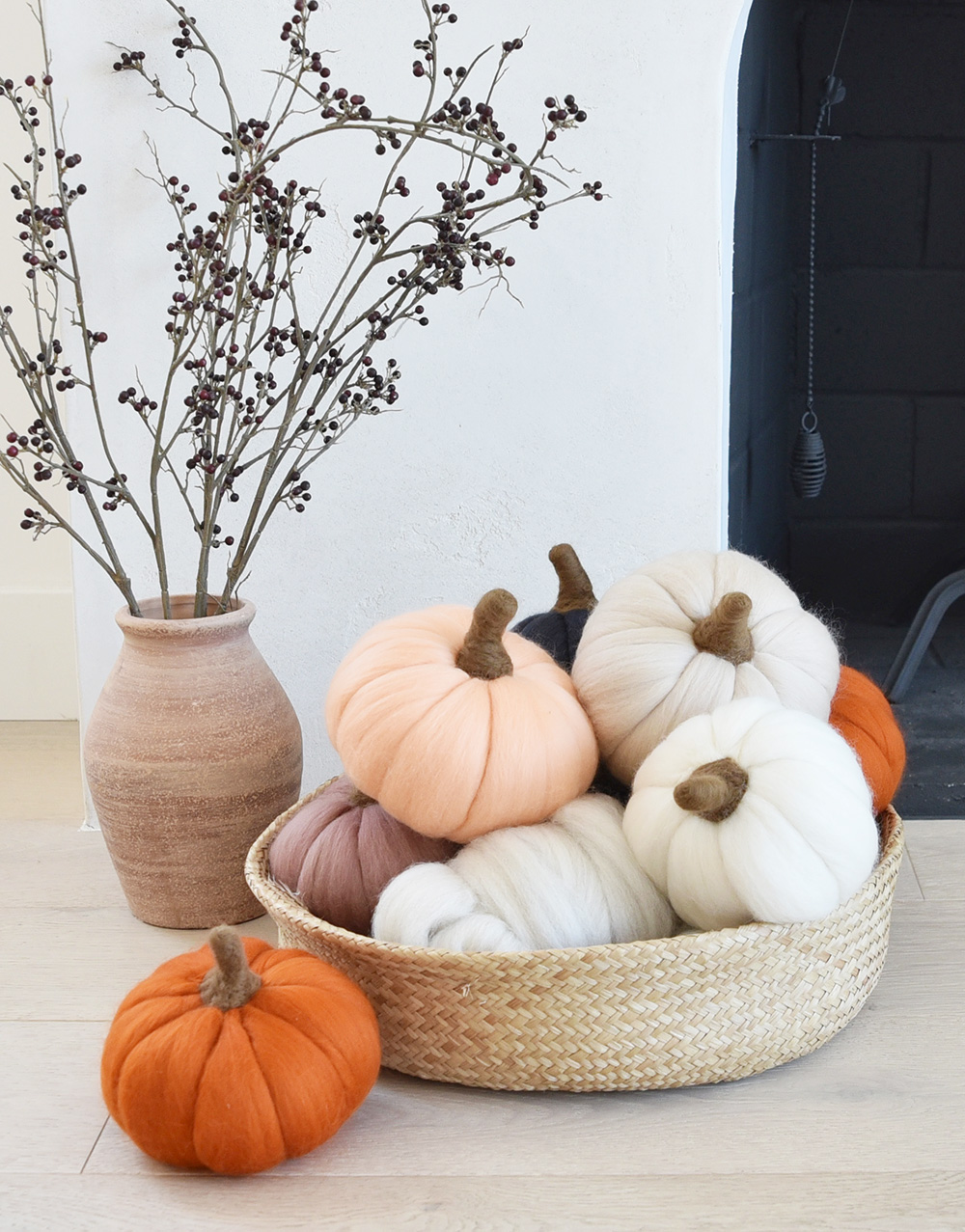 More About our Artist: Dani Ives
Dani Ives is an award-winning artist, educator, and author. She creates images with wool through needle felting techniques in a process she calls Painting with Wool. Though she's always loved art and creating, becoming a full-time artist was never her plan. She originally pursued education in biology and a job working with animals, which led her into a conservation education career at a zoo. But one day, an urge to nurture her artistic side and a conversation with a coworker sparked an interest in needle felting. Internet searches commenced, supplies were ordered, and the making hasn't stopped since 2011! Over the following years, she transitioned her fiber arts hobby into a part-time and then full-time art business. 
In addition to creating art, one of Dani's favorite things is teaching others how to express their creativity and discover the joy of using wool as an artistic medium. She's taught thousands of students how to needle felt in in-person workshops around the world, as well as through her popular online courses. Her book, Painting with Wool: 16 Artful Projects to Needle Felt, is also a great resource for beginners. 
Dani lives in Northwest Arkansas with her husband and their adorable dog, June Bug. When she's not playing with wool, she can be found working in her sketchbook, reading, or hiking the beautiful woodland trails in her corner of Arkansas.
We look forward to sharing this fulfilling and joyful experience with you and cannot wait to see how your projects turn out. Be sure to share your creative journey and finished creation with us by tagging @thecraftersbox and @begoodnatured in your social posts, and use #thecraftersbox so our community can also see your workshop come to life! Happy making.