More Details
SANGEETA NAIR-WILLIAMS
JEWELRY MAKING: STACKED RINGS & BANGLES
Sangeeta has curated a beautiful selection of her favorite gold wires to work with, this includes 14, 16 & 18 gauge round and twisted variations to experiment with the unique shaping techniques that her business, ember&onyx is most known for. Once comfortable with soldering, you can apply the skills shared in this workshop to many different types of jewelry-making techniques and across different metals.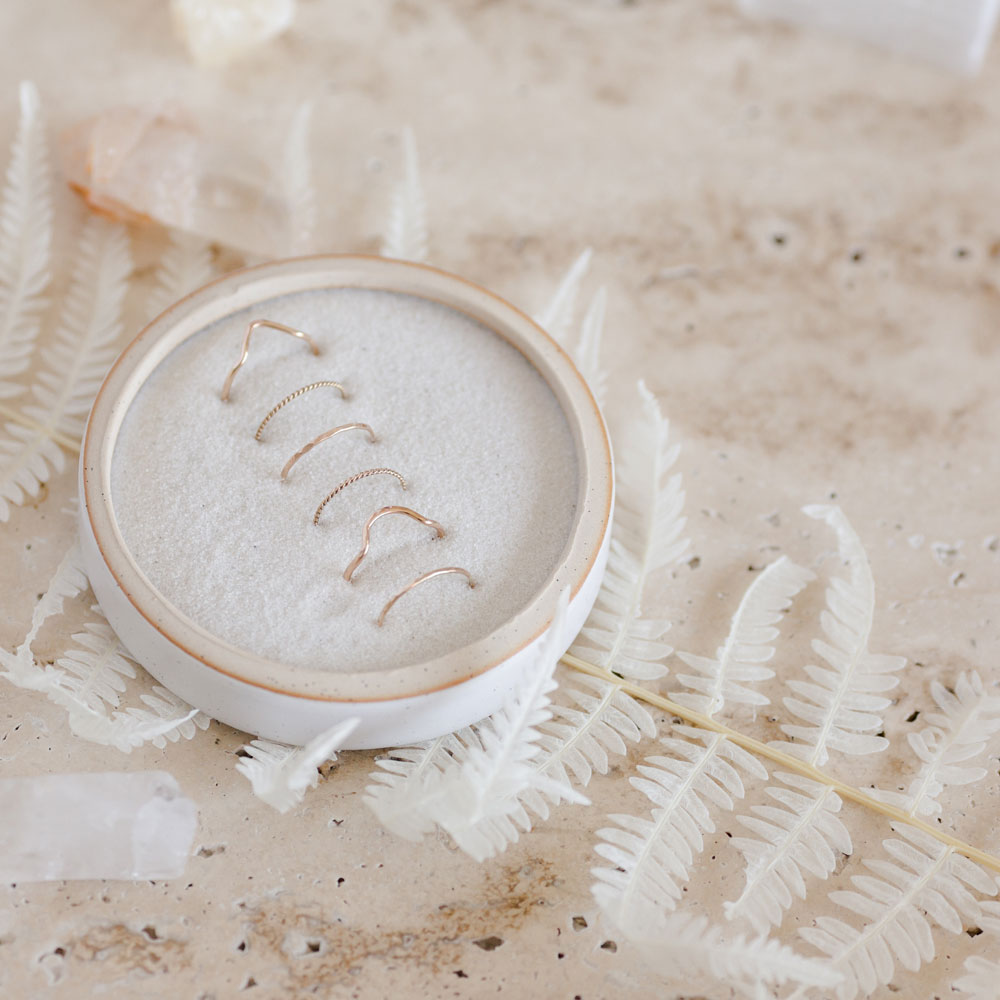 HAND STAMPING & SOLDERING A THREE-PIECE RING MINI WORKSHOP
Sangeeta shares with us a second mini workshop as an add-on to her main tutorial. Learn the art of stamping metal jewelry with care and accuracy, and how to solder a three-piece ring together with an extra tool kit and video. Sangeeta's full workshop is a prerequisite for this add-on and is designed for the adventurous jewelry maker ready to continue to explore customized stacked rings.
SOLDERING WITH A TORCH & KILN BRICK
Your kit comes with the necessary tools to create a home jewelry soldering studio. Sangeeta directs how to use a steel bench block, kiln brick, soldering paste and a micro torch to heat and mold your custom pieces. You'll learn how to fill and use a micro torch, and review best practices for torch movement to achieve best solder flow. Clean-up and polishing is equally important, and this workshop walks through how to finish each ring and bangle for sparkle and longevity.
SIZING & CUSTOMIZING
Detailed instruction around properly sizing and filing your wire before adding fire ensures that you are crafting pieces that stand the test of time. Two steel mandrels guide sizing for customized rings and bangles, and a complete tool kit is rounded out with a chasing hammer, rawhide mallet, hand file, flush cutters, and pliers for your studio set. This class walks through how to use each tool to create custom pieces that speak to you.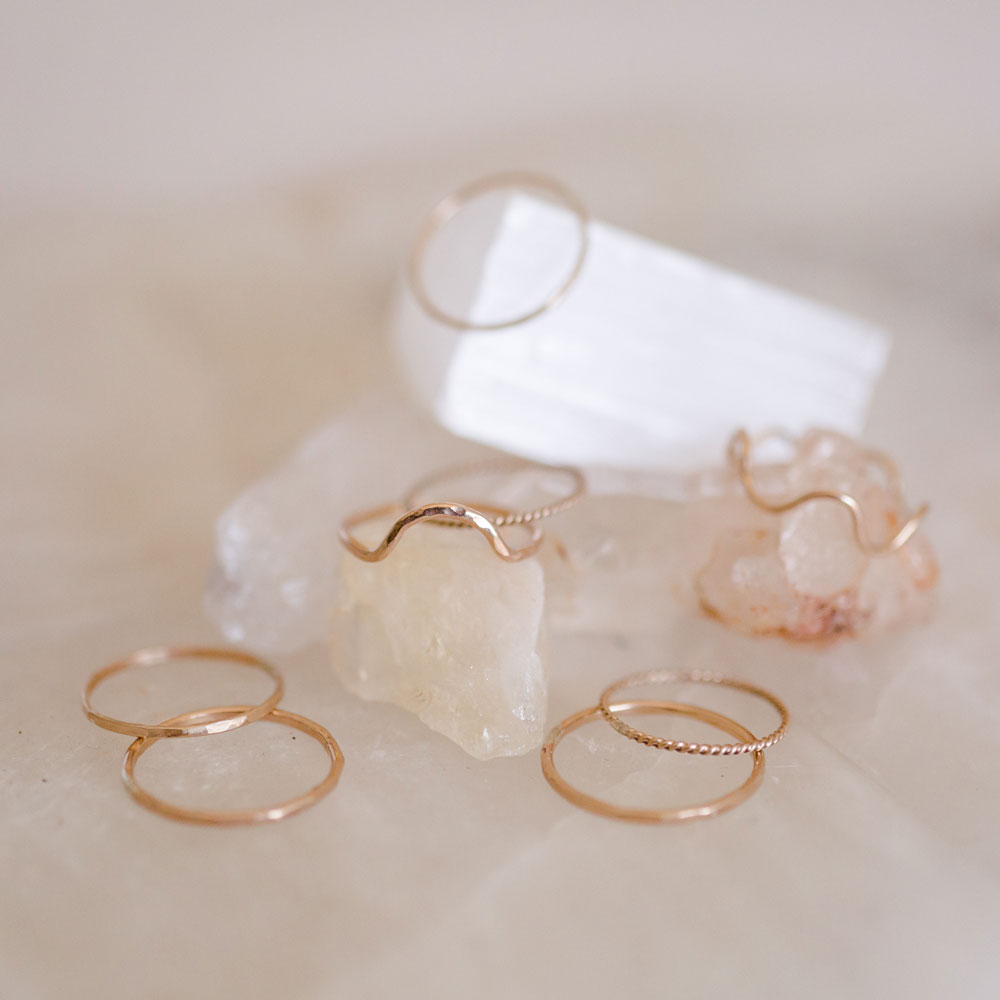 More About Our Artist: Sangeeta Nair-Williams
Sangeeta Nair-Williams is a self-taught metalsmith and the owner & designer behind ember&onyx jewelry. Sangeeta's passion for making jewelry began as a hobby while pursuing a Ph.D. in neuroscience in Birmingham, Alabama, and has since turned into her full-time business in sunny San Diego, California.
Sangeeta creates everyday keepsakes for those who love elegant, classic pieces. She shares that her small batch work draws inspiration from the earth and sky with a rustic yet elegant vibe. Her pieces range from delicate and minimalist to bold and unique, and each piece is crafted with quality metals that stay gorgeous & shiny through everyday wear.
Her work has been featured in local publications and news channels. Fans often talk about Sangeeta's attention to detail and commitment to creating affordable jewelry for long-term wear. Her small batch, one-of-a-kind pieces are coveted by people around the country.
When she isn't knee-deep in scraps of metal and consciously sourced gemstones, you can find her reading graphic novels at the park, at the nearest rock climbing gym, or snuggled up with her partner & pets, watching horror movies on the couch.
We can't wait to see how your stacked rings & bangles turn out. Share your creative journey and finished creation with us by tagging @thecraftersbox + @emberandonyx in your social posts. Don't forget to use #thecraftersbox so our community can also see your workshop come to life. Happy making!