More Details
LIZ WAGNER
HAND-WRAPPED PANEL WITH COTTON CORD
Let your creativity soar as you play with pattern, color, and gorgeous fibers to create a hand-wrapped geometric piece of art. This craft is a fresh way to work with yarn and allows for building and customizing the pattern to your personal taste. Liz Wagner, Creative Director at The Crafter's Box, shares techniques to wrap, knot, and weave the yarns around a structured grid panel to create varying textures, shapes, and dimensions.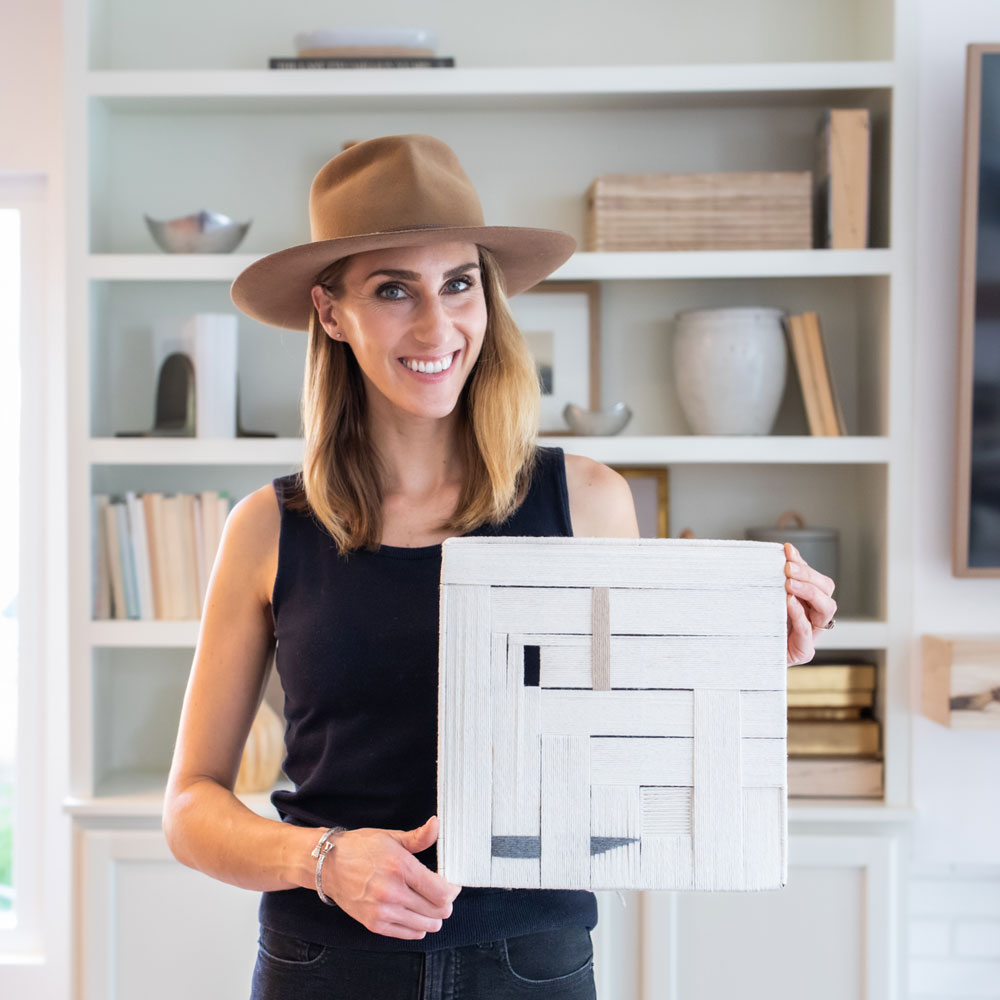 MORE ABOUT THE WORKSHOP
In the workshop, Liz demonstrates how to use soft but strong cotton cord to play with texture as you create the foundation of your project. She shares how to weave, wrap, and experiment with elevation changes, encouraging you to embrace your favorite effects to create a unique composition and work of art all your own—or use the techniques to follow the included pattern. Liz encourages you to enjoy the process of playing with your favorite combinations of color and design throughout this craft. Once happy with the final design, you'll learn finishing tips to complete your piece.
EXPLORE A NEW FIBER ART
If you've been hesitant to work with yarn because of strict patterns, tools, or designs, this workshop is the perfect way to explore a new fiber art with confidence and joy. "What I love about this fiber art is that there are no 'stitches' or counting," shares Liz. " You can go with your instincts and really boss the yarns around. I love how this frame can really handle tension and you can manipulate the fibers using hand strength and glue. It does what I want."
HAND-WRAPPED PANEL KIT
Inside your kit, you'll find all the materials to craft a framed square grid, including a plywood shuttle, cotton warp cord, and a set of luxurious yarns in the colorway of your choice. The custom wood frame was created specifically for this project by local San Diego woodworkers and is the perfect way to display your finished piece. You'll also receive super glue that works beautifully with the yarn, as well as all the notions and tools to complete the project.
Each kit includes sufficient yarn to complete your project. In fact, there will be enough extra yarn left over that you can create a second hand-wrapped panel by adding our optional Make More: Hand-Wrapped Panel with Cotton Cord bundle which includes an additional grid, custom wood frame, cotton warp cord, and super glue. 
More About our Artist: Liz Wagner
As Creative Director for The Crafter's Box, Liz Wagner enjoys intimate involvement with the arts—whether it be alongside incredibly talented makers or in her own personal creative pursuits. Liz has always held a deep appreciation for handmade objects and finds value in exploring time-tested processes. 
"I find the deepest satisfaction lies in challenging myself to forgo conveniences and dive deep into the roots of a craft. Connecting with tradition is a way to build appreciation for the present and empathy for the past. Said another way—living fully in the present while being mindful of history can magically transform 'tasks' into leisure. Cloth weaving, clothing construction, candle and soap making, even fermentation and growing your own food—all of these practical and beautiful heritage crafts resonate with me most and help keep gratitude in the forefront of my daily life."
Liz lives in beautiful San Diego, CA with her husband and five children. When she's not hard at work exploring and executing  crafts for The Crafter's Box, she's busy creating additional crafts for pleasure. She finds inspiration through stillness  and in the quiet, patient plant life that grows outside her front door and in the wider world.
We can't wait to see how your wrapped panel turns out. Share your creative journey and finished creation with us by tagging @thecraftersbox in your social posts. Don't forget to use #thecraftersbox so our community can also see your workshop come to life. Happy making!