More Details
ZAHRA AMMAR
EASTERN GEOMETRIC DRAWING & PAINTING
We are so excited to be working with artist Zahra Ammar for another collaboration. In this workshop, we are exploring the beautiful art of Eastern Geometric Drawing & Painting. We'll learn how to create and construct two Islamic geometric designs, the power of tessellation and intricate tile work, and the techniques to finish your piece with a layer of watercolor.
When Zahra began exploring Islamic geometric art, she was immediately drawn in by the complexity behind the intersecting shapes and, how she describes it, the way the designs bring 'meaning to your eyes'. A design can travel from feeling like you're searching and exploring the art unknown—unsure of what the final outcome will be—to discovering the limitless possibilities of patterns. A practice that we've found envelopes you as soon as you get started building and shaping your custom design.
Under Zahra's expert guidance, we will learn how to construct each intricate design. She makes this beautifully complex artform incredibly approachable by walking us through each step in the digital tutorial — plus we have a step-by-step guide you can follow along with. Once you learn how to construct the patterns, Zahra teaches us how to transfer the design onto watercolor paper. We will also be learning how to tessellate, or repeat the design, in a tile pattern that can be as complex or simple as you want. Finally, we will finish with water coloring and lining the design with one of Zahra's favorite tools — a fluid writer pen. This unique tool is perfect to outline your creations for a stunning finished look. Once you've just finished creating a beautiful piece of fine art for your home, you can use your knowledge of geometry to seek infinite possibilities for even more creating.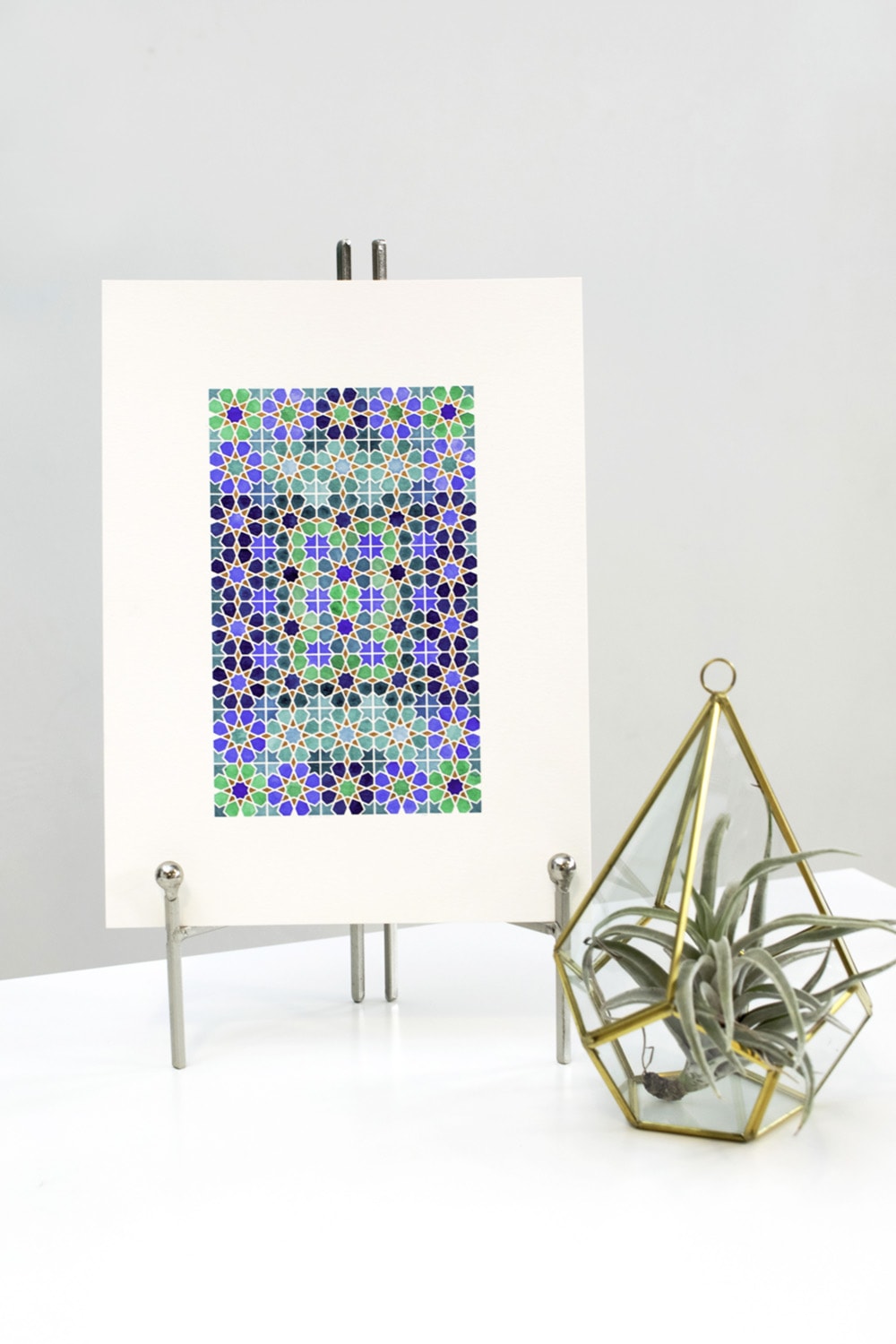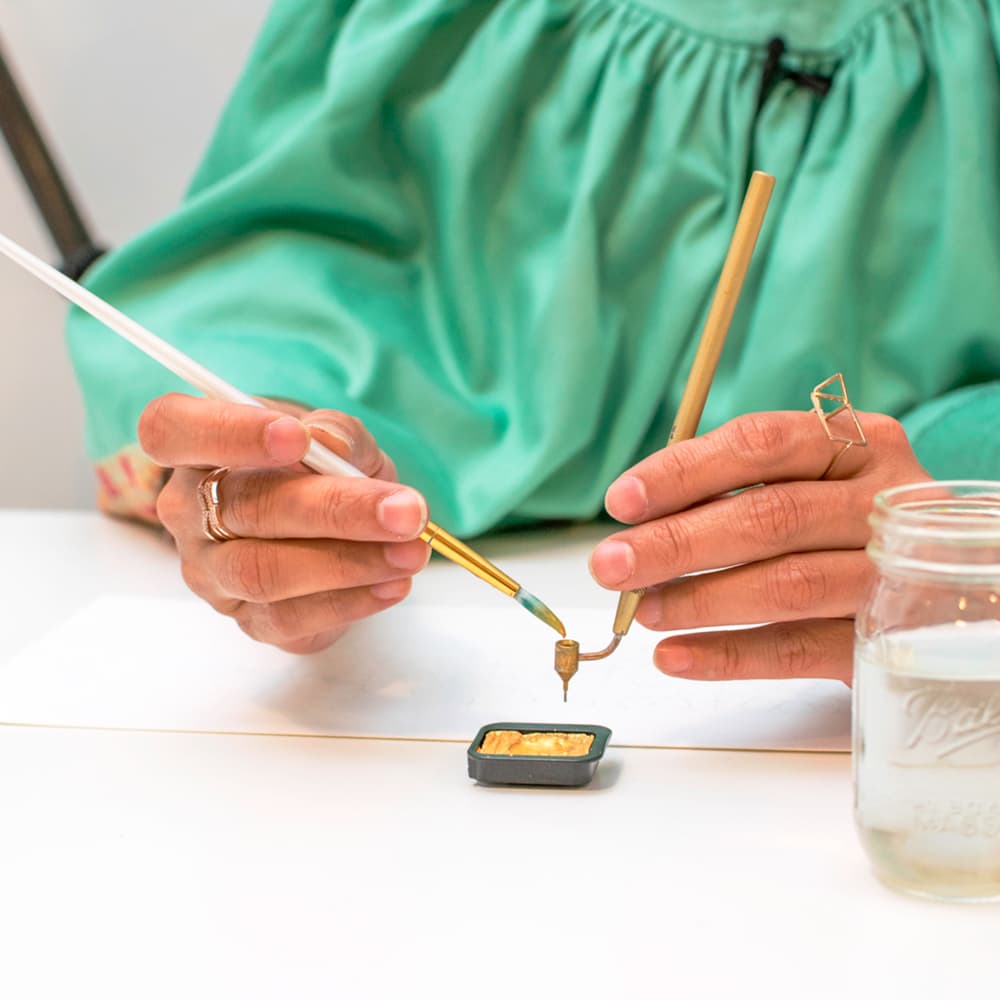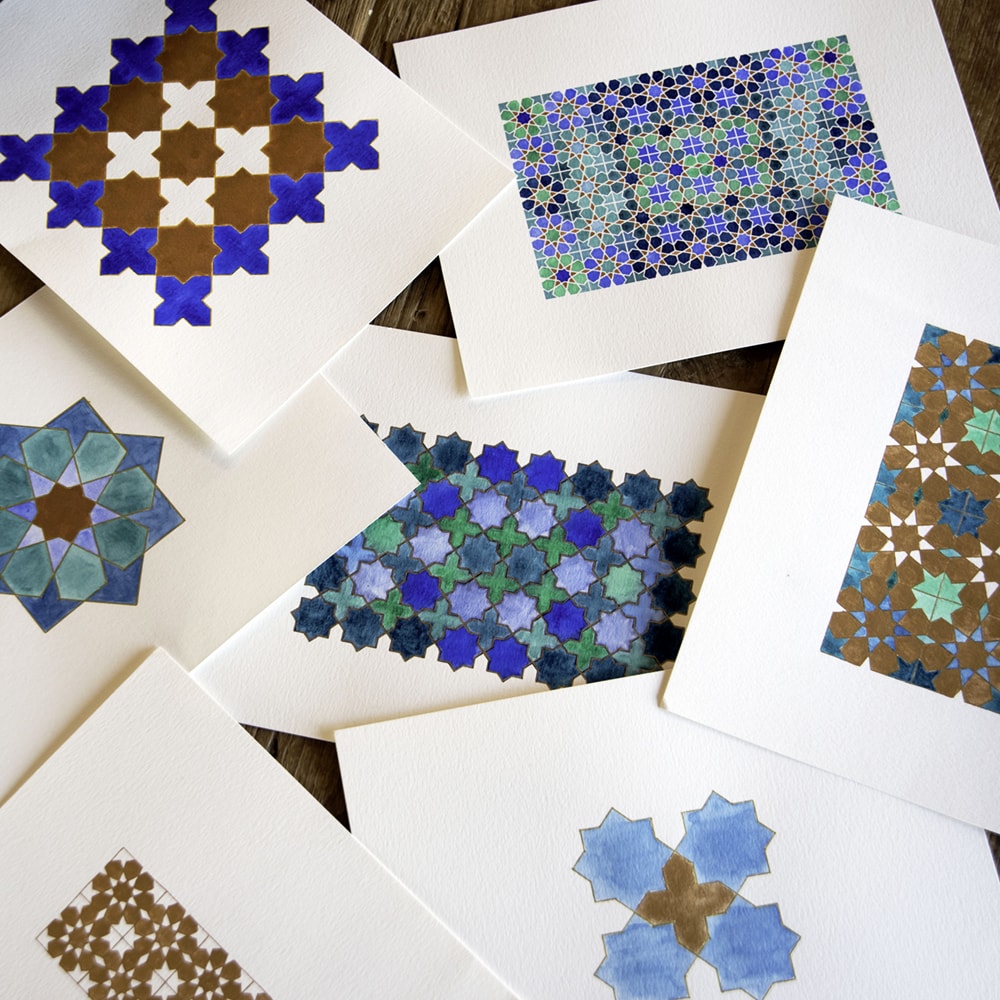 About Eastern Geometric Art: Islamic Geometric Art has deep roots in both historical and modern context. The term Islamic art is not used solely to describe religious art or architecture but applies to all art forms produced in this style. Historically, this art style avoided figurative images and was predominantly geometric or floral. Artists use geometry to explore non-figural art and mathematically-based designs to apply their work to architecture, tile work and other embellishments—a famous example being the tessellations found in the Taj Mahal. Many of the underlying designs originated from ancient cultures: Greek, Roman, Byzantine, Central Asian and Persian to name a few. Eastern design and influence can be found throughout Europe, Africa, the Middle East and Asia. Islamic geometric art is well-respected for its beauty and the impressive skill to execute such a detailed, precise technique. This art style flourished so richly that the distinctive designs are collectively known as Islamic Geometric Design.
More About Our Artist: Zahra Ammar
We are beyond thrilled to be collaborating with Zahra on a second workshop. Last year, we worked with her to learn the beautiful and modern take on the art of paper quilling. Up until very recently, Zahra was a California-based artist in Sacramento. She moved to Houston, TX to explore a new chapter in her life as an artist. She is in love with geometry and continually sees lines, circles and polygons in everything around her. She started Islamic Geometric Art as something to divert her mind from the mainstream art she's known for. In this exploration, Zahra found that she was always drawn to highly complex geometric designs that she would see in her travels and wonder how they were derived. She took the plunge and jumped down a rabbit hole learning as much as she could from geometers, artists, geometry books...and never looked back! 
For Zahra, drawing a design is like a search into the unknown, being surprised by what comes along. It requires patience and a sense of adventure. Once the design has been derived, she absolutely loses herself in the painting process. She often marvels at how easily she can go into a state of flow and come out energized after hours of holding a brush dipped in color.
When not surrounded by mounds of paper and paint, you can find Zahra exploring outside on her bike with crazy ideas churning in her head, reading thrillers or writing poetry. Her work has been exhibited in galleries and collected in the US as well as internationally, we're so honored to collaborate with Zahra on this workshop.
We're so excited to have you join us, Zahra.
Zahra Ammar's
Podcast Interview
Share with us! We can't wait for you to join us. We hope you enjoy this workshop, we'd love to see how you are inspired to create using these techniques. Be sure to share with us by tagging @thecraftersbox, our featured artist @zahraammarart, and using #thecraftersbox so all can see your work! Happy making with this special workshop.