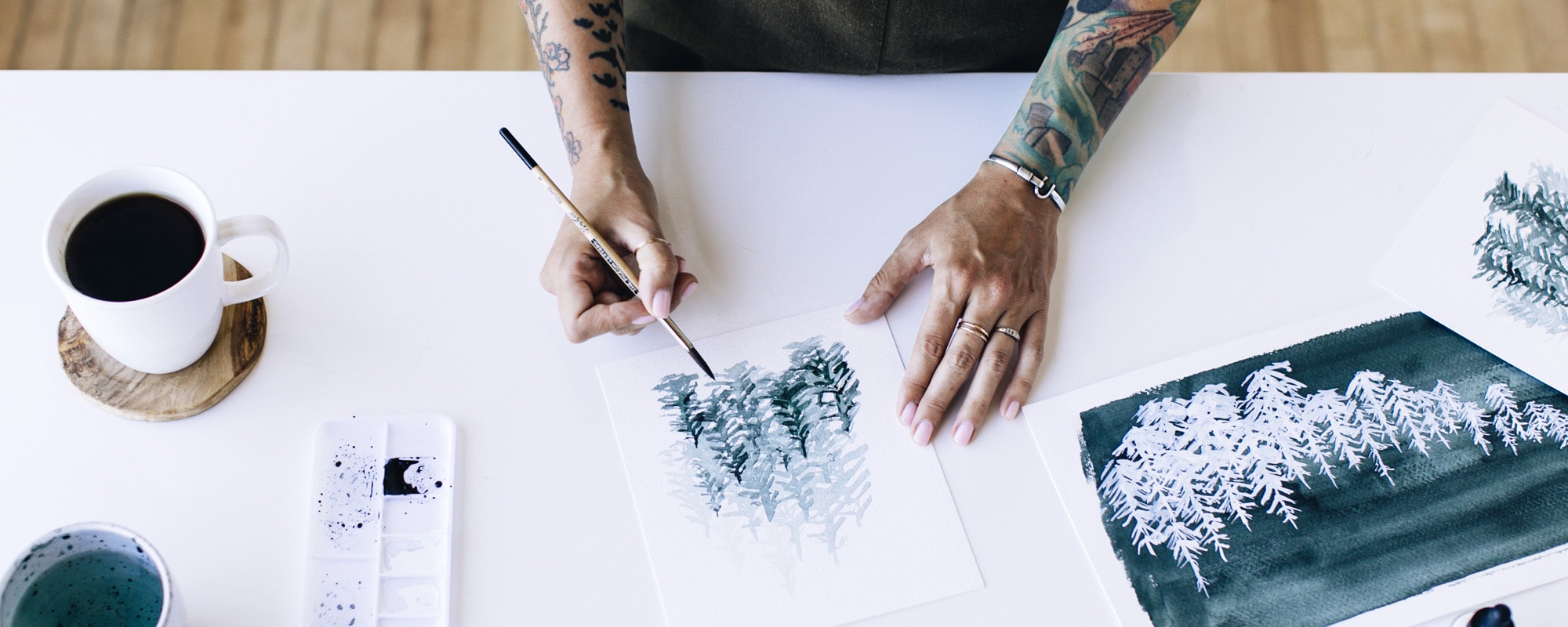 PEGGY DEAN
INKED FOREST ILLUSTRATIONS
Welcome to our workshop exploring the medium of ink through illustrations & silhouettes of magical, mystical forests inspired by the beauty of the Pacific Northwest. Artist Peggy Dean of The Pigeon Letters shares her skills, techniques and knowledge behind this flexible paint alternative to explore illustrating greenery using her very own line of ethically produced paint brushes.
We will explore ink as our medium of focus and all of the unique characteristics ink offers. The ink Peggy chose in this workshop is so opaque it can be applied over colorful watercolor washes as she shows us how to use this technique to create beautiful silhouettes.
Together we will explore the tones and hues of deep green while experimenting with the transparency of watercolors. Peggy will teach us how to properly prep our paints and palette wells while utilizing techniques to create detailed trees with white ink over a dark watercolor wash to create an opaque finish. The result? A gorgeous, whimsical forest painting to frame for your home. When finished with your first piece, explore ink in a host of different colors through our add-on kit. Keep creating in a new medium!
Materials Kits for More Exploration
Antiqued Brass + Glass Hanging Float Frames
Artisan made brass frames complement our inked forest illustrations for a beautiful display. Choose to display your finished art in an antique-inspired brass metal float frame in one of two sizes, ideal for displaying paintings and other two dimensional keepsakes.
Canvas Tool Roll
Carry all of your new, ethically sourced paint brushes in our custom canvas tool roll. There's plenty of room to store all of your other crafting supplies like pens, pencils, brushes (of all size), knitting needles, crochet hooks...all of the things! And right now, our toolbox collection is 35% off.
About this kit: This workshop will include three professional-grade brushes from Peggy's own The Pigeon Letters collection: two round brushes and one wash brush. These premium brushes are eco-friendly, professional grade, synthetic paint brushes — meaning no animal by-products are used in creation or testing, making these cruelty-free. Each brush has long handles for executing multiple techniques with one brush. Use the belly for broad strokes, or the super-fine tip for hairline strokes in detailed work. The wash brush is excellent for creating a thick, broad stroke of color across the page. The paper included in your kit is 140lb premium, cold-pressed watercolor paper. Just watch as the paint sits beautifully within the textured fibers of the papers!
This workshop kit also features a deep perylene green watercolor paint that is professional grade and highly pigmented, giving you a huge range of hues and tones to work with once mixed with water. We are also thrilled to be including Dr. Ph. Martin's Pen-White ink to pair with the watercolor paint. Dr. Ph. Martin specializes in creating premium liquid chemical compounds for the best artists across all mediums. From their paints to their dyes and inks, Dr. Ph. Martin is a trusted US-based brand for many artists because of their commitment to vivid colors, specialized properties, and careful creation.
The pen-white ink for this workshop is most often used for fine writing in a technical pen or an airbrush tool. We are taking this ink to a new medium, as Peggy shows us how to implement it with our watercolor paint. Just look at how the beautiful opaque ink gives a unique finish! This liquid ink delivers the brightness and permanency of traditional, tubed watercolors and is significantly more versatile and easy to use with the glass dropper and fine pen tip. You will love playing with the opaque color that is able to cover even the darkest backgrounds and papers to add a beautiful contrast.
As you explore the forest with us, embrace the imperfections. Nature is the perfect creative inspiration because it highlights the beauty of imperfections and variety. Play with different sizes, brush strokes, and opacity levels as you experiment with your pigments and ink. We are so excited to see what mystical forest you create!
The Curated Kit of Tools & Materials
This workshop includes: 
A detailed, digital workshop by Peggy Dean featuring mystical forests from the Pacific Northwest
A live Maker Chat Q&A for our community to join in creative conversation
Tools and materials from artisan suppliers, curated for you, by Peggy
The tools & materials included in our kit:
A trio of The Pigeon Letters professional quality brushes:


    

- 1" wash brush


    

- #2 round brush


    

- #8 round brush

Dr. Ph. Martin's Pen-White ink

Winsor & Newton Watercolor in Perylene Green
Heavy watercolor paper in black and white
Paint palette
Pigeon washi tape
Water mister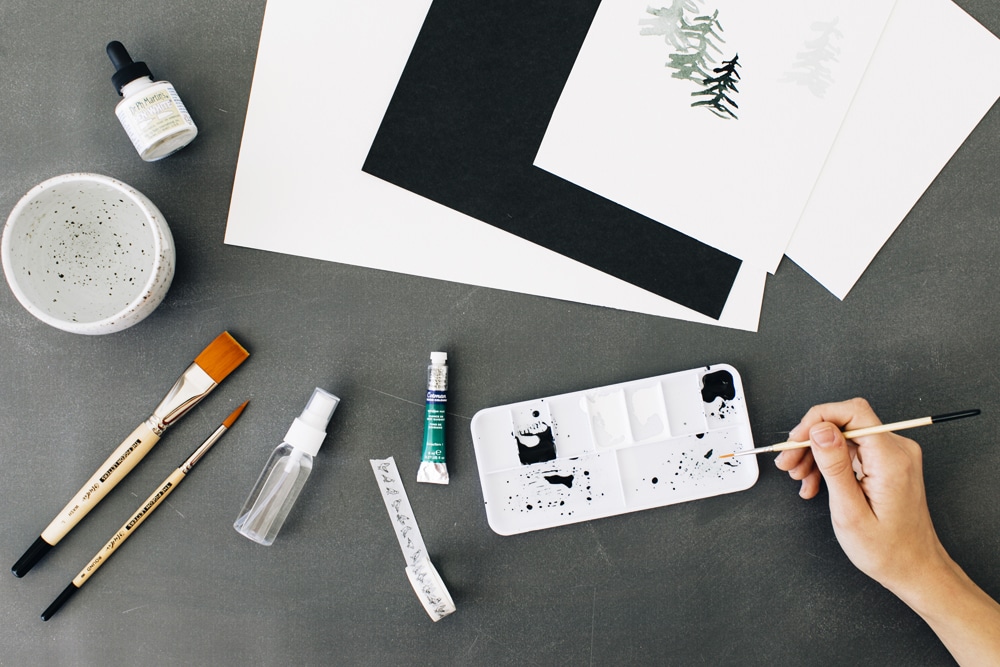 More About Our Artist: Peggy Dean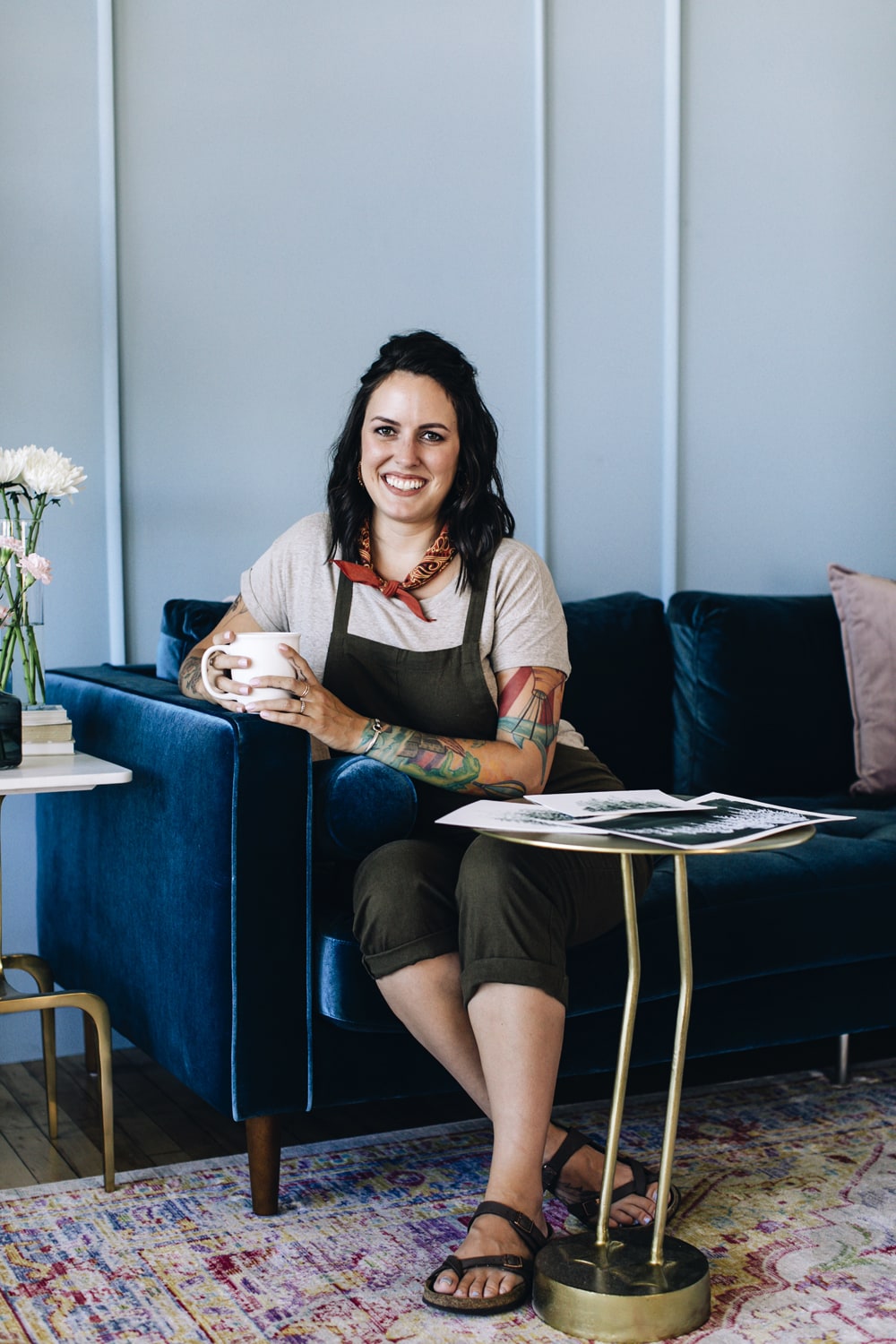 As a self-taught artist who found creativity through a struggle with mental health, Peggy Dean is passionate about embracing imperfections and living out loud — and loves empowering others to do the same. Peggy values giving back and has a deeply-rooted love of animals. She takes the extra steps to ensure her tools and materials are cruelty-free and has even developed her own line of products.
Peggy Dean is the author, educator, and designer behind The Pigeon Letters. Her best-selling titles include The Ultimate Brush Lettering Guide, Botanical Line Drawing, and Peggy Dean's Guide to Nature Drawing & Watercolor. When not traveling the world for speaking engagements and hands-on workshops, you can find Peggy exploring, learning, and creating in her studio in Portland, Oregon.
The Pigeon Letters donates a portion of all proceeds to nonprofits working toward sustaining wildlife. They are dedicated to this cause, and every purchase means that you are making a real difference in the world around you.
We're so excited to have you join us, Peggy.
Peggy Dean's
Podcast Interview
Share with us! We can't wait for you to join us. We hope you enjoy this workshop, we'd love to see how you are inspired to create using these techniques. Be sure to share with us by tagging @thecraftersbox, our featured artist @thepigeonletters, and using #thecraftersbox so all can see your work! Happy making with this special workshop.