CHRYSTEEN BORJA
NATURALLY DYED RIBBON
Welcome to an introduction to naturally dyed ribbon with artist Chrysteen Borja of @WaverlyKnots. This workshop dives into a variety of specialty and unusual dyes, as well as unique substrates for dyeing with Chrysteen's expert guidance.
We're feeling so very inspired by Chrysteen's technique and the many ways to explore and decorate this holiday season. We're customizing gorgeous ribbons for your garland, door wreath, Christmas tree, mantel, dining table as a runner, wrapped gifts... the possibilities are endless.
The four natural dyes featured in this workshop include logwood, wattle, cochineal (extract from a tiny bug found in the Southwest), and Himalayan rhubarb. You'll find skeins of recycled silk sari and silk chiffon, along with pieces of our favorite linen blend and a cotton velvet. The combination of textile variations and dyes included creates a stunning range of colors from soft pastels to moody mauves. Explore deep purples, soft yellows, vibrant pinks and neutral tones.
For this workshop, we erred on the side of exploration and included lots of dye opportunities and variations. You can add extra fabric to your workshop kit through our add-on (see below) to continue your crafting. If you follow the directions within this workshop kit, you'll end up with roughly 9 feet of 2 1\2 inch thick ribbon in velveteen, linen, sari and chiffon fabrics. 
We are so excited to have you explore this project as we dive into creating beautiful textiles with Chrysteen. We would love for you to share your final product with us by tagging your photos with #thecraftersbox. Happy making.
This workshop includes: 
An in-depth, digital workshop by Chrysteen Borja
Tools and materials from artisan supplies, curated for you, by Chrysteen
The tools & materials included in this kit:
Natural Dye Powders:
Logwood (purple)
Wattle (mauve)
Cochineal (pink)
Himalayan rhubarb (yellow)
Featured Textiles:
20g sari silk ribbon
20g chiffon silk ribbon
40g 100% linen fabric
40g cotton velvet
Mordants & Fixatives:
Aluminum sulfate
Soda ash
Aluminum acetate
Calcium carbonate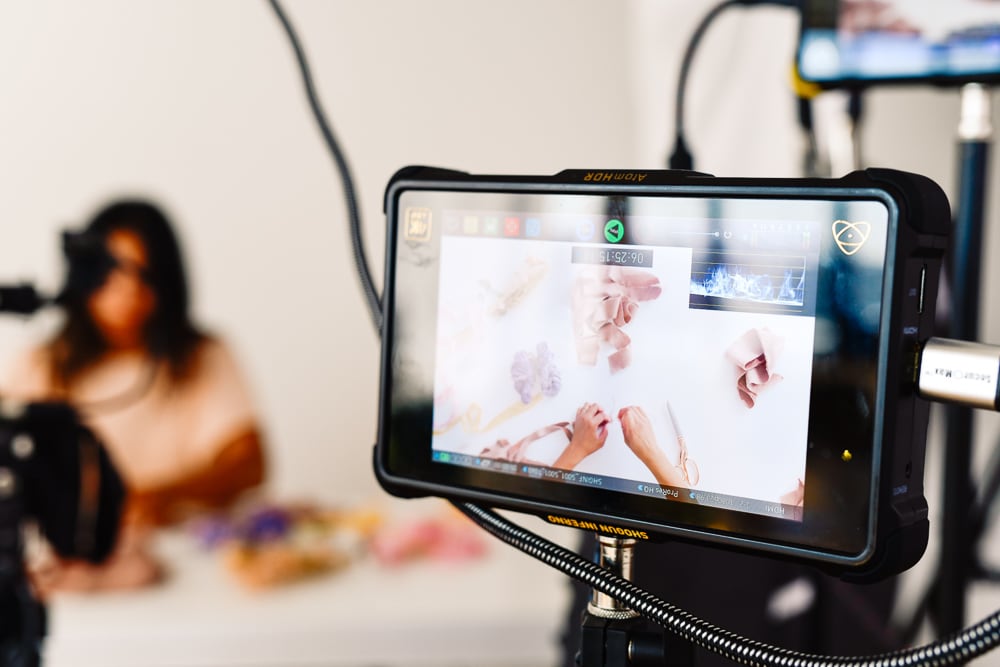 Additional Tools:
Cotton rope to tie skeins
Thermometer
Metal tongs
Liquid measuring cup
Measuring spoons
Whisk
Dust mask
Pair of gloves
Needle
Thread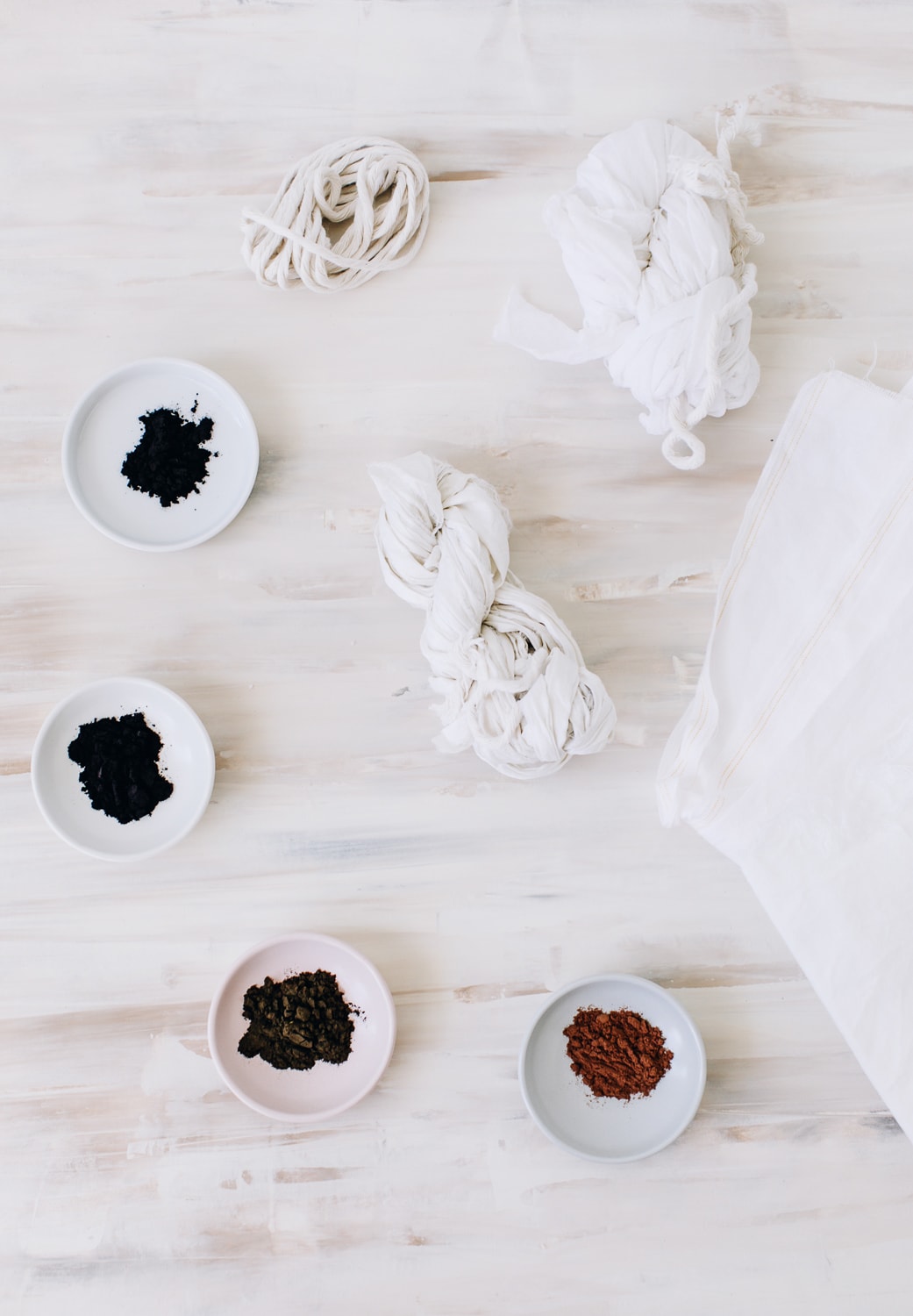 Chrysteen Borja's
Podcast Interview
More About Our Artist: Chryteen Borja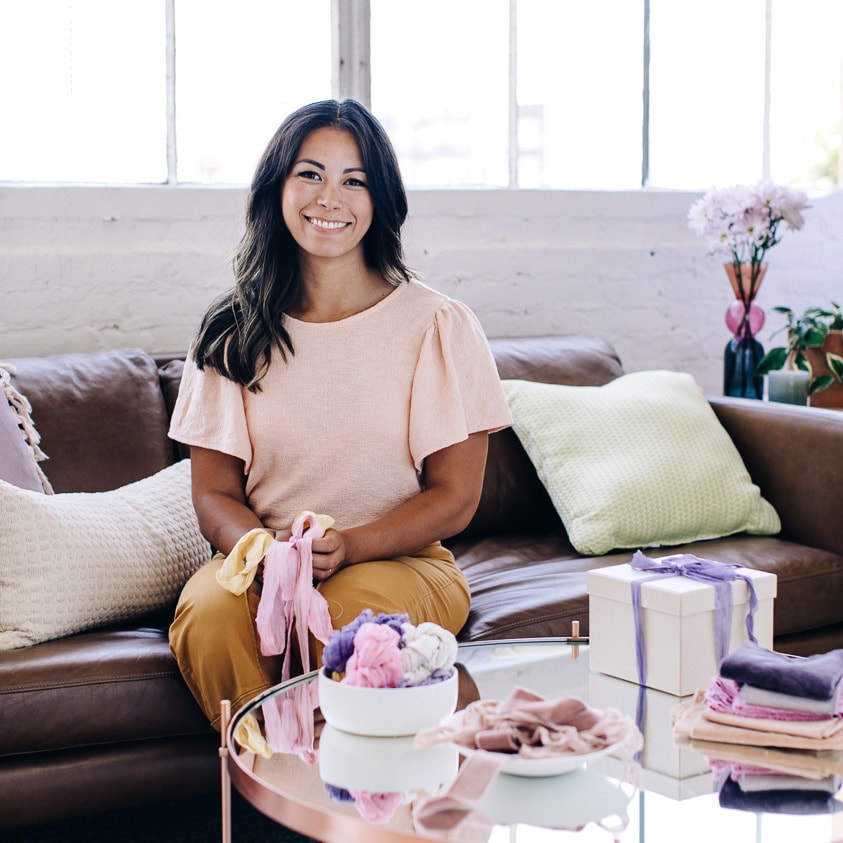 Chrysteen Borja is the maker and owner behind @waverlyknots, a small business she leads in Seattle, WA where she lives with her husband, 3-year-old son and a soon-to-join-their-family baby girl! Chrysteen began her exploration of natural dyeing in 2015 as an extension to her macrame and weaving work. The rich colors and beautiful gradients she was able to achieve out of minerals, plants and even insect-based natural dyes lead her to dive deeper into the art. With a heart for all things fiber and textile, Chrysteen has built a thriving creative business surrounding her finished work and her continuing exploration. We loved collaborating with Chrysteen to bring you a closer look at the alchemy that is naturally dyed ribbon.