ZAHRA AMMAR
PAPER STAR LANTERNS
Create elegant hanging paper star lanterns as you become entranced with the soothing and cathartic craft of paper cutting. Paper artist Zahra Ammar shares how to make 3-dimensional paper stars in three different designs and sizes. These graceful pieces bring a touch of celestial beauty to any space.   
HOW TO MAKE PAPER STARS
In this workshop, Zahra will guide you through every step of the process, starting with a primer in 3D thinking for the designs. She teaches how to use carbon paper to transfer patterns, cut and score using the knife, and how to assemble the stars with E6000. Along the way, Zahra shares tips for troubleshooting, creating precise edges, creating your own designs, and how to hang the finished project.  
Above all, Zahra reminds us to take our time and enjoy the crafting process. "Be patient," she shares. "Patience is the most important ingredient in creating the magic behind these stars. Don't rush the process."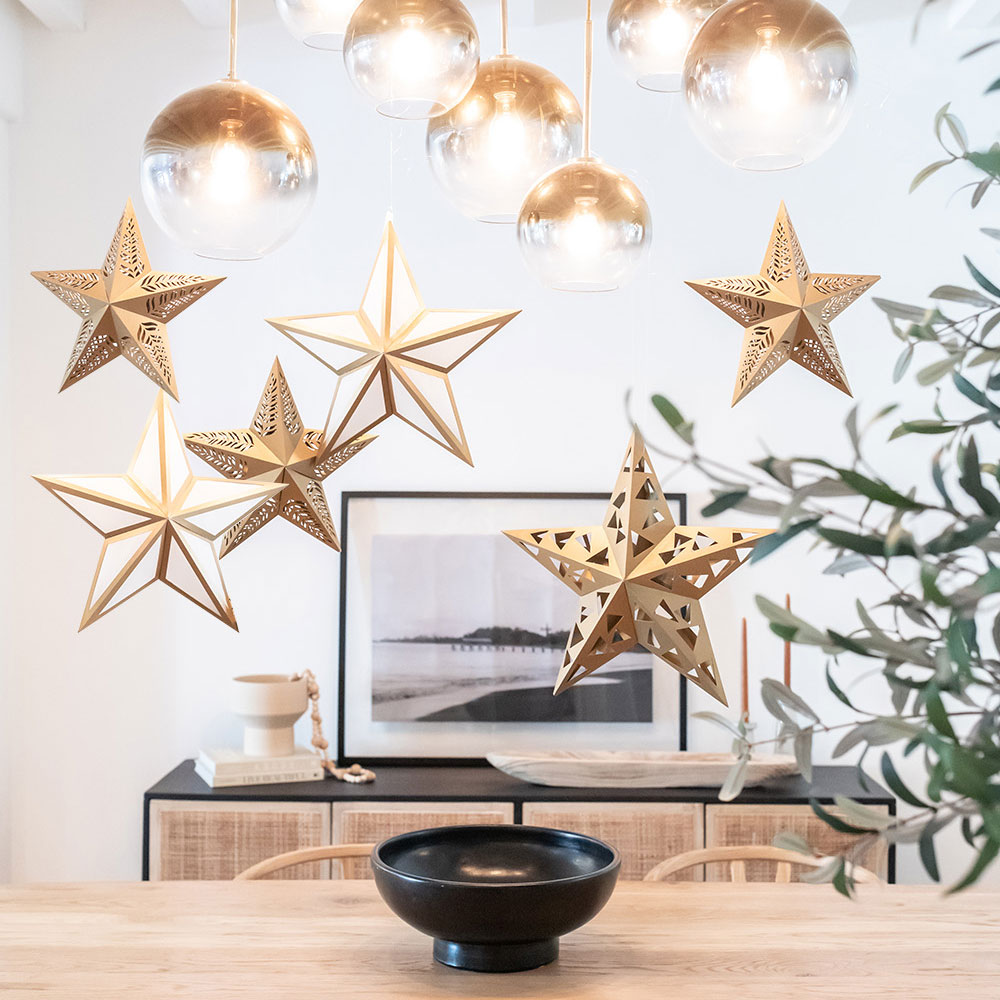 COSMIC CRAFTING
Hang your trio of paper stars in a galactic cluster, or display each to stand alone. These stellar lanterns perfectly accent holiday décor but also look right at home all throughout the year. Ever inspired by outer space and all things cosmic, Zahra shares a quote from the remarkable Carl Sagan. "The cosmos is within us. We are made of star-stuff. We are a way for the universe to know itself."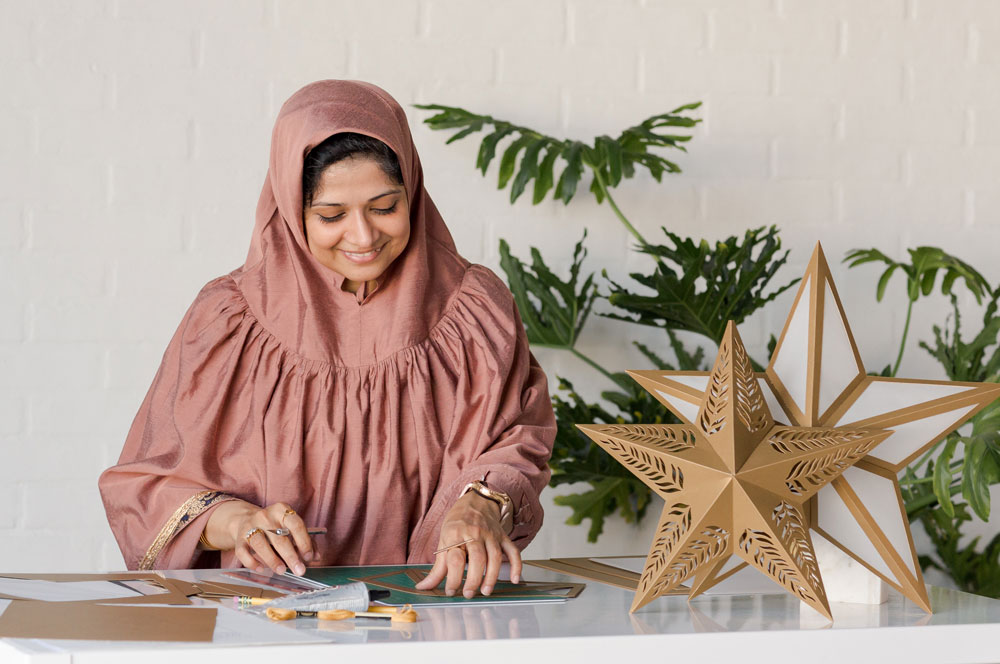 PAPER STAR LANTERN KIT
Your kit includes everything needed to make three paper star lanterns of varying sizes. Arriving in three pre-cut and corresponding dimensions, the gorgeous cardstock comes together to create a sturdy and polished finished project. Vellum sheets add a lovely soft, diffused look—especially when fairy lights are added. Carbon paper is used to transfer the designs, and a craft knife combined with a ruler will create precise cuts. The self-healing cutting mat makes an ideal work surface, and the E6000 glue was chosen purposefully to pair with this cardstock.
If you already have a cutting mat at home, we've made this workshop customizable so you can swap out the mat for an additional cardstock colorway, allowing you to make three additional paper star lanterns.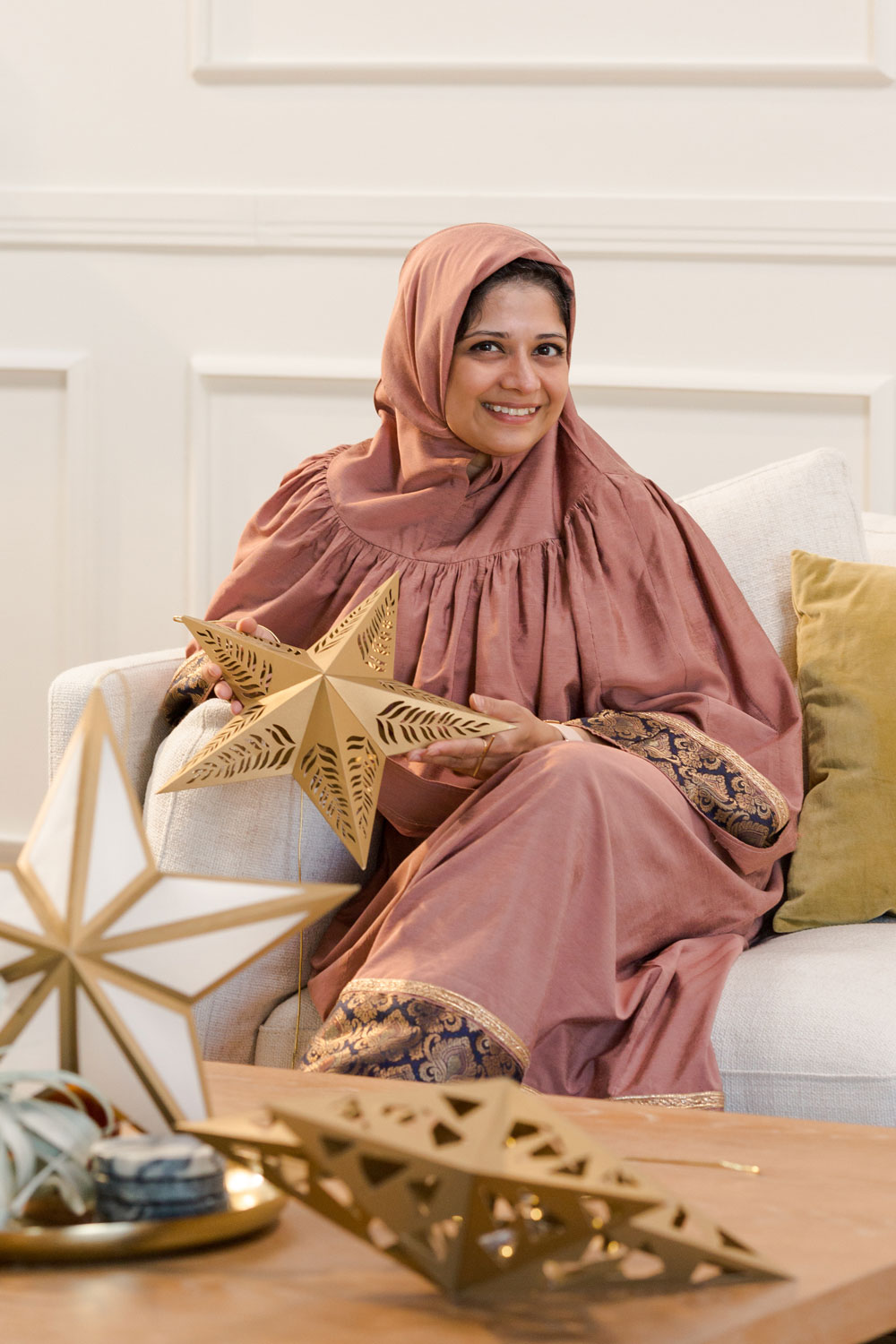 The Curated Kit of Tools & Materials
This workshop includes:
A detailed digital workshop led by Zahra Ammar

A live Maker Chat Q&A where you can join creative conversation with the artist and ask questions.

Tools & materials from artisan suppliers, curated for you by Zahra Ammar

PDF download with written instructions to complement the video tutorial
The tools & materials included in your kit:
Cardstock in Stella (gold), 286gsm in the following sizes:

Five sheets of 8" x 9",  [finished star dimensions ~7.5" x 8.6"]

Five sheets of 10" x 11", [finished star dimensions ~9.3" x 10.7"]

Five sheets of 12" x 12", [finished star dimensions ~10.2" x 11.75"]

Craft Knife

Double-sided self-healing cutting mat, 9" x 12"

Embroidery floss in gold, 16yd

Four sheets vellum paper, 8.5" x 11"

Two sheets black carbon tracing paper, 9" x 13"

12" plastic ruler

E6000 glue, 2oz

Pre-sharpened #2 wooden pencil

Paper Star Lanterns Workshop pattern templates
Materials to have at home:
Household tape to help with tracing

Paper towels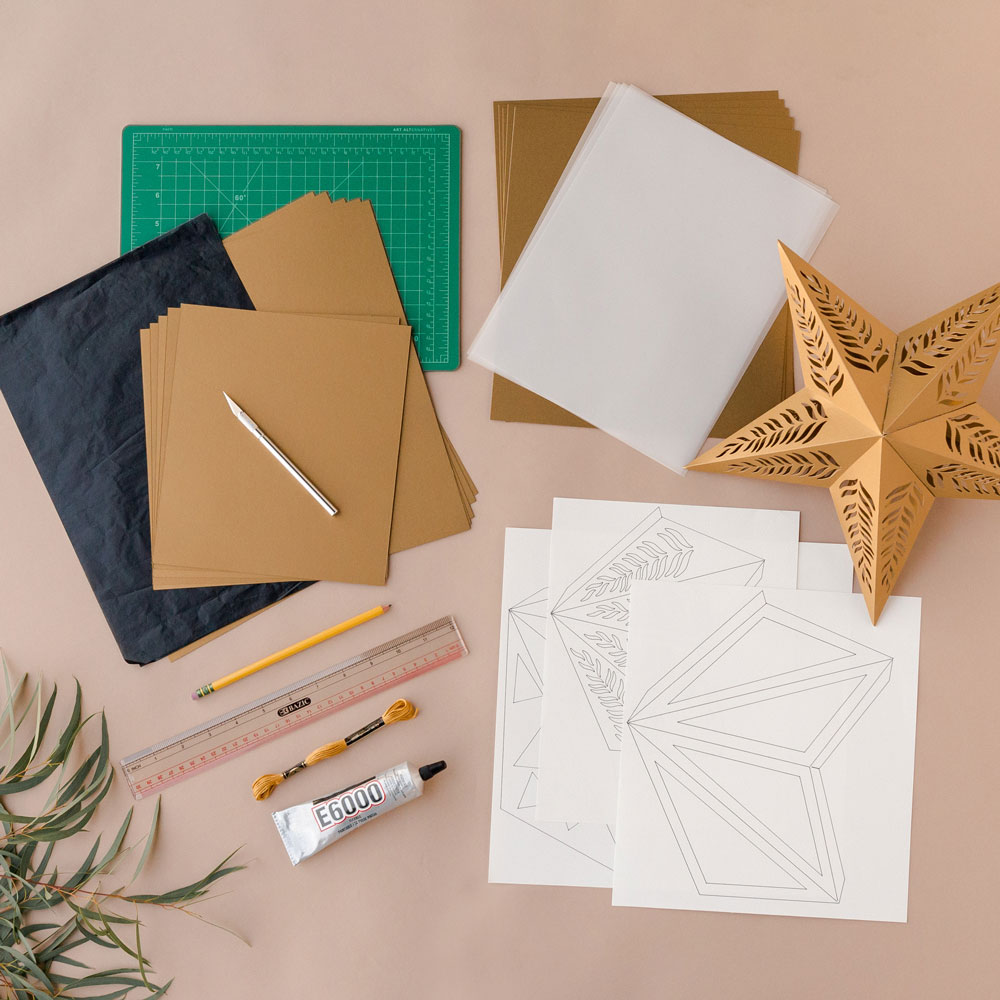 Materials for More Exploration
Fairy Lights: Set of Six
Add a touch of enchantment to your paper star lanterns with the addition of warm white fairy lights. These tiny battery-operated lights are easy to insert into your paper stars and look especially beautiful when combined with vellum.
More Paper Stars: Estrella
Create three more paper star lanterns—with all the drama of a fiery red giant. This colorway also comes with additional vellum paper, carbon paper, and embroidery floss.
More Paper Stars: Étoile
The pearlescent white of this cardstock creates a dreamy set of paper stars. Make three additional star lanterns with this bundle, which also includes extra vellum, carbon paper, and embroidery floss for hanging.
More Paper Stars: Stella
Recreate the night sky when you add three more golden paper stars to the room. Featuring the same cardstock as the original kit, this bundle comes with enough materials to create three paper star lanterns.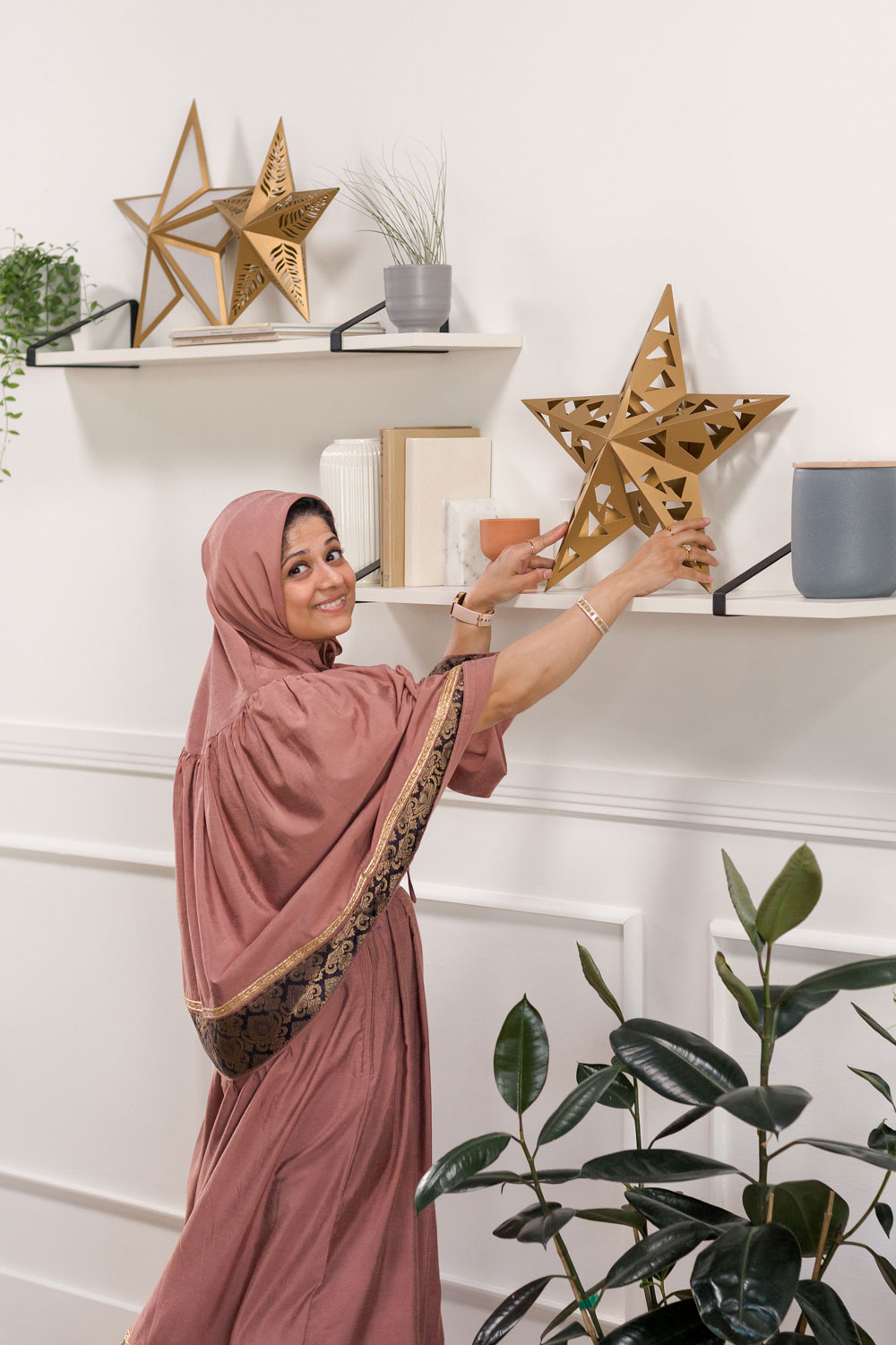 More About our Artist: ZAHRA AMMAR
Zahra Ammar is a paper artist who loves to cut, fold, and explore the endless possibilities of paper. She loves the immense versatility and form that paper has to offer. In her own way, her expressions are cut and folded into the artwork with certain themes running around everything she creates. Her methods are unique as she creates geometric and floral pieces that deviate from traditional forms and project dimensionality. She is also in a deep relationship with colors and pigments, creating artisanal watercolors with semi-precious minerals, foraged rocks, and synthetic colors. 
Driving her inspiration from her love of hiking and reading, her work is an essay on florals and geometric patterns. Zahra's works can be found at California Medical Association, Kaiser Permanente, Dignity Health and Sutter Hospitals, and in many private collections around the world.
We can't wait to see how your paper star lanterns turn out. Share your creative journey and finished project with us by tagging @thecraftersbox + @zahraammarart in your social posts. Don't forget to use #thecraftersbox so our community can also see your workshop come to life. Happy making!