VALERIE MCKEEHAN
PASTEL LANDSCAPES
Let's get our hands dusty as we create a scenic wildflower pastel landscape. Join Valerie McKeehan, artist and founder of Lily & Val, as she shares her expertise on soft pastel technique, landscape composition, and color theory. Unlike other forms of painting, pastel painting has minimal cleanup, no process to prepare or mix colors, and can be easily picked again between sessions. Plus, this tangible artform allows a direct connection to the paper. "Since there's nothing between your hands and the medium, you will learn how to connect with the marks in such a tactile way, learning the feel of the pigment and the changes when pressure is applied," says Valerie.
Valerie's in-depth tutorial on composition breaks down the landscape scene into simple shapes, then we apply light, value, and color theory to map out our impressionist scene. We learn different techniques for mark making, layering, underpainting, and how to mix soft pastels by blending. Using our templates as a guide, the soft shapes of the landscape come together like magic. These skills and techniques can be applied to future projects, for endless landscape scenes.
SOFT PASTEL KIT
The kit has everything needed to create our impressionist landscape scene, including a set of 24 soft pastels. Because of their composition—pure pigment held together with just enough binder to form a stick—soft pastels have an intense color and blend easily. "I think it's just really cool that when we're painting with soft pastels, we're really painting with crystals of pigment," says Valerie. "And these pigments have light scattering properties, and the paintings just look luminous."
 The sanded paper was chosen for its ability to accept a wet underpainting and grip the pastel pigment into place, meaning you won't need a fixative that may dull the light pigments. The foam core board and masking tape keep our art safely in place as we work, and the isopropyl alcohol, fan brush, and hard pastel color stick allow for underpainting. Valerie has also included a line drawing template with color options, and a loosely shaded template to reference for light, value, and shapes.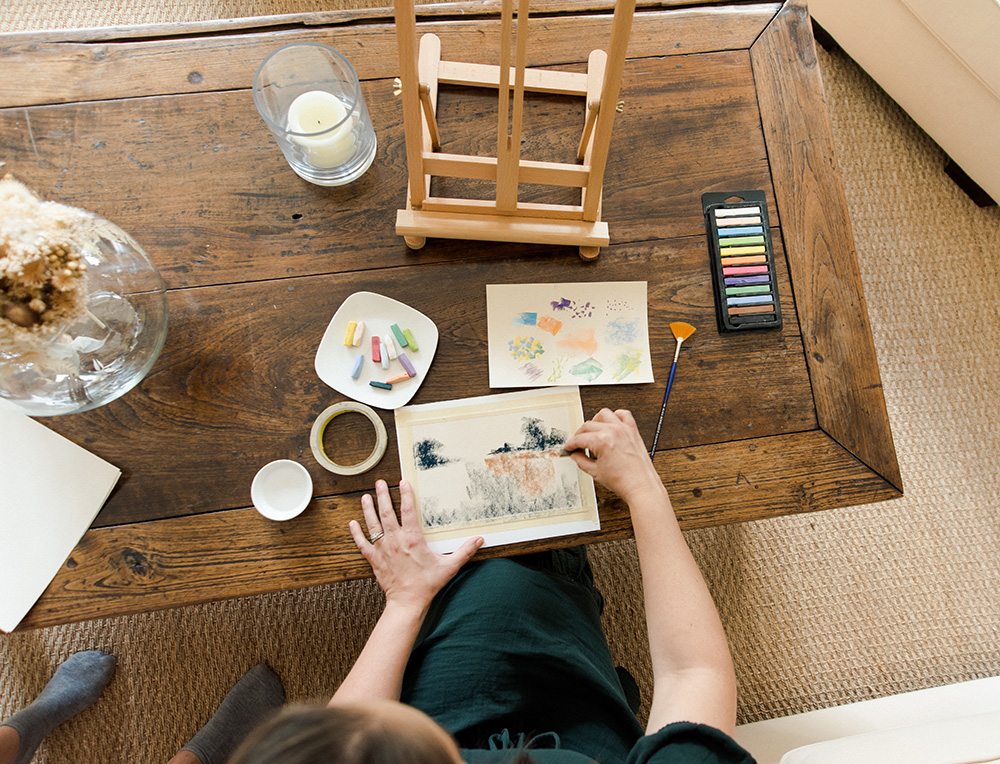 CALMING ART
As makers, we seek the meditative act of creating. For Valerie, the discovery of soft pastels came during a difficult time in her life. "In 2020, the world and personal circumstances just became too heavy, and I ended up finding myself at a loss for words," she says. This was a real crisis for somebody that built a career on hand lettering. My mother-in-law suggested, because of my background in chalk art, that I give soft pastels a try. And I fell instantly in love at the first layer of beautiful pigment."
 Valerie connected with landscapes especially because they "… tell such a beautiful story of a fleeting moment, and they can convey such mood and emotion." The rich history of soft pastel, and impressionist movement artists like Edward Degas and Mary Cassatt further drew Valerie's interest in the medium.
"Painting with soft pastels brought me such peace and calm when I needed it the most, and it was such a therapeutic experience for me, that I'm so excited to be able to share this art medium with you as well and show you how to paint a wildflower landscape," shares Valerie.
The Curated Kit of Tools & Materials
This workshop includes: 
Tools & materials to create two large or four mid-sized pastel landscapes

A detailed digital workshop led by Valerie McKeehan

A live Maker Chat Q&A for our community to join in on a creative conversation with the artist
The tools & materials included in this workshop:
Soft pastels, set of 24 colors

Hard pastel color stick (may easily be used if broken into pieces)

Two sheets of 400 grit pastel paper, 9 x 12"

Foam core board, 8½ x 11"

Masking tape

Fan brush

70% isopropyl alcohol

Line drawing template with color guide

Loosely shaded template for light, value, and shape reference
More About Our Artist: Valerie McKeehan of Lily & Val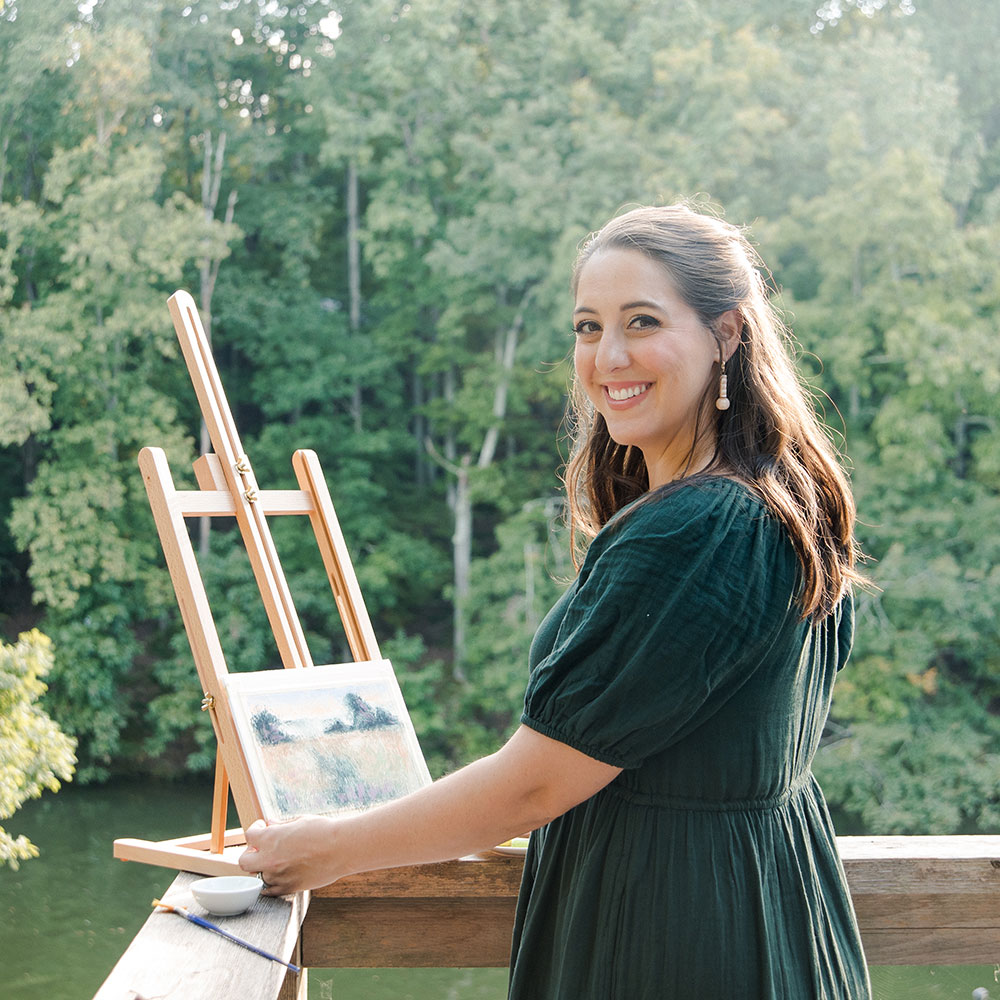 Valerie McKeehan is the founder and artist behind the brand Lily & Val. Inspired by the beauty of ordinary life and nature, she paints, hand letters, and illustrates out of her home in Pittsburgh, PA (mostly during nap time). For as long as she can remember, she's loved to create and dream up ideas for things to make. 
"When I think about my fondest memories, they involve scenes of cozy, simple, ordinary life. I grew up in rural Pennsylvania and my mother instilled in me a deep-rooted love of flowers and nature, which I am profoundly grateful for. I often look to happy memories of my childhood for inspiration. 
Landscapes in particular have captivated me as they tell a story of a fleeting moment in time and allow for such mood and emotion. I like to think about the paintings as sidewalk scenes in Mary Poppins, inviting you to just jump right in! Most often I'm seeking peace and calm while painting and I hope to help create a whimsical escape for you too."
Valerie's artwork has been featured throughout the national press including Martha Stewart Living, Good Housekeeping, Food Network, and Good Morning America with corporate clients such as Starbucks, Macy's, Anthropologie, and Flow Magazine. When she's not painting, she is chasing around her two-year-old daughter and tending to her cut flower garden.
We're so excited to have you join us, Valerie.
Valerie McKeehan's
Podcast Interview
Materials for More Exploration:
Studio Tabletop Easel
Keep your landscape elevated as you work with this H-frame tabletop easel.  Sturdy and lightweight, it's easy to take on the go. The wooden easel also makes a beautiful display to showcase your finished pastel piece.
Pastel Landscapes Pattern Trio
Continue on  in soft pastel landscapes with three additional scenes by Valerie: "Where the River Meets the Road," "Summer Field," and "Imagination". This bundle also includes additional pastel paper, a tracing paper pad, and templates for color and value. 
Share with us! We look forward to sharing this fulfilling and joyful experience with you and cannot wait to see how your pastel landscapes turn out. Be sure to share your creative journey and finished creation with us by tagging @thecraftersbox and @valeriemckeehan in your social posts, and use #thecraftersbox so our community can also see your workshop come to life! Happy making.