TIFFANY LUSTEG
STRING ART
Combine warm tones of acrylic paint with yarn and nails on a birch panel to create a three-dimensional abstract artwork. In this workshop, artist Tiffany Lusteg discusses color theory and paint mixing, then gives an in-depth tutorial on how to create our string art piece.
Our kit comes with everything needed to get started with string art, including acrylic paints, a wooden backer board, nails, and yarn. The expert-led workshop by Tiffany takes us through each step of the process, from finding the perfect color palette and measuring our shapes, to painting our board and marking the nail placement. We learn how to give our 3-D artwork a polished finish, and Tiffany invites us to take our newly learned skills to future projects.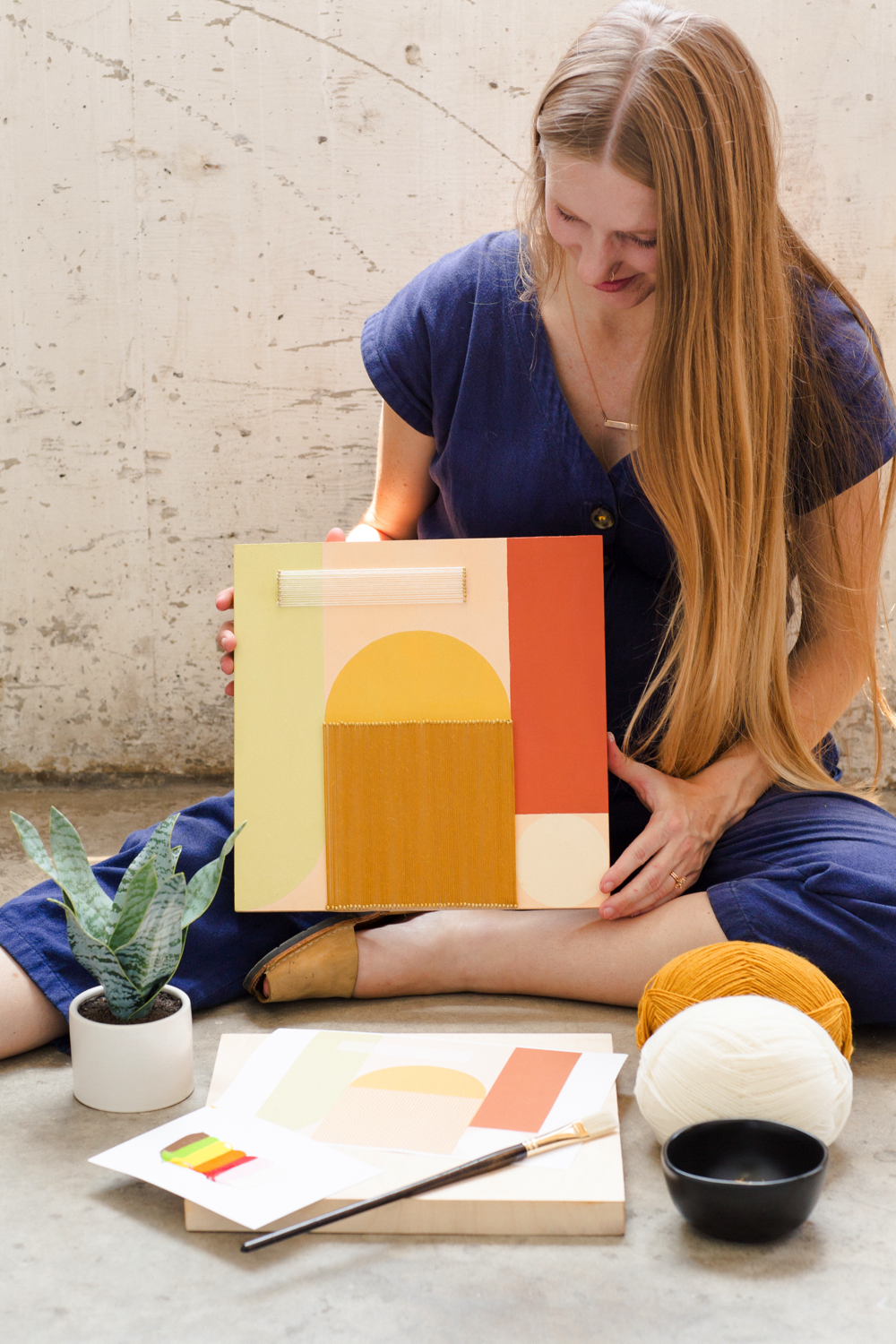 STRING ART KIT & WORKSHOP
The expertly curated kit comes with a custom made birch backer board that becomes the foundation for the piece. Seven acrylic paints mix to create all the rich colors, and the flat paintbrush is ideal for both precise lines and filling in shapes. Solid brass escutcheon pins combine with white and mustard yarn to add texture and dimension to the artwork. Tiffany has also included a template of the piece with a measurement guide.
After marking our shapes, Tiffany gives a comprehensive lesson on color exploration and mixing paints. We learn to take our time and enjoy the process while finding just the right shade for our abstract design, then dive into techniques to paint clean lines on the backer board. Tiffany shares how to accurately measure the brass nails and safely hammer them into place. For a polished finish, we learn how to weave the string through the nails, creating even lines, and neatly tuck away the ends. "The possibilities really are endless for where you could take these techniques for your next project; rethinking shapes and palettes or even jumping into my world of large-scale artwork pieces!" Tiffany shares.
COLOR PALETTE AND CREATIVE INSPIRATION
Tiffany shares that color theory and exploration are one of her favorite parts of the process. In the workshop, she explains how to lighten or deepen the value in a color, and how to create the perfect soft tone. Warm hues are featured in the abstract art piece, but Tiffany notes that her preferred color palette goes through seasons of change. "Last summer, I was navigating a difficult season of grief, and this translated to a lot of my work incorporating vivid blues and deep tonal values," she says. "Since being pregnant these last few months, my work has unintentionally favored greens and palettes of springtime or new growth."
The Curated Kit of Tools & Materials
This workshop includes: 
A detailed digital workshop led by Tiffany Lusteg

A live Maker Chat Q&A for our community to join in on a creative conversation with the artist

Tools & materials to create a three-dimensional string art landscape

PDF download with written instructions to complement the video tutorial
The tools & materials included in this workshop:
Handmade birch backer board, 12 x 12"

One skein fingering yarn in white, 459y/100g

One skein fingering yarn in mustard, 459y/100g

Acrylic paint, 2oz bottles in white, orange, brown, pink, yellow, lime green, and red

Solid brass escutcheon pins

Flat paintbrush

Abstract template with measurement guide
Optional to gather from home:
Hammer

Needle-nose pliers (if available)

Jar or cup of water for rinsing brushes

Drop cloth or covered surface to work

Pencil

Ruler

Palette knife or something for mixing paints

Paint palette, plate, or other surface for blending colors

Scissors

Towel to wipe of brush and palette knife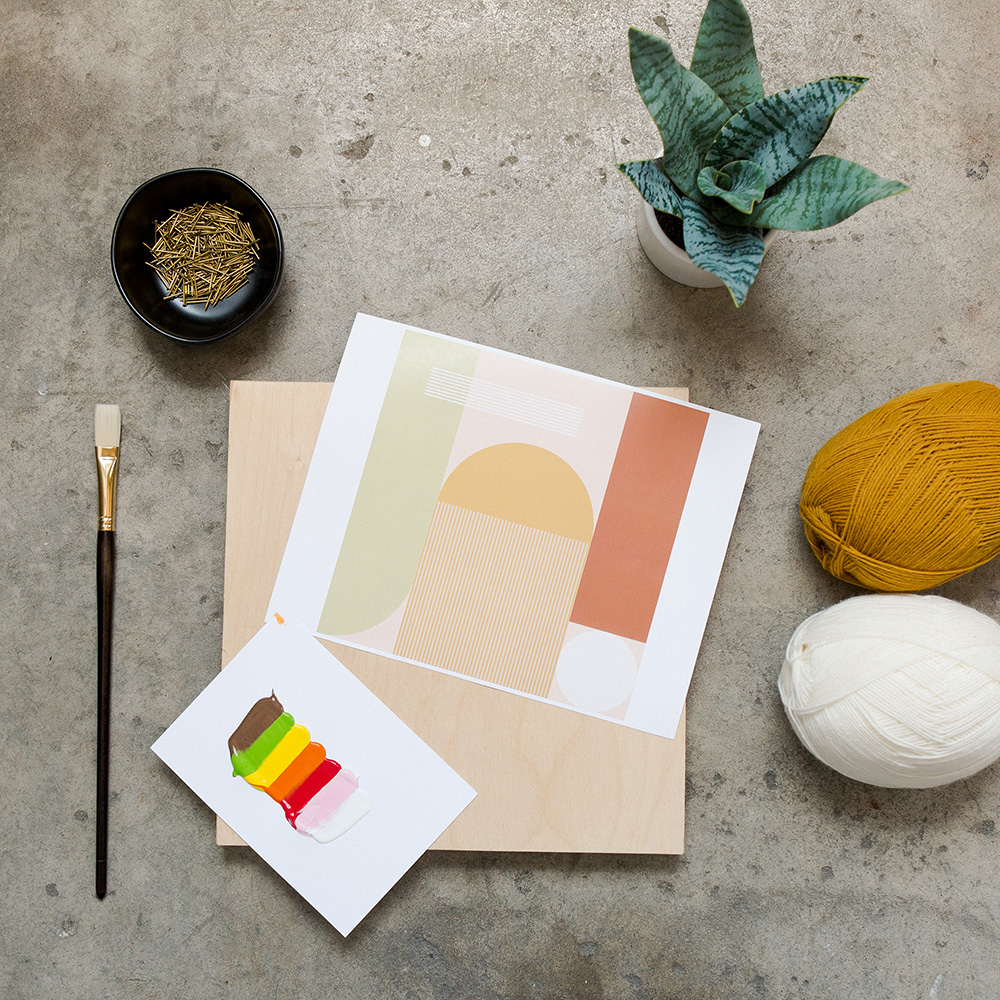 Materials for More Exploration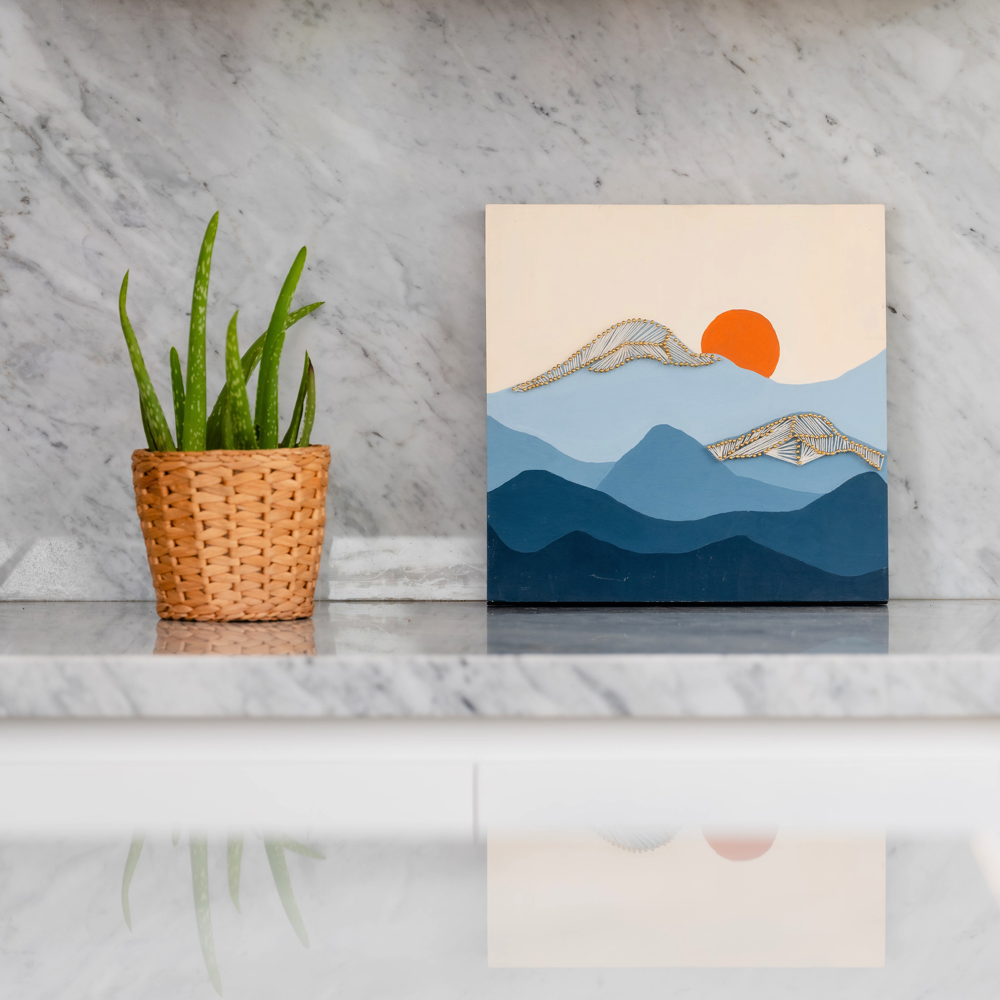 Landscape String Art Materials Kit
Elevate your string art with a landscape design featuring curved lines, free-hand work, and calming cool tones. This bundle comes with different acrylic paints, and everything needed to create another polished piece.
Maple Frame - 12 x 12"
Made by hand from local San Diego woodworkers, this maple frame was made specifically to showcase your finished string art. This frame works with both the main kit or the Landscape add-on.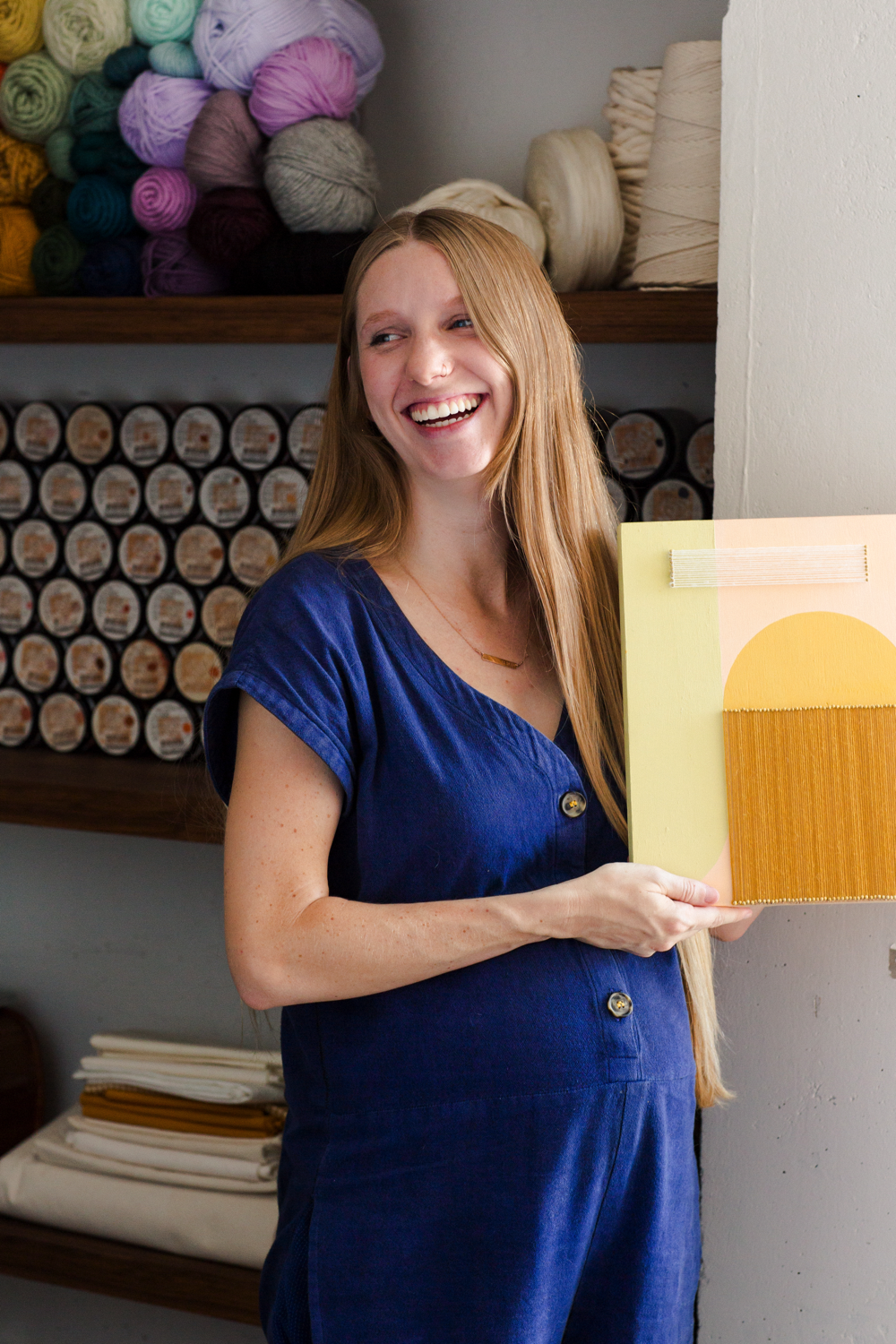 More About our Artist: Tiffany Lusteg
Tiffany Lusteg is an artist with focused areas of practice in large scale art installations, murals, spatial design, and sculpture.
Exploring a variety of mediums over the last decade from digital artwork to three-dimensional space, Tiffany specializes in color theory and exploration, creating immersive and experiential artwork for events, hotels, corporate clients, and private clients' homes. Her work can be described as vivid, meaningful, and expressive, with an objective to brighten the world of those around her.
Tiffany lives in San Diego, California and is the creative direction behind fomme, a spatial design and fabrication business she co-founded with her partner and woodworker, Aaron Lusteg. When she's not creating in her studio, she enjoys a slower paced lifestyle for her family and home with an appreciation for the handmade and an emphasis on process, either tending to her vegetable garden, making bread, writing and reading poetry, or capturing life through the lens of film photography.
We look forward to sharing this fulfilling and joyful experience with you and cannot wait to see how your string art turn out. Be sure to share your creative journey and finished creation with us by tagging @thecraftersbox and @tiffanylusteg in your social posts, and use #thecraftersbox so our community can also see your workshop come to life! Happy making.