SANDRA GAESTEL
CREPE PAPER FLOWERS
Create everlasting floral arrangements using crepe paper, floral wires, and natural accents to make realistic peonies and anemones. Sandra Gaestrel, owner and designer of Harley Rose Florals, shares her love of paper flowers along with her expertise in crafting these forever springtime blooms. "My love for flowers was instilled in me by my mom who taught me to love and appreciate nature in its wild and natural form," she says. Working with floral designers allowed Sandra the opportunity to study the small details of many different blooms and bring that knowledge into her crepe paper flower creations.
CREPE PAPER FLOWERS DIY KIT
Sandra's thoughtfully curated kit contains all the materials needed to create 3-5 of each floral design, depending on size. This allows for several paper bouquet arrangements of peonies, anemones, and greenery. The heavyweight Italian crepe paper has an ideal texture for molding and shaping into lifelike petals and leaves and is easy to wrap around the floral wires for a cohesive look. To really bring our floral creations to life, Sandra has included turmeric to create the look of pollen on our peony, and poppy seeds that mimic the anemone's stamen. She also shares show to make a gorgeous two-part paper leaf that can be used with the peony or on its own.
In this workshop, Sandra breaks down every step of making our low-maintenance flowers—and no detail is overlooked. She teaches us how to make crepe paper flowers by layering and shaping petals, cutting life-like stamens, and utilizing the crepe paper grain to create natural looking paper leaves. "One of my favorite things about these arrangements is how these flowers can continue to inspire you through their everlasting beauty and their durability," shares Sandra.
The Curated Kit of Tools & Materials
This workshop includes: 
Tools & materials to create several peonies, anemones, and greenery
A detailed digital workshop led by Sandra Gaestel
A live Maker Chat Q&A
PDF download with written instructions
The tools & materials included in this workshop:
Italian Crepe paper, 180gm:

Peach, 48"
Mint Green, 36"
French Vanilla, 28"
Cream, 16"
Black, 2"

Ten kraft paper wrapped 18-gauge floral wires, 18" each
Two cloth wrapped 18-gauge floral wires in light green, 18" each
Six cloth wrapped 24-gauge floral wires in light green, 18" each
Floral tape in dark green
Acrylic paint in black, 2oz
Poppy seeds*, 2.5oz
Ground turmeric, 2oz
Sixteen hot glue sticks, 4" diameter
Tackey glue, 2oz
Mini hot glue gun
Wire cutter
Spring action scissors
Flower pattern templates
*Note: This workshop contains Badia Poppy Seeds which can be toxic to some animals. Please be mindful to keep away from your pets.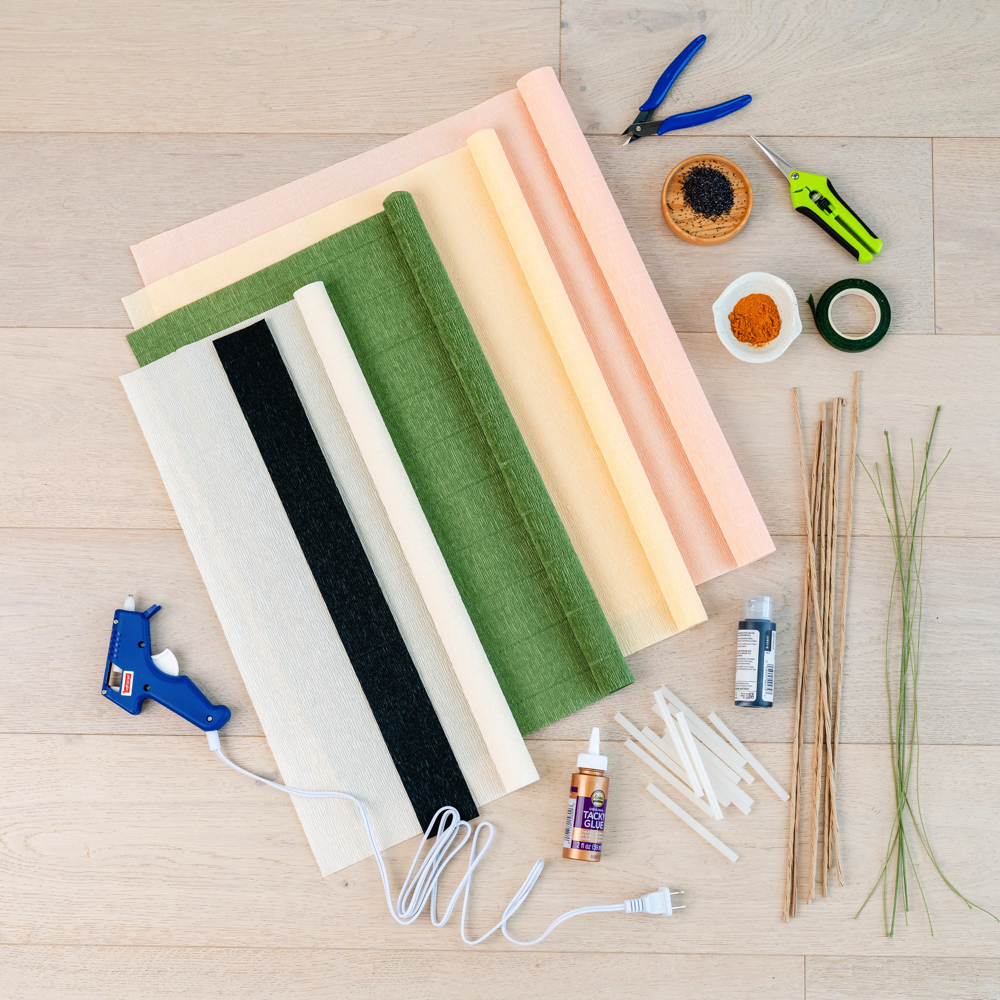 More About our Artist: Sandra Gaestel
Sandra is self-taught with years of studying to perfect her craft and challenging herself to create blooms that mimic live flowers. Combining both crepe paper floral and dried greens, Sandra creates bouquets, arrangements, and back drops that make you do a double take and question…are those real?
She started out by creating custom coffee filter flower designs as a favor for a friend's wedding and it was love at first cut. Having never heard of crepe paper flowers before, it was something that immediately sparked her interest and curiosity. Fast forward to five years later, Sandra now runs her own crepe and dried floral shop, Harley Rose.
Growing up, Sandra was constantly immersed in nature and would help her mother with all sorts of art projects which are reflected in all of her work today. Being taught to appreciate and respect nature exactly how she is without disruption or destruction, translates into Sandra's crepe paper flowers and floral designs. Nothing is forced or over worked but is left to move beautifully on its own, as if it were still in nature.
Sandra Gaestel's
Podcast Interview
Materials for More Exploration:
Crepe Paper Kit, Sunrise Blush
Craft more paper bouquets with the same luxurious Italian crepe paper from the original kit. This bundle also includes 18 assorted floral wires, floral tape, and hot glue sticks.
Crepe Paper Kit, Dusk Garden
For crepe paper flowers with a bit more drama, the opulent shades in this bundle create a moody bouquet. Includes 18 assorted floral wires, floral tape, and hot glue sticks.
La Pivoine Ceramic Vase
Showcase your crepe paper flowers in this 8" minimalist vase, handmade in Kansas City, Missouri. La Pivoine (the peony) vase is crafted from sand stoneware and finished in an ivory glaze.
Share with us! We look forward to sharing this fulfilling and joyful experience with you and cannot wait to see how your crepe paper flowers turn out. Be sure to share your creative journey and finished creation with us by tagging @thecraftersbox and @harleyrosefloral in your social posts, and use #thecraftersbox so our community can also see your workshop come to life! Happy making.