More Details
LAUREN HOLTON
WOOL FELT APPLIQUÉ
Create embroidery art on a larger scale as we craft modern customizable wool felt pennants. Lauren Holton, the fiber artist behind Lark Rising Studios, shows us how to layer geometric botanical shapes with high-quality wool felt and attach them to cotton twill using two simple embroidery stitches. "During this project, you'll gain many technical fiber skills, while leaning into the creative opportunities this class provides," shares Lauren. Lauren's thoughtfully curated felt embroidery kit contains everything needed to create three custom pennants.
WOOL FELT EMBROIDERY KIT
The luscious felt is a Merino wool blend with a soft feel and incredible color retention. Durable and pliable, the felt is Made in the USA and ideal for this project. To correspond with the rich hues of the felt, there are thirteen matching embroidery threads along with size 5 embroidery needles. Throughout the workshop, Lauren encourages us to use our own creative inspiration as we make personalized designs.To play with felt shapes, color, and layers, Lauren has included traceable templates that can be modified and customized.
LEARN EMBROIDERY STITCHES
In the course, Lauren discusses how to plan the pennant designs based on space, mood, shape, and color for individual preference. We learn how to work within a Q-snap frame and tack the felt pieces down, so they stay in place as we sew. Lauren teaches us how to embroider with stem stitch and split stitch, and different ways to incorporate them on the felt for textural interest. To secure the edges and sew the pennant pieces together, we learn a sturdy blanket stitch. Above all, Lauren reminds us to take our time and enjoy the process. "Embroidery truly is a slow craft; you'll have a better time if you lean into the slow pace and enjoy the process without focusing on progress too much."
More About Our Artist: Lauren Holton or Lark Rising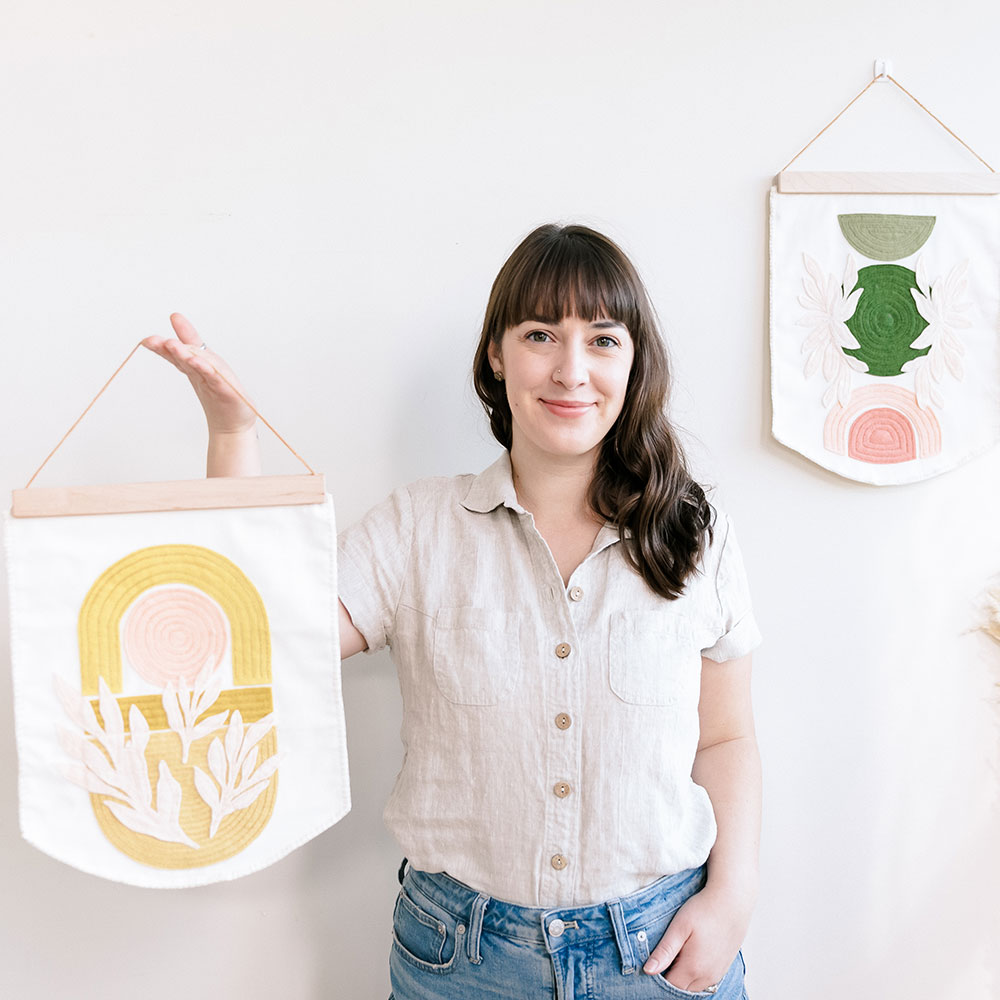 Lauren Holton is a fiber artist, color enthusiast, and design lover. She dedicates most of her creative energy to designing embroidery patterns and teaching embroidery to anyone looking for a timeless, meditative craft. Among her collection of patterns, you'll find landscapes, floral and botanical patterns, and abstract/geometric designs as well.
Lauren finds most of her inspiration in nature, but is also influenced by interior design, while incorporating unique color combinations and textures to make each design really sing. She also enjoys exploring working with fiber and textiles in other ways, including weaving, punch needle, felt applique, and quilting, and loves bringing a modern aesthetic to these timeless art forms. Lauren lives with her partner, two young boys, dog, and houseplants right next to the Puget Sound in Washington.
We're so excited to have you join us, Lauren.
Lauren Holton's
Podcast Interview
Share with us! We look forward to sharing this fulfilling and joyful experience with you and cannot wait to see how your wool felt pennants turn out. Be sure to share your creative journey and finished creation with us by tagging @thecraftersbox and @larkrising in your social posts, and use #thecraftersbox so our community can also see your workshop come to life! Happy making.