More Details
KATIE MARTIN
WOODLAND BOTANICAL EMBROIDERY
In this workshop we are exploring the beautiful and delicate art of embroidery featuring woodland botanicals with artist Katie Martin of Harvest Goods Co. Whether you're brand new to embroidery or a long-time stitcher, this workshop will elevate your embroidery skills and knowledge through Katie's comprehensive direction. We'll learn how to split threads, tie off, correct mistakes (and realize how easy they are to fix!) and how to finish your pieces. In this detailed tutorial, she also covers all of the basic stitches and dives into some more seemingly advanced but totally doable techniques including stem stitching, french knots, whipped back stitching, and even thread painting! By the end, you'll have a beautifully elegant botanical embroidery full of dimension, movement, and texture.
If embroidery is something you've always wanted to try but has seemed intimidating to you in the past, this is the workshop for you. Katie talks about some of the stitches that first seemed a bit daunting to her when she started — it took her a few months to work up the courage to try a french knot! Once she realized how profoundly simple each stitch is, her skills and confidence grew and grew, just like yours will. With practice and imagination, you can truly make anything you set out to. Katie set us up for all of the future making by sharing how you can expand on your patterns, the flexibility of the stitches you can incorporate, and how you can truly curate your own designs to match your interests and comfort levels.
This workshop is the perfect craft to slow down, disconnect, and focus on the techniques to clear your mind. Enjoy every little different element that goes into this intricate and elegant botanical design Katie has created just for us. Cozy up with your hoop and embroidery threads, a blanket, and cup of something warm — let's get stitching!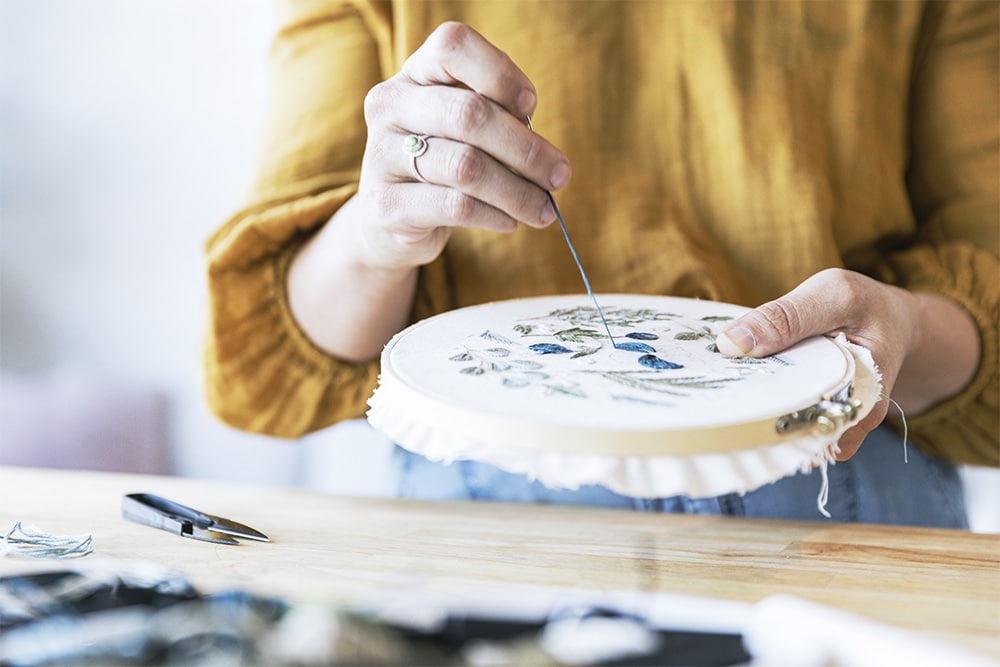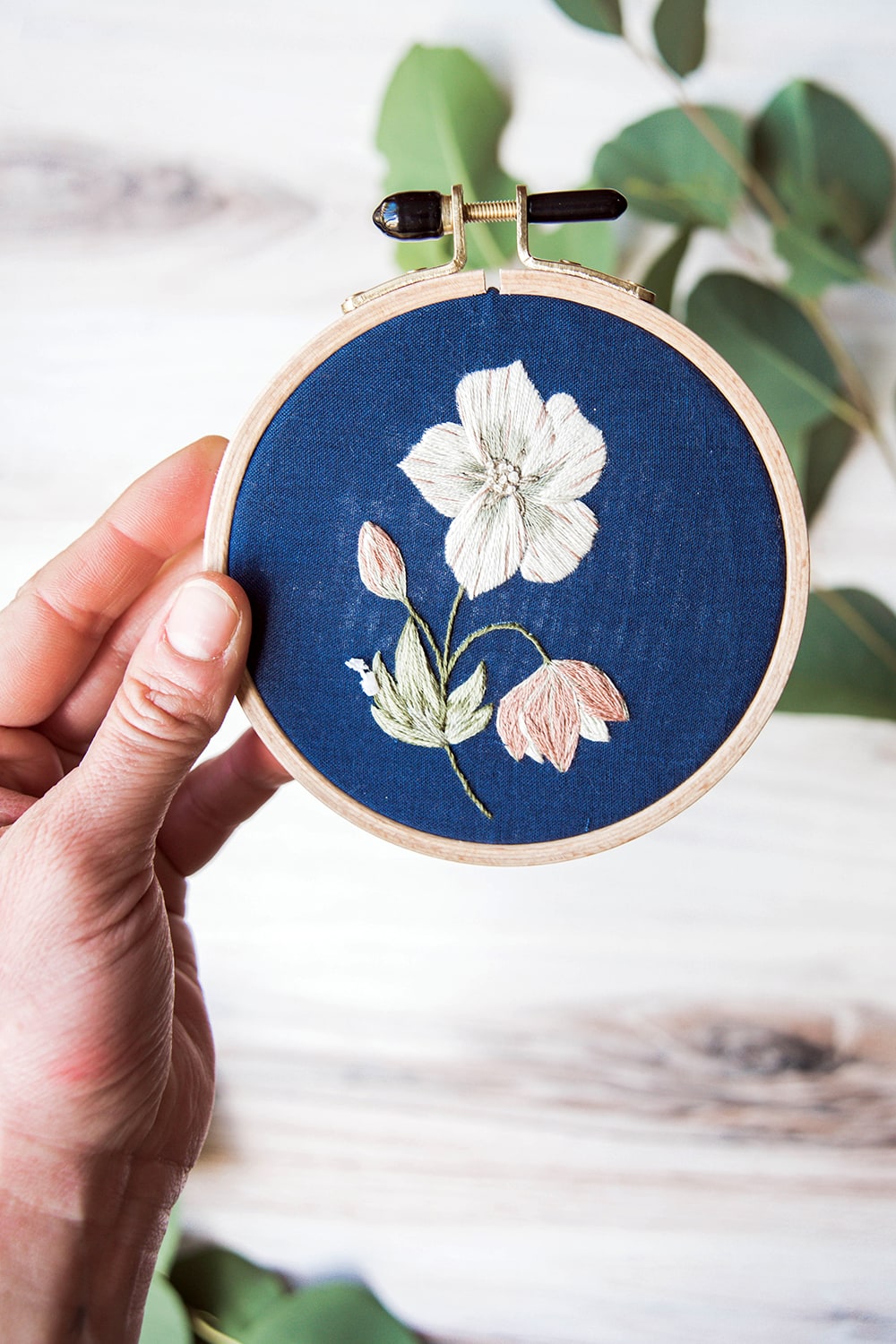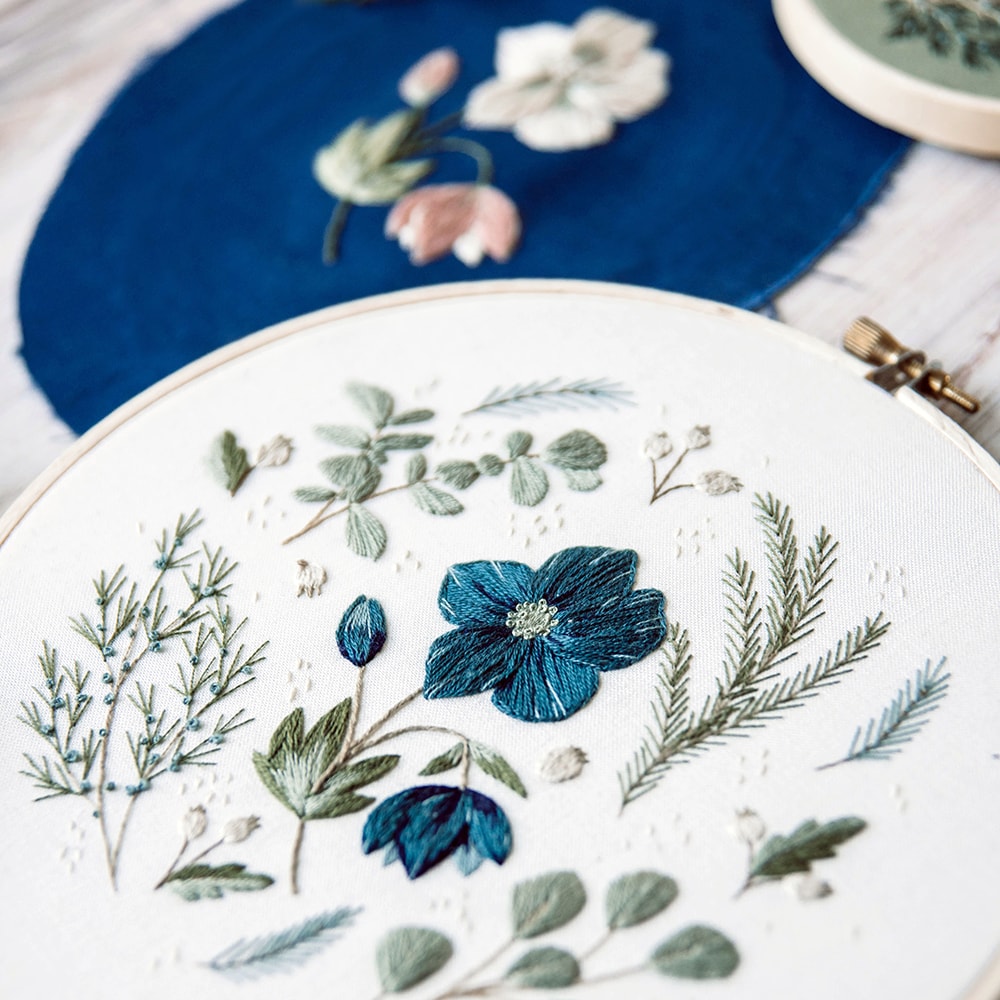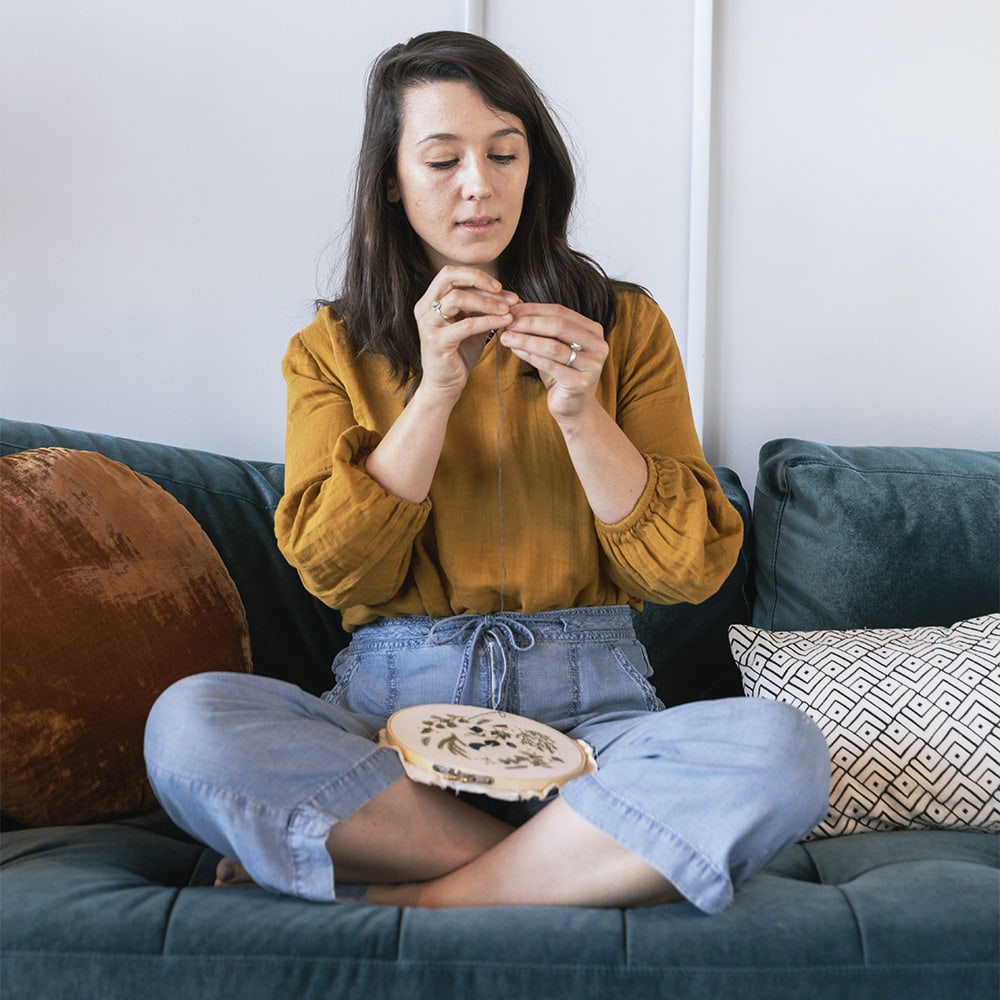 A Stitch in Time: Embroidery is the art of embellishing fabric or other materials using a needle to apply thread or yarn. In various forms, this craft has existed since the production of fabric. While embroidery is practiced across the world, the origin is commonly associated with coming from China and the Near East dating back to the 5th century B.C. Early embroidery can also be traced back to Cro-Magnon days around 30,000 B.C. showing that primitive humankind discovered the stitches used to join animal skins together could also be used for embellishment. Archeological discoveries from this time period include fossilized remains of heavily hand-stitched and decorated clothing.
Around the 9th and 10th century, known as the Viking Age, early discoveries of embroidery have been found in Sweden. Embroidery really began to take off in Europe with the rise of the Christian church and monarchy around the year 1000. Intricately embellished garments, tapestries, and tablecloths were an important sign of power and wealth — and not just in Europe. In Medieval Islamic societies, embroidery was a sign of high social status in Muslim communities. At one point, it was even marked as a girl's passage into womanhood and social standing in 18th century England and its colonies. Thankfully, the Industrial Revolution arrived and lead to the development of machine embroidery rendering the societal and gender stigmas associated with this hand-craft no longer relevant. 
Today, embroidery is the perfect craft for everyone; young or old, poor or rich, beginner or expert — the only thing needed is a needle, thread, fabric, and a spare moment. Actor Henry Fonda revealed that during his nearly 50 years of acting his favorite hobby was embroidering between shots when filming in order to relax and pass the time.
More About Our Artist: Katie Martin
The vision for Harvest Goods began when Katie became a mom, she had always loved art but as her son grew (and napped) it became one of her most beloved past times. Katie and her husband joyfully welcomed another member to their family with their adopted newborn daughter just weeks before having their second son. During her second pregnancy, Katie became so ill, she turned to embroidery for comfort and distraction. As she stitched, the idea for Harvest Goods grew into a way to help financially prepare for their growing family and adoption expenses. Adoption is at the heart of Harvest Goods Co. 10% of their profits go towards helping other families in the process.
Katie has had a passion for creating her whole life and in a variety of mediums. From leather goods and custom watercolors, to illustrating a children's book, Katie loves to experiment and learn. Her embroidery inspiration comes from nature and what she sees on her evening walks with her family—they love exploring the trails around their home in Arkansas. Katie is constantly energized and invigorated by the beautiful pops of color in the botanicals and critters they meet along the way. She is also incredibly passionate about natural health and is an herbalist in training.
We're so excited to have you join us, Katie.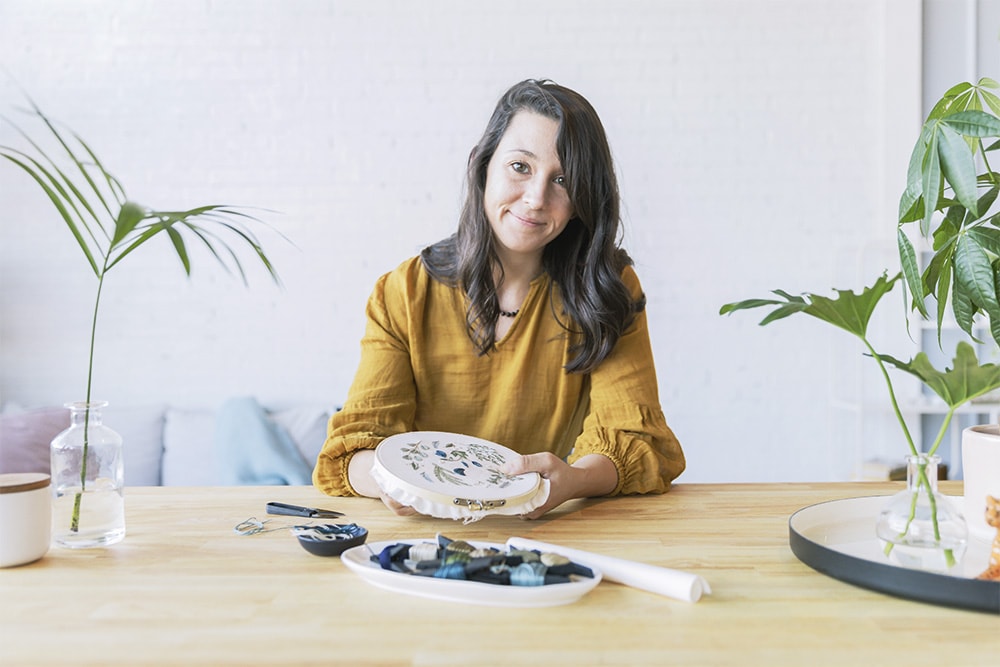 Lynn Muir's
Podcast Interview
Share with us! We can't wait for you to join us. We hope you enjoy this workshop, we'd love to see how you are inspired to create using these techniques. Be sure to share with us by tagging @thecraftersbox, our featured artist @harvestgoodsco, and using #thecraftersbox so all can see your work! Happy making with this special workshop.