More Details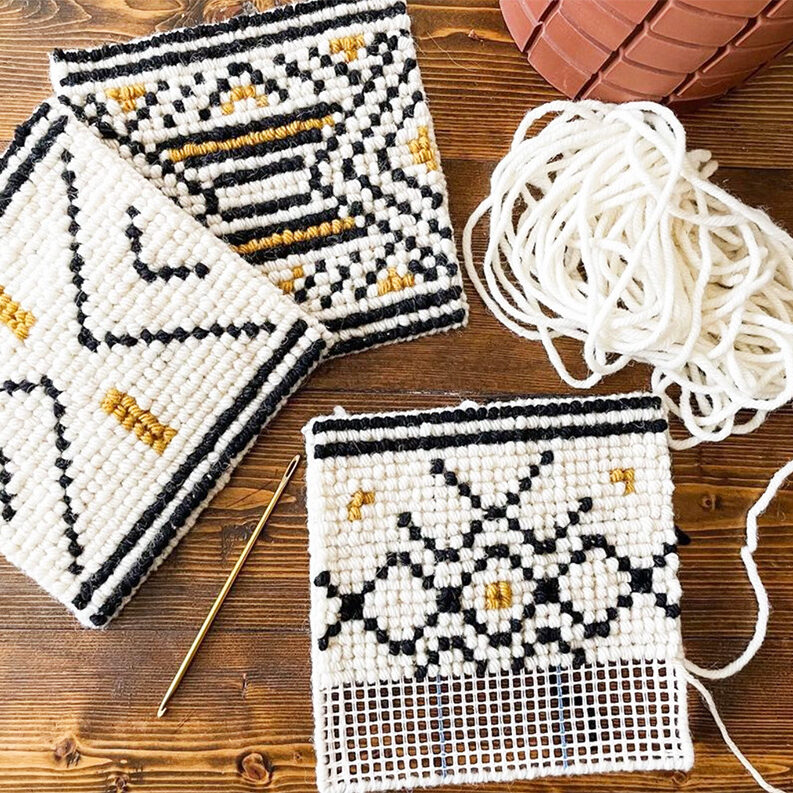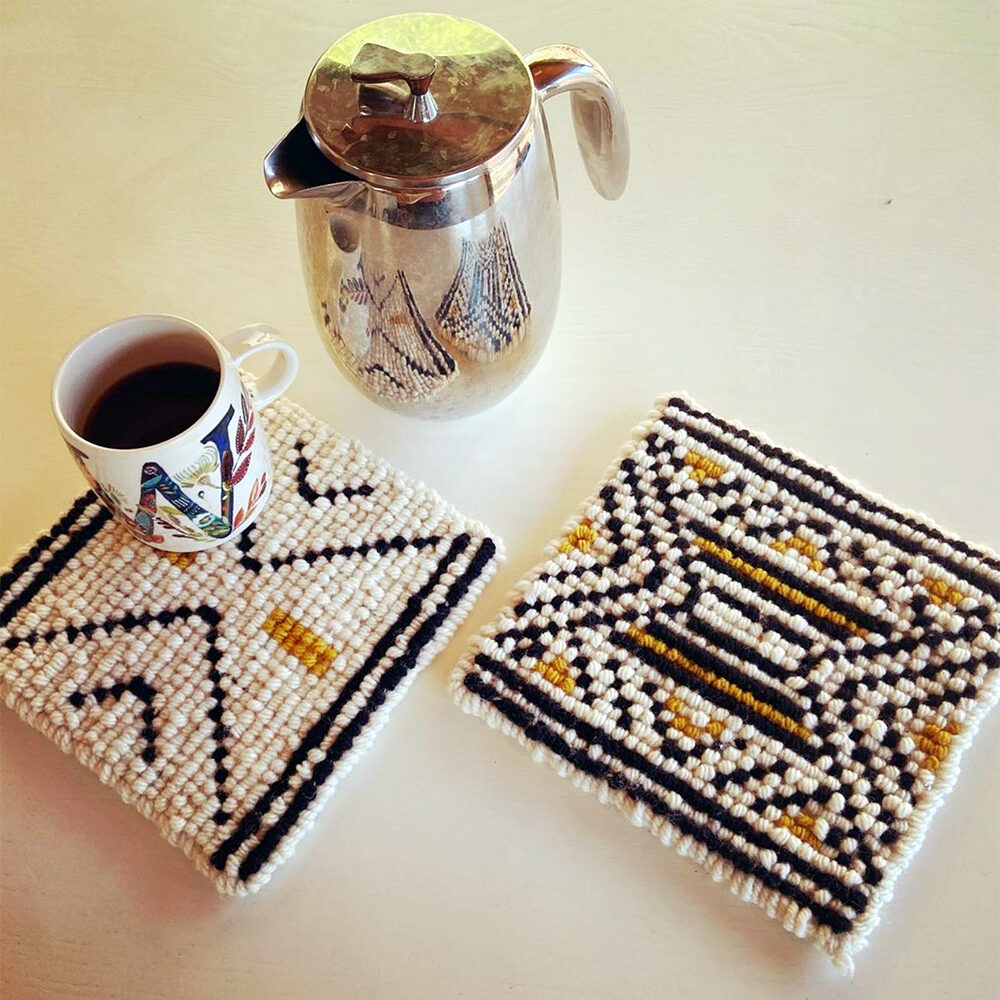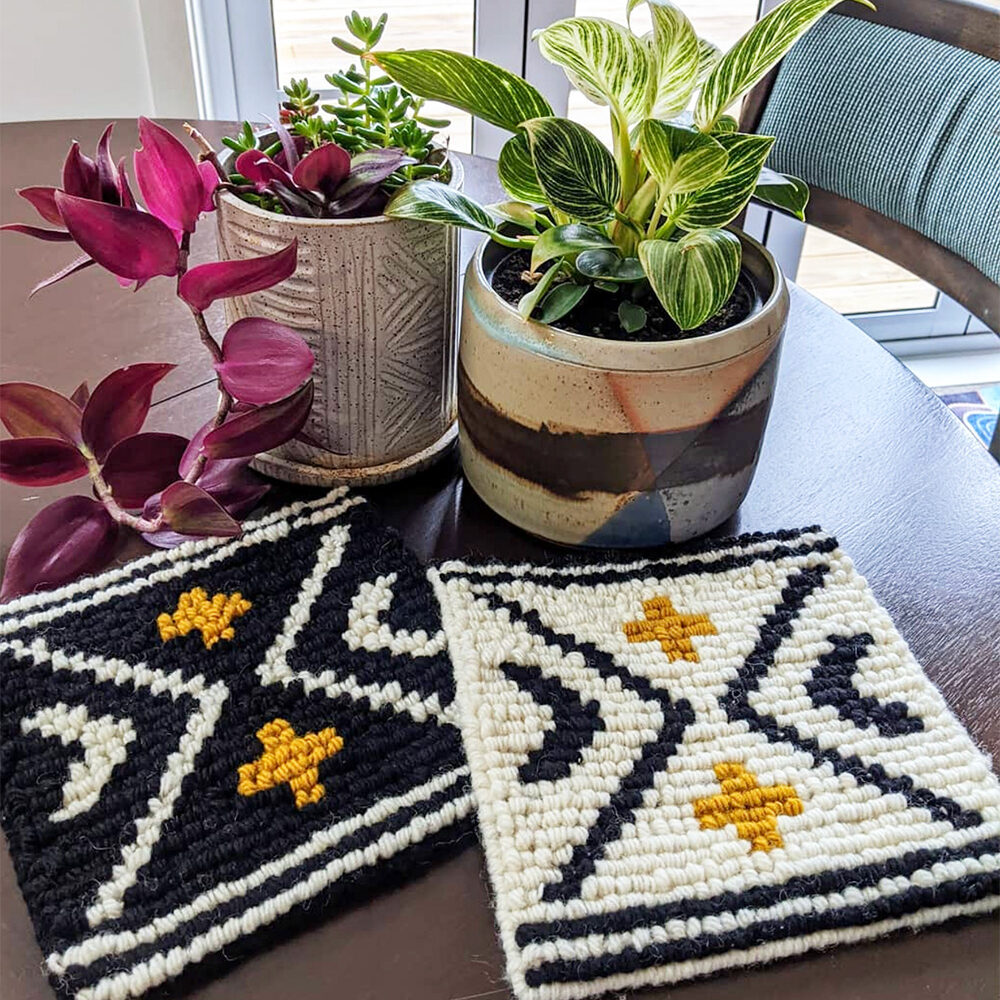 LINDSEY CAMPBELL
LOCKER HOOKING
Locker hooking is a beautiful, durable craft similar in style to traditional rug hooking or punch needle, but with a hidden cord beneath the surface to "lock" all of your loops in place. This style of craft became popular 100 years ago in Great Britain and America where women would use thick wool to create rugs. Modern artists have adapted the craft to use strips of fabric as well.
Lindsey has curated a beginner kit that introduces this unique technique with her modern designs. One great thing about this particular craft is that you will have the flexibility to pick it up and put it down without losing your place or loops! The hidden cord beneath the surface holds everything in securely in place. The perfect craft for the busy maker. Lindsey is the artist and instructor behind Hello Hydrangea. She has taught thousands of students how to weave and has published two books: Welcome to Weaving and Welcome to Weaving 2. Lindsey has designed collections for Anthropologie and Nordstrom, she is an advocate for helping busy people use their limited time to be creative. 
More About Our Artist: Lindsey Campbell
Lindsey Campbell is the artist and instructor behind Hello Hydrangea. She lives in the beautiful desert of Arizona with her husband, son (+ one on the way!), and their miniature schnauzer.
Hello Hydrangea began as Lindsey's personal blog during college, on which she shared her love for creative projects and updates about her daily life. Lindsey transitioned the blog to focus on weaving and fiber arts (such as locker hooking, punch needle and macramé) as a way to de-stress and find purpose during a transitional time in her life.
Lindsey has been enamored with all things fiber arts since the first time she picked up a loom. As she has progressed over the years, Lindsey realized that one thing she loves more than weaving is teaching others how to fall in love with the craft too! She has written two weaving books and created many online classes to help encourage and inspire others to create along with her.
I've worked with hundreds of students in in-person workshops, answering their questions and learning how to explain difficult concepts so that ANYONE and EVERYONE can enjoy this art. I believe in the good that fiber arts brings - both as a form of crafting, and self care. My goal is to make it as easy as possible to encourage creativity and make the most of my student's limited time.
Lindsey Campbell's
Podcast Interview
We can't wait to see how you are inspired to create using this technique. Be sure to share with us by tagging @thecraftersbox, our featured artist @hellohydrangea, and using #thecraftersbox so all can see your work. Happy making with this special workshop.