More Details
LIZ WAGNER
LEATHER WET FORMING
In your kit, you'll find tools and materials to create a beautifully smooth leather tray. A piece of split-finished leather in veg tan is the base for the project and an ideal thickness for the tray. "This leather is thin enough to achieve graceful bends and curves, but thick enough to give structure and durability to the finished tray," explains Liz. The gorgeous, high-quality Wickett & Craig leather from Todder USA Leather Goods was handcrafted in America. 
The reusable two-piece wood mold is sturdy and well-built with sustainable TigerPLY™ plywood and features rounded edges for an elegant tray interior. Made in collaboration with The Buckle Guy, this mold was custom-made specifically for this workshop. The utility blade was chosen for its ability to make clean cuts in the leather. The beeswax, canvas swatch, and sandpaper are used to achieve a polished finished piece.
LEATHER QUALITY & CURATION
With careful consideration and practice, we've settled upon the ideal carving leather in a specifically unique weight that best matches with this custom wet mold kit. In collaboration with Ted Harriss and Todder Leather, each high quality leather piece has been tanned, split, finished and die cut in either natural and chocolate for making. Our full workshop kits featured natural and our add-on leather rectangles are offered in both color options.
Wickett & Craig Carving Leather is among the highest end vegetable tanned leather in the world. Crafted in the USA, Wickett & Craig is known for quality, durability, and rich finishes. Carving leather is a completely vegetable tanned hide that is unfinished, allowing it to be tooled and molded. Each piece is finished on one side and natural on the back for a clean, flat appearance.
LEATHER WET FORMING FUNDAMENTALS
As you follow along with Liz, you'll learn how to soak (or "case") the leather, then tightly compress the leather between two mold pieces. After sitting for 24 hours, Liz teaches how to trim the tray wall, remove from the mold, then shares several finishing techniques. To continue in your leather crafting, Liz shares examples of different ways to decorate your projects, including leather stamp personalization, adding colorful paint, carving, and stitching.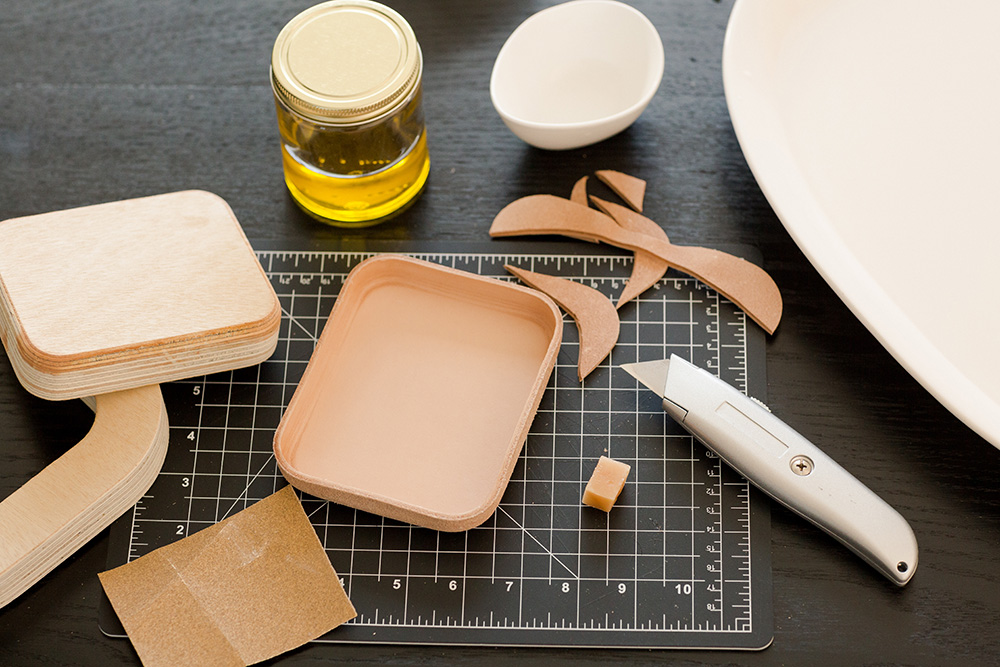 CUSTOM WET LEATHER MOLDS
Custom to Crafter: to provide a sturdy wet mold for use with this project and hundreds more, we turned to Hugh Harriss (Ted's brother) over at The Buckle Guy to custom design a TigerPLY leather mold for our workshop. TigerPLY (by Shelter Forest International) is a uniquely engineered plywood alternative that focuses on sustainable resources. As an added advantage for the leather wet forming process, it can be submerged in water again and again and again for all of your future making. This kit includes a two piece set with outer and inner mold pieces which securely shape and hold the custom weight leather in place.
Our add-ons feature larger molds and include three individual pieces that are best matched with a set of sturdy c clamps to provide stability and force. These three part molds feature a 1" thick unlacquered Baltic Birch plywood. Because we know you'll enjoy making custom trays well into the future with the new molds you're adding to your studio collection, we're sharing custom leather cuts below in two different beautiful colors that fit all sizes of molds with different yields. Learn even more under Materials for More Exploration.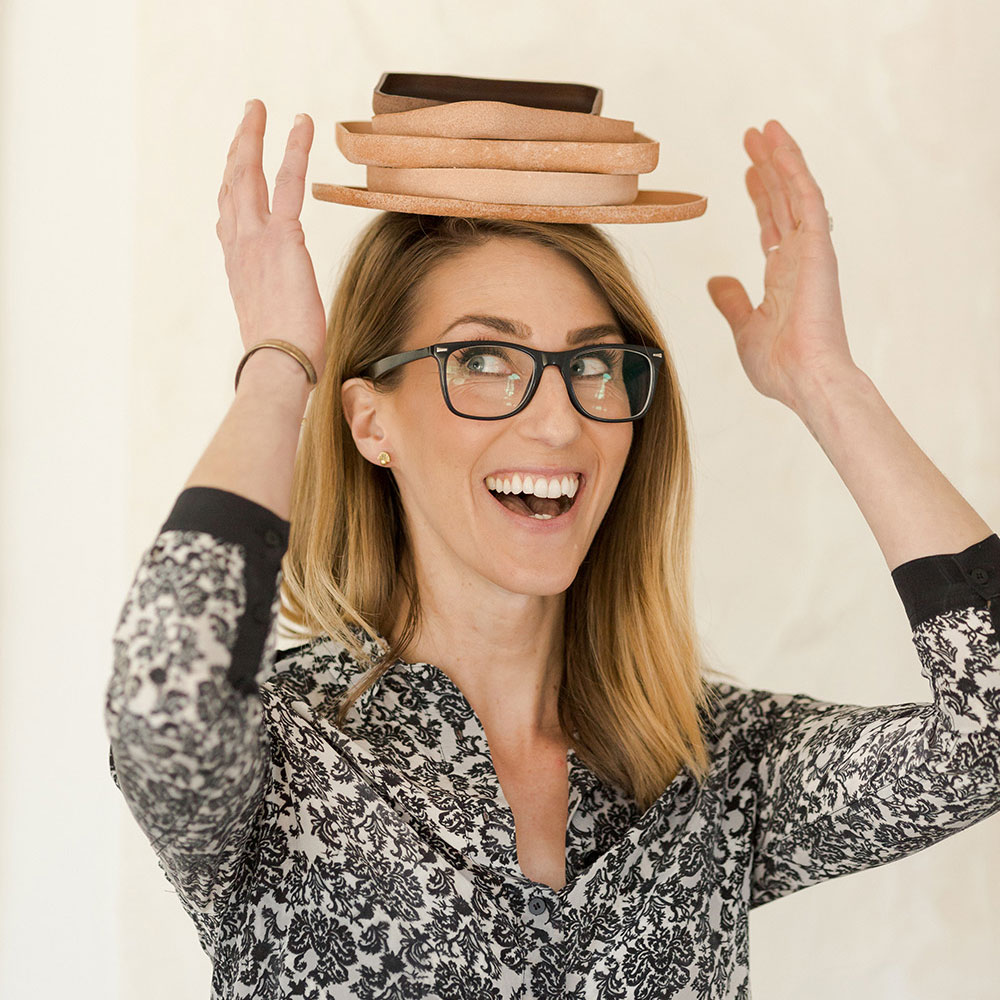 More About our Artist: Liz Wagner
As Creative Director at Crafter, Liz Wagner enjoys intimate involvement with the arts—whether it be alongside incredibly talented makers or in her own personal creative pursuits. Liz has always held a deep appreciation for the perfect imperfection of handmade goods. Working with timeless and quality materials such as wood, leather, and beeswax keeps gratitude at the forefront of her daily life. 
"Intentionally seeking interaction with natural materials really grounds me in appreciation and wonder for what the world offers. There is something sacred about the relationship between the human drive to create, the diversity of organic materials available, and the miracle of what happens when those things meet. Though this was born of necessity, makers across time had the greatness of spirit to add beauty to the objects that served an otherwise practical purpose. In my opinion, this is a big part of what makes us human." -Liz Wagner
Liz lives in beautiful San Diego, CA with her husband and five children. Besides working with her hands to create functional and lovely art, she finds joy in having unintelligible conversations with her chickens, long nightly walks, screwball comedy, and MSG sprinkled on her popcorn.
We can't wait to see how your leather catch-all tray turns out. Share your creative journey and finished projects with us by tagging @thecraftersbox + @lanelimited31 in your social posts. Don't forget to use #thecraftersbox so our community can also see your workshop come to life. Happy making!