More Details
ELLIE LUM OF KLUM HOUSE
LEATHER BELT BAG
Create your own minimalist leather belt bag that can be worn several different ways by adjusting the strap, or converted to an elegant clutch by removing the strap entirely. In this workshop, Klum House Founder Ellie Lum guides us through the process of turning a pre-cut piece of vegetable-tanned leather into a stylish belt bag as we learn how to use rivets and work with leather. The assembly uses different types of rivets only—there's absolutely no sewing involved.
This beginner-friendly leather bag is lovingly named the "Balboa Belt Bag" by Ellie, paying homage to Balboa Avenue in both Portland and San Diego—the home cities of Klum House and The Crafter's Box.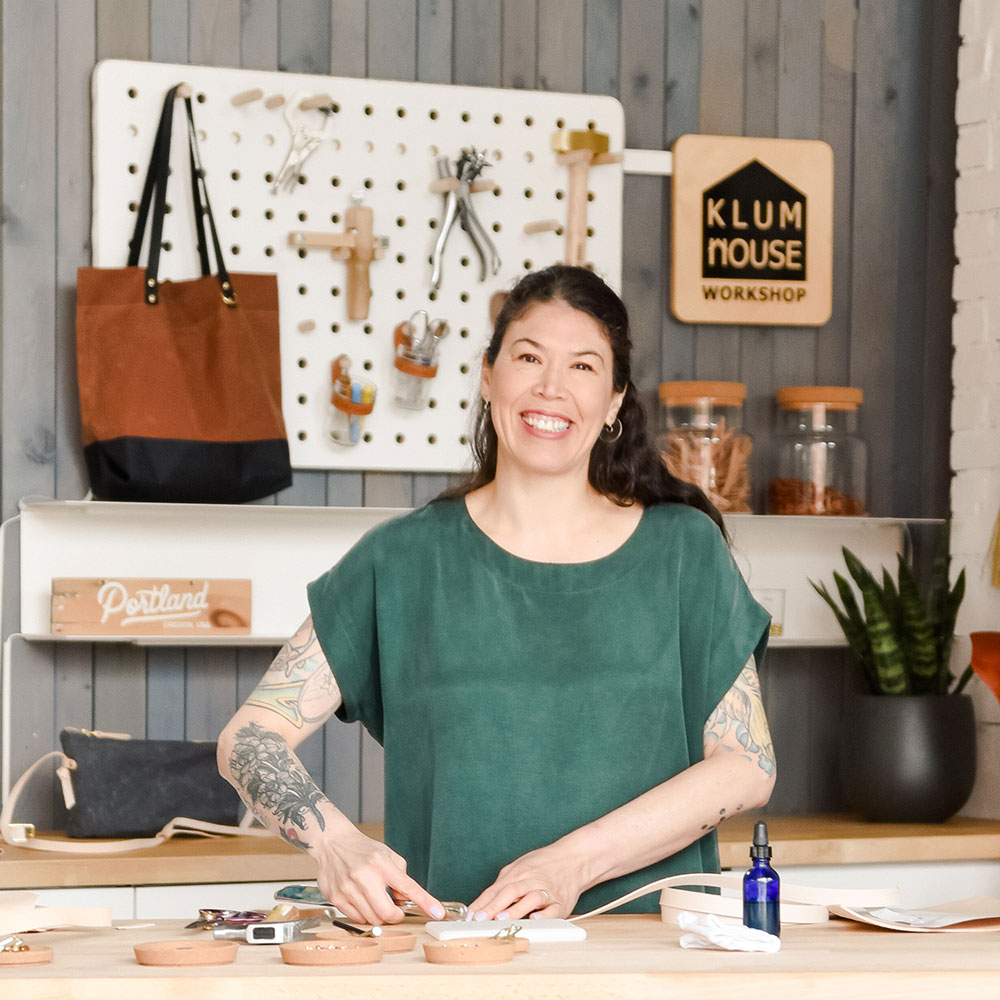 LEATHER BELT BAG KIT
Ellie's curated kit includes two pre-cut pieces of vegetable-tanned leather along with a template to mark our holes. The corresponding buckle, double-cap rivets, and magnetic snap rivet are all a beautiful brass that complements the creamy leather. A dot anvil is used to assemble the rivets into place, and the drive punch makes precise holes in the leather.
Ellie teaches us how to use a drive punch, transfer the template to the leather, and oil condition our leather. Then we move on to constructing the bag, learning how to pre-crease the leather, work with double-cap rivets, and install a magnetic snap rivet and buckle. Ellie also shares how to get the perfect personalized fit for your body. To customize further, emboss your initials or a short message with letter stamping tools from our additional add-on bundles.
LEARN HOW TO WORK WITH LEATHER AS YOU CRAFT
But, with Ellie's vast experience as a teacher, we'll be picking up something extra along the way. "Of course I want makers to create a rad finished bag that they love and feel proud of, but I also have a not-so-secret ulterior motive: I want makers to build skills!" shares Ellie. "I want them to finish a project and think 'Wow, now I know how to set a rivet, and work with leather, and sew a zipper, and install a magnetic snap—I wonder what else I can do?!' Those skills build upon each other and open up new worlds of possibility."
More About our Artist: Ellie Lum of Klum House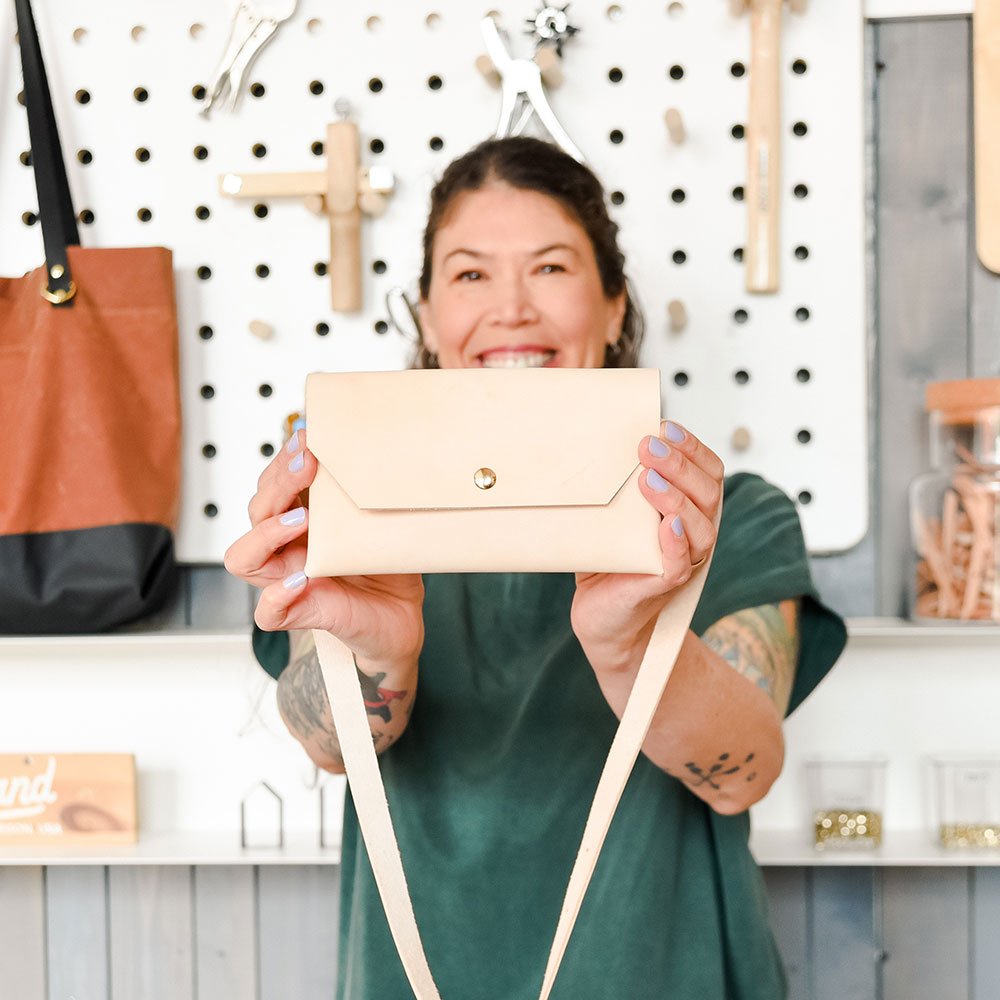 Ellie Lum is a bag maker, pattern designer, and teacher. She's also the founder of Klum House, a bag making shop and school in Portland, Oregon, that offers kits, patterns, supplies, and classes—everything you need to become a bag maker! Her favorite materials to work with are waxed canvas and leather for their durability and timeless aesthetic.
Originally from Carpinteria, California, Ellie spent her teenage years hanging out in artist warehouse spaces in San Francisco and making things with her hands every chance she got. At 17, she moved to Philadelphia, where her work as a bike messenger collided with her sewing skills and she co-founded a custom messenger bag company called R.E. Load Bags. All the production at R.E. Load happened in-house, and, as a result, Ellie taught dozens of stitchers to make bags on industrial sewing machines. In the process, she discovered that she loved teaching—and the seed for Klum House was planted.
These days, she runs a five-woman company from an industrial warehouse space in North Portland. She's passionate about local manufacturing, empowering folks through hands-on skill building, and finding new ways to bridge the gap between home sewing and industrial manufacturing. You don't need a fancy sewing machine to make professional, heavy-duty bags at home—all you need is some courage and a dash of creative grit!
Share with us! We look forward to sharing this fulfilling and joyful experience with you and cannot wait to see how your leather belt bag turns out. Be sure to share your creative journey and finished creation with us by tagging @thecraftersbox and @klumhouse in your social posts, and use #thecraftersbox so our community can also see your workshop come to life! Happy making.