More Details
LINDSEY CAMPBELL
FRAME WEAVING
Welcome to the soothing world of frame weaving. The art of basic weaving is one of the oldest artisan techniques in the world, dating back to ancient times. In her workshop, Lindsey guides us through a specialized technique that weaves yarn in floating patterns on a fixed frame. The wooden frame provides structure to weaving elements that would otherwise not be able to stand on their own, creating an intricate and colorful décor piece that's ready to hang in your home.
This workshop begins by exploring the materials used for this project, including soft 4-ply natural wool  yarn in white and black, a hand-crafted wooden frame, two crochet hooks, and a tapestry needle. Lindsey explains the basic principles of warp versus weft and then shows us how to begin the weaving process for our pattern. We then learn how to warp the frame, read the pattern, and complete the project. For our experienced weavers, we're incorporating new techniques to take your work to the next level. This frame weaving project utilizes a crochet technique called 'chain stitch' for a decorative and innovative way to attach yarn to edges of the wooden frame as you work.
Lindsey shares her love of the craft with us (frame weaving is her favorite type of weaving!), including helpful tips and tricks along the way, from beginning to completed project. "By mixing a frame with weaving and crochet techniques, the end result is a beautifully woven pattern that is the perfect mix of modern and handmade," she shares. Upon completion of this workshop, you'll be ready to add custom woven patterns to frames of all sizes (oh, the possibilities!).
Join us as we discover the relaxing process of frame weaving that not only soothes the soul but creates a stunning, hand-crafted piece that is ready to hang on your wall or display on your shelf.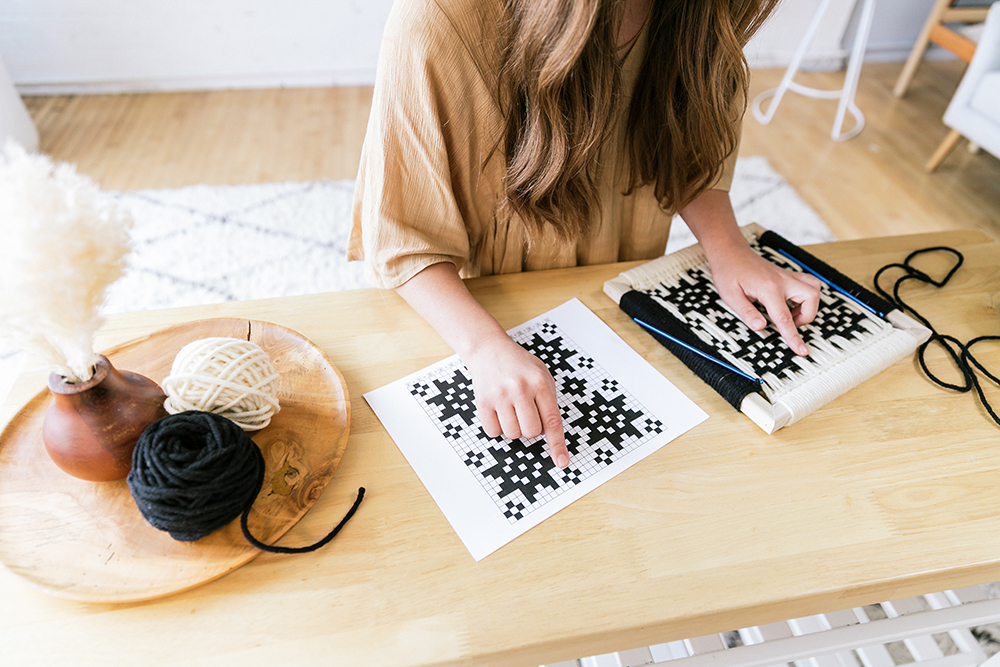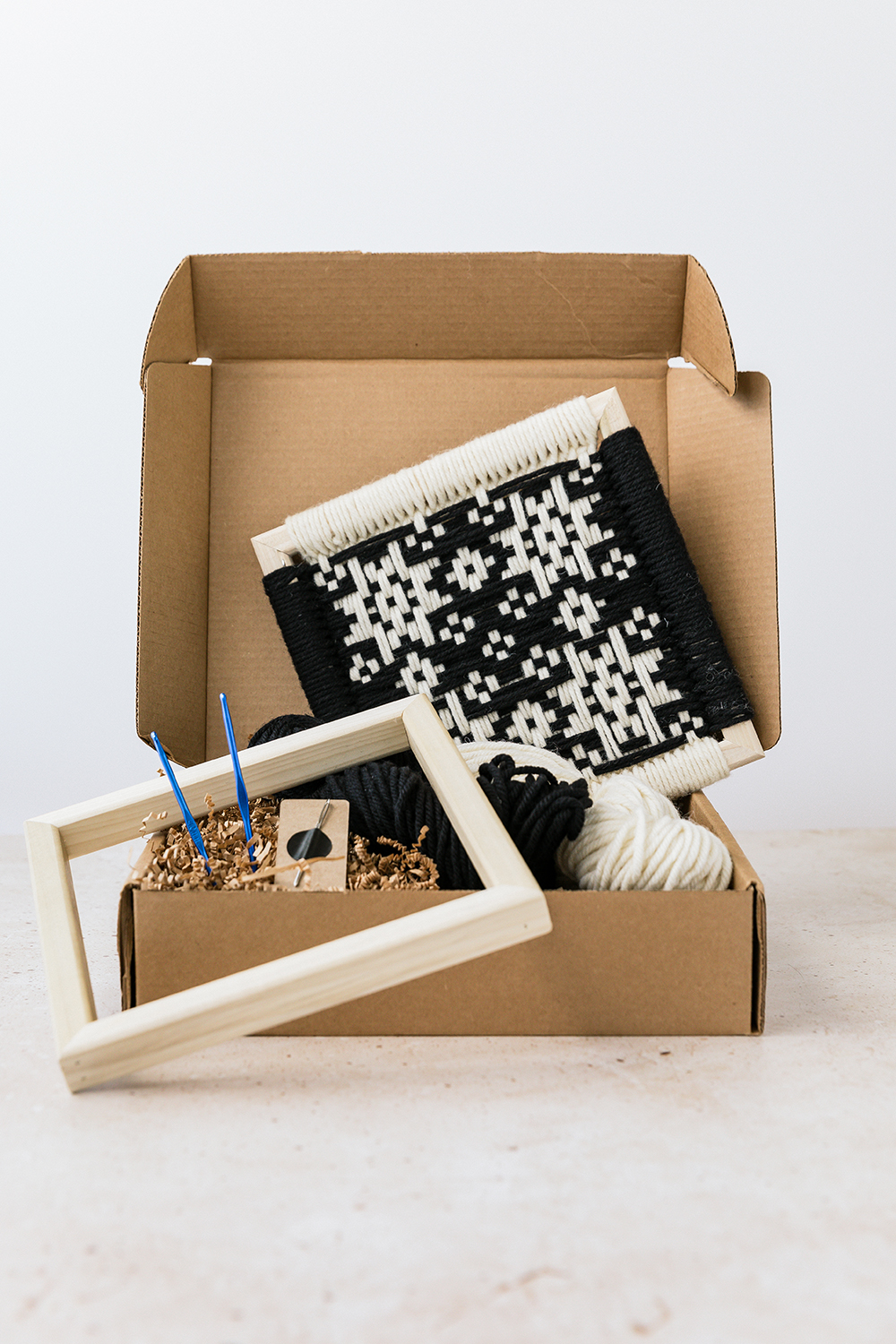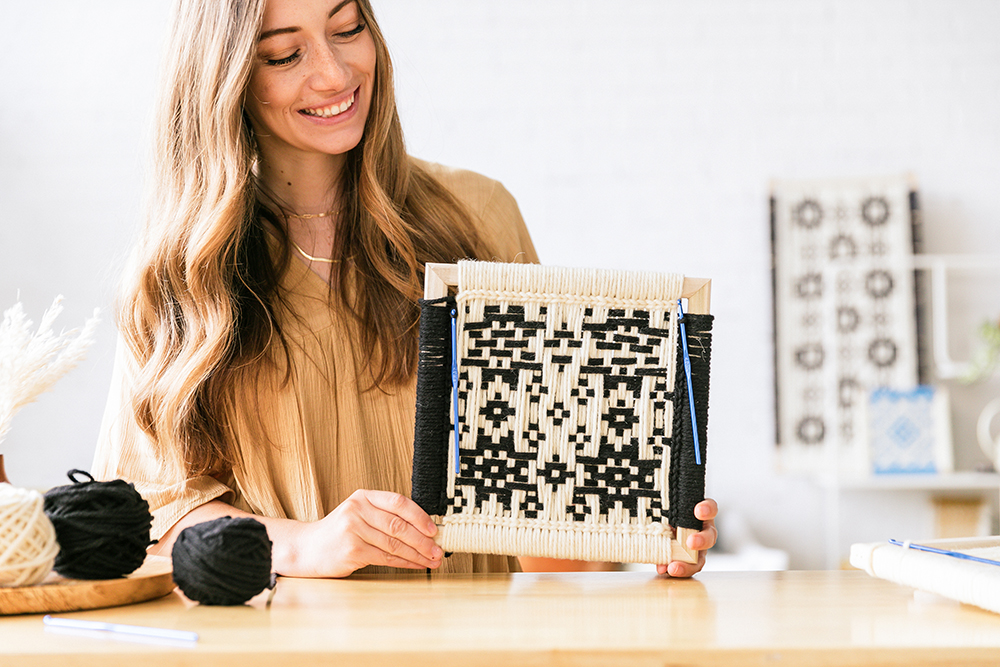 More About Our Artist: Lindsey Campbell of Hello Hydrangea
Lindsey Campbell is the artist, author and instructor behind Hello Hydrangea. She lives in the Sonoran Desert of Arizona with her husband, two sons and mini schnauzer. Lindsey has written two books about weaving, taught thousands of makers how to weave with her online video classes and traveled the country teaching in-person workshops.
Lindsey fell in love with weaving during a transitional stage of life when she was feeling lost and needed a creative outlet. "The first time I made a loom out of an old picture frame and started weaving, I felt like magic was happening. I couldn't get enough, fast enough." Her passion for weaving continues to grow as she learns more about the craft.
We're so excited to have you join us, Lindsey.
Lindsey Campbell's
Podcast Interview
We look forward to sharing this fulfilling and joyful experience with you and cannot wait to see how your frame weavings turn  out. Be sure to share your creative journey and finished creation with us by tagging @thecraftersbox + @hellohydrangea in your social posts, and use #thecraftersbox so our community can also see your workshop come to life! Happy making.