More Details
ANNIE-FRANCE BOWKER
FLAT WEAVE: WOOL RUG WEAVING
Join Annie-France Bowker, the textile artist behind Wovvven, as she shares her wool rug weaving techniques and love for the meditative craft. "I started weaving four-and-a-half years ago when I was a brand new mother and was feeling a bit lost. Looking for something to do with my hands, something that would make me feel more like myself," shares Annie-France. "…I bought a loom, some yarn, a book, and I just fell in love."
HOW TO MAKE A FLAT WEAVE RUG
In this workshop, Annie-France will guide you through weaving an heirloom-quality flat weave wool rug, from start to finish. You'll learn how to prep the yarn, warp the loom, then move on to three different weaving techniques that will add texture and pattern to your project. You'll finish by sewing in the edges, removing the rug from the loom, and learning how to create optional decorative tassels. Above all, Annie-France encourages you to take your time and enjoy the flat weaving process. "This is not a one-day project. It will take time, but it will be oh-so worth it!"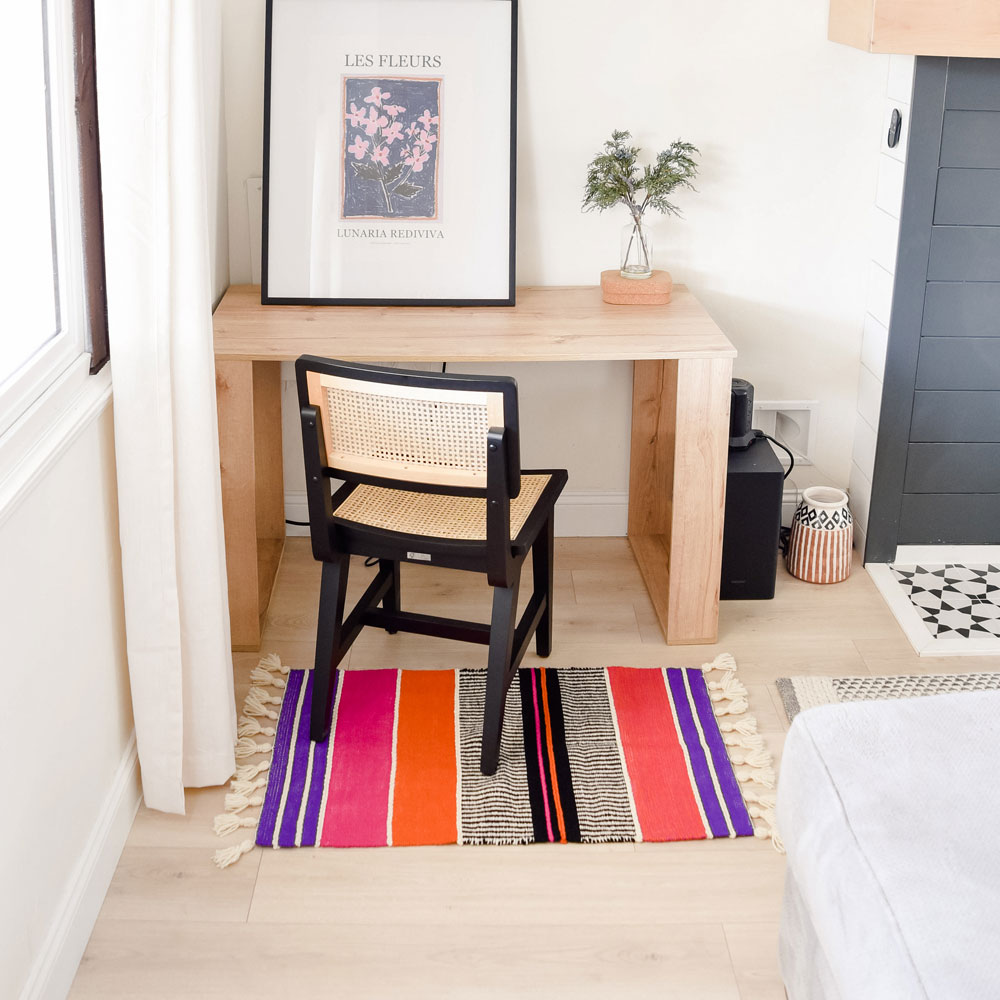 WHAT IS RUG YARN?
Annie-France specifically selected the materials and tools in this flat weave wool rug kit, including the seven twisted hanks (sometimes referred to as "skeins") of 100% pure wool, 2-ply yarn. When weaving a rug, consider the wear and tear of daily walking, pet playing, and cozy sitting that will occur. Because the rug will be exposed to a lot of friction, the best rug yarn is thicker, more durable, and generally made of a sturdier fiber. The yarn in the materials kit is made of two strands of wool yarn ('2-ply'), making it a strong fiber with a beautiful texture. The term "ply" refers to the process of twisting multiple strands of yarn together to create a stronger, more even final yarn. Plied yarn generally tends to pill less as well, making it a great option for flat weave wool rugs.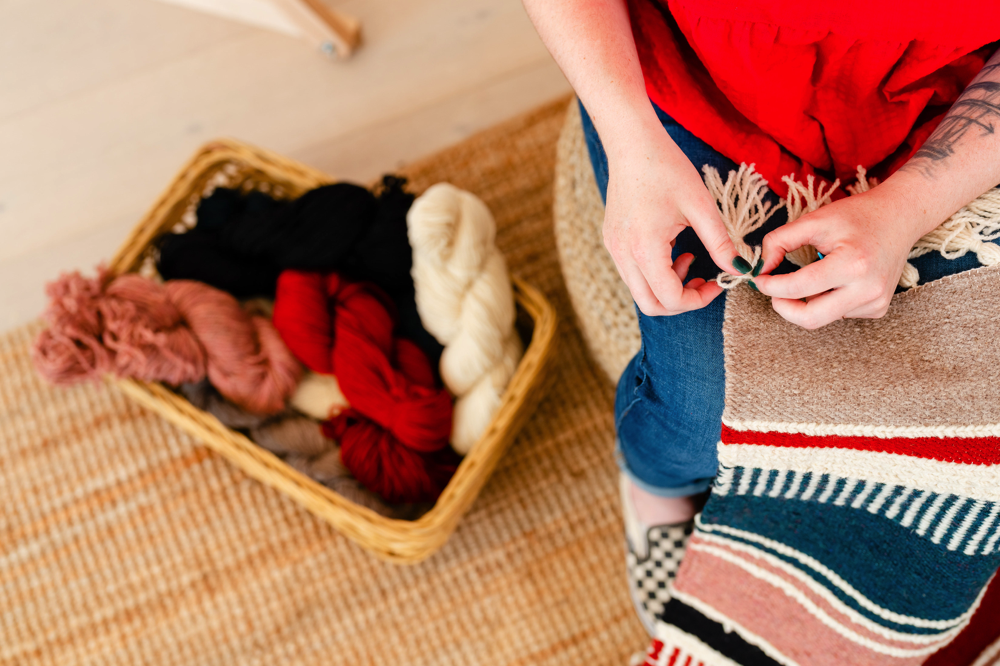 CUSTOMIZABLE RUG WEAVING KIT
This flat weave wool rug weaving workshop is perfect for beginners as well as seasoned weavers, and we've made the kit customizable to suit your preferences. Choose from four curated colorways of 100% wool, 2-ply yarn, excellent for rug weaving. The two maple shuttles are handmade by local woodworkers in San Diego, CA, and will help to keep your longer strands of yarn in place as you weave. You'll also receive plenty of durable cotton warp to create a strong base for your flat weave rug, along with two types of tapestry needles for weaving and sewing in the ends. 
Because we know some weavers may already have a loom, we are offering our handmade maple tapestry loom in two sizes as an optional add-on for this workshop.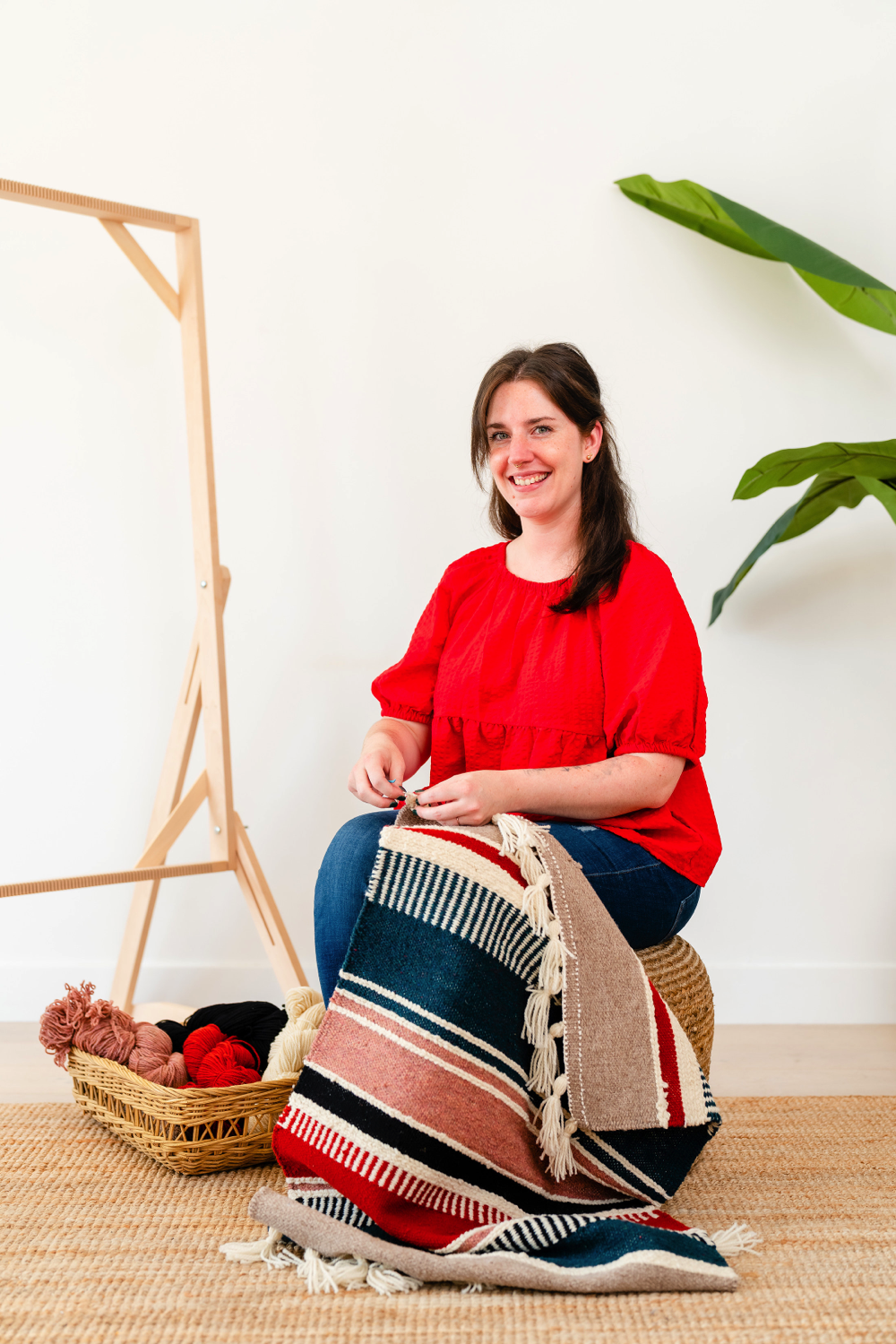 More About our Artist: ANNIE-FRANCE BOWKER
Annie-France Bowker discovered weaving in 2018, at a time when, as a new mother, felt the need to reconnect with herself. Shortly after, her online weaving store, WOVVVEN, was born. Her work is ever-evolving, colorful, and eclectic. A true representation of her quest to express and find herself in the chaos of modern times. Since the beginning of her career, she has created and sold hundreds of pieces that now live all over the world. She works from her home studio and lives in the lush countryside near Ottawa, Ontario with her husband and her two children.
We look forward to sharing this fulfilling and joyful experience with you and can't wait to see how your project turns out. Be sure to share your creative journey and finished creation with us by tagging @thecraftersbox and @wovvven  in your social posts. Use #thecraftersbox so our community can also see your workshop come to life. Happy making!