More Details
MXDOMESTIC
FABRIC WEAVING
Fabric weaving is a textile technique using strips of fabric to create unique woven patterns. In this workshop, under MxDomestic's expert guidance, we're exploring three different custom fabric weaving patterns to build a beautiful raw linen lumbar pillow for the home.
This project begins with an introduction to fabric weaving including the important tools & materials needed to explore this technique. We've curated a beautiful palette to get us started! The process of preparing our fabric strips is soothing and methodical. The art of weaving is both familiar and fresh as we embrace linen fabric as our work canvas. A project wouldn't be complete without instruction on finishing your work to create a custom hand sewn lumbar pillow. 
Our first project together - and the featured pillow in this workshop -  shares an overview of building a raw edge linen two-axis weave. Once your skills are mastered, explore two additional intermediate weaving patterns for wall hangings, placemats, table runners, quilts and pillows. You can use different axes to create interest and dimension in every unique textile piece and explore your very own patterns as you get the hang of weaving with pins on a table top. We invite you to add additional fabric bundles for more making, each bundle includes enough fabric for multiple pillows or even a lap quilt.
Do you prefer clean, creased lines over our raw linen aesthetic? MxDomestic shares how to use our optional bias tape maker tool add-on to achieve crisp edges. See images shared here to better understand the beautiful variation.
This workshop presents a totally unique take on weaving as we're working 'off the loom' and embracing textiles over fiber. Join us for an immersive workshop in a brand new offering that will inspire continue making all season long.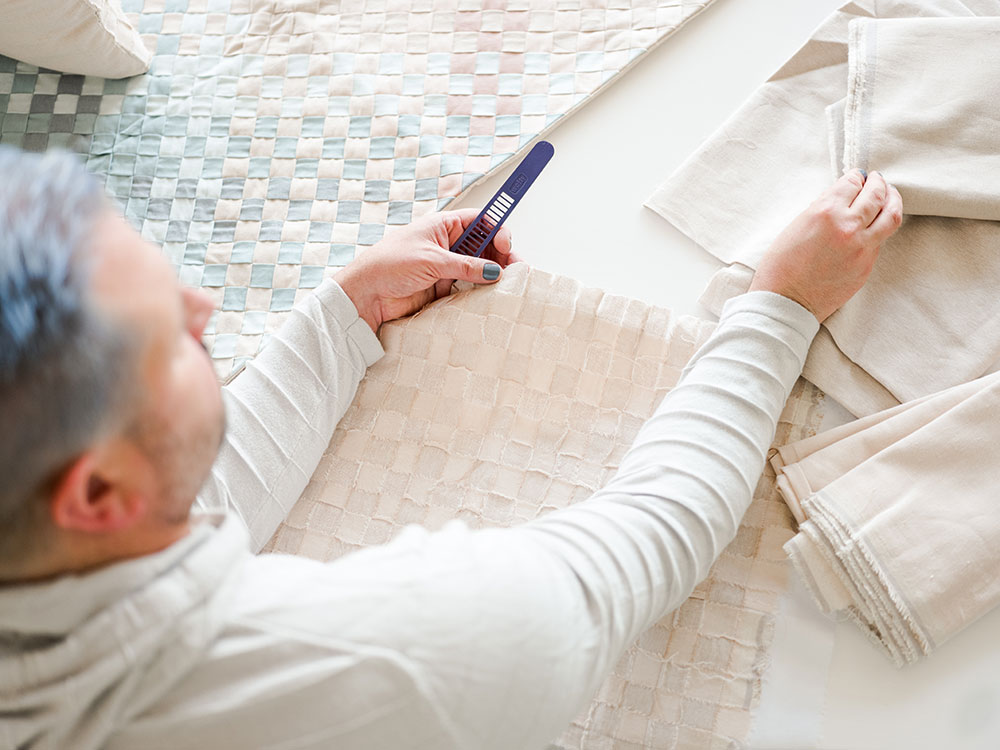 The Curated Kit of Tools & Materials
This workshop includes: 
A detailed, digital workshop by MxDomestic
A live Maker Chat Q&A for our community to join in creative conversation
Tools and materials from artisan suppliers, curated for you, by MxDomestic
The tools & materials included in our kit:
Four cotton-linen blend fabric pieces (lingerie, natural (2 pieces), oyster)
Iron-on hem tape (white)
Silk finish solid cotton thread (candlewick)
Wefty needle
Masking tape
Embroidery needle size 5
Pellon shape flex woven cotton interfacing
Assorted glass head pins
Woven fabric pillow booklet*
*Note: The fabric included in this box is enough to make a beautiful neutral lumbar pillow. See below materials kits for bundled fabric colorways to continue your weaving and create any of the projects shown in this pattern booklet.
Share with us! We look forward to sharing this fulfilling and joyful experience with you and cannot wait to see how your linen fabric weave turns out. Be sure to share your creative journey and finished creation with us by tagging @thecraftersbox + @misterdomestic in your social posts, and use #thecraftersbox so our community can also see your workshop come to life! Happy making.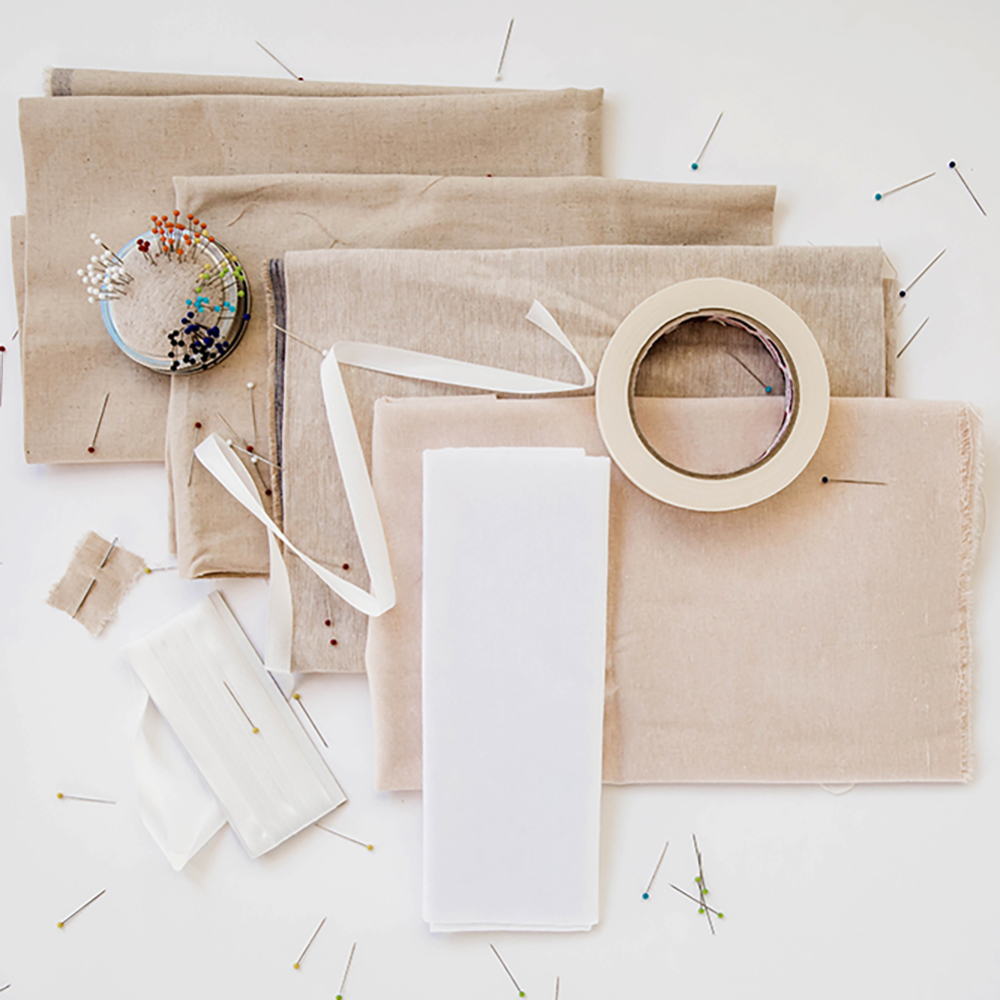 More About Our Artist: MxDomestic
Mathew Boudreaux, AKA MxDomestic, is a crafting powerhouse on a mission to build an inclusive community that spreads love and joy through making.
While MxDomestic began sewing at a young age, his parents' antiquated gender binary expectations discouraged him from fully exploring his passion and expressing himself. That all changed in 2013 after he and his spouse gave birth to their beautiful daughter, who filled MxDomestic with inspiration. Shortly after the birth of their daughter Matthew's spouse gifted him classes from "Modern Domestic" and it rekindled his love of sewing and crafting. 
MxDomestic was able to masterfully combine his love of crafting with his Portland State MBA, harnessing the power of social media to create an inclusive brand all his own. Today, MxDomestic is a fabric & pattern designer, sewing instructor, owner of the new online sewing school SEW U, an inspirational speaker, consultant, and global influencer with his social media community on TikTok, YouTube, Facebook & Instagram. 
We're so excited to have you join us, MxDomestic.
MxDomestic's
Podcast Interview