More Details
Rug Tufting Maple Frame (without Legs)
$160.00
Already have our Maple Standing Tapestry Loom? You can use that stand and purchase just this maple frame designed for rug tufting.
MEG BRUNSTON
RUG TUFTING
Create your own geometric tufted rug as you learn how to use a rug tufting gun, apply adhesive, add backing fabric, and complete finishing trim. Meg Brunston of Soft Seams is a fiber artist specializing in tufting, and they guide you through the fascinating process of crafting a 2' x 3' rug. "Tufting is the act of needle punch through a backing fabric, in the form of a loop pile or a cut pile, but to me, tufting is essentially painting with fibers," shares Meg.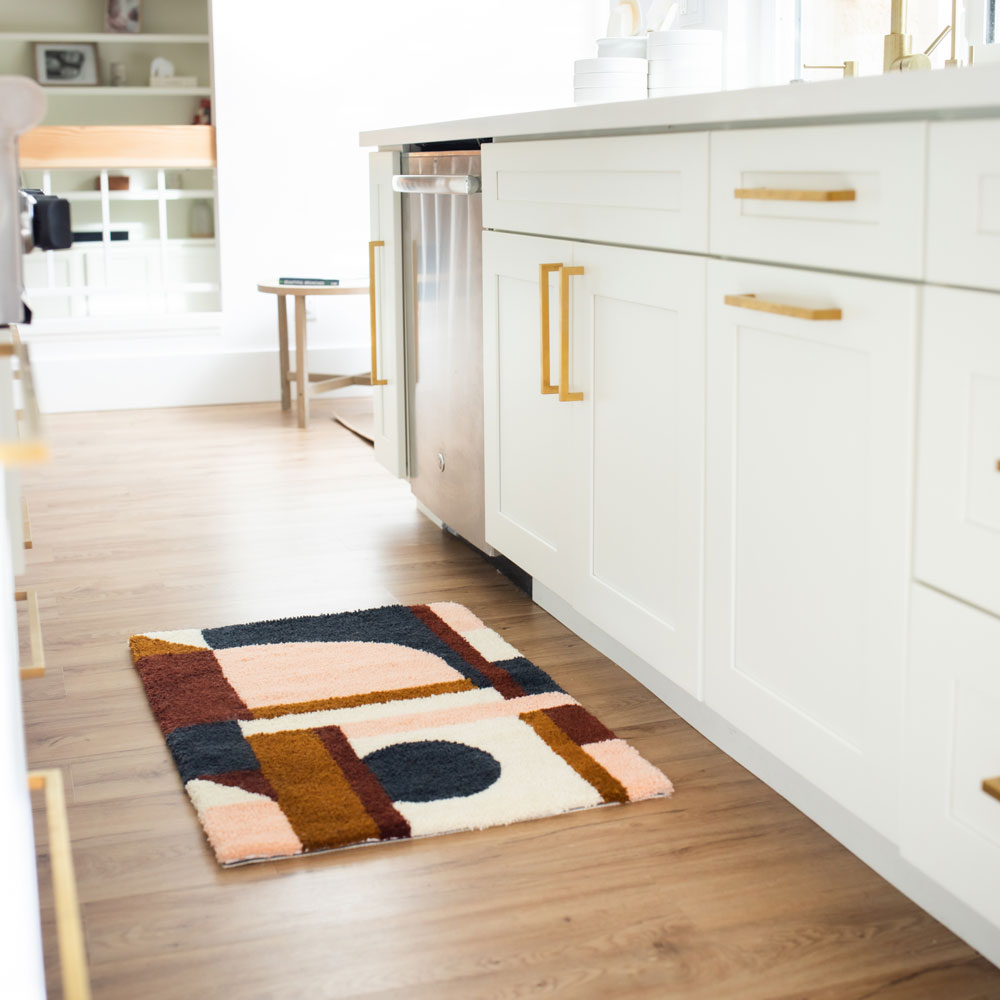 MORE ABOUT THE WORKSHOP
In your workshop, Meg goes over the basics for your cut pile rug tufting gun, including safety and how to thread your yarn. Meg teaches how to apply the primary backing fabric to the tufting frame, transfer the design, and tuft within the shapes. You'll also learn how to apply carpet adhesive, secondary backing fabric, and create a neat finishing trim.  
100% WOOL RUG TUFTING YARN
The high-quality, durable 100% wool rug yarn featured in these kits is ideal for making vibrant rugs that can handle the everyday wear and tear of repeated foot traffic. After researching yarn vendors all over the world, we are thrilled to offer these small batch dyed yarn cones in 18 beautiful hues, wound one at a time in a custom size for this project right here in the USA. Because the tufting gun and frame are threaded with two strands of yarn in the same color throughout the entire tufting process, you will receive two cones in each color for your project, ready to start tufting. 
CUSTOMIZABLE RUG TUFTING KIT
This kit was designed with customization in mind, allowing for your choice of five colorways (or customizing your own unique colorway)and optional rug tufting frame add-ons. Throughout the project, the rug tufting gun is threaded with two strands of yarn from two yarn cones of the same color. Each colorway comes with ten cones of Forte rug yarn (100% wool) in five luscious hues—meaning you'll have two cones of each color. You'll also receive all the materials to create your geometric rug, including backing fabrics, carpet adhesive, binding, and duckbill scissors. 
Please note that the rug tufting frame is NOT included in the main kit because we know that some makers may already have one. A gorgeous maple rug tufting frame with stabilizing foot stand was handmade by local San Diego woodworkers and is available as an optional add-on, with or without frame legs. If you already have our Maple Standing Tapestry Loom, you can use the legs and purchase the Maple Rug Tufting Frame WITHOUT legs.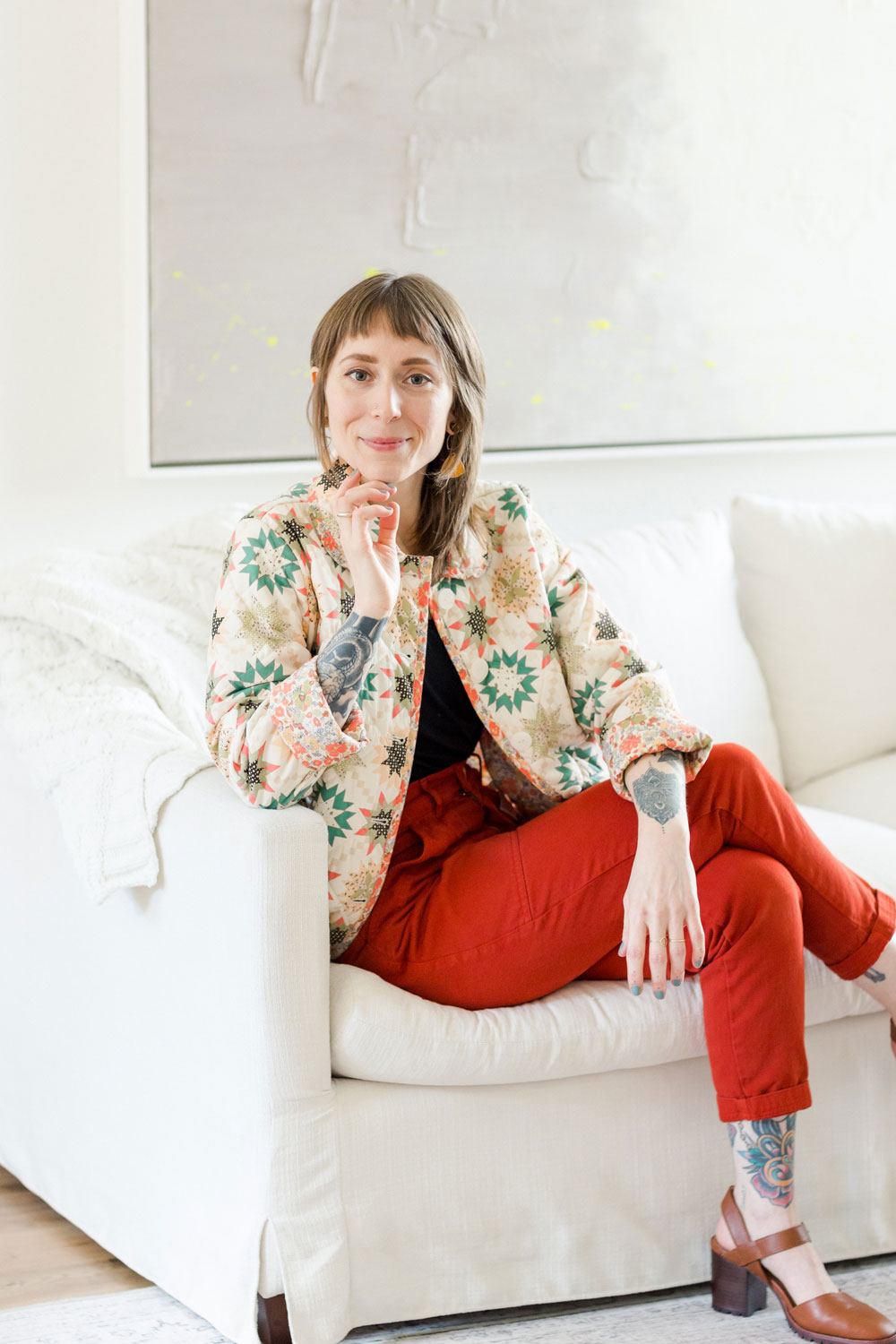 More About our Artist: Meg Brunston
Meg Brunston is the artist and teacher behind Soft Seams. They live in the quaint city of Minneapolis, Minnesota with their partner, and two wonderful pets.

Soft Seams began as a passion project that consisted of making a variety of fiber art pieces—including punch needle, rug hooking, and tufting—for fun! As Meg progressed over the years, they realized how much joy they receive from tufting and began taking on tufted commission projects from clients. This focus allowed their virtual storefront to blossom, providing them the opportunity to create seasonal made-to-order pieces. Outside of tufting pieces for themselves and clients, they have fallen in love with teaching others how to tuft. They facilitate workshops out of their home studio monthly and collaborate with local businesses that host workshops out of their store. Their hope is to inspire others through the art of tufting and share with the world that painting with fibers is for everyone.
When Meg is not surrounded by and covered in yarn, they are spending time outside with their dog and good company, reading, devising upcoming projects with new shapes and color combinations, or cooking with their partner.
We can't wait to see how your tufted rug turns out. Share your creative journey and finished creation with us by tagging @thecraftersbox + @soft.seams in your social posts. Don't forget to use #thecraftersbox so our community can also see your workshop come to life. Happy making!