More Details
ZOE FROST
CROSS STITCH
Welcome to our Cross Stitch Workshop with Zoe Frost of Junebug & Darlin. This Cross Stitch Workshop is an excellent creative practice for novice and expert makers alike. Cross-stitching is achieved through using a grid. By working in a pre-gridded fabric, there's no guessing as to where to put your stitches or what type of stitch will work best. Cross-stitching is a great methodical craft.
Zoe Frost of Junebug & Darlin will walk you through each of the curated supplies in your kit. You'll learn how to read a counted cross stitch pattern, and from there, stitch your way through her speciality design, created just for our community of makers. You'll also explore technique and skills in how to back your embroidery hoop for a professional finish. 
Our workshop teaches three types of stitches: full stitches, backstitching and French knots. With Zoe's help, you'll gain the confidence and skills to take this 11-color design to the next level with additional techniques to make your piece flourish.
We've thoughtfully curated the ingredients in this kit. Be sure to follow Zoe's detailed video directions in your digital Workshop Gallery. We can't wait for you to learn from our featured maker and explore this joyful art form.
We cannot wait to see your Cross Stitch creations. Be sure to share your creative journey and results with us by tagging @thecraftersbox + @junebuganddarlin in your social posts, and use #thecraftersbox so our community can see your work. Happy making.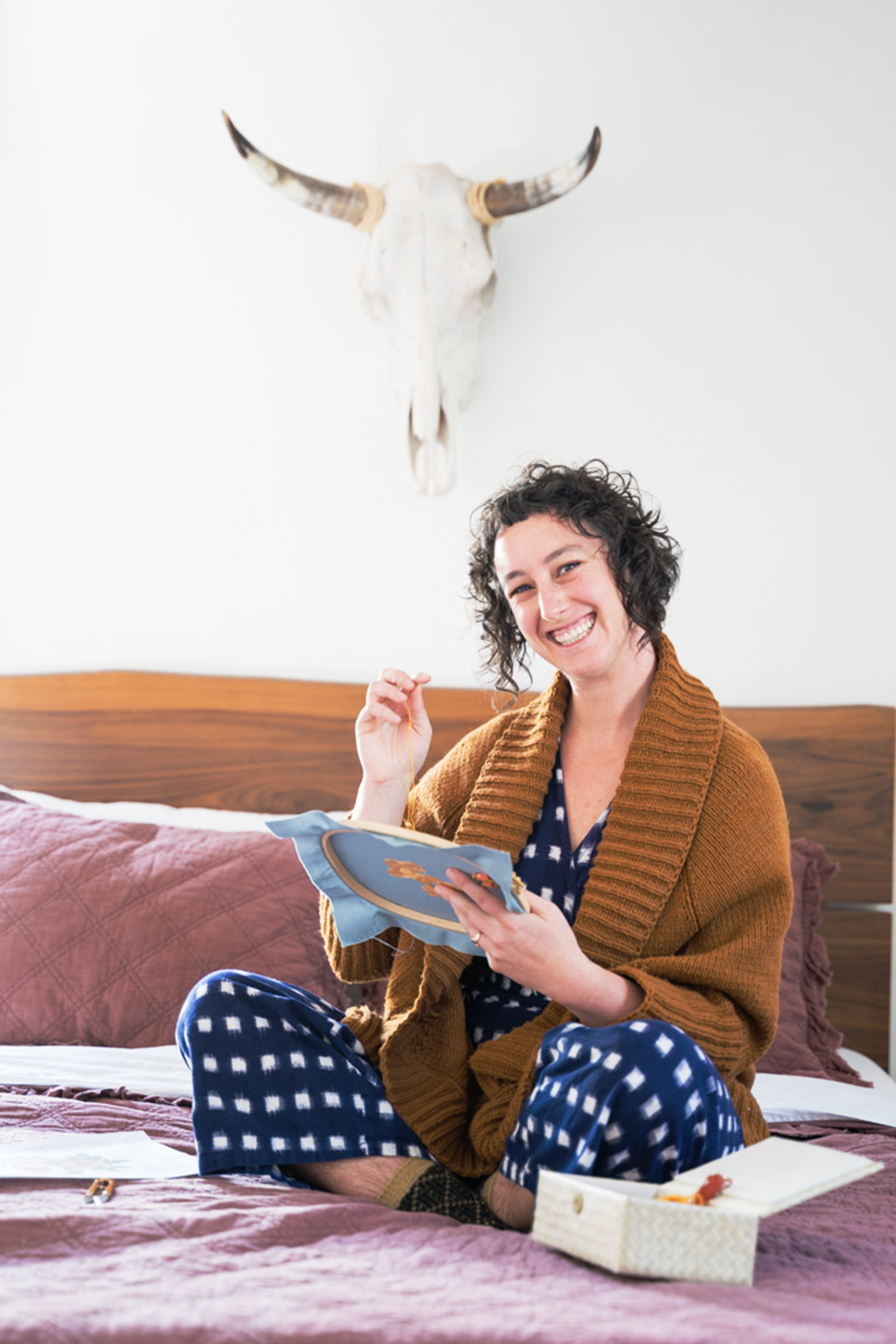 More About Our Artist: Zoe Frost
Zoe Frost is the owner of Junebug & Darlin. Zoe is a queer femme currently residing in Portland, Oregon. Having spent most of her life in California, she now adventures through lush forests of the PNW with her partner and their two dogs. Zoe provides friends and fellow crafters with the inspiration and tools they need to create heirloom quality subversive crafts. Her cross stitch kits are handcrafted in her home studio. She takes inspiration from nature and modern needlework techniques to make her artistic endeavors what they are today. Her products are made to be useful, instructive and empowering for new makers to take the needle into their own hands.
Zoe Frost's
Podcast Interview