More Details
SANDRA GAESTEL
EVERLASTING PAPER PALMS + ROSE & COSMO FLORALS
Welcome to our workshop exploring the delicate art of hand crafted crepe paper florals. We are so excited to bring more crepe paper florals to our community, we couldn't decide which to launch first! As a special treat, we've decided to bundle two workshops lead by artist Sandra Gaestel.
Sandra shares her specialized technique and unique knowledge behind this medium to build detailed floral arrangements — in this bundled kit we're combining everlasting paper palms + delicate garden roses and cosmos. Sandra has curated a toolkit of the materials she uses in her own studio to bring life to her craft. A favorite secret: how carefully applied natural powdered spices can bring dimension and realism to each bloom. Another secret? Sandra shares how she combines crepe paper floral designs with actual dried stems to create everlasting bouquets that are too life-like to tell the difference in person!
A highlight of the process we'll explore together: every leaf and flower begins with high quality Italian crepe paper. The paper will typically go through a process of being painted or naturally dyed to bring dimension and life to each petal or botanical element. Each piece is hand cut, shaped and molded. Once all these stages are complete, assembly can finally begin and flowers begin to take on a layered, complete look of their own. Once you have the techniques down, you'll be able to continue to experiment with cutting petals and leaves out in larger sizes and new shapes for even more making.
Share with us! We can't wait to see all of the floral arrangements you create using Sandra's techniques. We hope you enjoy this workshop, we'd love to see how you are inspired to create. Be sure to share with us by tagging @thecraftersbox, our featured artist @harleyrosefloral and use #thecraftersbox so all can see your work. Happy making with this special workshop.
More About Our Artist: Sandra Gaestel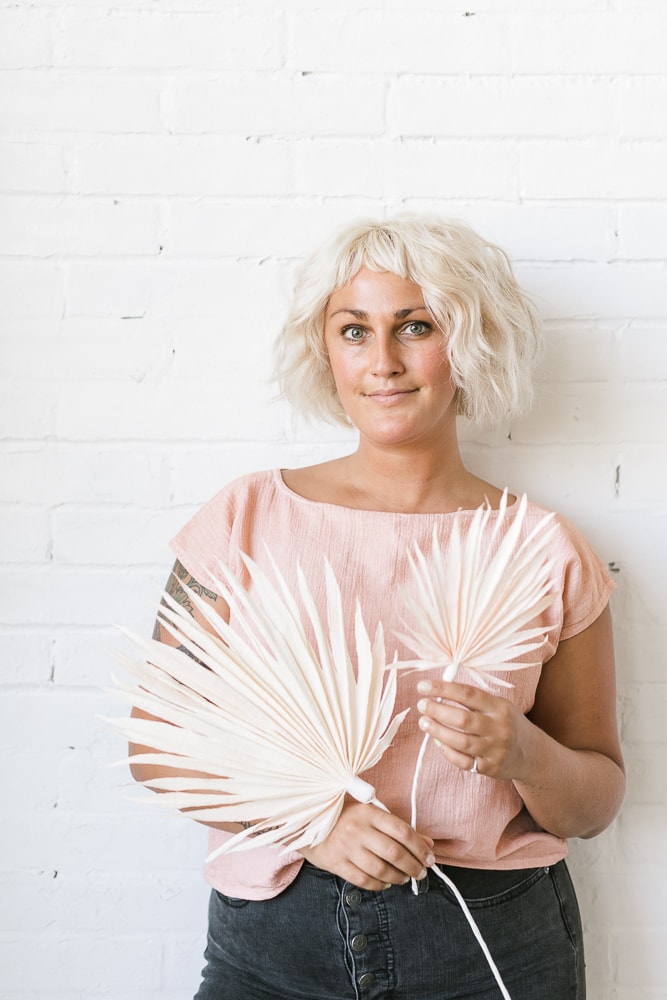 Sandra is self taught with years of studying to perfect her craft and challenging herself to create blooms that mimic live flowers. Combining both crepe paper floral and dried greens, Sandra creates bouquets, arrangements, and back drops that make you do a double take and question…are those real?
She started out by creating custom coffee filter flower designs as a favor for a friend's wedding and it was love at first cut. Having never heard of crepe paper flowers before, it was something that immediately sparked her interest and curiosity. Fast forward to five years later, Sandra now runs her own crepe and dried floral shop — Harley Rose.
Growing up, Sandra was constantly immersed in nature and would help her mother with all sorts of art projects which are reflected in all of her work today. Being taught to appreciate and respect nature exactly how she is without disruption or destruction, translates into Sandra's crepe paper flowers and floral designs. Nothing is forced or over worked but is left to move beautifully on its own, as if it were still in nature.
We're so excited to have you join us, Sandra.
Sandra Gaestel's
Podcast Interview