More Details
KSENIA NAIDYON
COZY KNIT CABLED SOCKS
Artist Ksenia Naidyon leads a handknit socks workshop featuring three unique cabled patterns — so all knitters, intermediate to advanced will have a cozy sock pattern that is perfectly comfortable for both their feet and their skill level. While this is an intermediate-level workshop, beginners will be ready for the challenge as we've included the materials and guides you need to be able to knit your own cozy socks.
Our workshop is focused on how to work with double pointed needles to learn sock construction and to knit a pair in tandem. The knitting technique we're honing in on is cabling with all of it's beautiful twists, turns and texture. All three designs will include how to read a pattern, knit following a chart, use double pointed needles (all five at once!), and learn classic knit sock construction. Our standard kit includes a wool sock yarn (with a touch of nylon for durability) chosen by Ksenia as a yarn designed for everyday use. Wear with boots or tread through the house and enjoy the wool qualities of traditional sock yarn for a wonderful pair of socks perfect for cooler weather.
We are also offering a hand-dyed Merino wool-silk yarn blend 'kit upgrade'. Subtly softer, this Merino upgrade is for the yarn connoisseur that enjoys variegated hand-dyed details. Dyed in small batches by Sarah Pederson of The Dye Project in Santa Cruz, California, we've curated four beautiful colors for our house-sock wearers. This specialized yarn will wear more quickly but is perfect for indoor lounging — they'll be the first thing you'll pull on as you crawl out of bed each morning for that first cup of coffee. Upgrading your kit means you'll receive three skeins from our hand-dyer instead of our wool sock yarn.
Either yarn you choose, you'll end up with the coziest of socks. Ksenia starts off guiding us through a basic sock pattern, then leads us through two additional sock patterns — each more detailed than the previous. By the end you'll be a cable knit master. From a simple mock cable to a complex intertwining Aran braid, to intricate details like knitting bobbles, this workshop will give you the cable needle, tapestry needle and the skills to embellish any of your handknits. Add cables to your sweaters, hats, scarves, and home decor to make your life a bit more cozy.
Share with us! There is something so cozy and beautiful about knitting yarns and fibers to create something new. Knitting can be intricate and delicate or simple and basic — and the three patterns in this workshop will be equally as varied to delight both intermediate and advanced knitters! We can't wait for you to join us. We hope you enjoy this workshop, we'd love to see how you are inspired to create. Be sure to share with us by tagging @thecraftersbox, our featured artist @life_is_cozy, and using #thecraftersbox so all can see your work! Happy making with this special workshop.
More About Our Artist: Ksenia Naidyon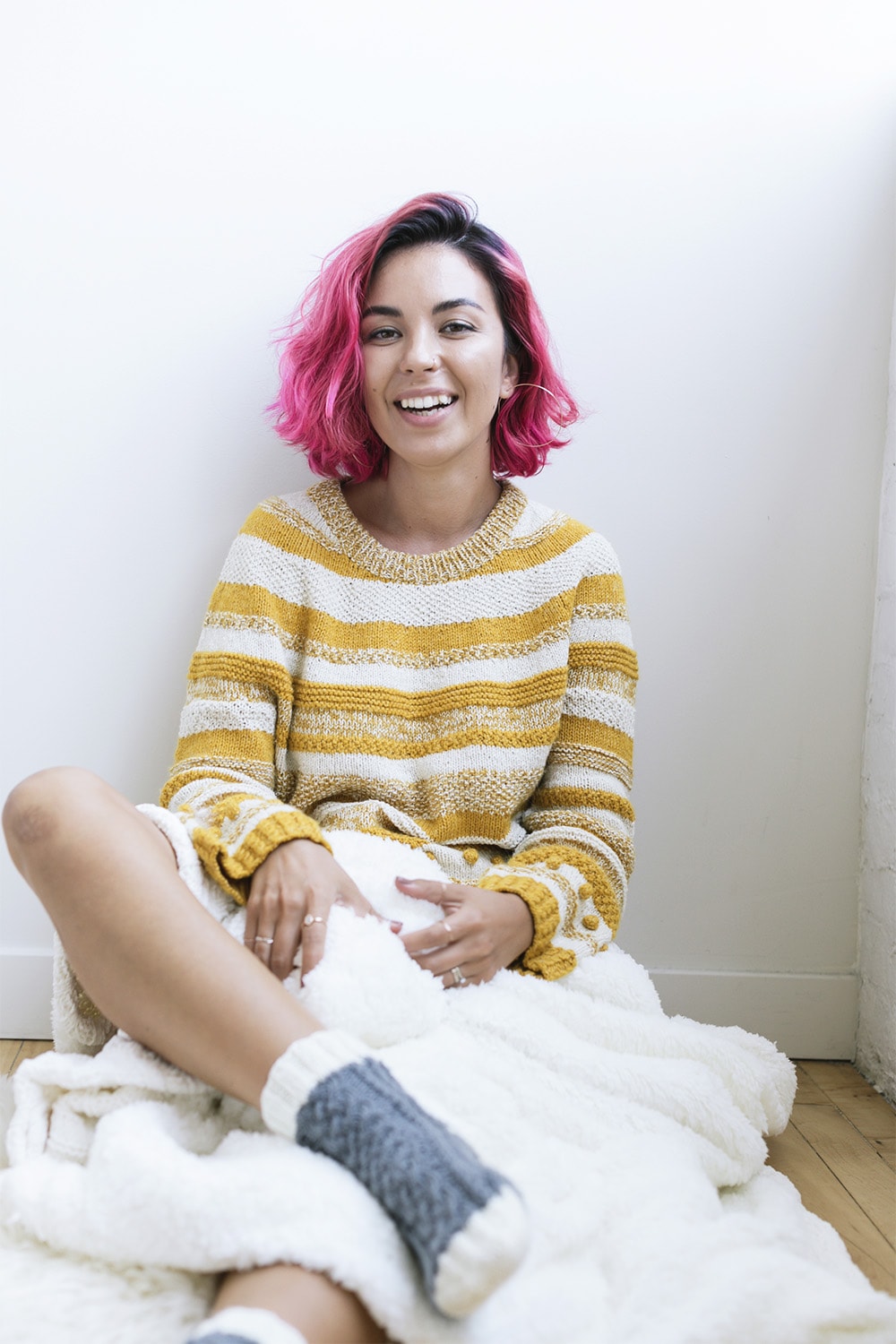 Ksenia is the indie designer of knitting and crochet patterns behind Life Is Cozy. Since she was a young girl, Ksenia has been mesmerized by various fiber crafts. When she earned a degree in mathematics and started working long hours, it was only natural that she found a needed creative escape in her long-beloved fibers. Since moving to San Francisco in 2015, Ksenia has been weaving her passions for math and fiber arts together by creating and writing new patterns to give more dimension to a common craft. When she's not knitting or grading her patterns (sometimes up to 13 sizes!), Ksenia loves to bake and to go on long hikes exploring beautiful Northern California.
We're so excited to have you join us, Ksenia.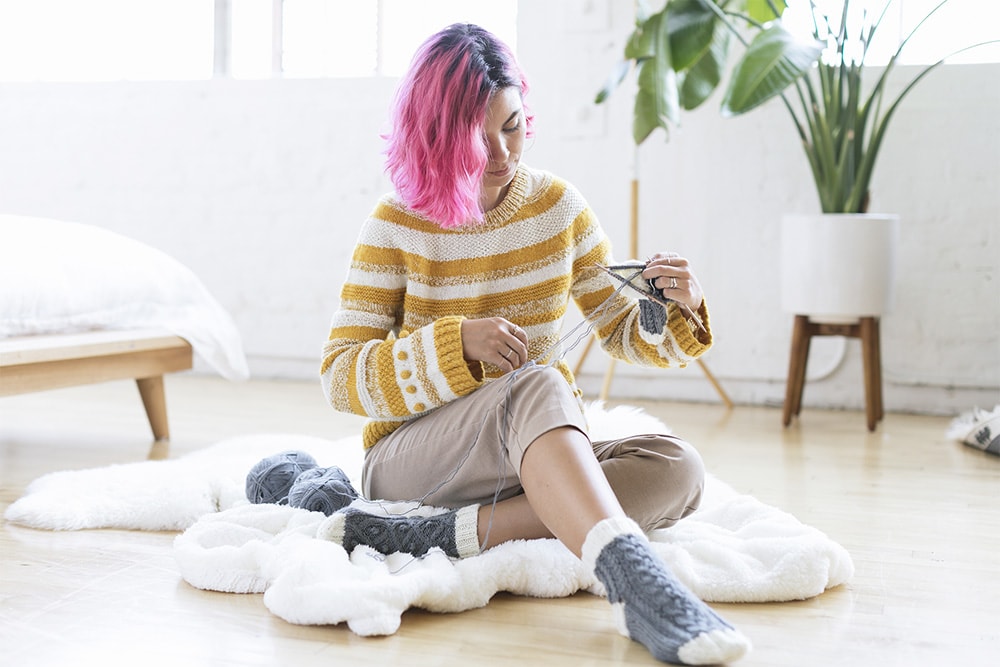 A brief history: Whether elaborate or essential, at its core knitting is pulling and looping fiber yarns together with needles to create beautiful, new textile. Handknit fiber crafts made by knitting needles and looping yarns have been long-loved for centuries in Egypt, Europe, the Middle East and now the Western World. In fact, the first handknit artifact is an intricate sock from Egypt dating back to 1000 AD. Middle Eastern trade routes brought handknits into Europe. Did you know that royals in Spain and other parts of Europe requested handknit silk stockings?
As time went on, knit socks were more common and machine-knit goods took over. The wool sock became the standard footwear for its warmth, moisture prevention, anti-bacterial properties, and thick padded comfort. During WWII, the craft of handknitting from home was revived as part of an effort to create wool socks to support the troops. Over time, the knitting stitches grew more sophisticated and more elaborate sock patterns emerged.
From royal stockings to thick wool socks, handknit socks have been there to embrace and warm our feet through times of war and wealth.
Ksenia Naidyon's
Podcast Interview