More Details
MICHELLE WHITEHEAD
ALCOHOL INK ON CERAMIC
Create unique and functional ceramic pieces of art with the relaxing medium of alcohol inks. Join artist Michelle Whitehead as she demonstrates how to manipulate alcohol inks and work with resin to decorate your tray, coasters, and ring dishes. "As a form of fluid artwork, the alcohol inks will flow and blend across your ceramics with the help of isopropyl alcohol, creating unique and organic patterns and ripples as they dry," says Michelle. You'll also learn how to incorporate metallic brass ink to add shine and sparkle to your pieces, and how to protect your projects with resin.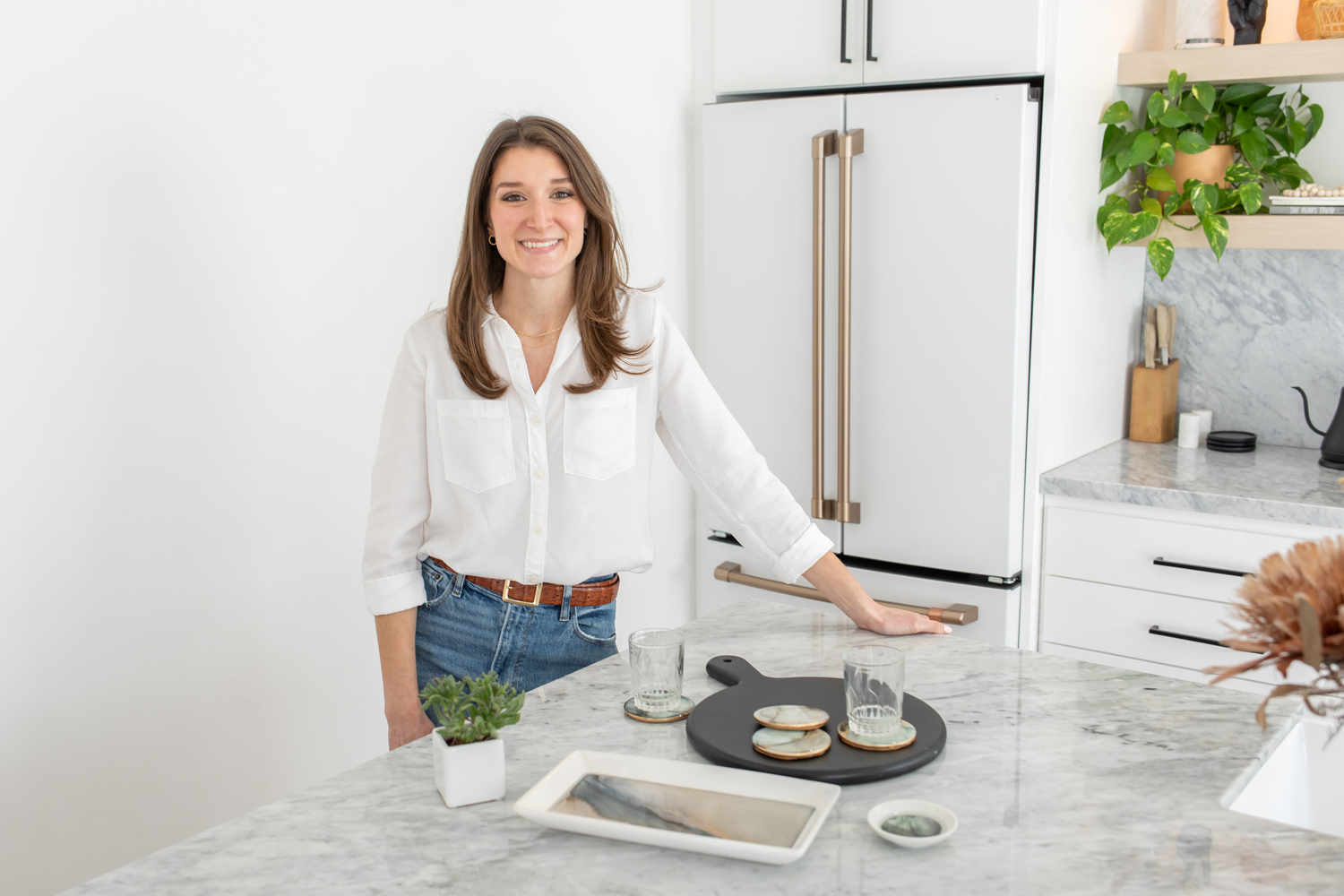 FREEDOM IN FLUID ART
"It wasn't until my first really stressful job in medicine that I realized I needed to reconnect with my creative side as a way of stress relief," shares Michelle. "I found it really freeing and relaxing the way that the inks move on their own and force you to just let go and enjoy the process." 
The meditative and enjoyable process of alcohol inks allowed Michelle to incorporate art back into her life and let go of the need for perfection. "With their unpredictable nature, alcohol inks take the pressure off of creating 'perfect' pieces. I think this quality makes alcohol inks an extremely friendly medium for makers of all experience levels. I love the way alcohol inks force you to give in and let go, a lesson that can be applied to many areas of life."
ALCOHOL INKS KIT
Michelle's thoughtfully curated kit includes all the tools and materials needed to make your own one-of-a-kind designs on a rectangular tray, two ring dishes, and a set of four circular coasters. The six alcohol ink colors will allow for experimentation with mixing and different design elements, while adding metallic brass ink elevates the pattern with a spark of shine. You'll also receive an ink blower to help manipulate the alcohol inks. Your resin comes in two bottles, allowing you to mix the exact portion needed. Once poured, the resin may have tiny air bubbles which can be removed with the heat gun.
In the workshop, Michelle walks you through the entire process of decorating ceramic pieces. You'll learn different techniques for manipulating the inks—including using the ink blower—while still embracing the unpredictable nature of the medium. Once dry, Michelle demonstrates how to mix and pour resin to act as a sealant and protectant for your finished alcohol ink designs. 
TOOL SWAP
If you already have your own heat gun, you may choose to swap out the heat gun in the kit for a set of six additional alcohol inks in new colors.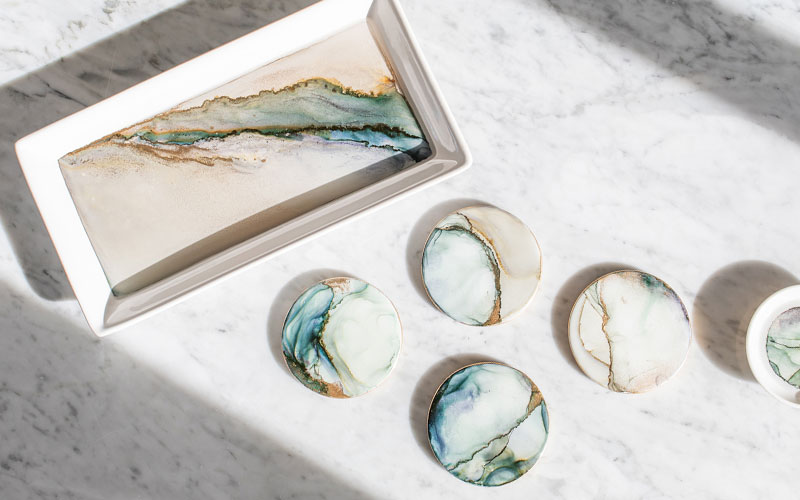 The Curated Kit of Tools & Materials
This workshop includes:
A detailed digital workshop led by Michelle Whitehead of Michelle Lynn Art

A live Maker Chat Q&A where you can join in on creative conversation with the artist and ask questions.

Tools & materials from artisan suppliers, curated for you by Michelle

PDF download with written instructions to complement the video tutorial
The tools & materials included in your kit:
Ceramic tray, 12"

Two ceramic ring dishes, 4"

Four round ceramic coasters, 3.5"

Four self-adhesive cork backings for coasters

Alcohol inks in the following colors, 0.5oz each: Pitch Black, Slate, Terra Cotta, Denim, Stream, and Teakwood.

Metallic alcohol ink in Brass, 0.5oz

Heat gun 

Resin, 32oz

Isopropyl alcohol, 8oz

Safety goggles

Six pairs nitrile gloves

Painter's tape

Silicon measuring cup, 150mL

Four disposable mixing cups

Ink palette/paint tray

Paintbrush

Five pipettes

Ink air blower

Popsicle sticks

Plastic cover sheet for table
Materials to have at home: 
Cotton balls

Cotton swabs

Paper towel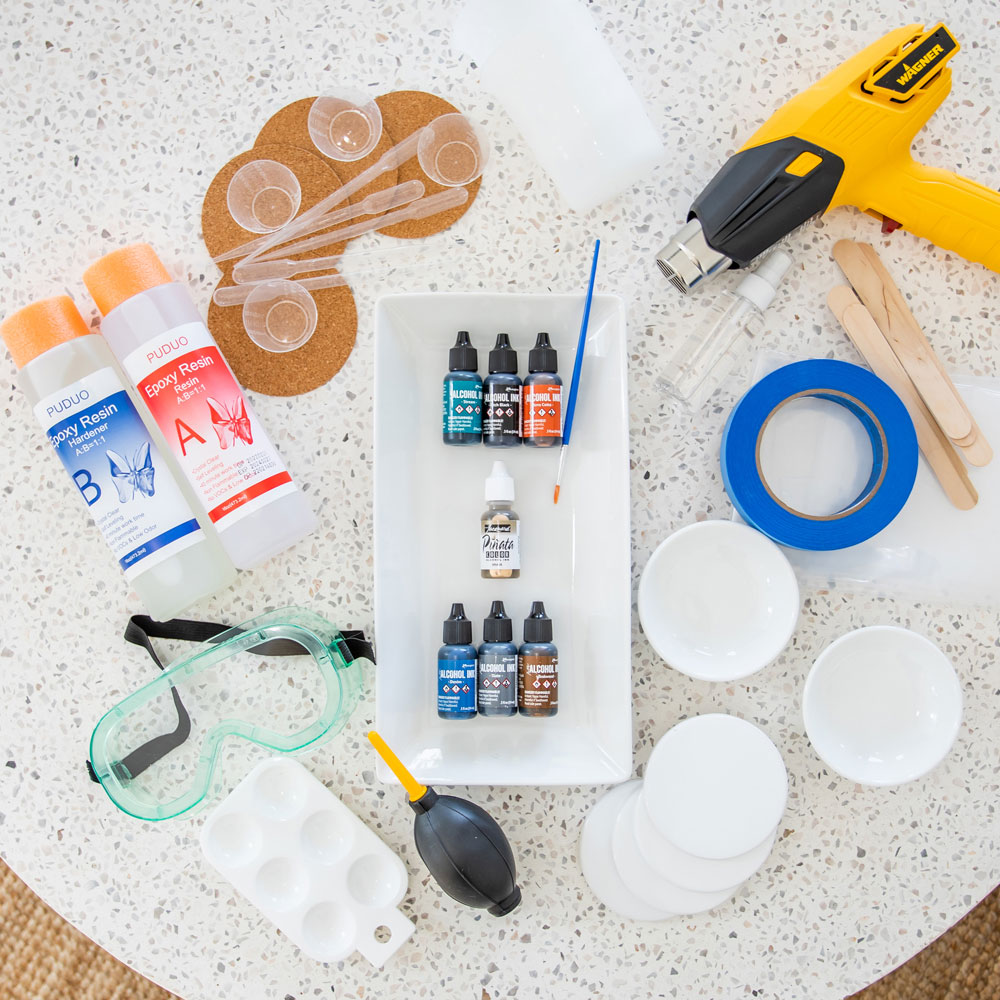 Due to shipping restrictions of the alcohol liquid, we are unable to ship internationally at this time. 
EPOXY RESIN AND ALCOHOL INK SAFETY: Please note that epoxy resin is NOT food safe. Always work with alcohol inks and resin in a well-ventilated area, preferably outdoors or in a garage, as the materials can give off fumes. Wear gloves at all times. If you get alcohol ink or resin on your skin, quickly clean it off with isopropyl alcohol. Never rinse resin down the drain. Allow excess resin to cure before disposing of it.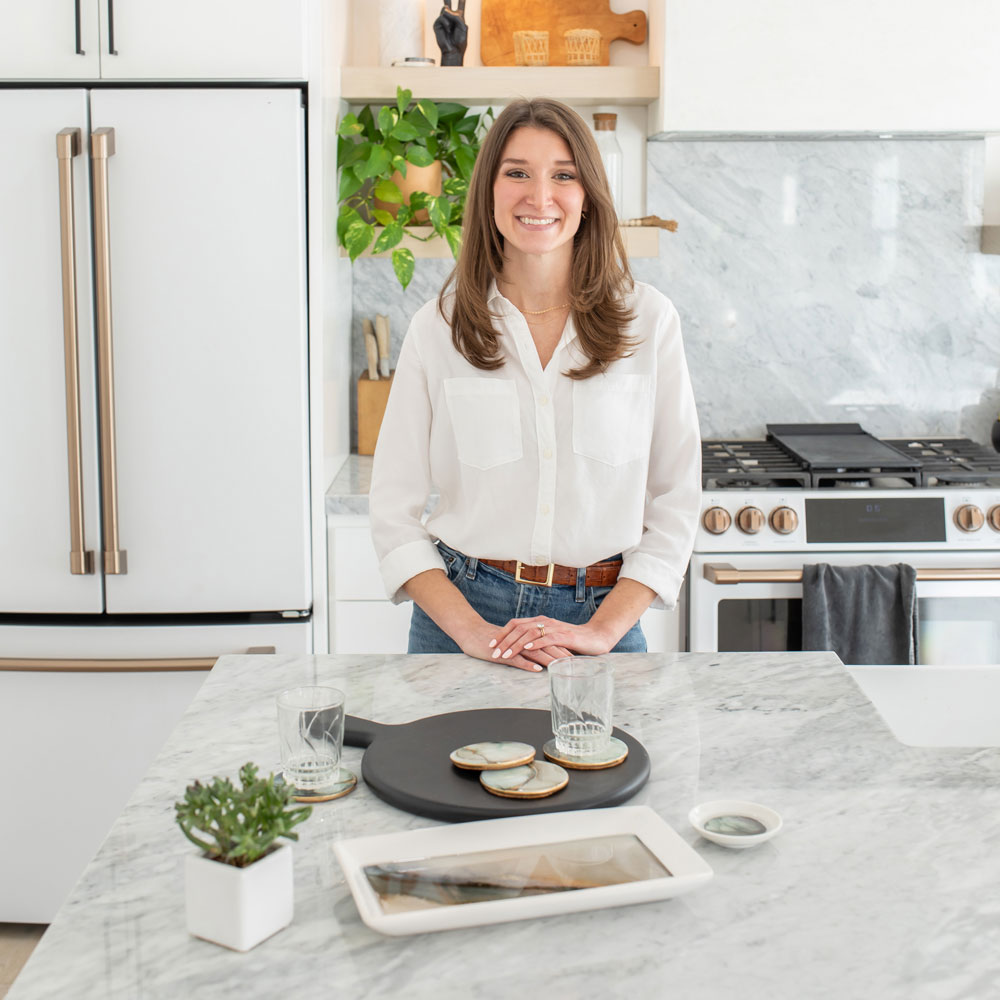 More About the Artist: Michelle Whitehead
Michelle Whitehead is an alcohol ink artist with a love for creating functional pieces of artwork. She believes in making artwork more accessible to consumers, finding ways to intertwine beautiful pieces of art into otherwise mundane parts of daily life. She has an eye for sophisticated color palettes and satisfying compositions, while still embracing the unpredictable, abstract nature of alcohol inks.
As a life-long crafter and maker, Michelle has always found immense satisfaction in the handmade process. Although finding free time for creating has not always come easy, she feels fortunate to have found her way back to painting in recent years as a way to relieve stress. She believes in the importance of exercising balance between the left and right side of the brain, and she hopes to encourage others to nurture their creative side as well.
Most weekends, she can be found painting and crafting in a sun-drenched corner of her home, outside of Philadelphia, where she lives with her husband and their golden retriever. When she isn't creating, she can be found exploring the outdoors, traveling, or challenging someone to a board game.
We can't wait to see how your botanical monoprints turn out. Share your creative journey and finished projects with us by tagging @thecraftersbox + @michelle.lynn.art in your social posts. Don't forget to use #thecraftersbox so our community can also see your workshop come to life. Happy making!