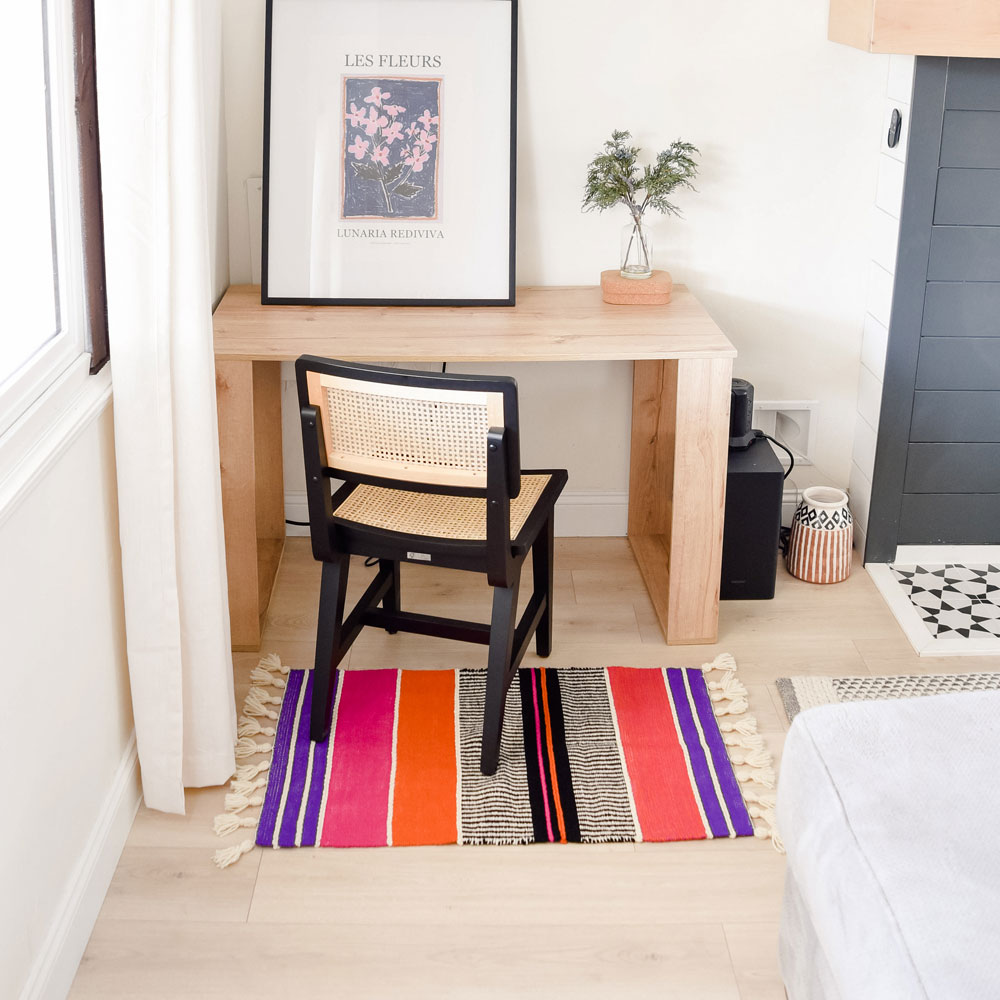 WHAT IS RUG YARN?
Annie-France specifically selected the materials and tools in this flat weave wool rug kit, including the seven twisted hanks (sometimes referred to as "skeins") of 100% pure wool, 2-ply yarn. When weaving a rug, consider the wear and tear of daily walking, pet playing, and cozy sitting that will occur. Because the rug will be exposed to a lot of friction, the best rug yarn is thicker, more durable, and generally made of a sturdier fiber. The yarn in the materials kit is made of two strands of wool yarn ('2-ply'), making it a strong fiber with a beautiful texture. The term "ply" refers to the process of twisting multiple strands of yarn together to create a stronger, more even final yarn. Plied yarn generally tends to pill less as well, making it a great option for flat weave wool rugs.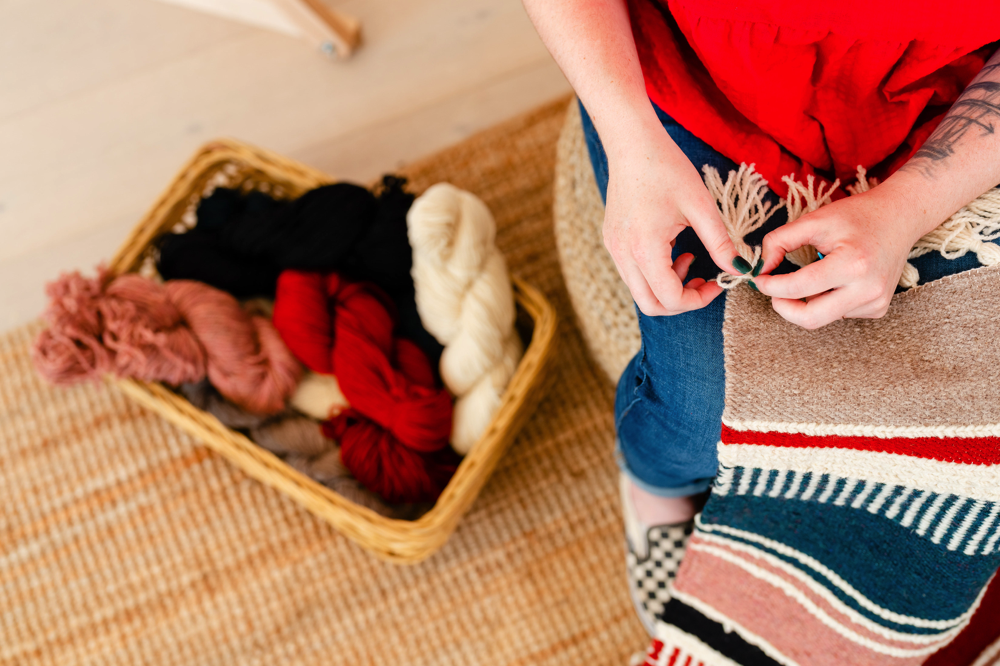 CUSTOMIZABLE RUG WEAVING KIT
This flat weave wool rug weaving workshop is perfect for beginners as well as seasoned weavers, and we've made the kit customizable to suit your preferences. Choose from four curated colorways of 100% wool, 2-ply yarn, excellent for rug weaving. The two maple shuttles are handmade by local woodworkers in San Diego, CA, and will help to keep your longer strands of yarn in place as you weave. You'll also receive plenty of durable cotton warp to create a strong base for your flat weave rug, along with two types of tapestry needles for weaving and sewing in the ends. 
Because we know some weavers may already have a loom, we are offering our handmade maple tapestry loom in two sizes as an optional add-on for this workshop.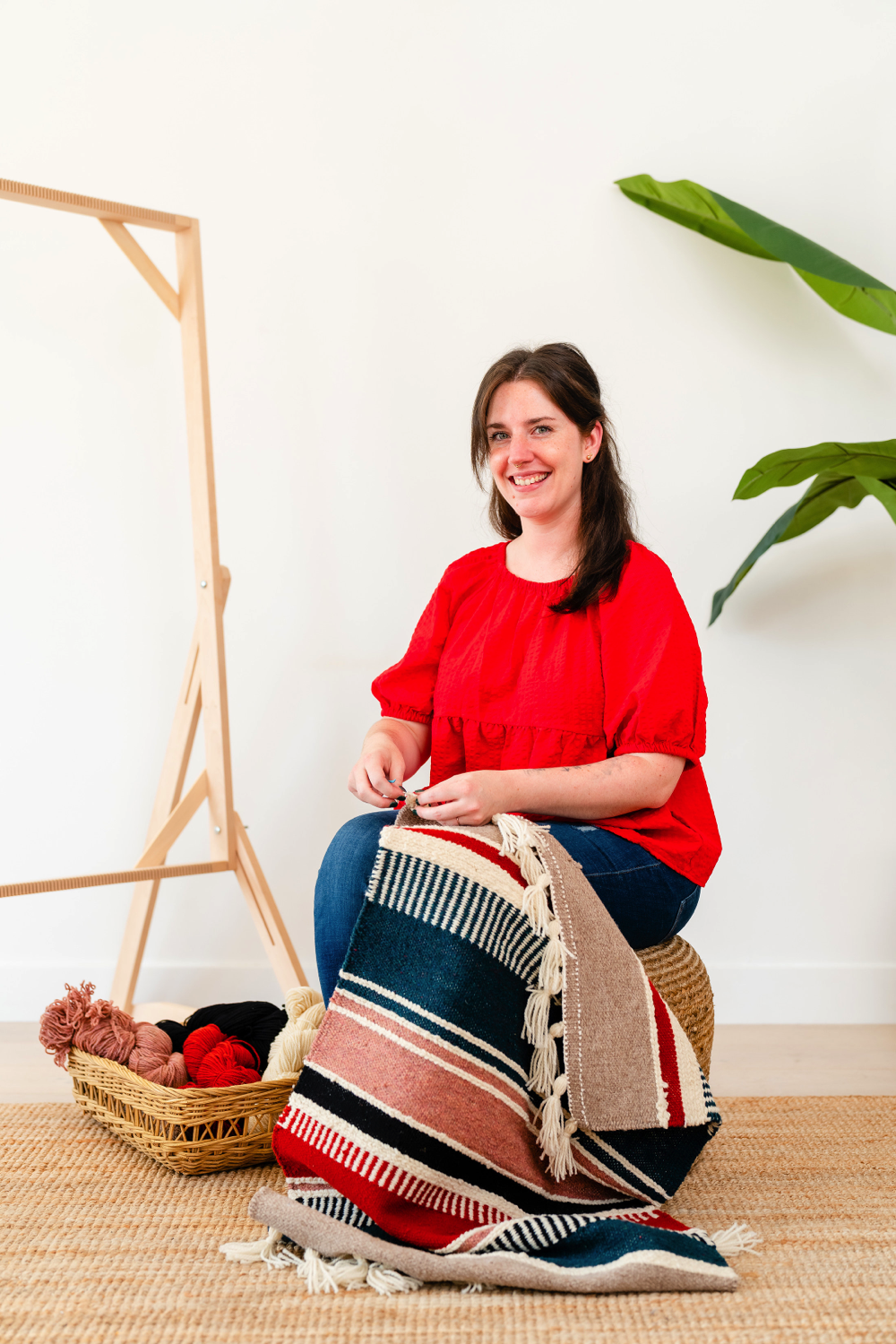 The Curated Kit of Tools & Materials
This workshop includes:
A detailed digital workshop led by Anni-France Bowker of WOVVVEN

A live Maker Chat Q&A where you can join creative conversation with the artist and ask questions.

Tools & materials from artisan suppliers, curated for you by Annie-France Bowker

PDF download with written instructions to complement the video tutorial, plus bonus rug weaving pattern
Tools & materials included in your kit:
Seven twisted hanks of 2-ply yarn, 225 ft each, in the colorway of your choice:

Americana Colorway: Ink Black, Aegean Heather, Umber, Sandy Brown, Soft Orchid, Natural
Sea Breeze Colorway: Gray Ragg, Aegean Heather, Sapphire Heather, Emerald, Deep Blue, Natural
Carnevale Colorway: Honey, Magenta, Iris, Tangerine, Ink Black, Natural
Desert Rose Colorway: Sandy Brown, Gray Ragg, Tawny, Walnut, Auburn, Natural

Two handmade maple shuttles, 8.5"

Cotton warp string, 800 yd

Jumbo tapestry needle

Long weaving needle

Tailor's measuring tape in white, 60"
Materials to have at home:
Loom, minimum size of 36" x 40"

We recommend our handmade maple tapestry looms, available as add-ons in two sizes (36" x 40" or 48" x 48")

Weaving comb, fork, hair pick, or something similar to beat the weft into place

Scissors
Materials for More Exploration
Americana Wool Rug Weaving Colorway
The hues in this classic colorway feature an inky black, heathered blue, sandy neutrals, and a pop of umber—all in gorgeous 2-ply 100% wool yarn that's perfect for weaving.
Sea Breeze Wool Rug Weaving Colorway
Weave a keepsake rug in this soothing colorway of soft heathered blues and naturals, accented with rich jewel tones. The wool yarn is 2-ply and a great choice for a woven rug.
Carnevale Wool Rug Weaving Colorway
Weave a rug of vibrant honey and tangerine, paired with deep magenta and iris, contrasted by black and natural white. The yarns in this colorway are the same beautiful 100% wool, 2-ply as in the main workshop kit.
Desert Rose Wool Rug Weaving Colorway
Cuddle up for some cozy crafting with this warm, autumnal colorway. Featuring an accent of rich auburn amid soft browns and neutrals, these yarns will make a stunning, heirloom-quality woven rug.
Ball Winder & Swift
These handy tools are used together to create neat center-pull yarn balls (also called 'cakes') to prepare your yarn hanks/skeins for crafting. An essential for any yarn lover!
Weaving Comb
This handmade wooden weaving comb is used to push down (beat) the weft yarns into place as you weave. The comb will keep your rows neat and tidy and will work with many weaving projects.
Maple Standing Tapestry Loom
Designed in-house by local San Diego woodworkers, this custom maple floor loom is available in two sizes—both work beautifully for weaving wool rugs.
Weaving Sword
Quickly and easily separate your warp threads using these custom-made maple weaving swords, available in 36" or 48". The sword creates a wide shed for laying your weft, eliminating the repetitive 'over-and-under' motion of weaving.
More About our Artist: ANNIE-FRANCE BOWKER
Annie-France Bowker discovered weaving in 2018, at a time when, as a new mother, felt the need to reconnect with herself. Shortly after, her online weaving store, WOVVVEN, was born. Her work is ever-evolving, colorful, and eclectic. A true representation of her quest to express and find herself in the chaos of modern times. Since the beginning of her career, she has created and sold hundreds of pieces that now live all over the world. She works from her home studio and lives in the lush countryside near Ottawa, Ontario with her husband and her two children.
We look forward to sharing this fulfilling and joyful experience with you and can't wait to see how your project turns out. Be sure to share your creative journey and finished creation with us by tagging @thecraftersbox and @wovvven  in your social posts. Use #thecraftersbox so our community can also see your workshop come to life. Happy making!