ELLIE LUM
WAXED CANVAS & LEATHER CROSSBODY BAG
Craft your own waxed canvas and leather crossbody bag, featuring an interior patch pocket, natural canvas lining, adjustable leather strap, and a brass zipper closure. Klum House Founder Ellie Lum teaches you how to sew heavy-duty fabrics on a home sewing machine, work with leather, and set rivets as you construct the minimalist bag. As an added bonus from the artist, you'll also learn how to sew a zipper. Wear your bag as a crossbody or as a fanny pack!
With over 20 years of professional bag-making experience and a true passion for teaching, Ellie guides you through this beginner-friendly project, developing new skills along the way. In the workshop, Ellie discusses grain direction when preparing the pattern, transferring the marks onto waxed canvas, and cutting out pieces. She reviews sewing machine basics before learning bag making techniques for hemming, shaping, and sewing a zipper with a clean finish.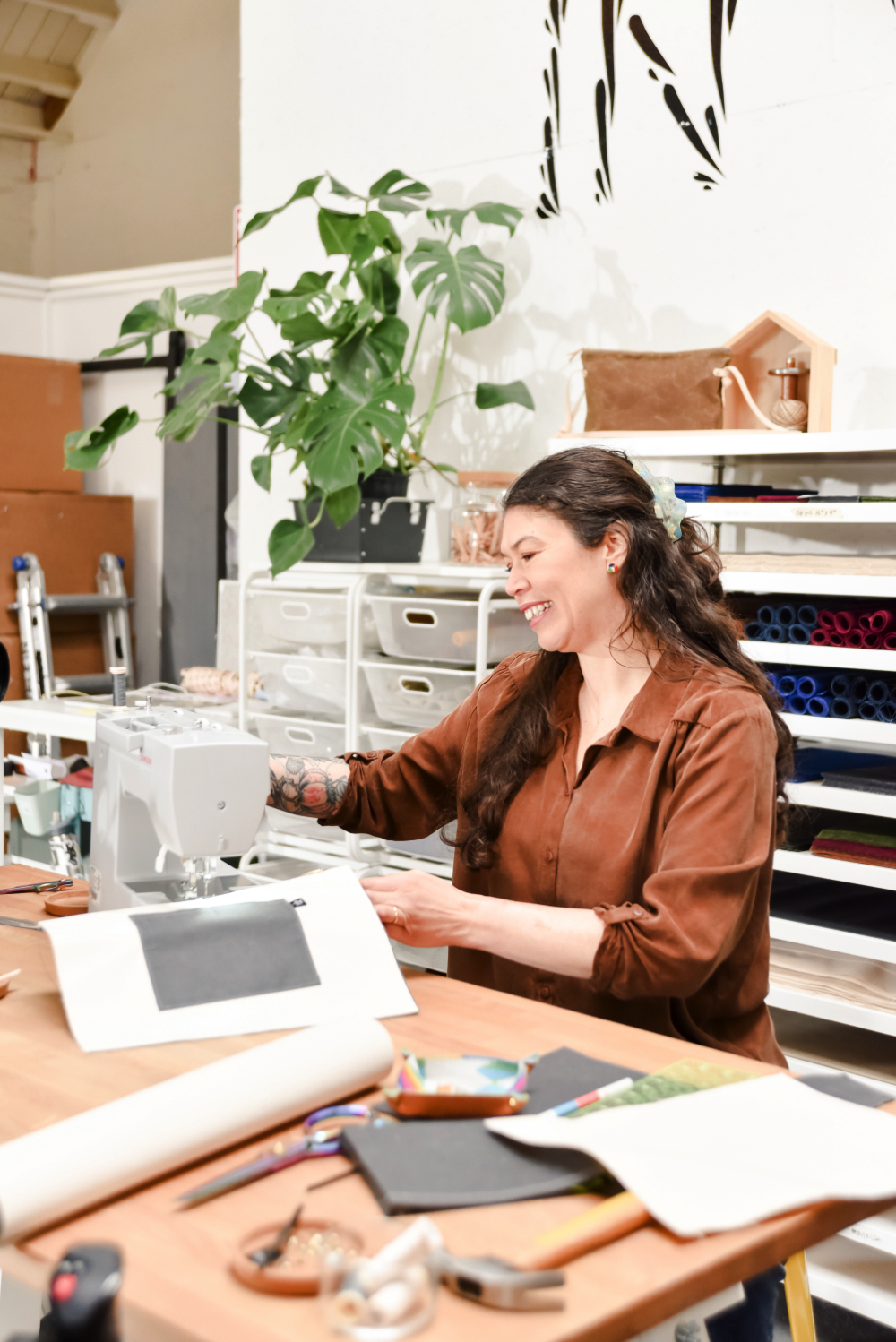 CROSSBODY BAG KIT
Ellie's curated kit includes everything necessary to create a functional crossbody bag that will soon become an everyday go-to accessory—complete with "I MADE THIS!" bragging rights. The waxed canvas has a somewhat tacky texture, which stays in place easily as you fold and sew the material. When paired with the natural canvas lining, the result is a sturdy and practical bag, complemented by vegetable-tanned leather findings and brass rivets. A drive punch and dot anvil are also included, perfect for making precise holes and setting rivets.
BREAK THE RULES
Ellie reminds us that bag-making is different than other types of sewing and allows for some out-of-the-box thinking. "It's got its own set of rules, its own mindset, its own style," she shares. "Sometimes I think about the difference between garment sewing and bag-making like the difference between ballet and hip hop. It feels to me like there are a lot less rules in bag-making. We invent new techniques. We find creative ways to push our home sewing machines to the limits. We're going for function and durability, not perfectionism. We don't just use sewing supplies—we use tools you find in your garage! Bag-making is fun and it's loose and we get to break the rules."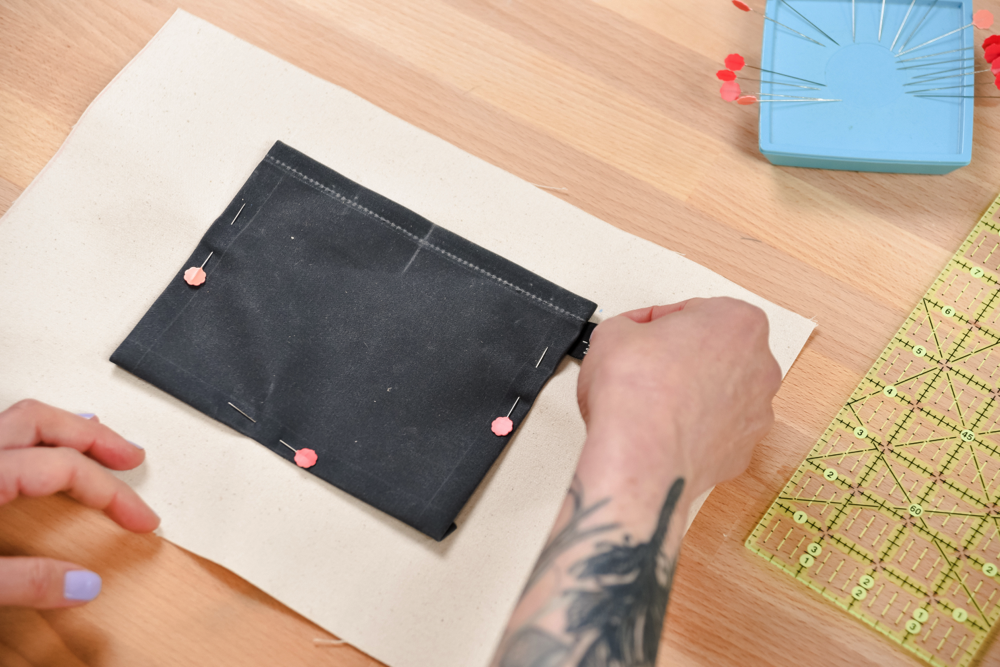 The Curated Kit of Tools & Materials
This workshop includes: 
Tools & materials to complete one crossbody bag

A detailed digital workshop led by Ellie Lum

A live Maker Chat Q&A where you can join in on creative conversation with the artist and ask questions

PDF download with written instructions to complement the video tutorial
The tools & materials included in this workshop:
Waxed canvas fat quarter in your choice of Gray, Field Tan, or Midnight Forest; 18" x 31"

Canvas lining fat quarter, 18" x 31"

Tan leather strap, pre-cut

Brass zipper, 12"

Five medium double-cap rivets in brass

Small double-cap rivet in brass

Tan leather zipper pull

"I Made This" label

Four tan leather washers

2 tan leather tabs

Drive punch, 1" x 3/32"

Dot anvil

Two spools of thread

Paper template
Materials to have at home:
Sewing machine with heavy needle

Hammer

Punching board or hard surface for setting rivets

Fabric scissors

Chalk pencil or fabric pencil

Ruler

Craft clips or binder clips

Straight pins

Newsprint paper or a large scrap protective work surface to use while conditioning leather

Soft cloth or rag

Olive oil

Optional: 

Denim needle for sewing machine

Rotary cutter

Cutting mat

Quilting ruler

Thread snips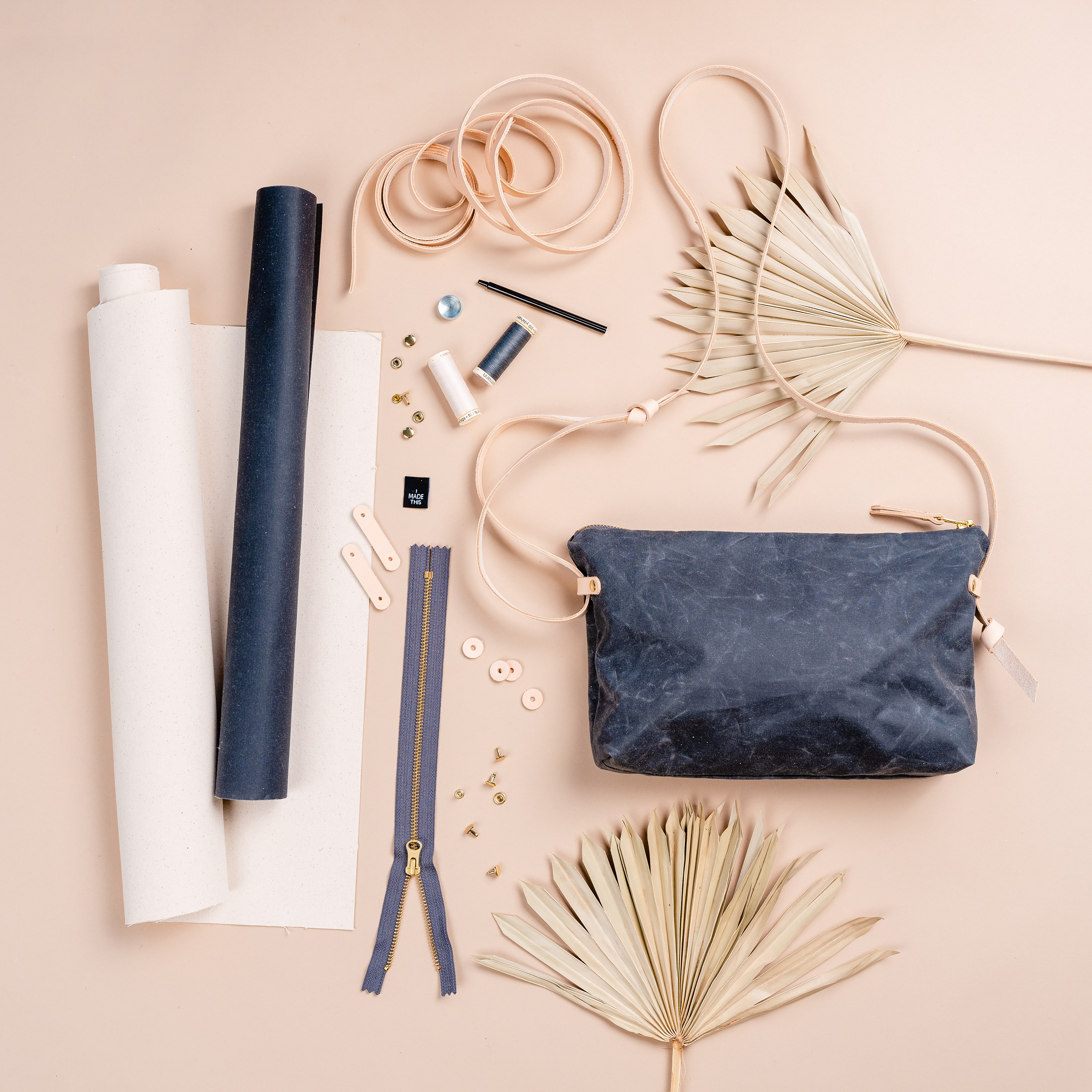 Materials for More Exploration
Waxed Canvas & Leather Crossbody Materials Kit
Let's keep making. Love all of the color options? Make another crossbody bag in another hue with this bundle that includes all materials needed to make a second (or third!) bag.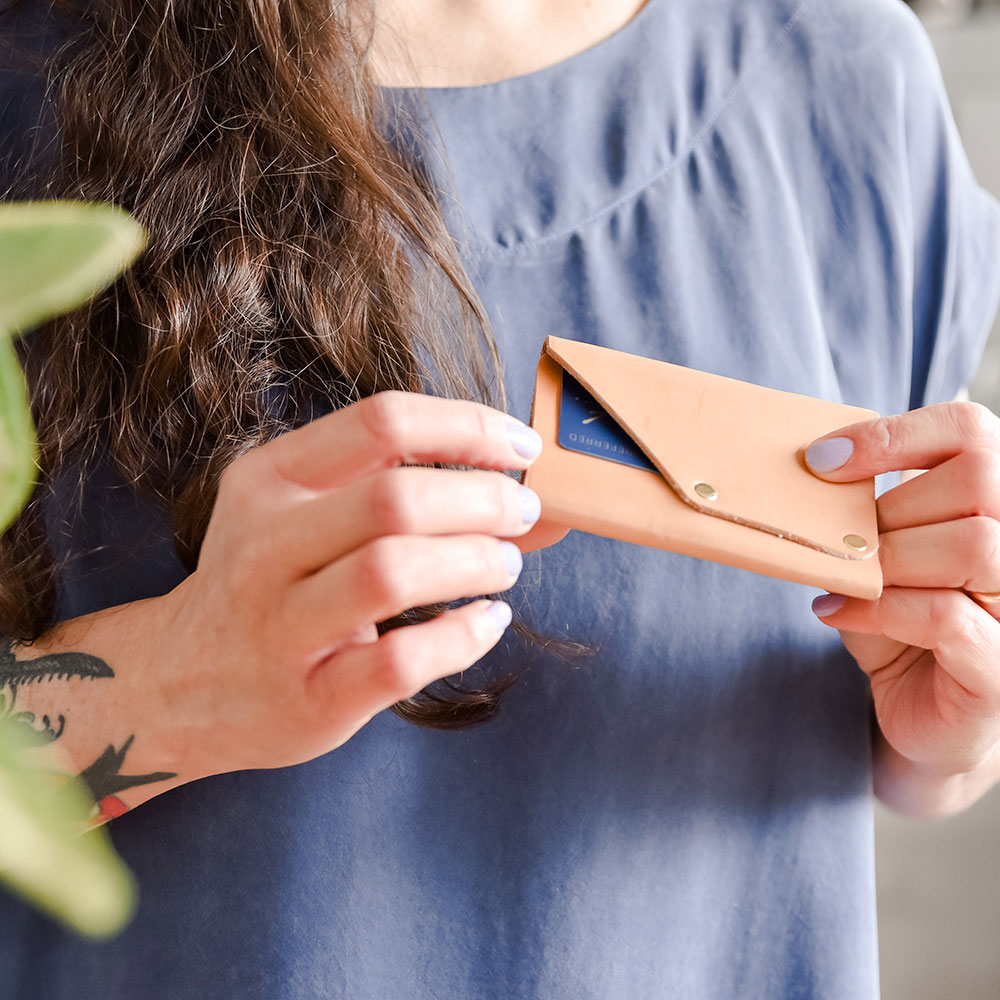 Leather Card Holder
Make a sleek card holder to pair with your crossbody bag. This kit comes with a pre-cut and hole-punched piece of vegetable-tanned leather, four double-capped brass rivets, and access to a detailed digital workshop.
Leather Wallet
Create an elegant wallet with magnetic snap closure, double-cap rivets, and a pre-cut and hole-punched piece of vegetable-tanned leather. With this kit, you'll also receive access to a detailed, digital workshop.
Leather Mallet & Punching Board
The perfect leather punching duo for the future leather connoisseur. Invest in upgraded setting tools for precision and efficiency. This kit is especially useful for continued leather and bag making.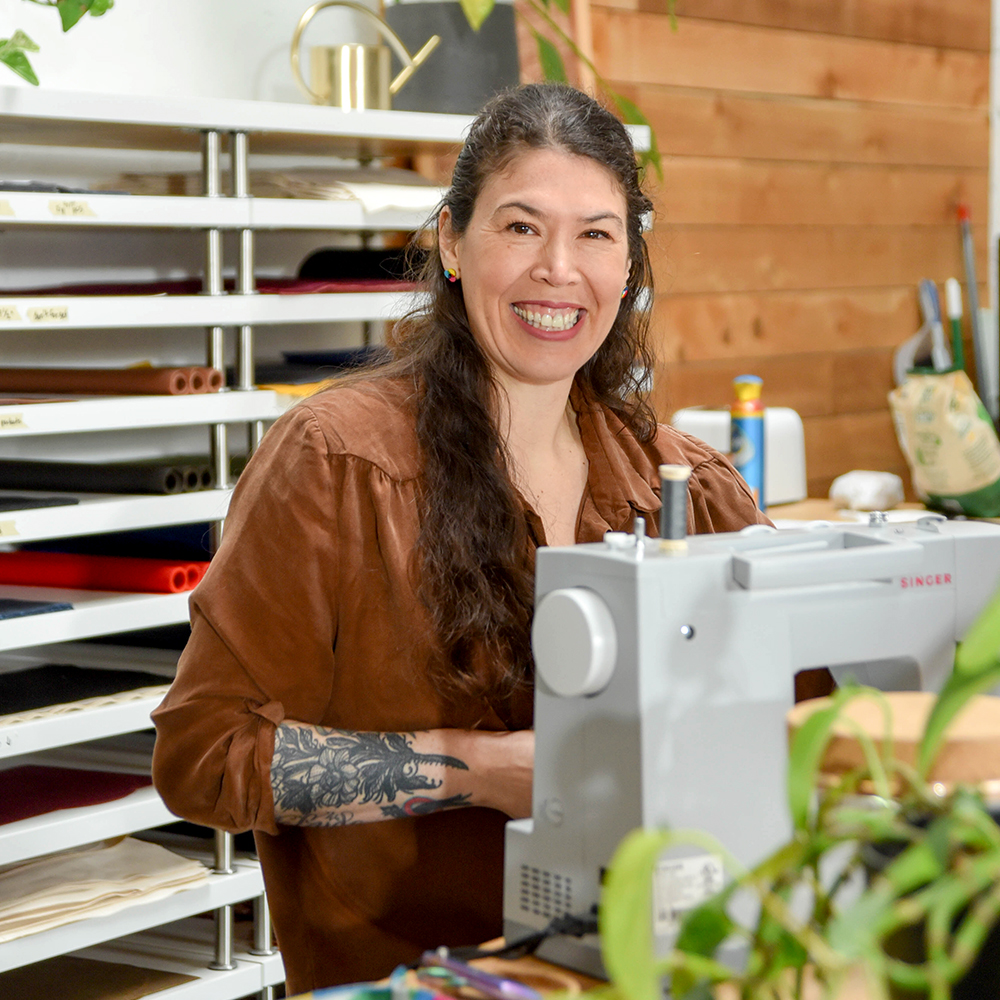 More About our Artist: Ellie Lum
Ellie Lum is a bag maker, pattern designer, and teacher. She's also the founder of Klum House, a bag-making shop and school in Portland, Oregon, that offers kits, patterns, supplies, and classes—everything you need to become a bag maker! Her favorite materials to work with are waxed canvas and leather for their durability and timeless aesthetic.
Originally from Carpinteria, California, Ellie spent her teenage years hanging out in artist warehouse spaces in San Francisco and making things with her hands every chance she got. At 17, she moved to Philadelphia where her work as a bike messenger collided with her sewing skills, and she co-founded a custom messenger bag company called R.E. Load Bags. All the production at R.E. Load happened in-house, and, as a result, Ellie taught dozens of stitchers to make bags on industrial sewing machines. In the process, she discovered that she loved teaching—and the seed for Klum House was planted. 
These days, she runs a five-woman company from an industrial warehouse space in North Portland. She's passionate about local manufacturing, empowering folks through hands-on skill building, and finding new ways to bridge the gap between home sewing and industrial manufacturing. You don't need a fancy sewing machine to make professional, heavy-duty bags at home—all you need is some courage and a dash of creative grit! 
We can't wait to see how your waxed canvas and leather bag turns out. Share your creative journey and finished creation with us by tagging @thecraftersbox + @klumhouse in your social posts. Don't forget to use #thecraftersbox so our community can also see your workshop come to life. Happy making!