BARI ZAKI
BOOKBINDING: HAND-STITCHING
Discover the tactile art of bookbinding as we learn two decorative spine stitching techniques to create our brilliant books. Bari Zaki, of Bari Zaki Studio, shares her passion for the craft during an in-depth tutorial on two hand-stitching techniques, French Link Stitch and Diamond Stitch. These non-adhesive style bindings focus  on paper folding and stitching. The result is a book that lays completely flat, perfect for sketching, drawing, or writing.
With over 30 years of book making experience, Bari has curated a kit with everything needed to make two hand-crafted books of different sizes and techniques. Gorgeous heavyweight card stock creates the covers while the inside page signatures consist of white sulphite drawing paper. Waxed linen thread is used for hand-stitching everything together, and its texture creates both secure knots and a beautiful, rustic feature on the finished pieces.
In the workshop, Bari teaches us about grain direction and page signatures. We learn to score, burnish, and cut the covers, then mark our sewing stations to prepare for stitching. After completing the French Link or Diamond Stitch, Bari shows us how to tuck in any loose ends for a neat finish. Enjoy the completed hand-crafted books and continue to experiment with different papers and materials to suit your personal taste!
The Curated Kit of Tools & Materials
This workshop includes:
Tools & materials to create two hand-stitched books

A detailed digital workshop led by Bari Zaki

A live Maker Chat Q&A for our community to join in on a creative conversation with the artist

PDF download with step by step instructions
The tools & materials included in this workshop:
One sheets heavyweight artisan Color Plan paper in a rich blue

Two sheet heavyweight artisan Color Plan paper in a forest green

40 sheets sulphite drawing paper in white, 8 x 12"

12 sheets sulphite drawing paper in white, 7 x 10"

White cover card stock sheet, 2 x 7"

Square angle-line triangle ruler, 10"

Flexible stainless-steel ruler, 12"

Cotton Carta Studio double striped ribbon in black

Drafting dots

Double tack mounting archival film

Four nickel plated paper clips

Waxed linen thread in mint and white, 10y each

Bookbinding needle

Medium awl

Lightweight awl

Bone folder

#1 X-acto knife

#2 pre-sharpened pencil with eraser
Gather from home:
Scissors

Surface for cutting and scoring while you work: self-healing mat or the cardboard The Crafter's Box box.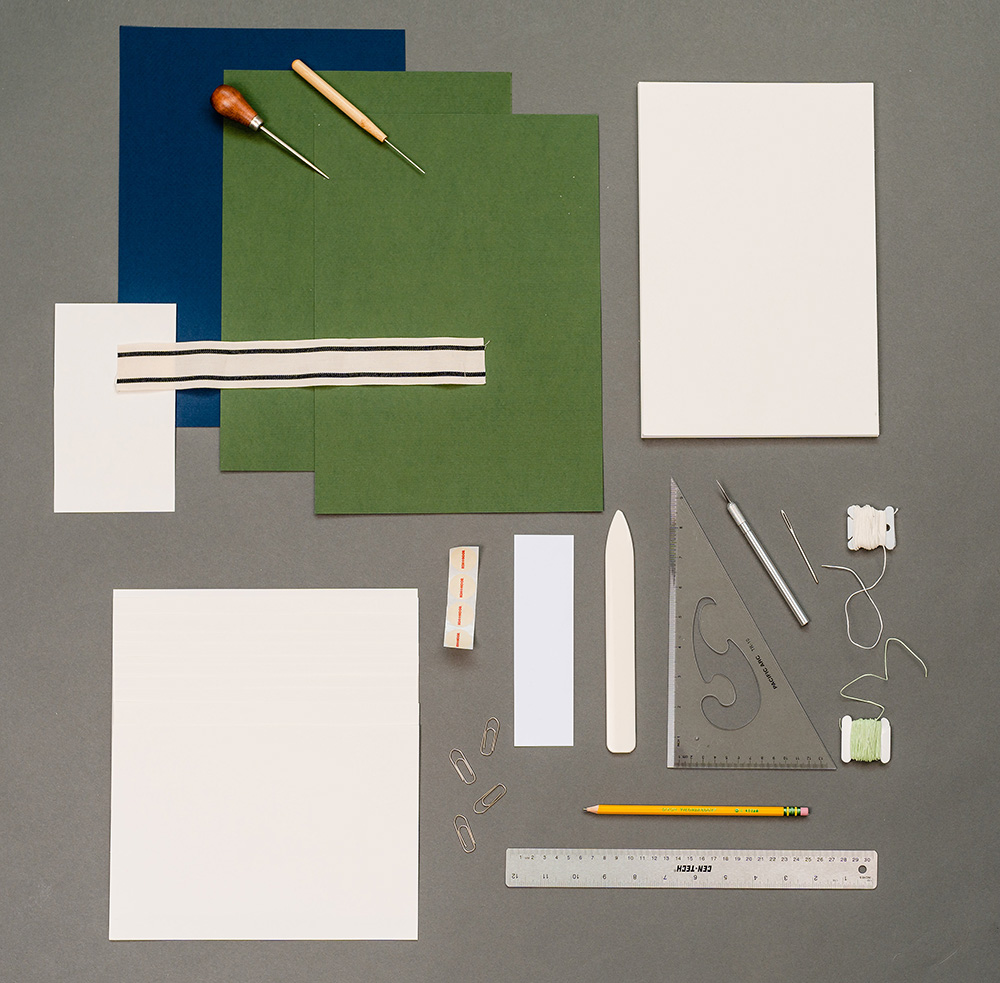 Materials for More Exploration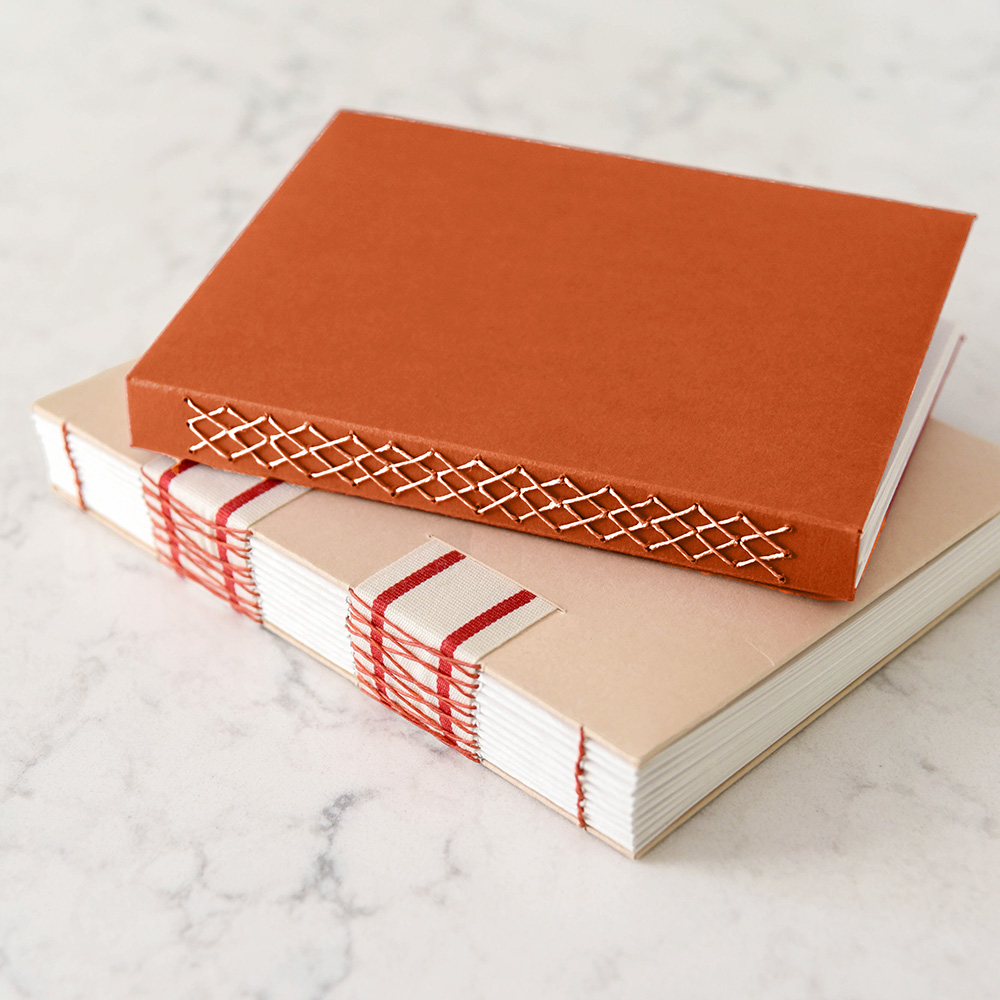 Bookbinding Materials Kit:
Harvest Colorway
Create more handmade books in this autumnal colorway, featuring rich hues of stone brown and rusty orange with accents of mustard yellow and coppery red. This bundle includes additional materials to bind two more books.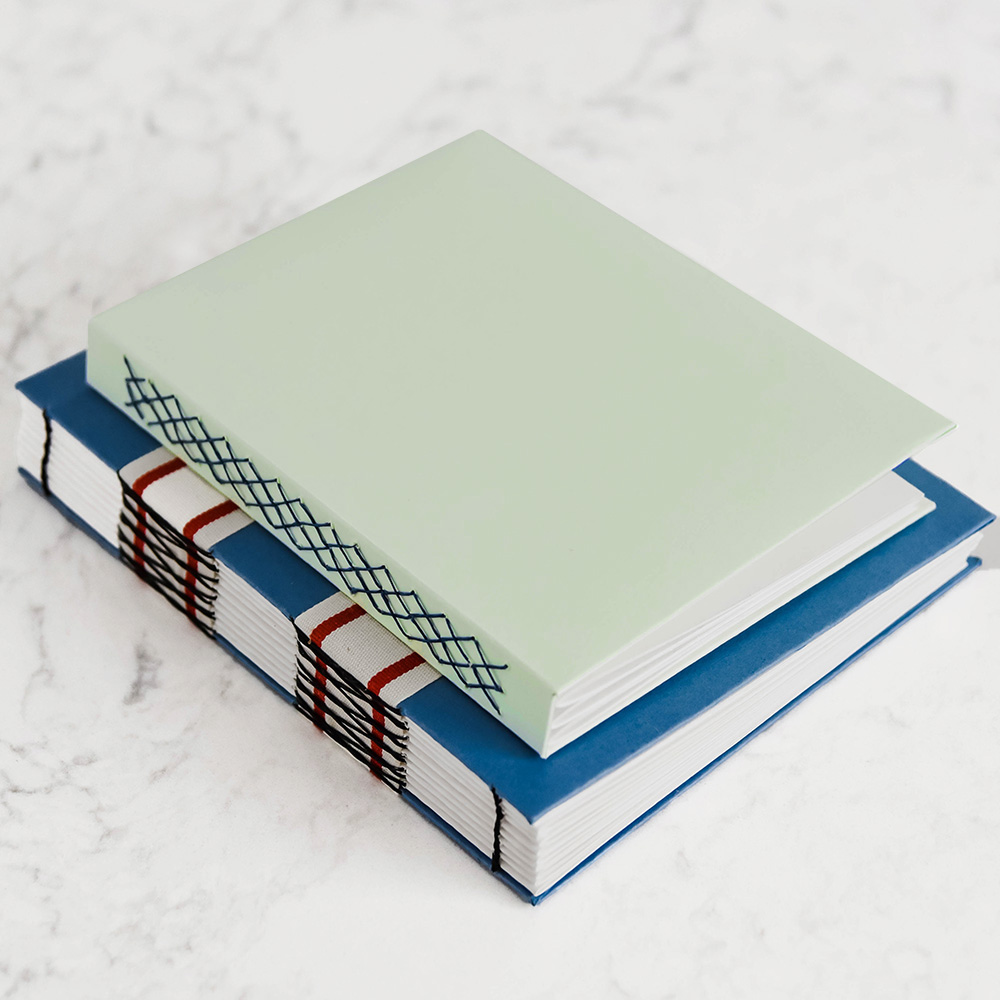 Bookbinding Materials Kit:
Shipwreck Colorway
Dusky and cool, this calming colorway features heavyweight cardstock, waxed linen thread, and ribbon in new hues. Combined with the original kit, this bundle includes materials to make two more hand-bound books.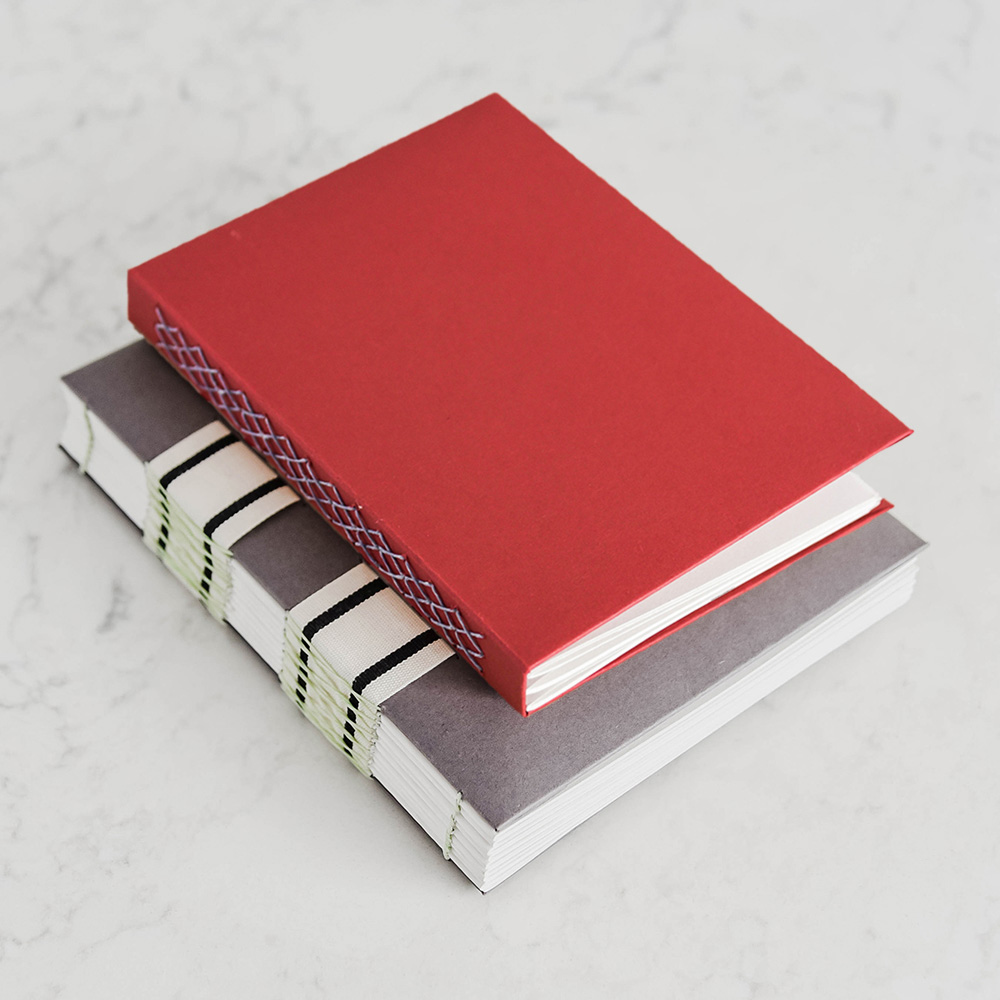 Bookbinding Materials Kit:
Library Colorway
For the classic academic type, smokey grey and scarlet red hues with a touch of mint green and denim grey are featured in this add-on for materials to create two additional handmade books.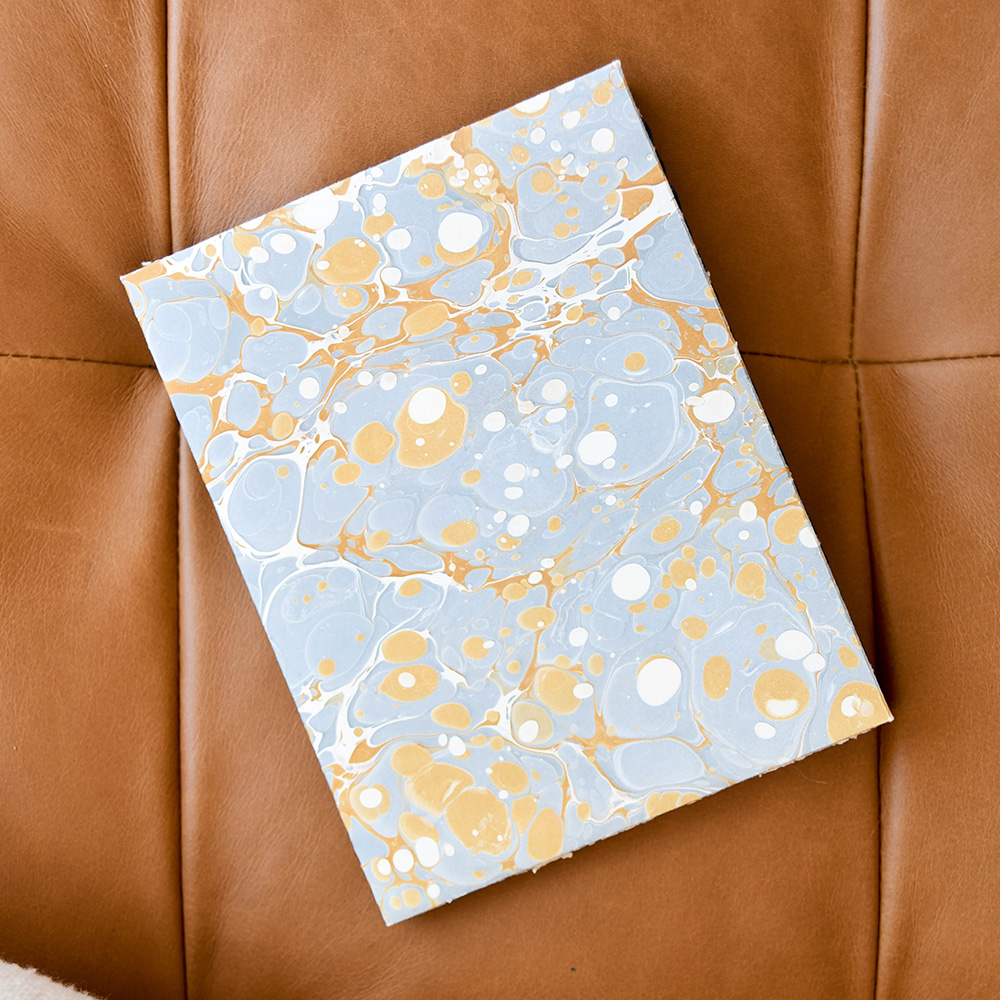 Bookbinding
Materials Kit:
Ready-to-Marble White
Make one-of-a-kind marbled covers for your hand-stitched books. For our makers who have completed the Paper Marbling Workshop, this colorway features luxurious white cover cardstock.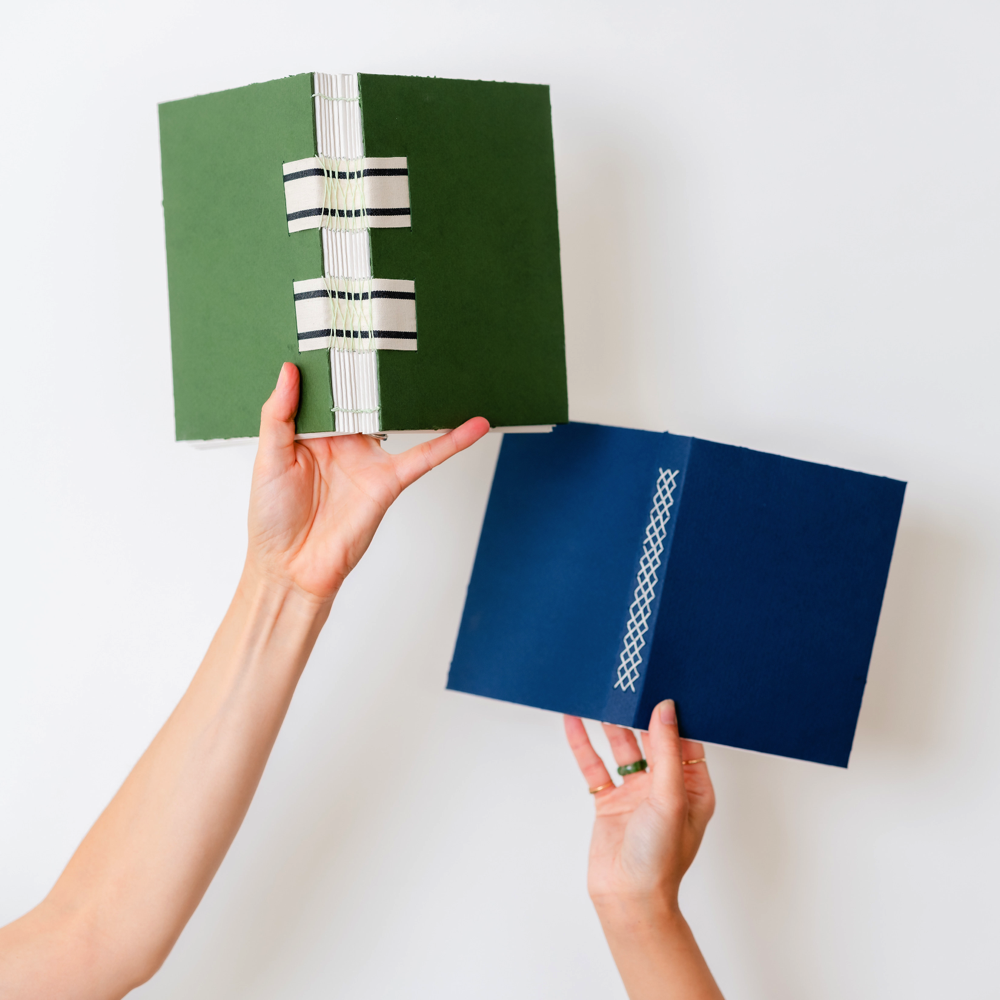 Bookbinding
Materials Kit:
The Original Colorway
Bind two more books in the original forest green and cobalt blue colorway offered in the original workshop. This bundle includes enough materials to make two more hand-bound books.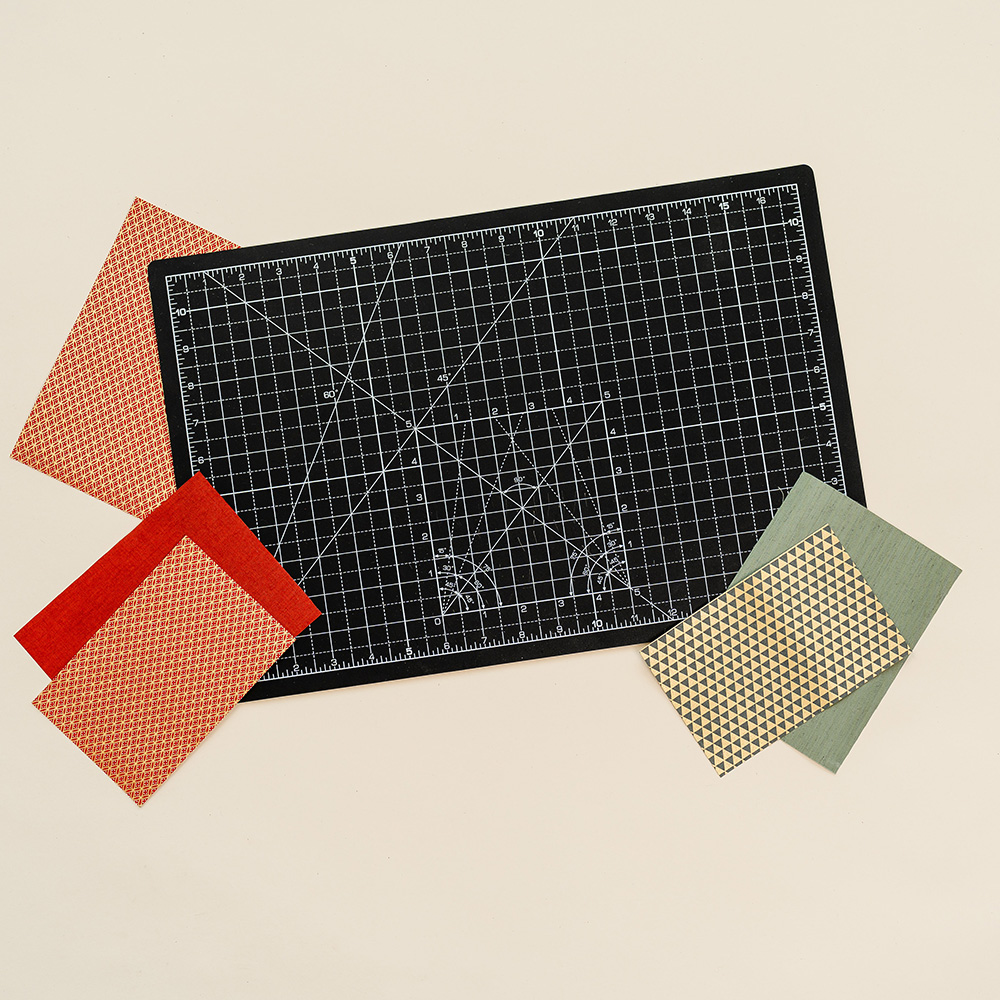 Self-Healing Cutting Mat - 12 x 18"
Make quick and precise cuts on your heavyweight card stock with this self-healing cutting mat. The grid lines ensure even measurements, and the extra-thick mat acts as an ideal work surface for your bookbinding projects
Bookbinding: Hand-Stitching Tool Swap
For those that have joined us for our Bookbinding: Case Binding Workshop, this tool swap will swap out duplicate tools from your kit and sub in an extra Bookbinding Materials Kit in Library to make two more books.
More About our Artist: Bari Zaki
Bari Zaki is a lifelong lover of paper. In her childhood bedroom she had a small walk-in closet with bookshelves holding books and her ever-expanding "library" of paper samples, swatches, and scraps that her father brought home from his print shop. In her early 20s, she took a series of bookbinding and box making classes at Artists Bookworks in Chicago. Bari went on to open a small, appointment-only studio and her business focused mainly on custom projects.
After 25-ish years, Bari's desire to share her love of craft and materials met its magical moment: a spacious, light-filled shop/studio/salon became available in a wonderful block of shops. Finally, Bari was able to offer workshops in a beautiful space conducive to creative camaraderie! She was also able to merchandise a revolving array of colored pencils & other drawing supplies, washi tape, notebooks, sketchbooks, notecards…and a growing inventory of her handmade books and boxes.
Learn even more about Bari at her website barizaki.com.
We look forward to sharing this fulfilling and joyful experience with you and cannot wait to see how your books turn out. Be sure to share your creative journey and finished creation with us by tagging @thecraftersbox + @barizaki  in your social posts, and use #thecraftersbox so our community can also see your workshop come to life! Happy making.