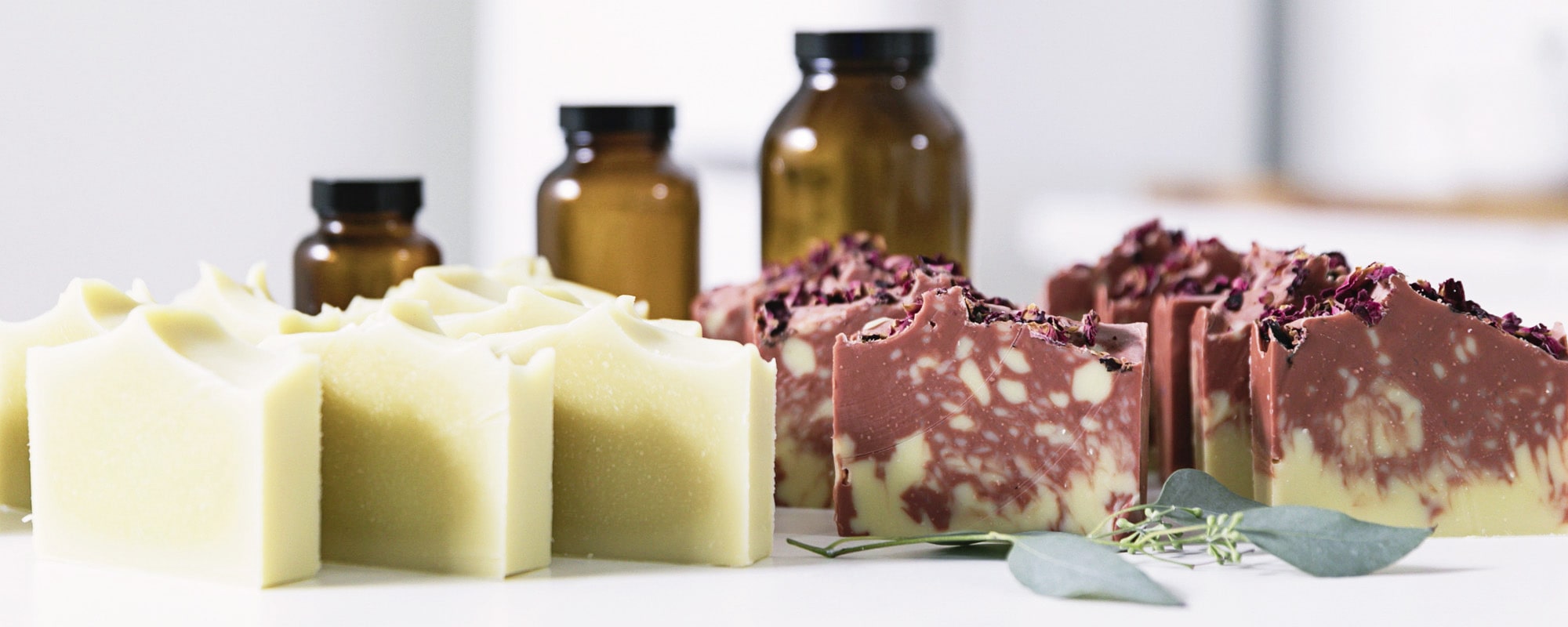 ASHLEY MARIE LEBARON
TRADITIONAL COLD PROCESS SOAP MAKING
In this premium workshop, we are learning from artisan Ashley Marie LeBaron as she leads us through the traditional craft of cold process soap making and the significance of using natural, skin-nourishing ingredients in your daily practice.
This artisan apothecary workshop will teach you how to safely work with lye, mix ingredients, use essential oil blends, and mold beautiful soap loaves with the traditional cold process technique. Using Ashley Marie's own therapeutic, aromatic oil blends and ethically sourced botanical ingredients, these cold process soaps and our luxurious bath & body materials kits will be a beautiful addition in your bathroom or for gifting to loved ones. We could all use some wonderful self-care.
Start your journey with richly fragrant & sudsy soap in two specialized techniques and continue to explore the art of handmade bath & body products with our optional add-ons of natural bath bombs, moisturizing lotion bars and ultra rich body butter. In handmade gifting mode and ready to create even more for the holidays? Add multiple soap kit fragrance bundles from our main workshop for more soap loaf making.
This kit includes everything you'll need to get started - down to the pans, bowls and mixer - so that you'll have a dedicated apothecary making set for all of your future bath & body product creation. We've made the science of crafting homemade soap easy and convenient by pre-bottling by the ounce every ingredient you'll need for each recipe Ashley Marie has uniquely designed.
Materials Kits for More Exploration
Ashley Marie shares three additional full workshop videos + kits for a complete apothecary collection. Purchase them as a bundle or add single kits below.
Apothecary Trio
We wouldn't be able to choose just one, so we've decided to bundle Ashley Marie's additional full workshop videos into a bath & body apothecary trio! Give your skin the complete nourishing treatment with the natural lavender bath bombs, ultra rich body butter, AND moisturizing lotion bars. The ultimate way to treat yourself (or gift loved ones!) to a natural skin care routine from soak to slather. You'll be set for the perfect handmade holiday gifts with all of these curated tools + materials — just like Ashley Marie got started.
Natural Lavender Bath Bombs
Soothing soaks and long bubble baths are calling. Ashley Marie's natural bath bombs focus only on product that's nurturing to your skin, plus these fun bath additions are easy to make over and over again for family and friends. Pop, fizz!
Ultra Rich Body Butter
Ashley Marie has designed a sweet citrus moisturizing body butter that is both silky smooth and sustainably, thoughtfully made. Let's make a batch together under her careful guidance. Gift jars to friends but be sure to set aside one just for you this season.
Moisturizing Lotion Bars
Ashley Marie's recipe for rich lotion bars are full of the natural ingredients (cocoa butter, avocado oil & mango oil being some of our favorites) that are the perfect moisturizing treat post-bubble bath. Topped with your favorite aromatics they're made for sharing.
Additional Soap Making Materials
Continue exploring the richly fragrant & sudsy cold process soap making techniques with new essential oil fragrance profiles created by Ashley Marie. Choose from a warm and woodsy cedarwood blend, refreshing lemongrass blend, or more of our simple essential oil blend featuring tea tree, lavender, and cedarwood.
Additional Swirl Soap Making Materials
We are swooning over the beautiful swirl bars from Ashley Marie's full workshop. Continue exploring these swirl techniques with additional cold process soap making materials for all of your soap swirling desires.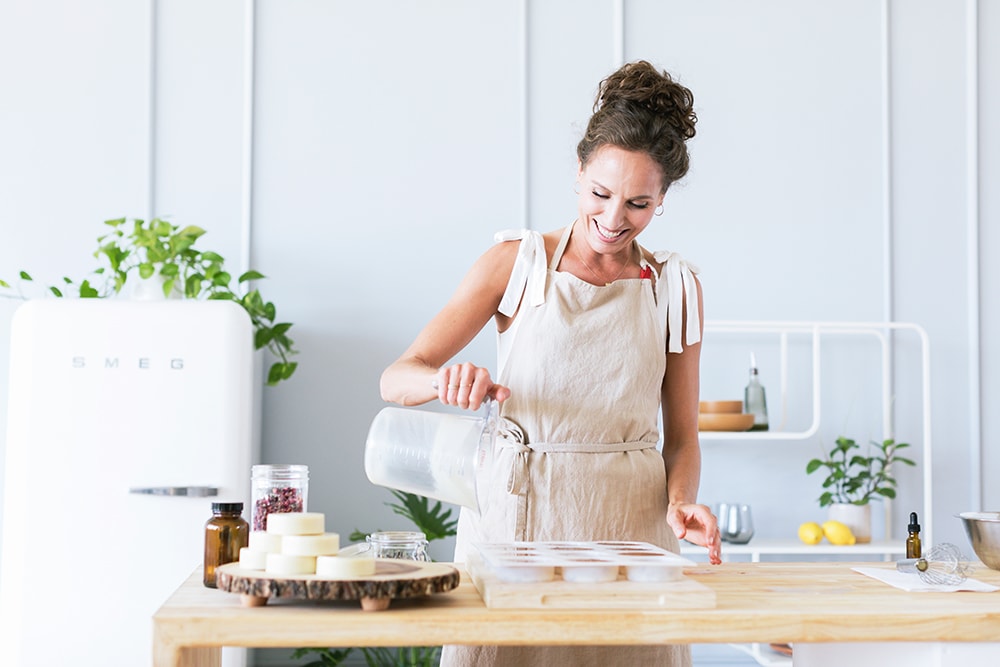 What is the Cold Process Method?
By combining oils with lye, a chemical reaction called saponification transpires — the lye, or sodium hydroxide molecules, separate causing the sodium molecules to evaporate, leaving behind the hydroxide molecules. Allowing the soap to cure and harden over a span of four to six weeks creates an ultra gentle and long-lasting bar of cleansing soap (though the soap can be used just one week after making). Ashley Marie's favorite part about this method is that you have complete control of choosing the oils, fragrances, colorants, and any other ingredients allowing you to know exactly what you are putting on your skin and the lack of heating preserves the therapeutic properties in the essential oil blends.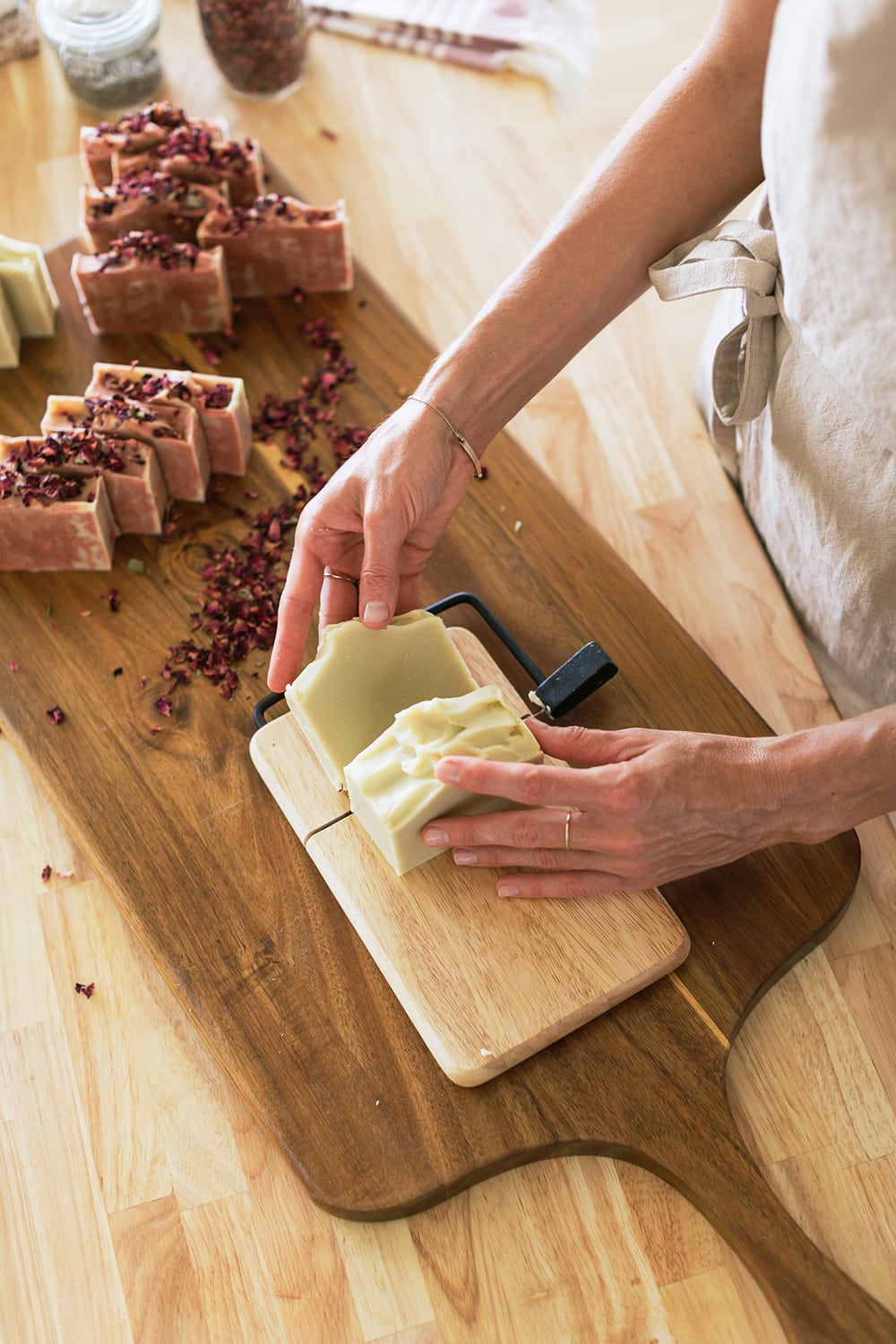 Our premium workshop includes everything you need to explore cold processed soap making and create two entire soap loaves made from Ashley Marie's favorite oil blends curated specifically for this kit. Each soap loaf can then be cut down to make approximately 8–12 beautiful handmade bars. Your kit will also include gloves and safety goggles for working with lye, natural skin-loving oils and shea butter, distilled water, soap loaf molds, measuring cups, immersion blender, and dried rose petals. Ashley will guide us in creating two different designs for our soap bars including a basic bar and swirled bar with a beautiful, natural wave design at top of the soap bar.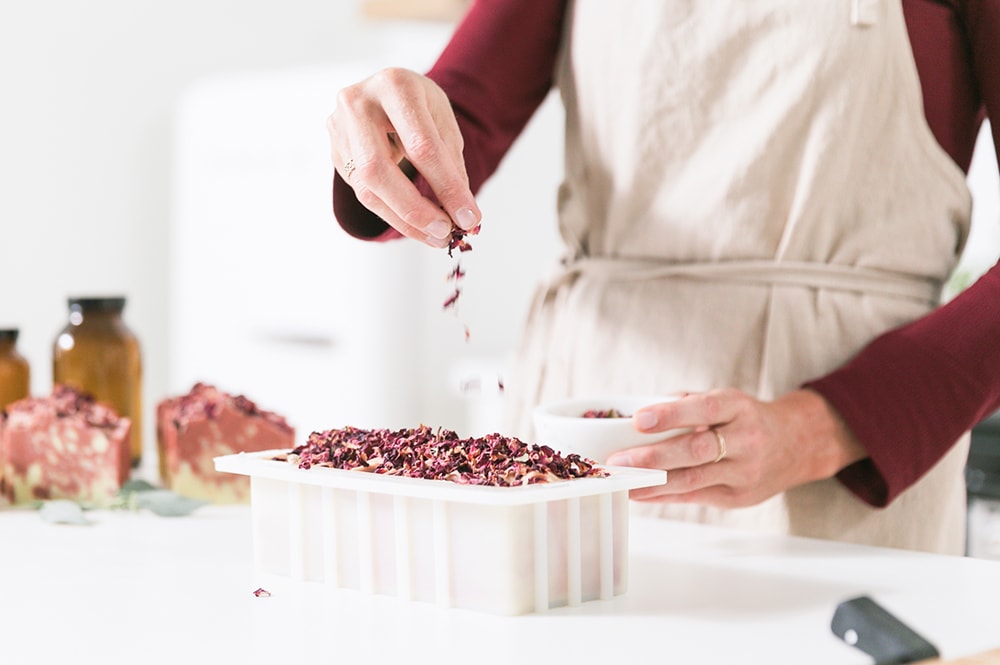 Share with us! We can't wait to see all of the beautiful handmade bath & body products you create using Ashley Marie's techniques. We'd love to see how you are inspired to create. Be sure to share with us by tagging @thecraftersbox, our featured artist @ashleymariesoap and use #thecraftersbox so all can see your work.
The Tools & Materials Shared in this Workshop:
This premium workshop includes:
An in-depth, digital workshop by Ashley Marie LeBaron on how to create two beautiful soap loaves

A live Maker Chat Q&A for our community (and a wonderful way to explore further and ask all the questions!)

Tools and materials from artisan suppliers, curated for you, by Ashley Marie
Specialty Tools & Materials: 
Olive oil, coconut oil, avocado oil, castor oil, and shea butter
Soap cutter
10" silicone mold
Immersion blender
Simple essential oil blend
Rose essential oil blend
Rose kaolin clay
1/3 c dried rose petals
Distilled water
Lye
Safety goggles
Disposable gloves
One 1/2 c, two 32 oz, and one 64 oz measuring cups
Wooden stir stick
Stainless steel bowl, spoon, and tablespoon spoon
Pan
Thermometer
Spatula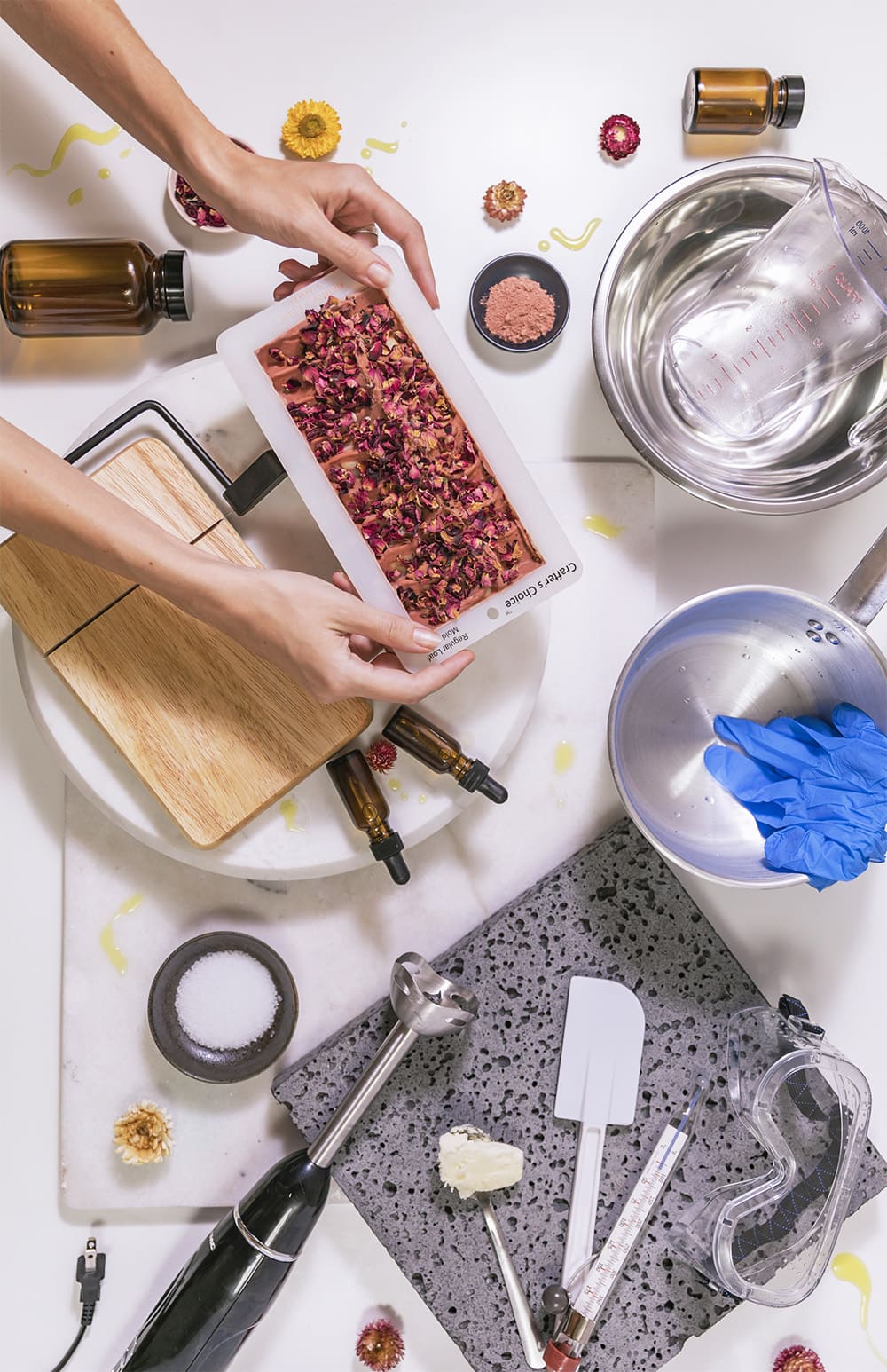 SAFETY NOTE: Lye is an incredibly strong chemical that requires extreme caution. Because of this, the tools and materials above have been specifically chosen for your safety. While you may have some of the common kitchen tools above, they should never be cross-contaminated. For safety, we recommend wearing the goggles and disposable gloves included in your kit, along with a long-sleeved shirt. Be sure to work in a well-ventilated area. Always add lye to liquids (instead of the other way around or it may have a volcanic effect — like Ashley Marie found out her first time mixing!). When mixing lye into liquid, it gets hot quickly and will emit fumes. If you get lye on your skin, rinse with cool water. For burns or eyes, rinse then seek medical attention.
Ashley Marie carefully and thoughtfully guides you through every step of this process, following her workshop video in detail is crucial to your soap making journey.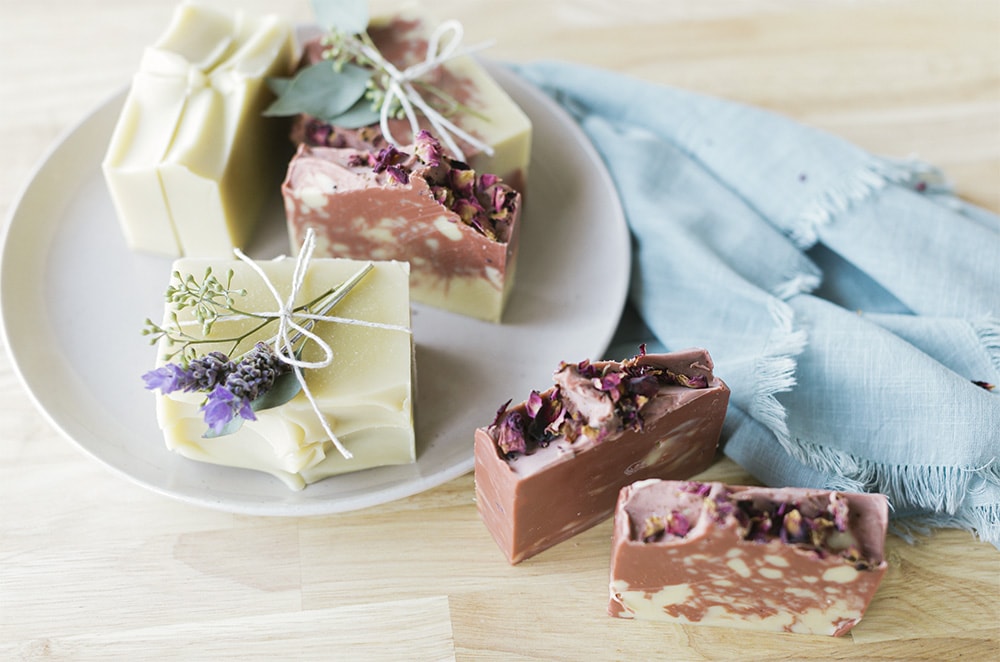 More About Our Artist: Ashley Marie LeBaron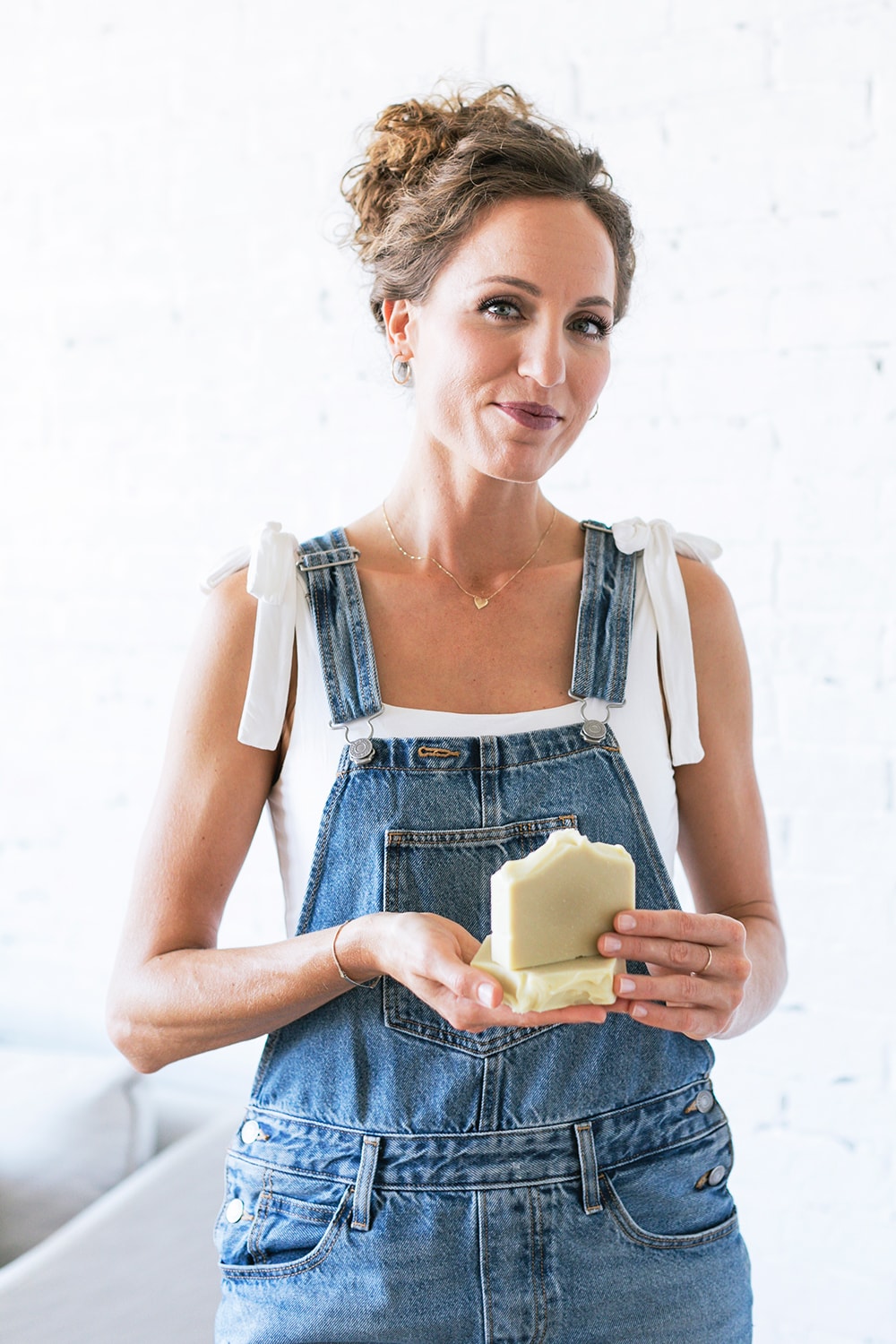 Ashley Marie is the founder and artisan behind Ashley Marie Soap based in St. George, Utah. Growing up in Chihuahua, Mexico, Ashley Marie and her family had a passion for all things natural and homemade goods they curated from their farm. They baked bread, made their own cheese, milked their own dairy products, and grew their own garden.
One Christmas, after graduating from college in Utah, Ashley Marie found herself out of ideas for what to gift to the many members of her large family that would be thoughtful and useful without breaking the bank. Naturally, the next step for her was to make something! That's when she discovered soap making. Before she knew it, she was nervously pouring lye into a kitchen bowl and mixing the ingredients for natural, handmade soap. Her first batch blew up in her face, literally. See our note about the cautions to take when working with lye! 
She learned from her mistake and tried again — her whole family loved the thoughtful and beautiful gift and she loved that she knew exactly what was going into her skincare products. Ashley Marie believes you shouldn't put anything on your skin that we wouldn't eat and that motto has inspired her soap and skincare recipes. After two years of creating skin-nourishing soaps on the side, Ashley Marie committed herself to crafting these artisan soaps full-time. For the past three years, demand for her products have continued bubbling up and she is now creating gorgeous soap loaves with lots of love, passion, and years of expertise in her St. George kitchen studio. She's passionate about using quality ingredients that are organic and synthetic-free and goes the extra mile to ensure all of her products match her values.
When not in her soap shop creating all of the beautiful things, you can find Ashley Marie adventuring and canyoneering in the deep canyons of southern Utah hiking, rappelling and traveling. She currently has 20 boutiques that sell her soap.
We're so excited to have you join us, Ashley Marie.
Ashley Marie's
Podcast Interview
Share with us! We can't wait to see all of the beautiful handmade bath & body products you create using Ashley Marie's techniques. We hope you enjoy this workshop, we'd love to see how you are inspired to create. Be sure to share with us by tagging @thecraftersbox, our featured artist @ashleymariesoap and use #thecraftersbox so all can see your work. Happy making with this special workshop.