ANNIE-FRANCE BOWKER
COLOR-BLOCK ART WEAVING
Take some time to enjoy this crafting process as you learn new weaving techniques and create a geometric woven wall hanging. We've made this workshop customizable by allowing you to select your preferred colorway along with the option to add a handmade weaving comb if you're new to the craft. Annie-France Bowker, the artist and designer behind WOVVVEN, takes you through every step, from assembling and warping the handmade loom to sewing the slits and creating a polished color-block art wall hanging.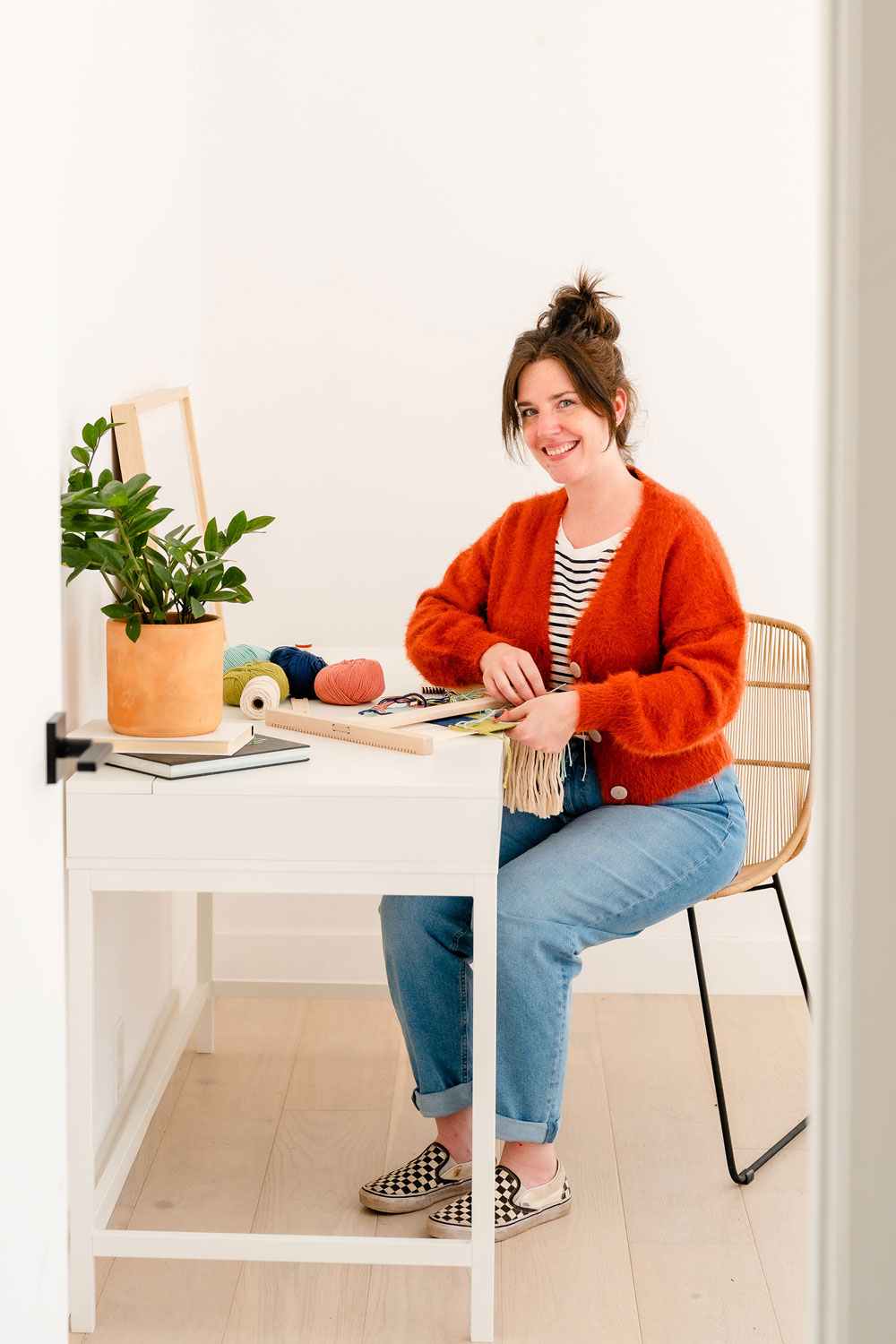 WEAVING KIT
Your weaving kit is packed with specialty and handmade tools and materials including a shuttle and maple travel loom, crafted by local San Diego woodworkers, Jeff and Cherie Kirshenman. Made in Italy, Gemma is our luscious 100% cotton yarn, featuring rich, striking hues and a soft texture. The cotton warp thread was chosen for its strength and smoothness, developed with the specific demands of weaving in mind.
COLOR-BLOCK ART WEAVING 
In the workshop, you'll start by assembling the loom and learn tips for keeping the tension even as you warp. Annie-France shares how to get started with twining at the base, create rows of plain weave, and add fringe using Rya knots. The project comes together by weaving and stitching slits in smaller block sections, which breaks up the sewing and helps to keep straight edges throughout the piece. To finish, you'll learn techniques for weaving in the ends, removing the project from the loom, and inserting the dowel.
SLOW CRAFTING
Makers often turn to crafting for fulfillment, peace-of-mind, and a sense of accomplishment (among many other things). Annie-France shares the path that led her to weaving, "I felt a bit lost, and really itching for something to do with my hands and something that would really make me feel more like myself." When asked about her favorite tip for new weavers, she says "Take your time, practice a lot, experiment with different techniques, find what works best for you and don't be afraid to play around or come up with your own techniques. Let the design you create come from your heart."
The Curated Kit of Tools & Materials
This weaving workshop includes:
A detailed digital workshop led by Annie-France Bowker of WOVVVEN

A live Maker Chat Q&A where you can join in on creative conversation with the artist and ask questions about the craft

Tools & materials from artisan suppliers, curated for you by Annie-France Bowker

PDF download with written instructions to complement the video tutorial
The tools & materials included in your kit:
Handmade maple travel loom, 14" x 16"

Handmade plywood shuttle, 6"

Gemma yarn (100% cotton, 50g/125m each) in a colorway of your choice:

FLORENCE: Coral, Cobalt, Celeste, Chartreuse
SPELLBOUND: Celestine, Rose Quartz, Onyx, Crimson
DRIED BOUQUET: Daisy, Cornflower, Maple Leaf, Baby's Breath
CELESTIAL: Onyx, Dusty Rose, Cornflower, Caramel

Small cotton warp thread cone in natural, 50g

Extra strong upholstery thread, 150yd

Long weaving needle, 6"

3mm single strand 100% cotton macrame cord, 82ft

Birch dowel, ½" x 11"

Color-Blocked Weaving pattern
Gather from home: 
Scissors

Weaving comb, fork, hair pick, or something to beat the weft in place
Florence
Weaving Colorway
Elegant yet whimsical, this colorway was named after Annie-France's daughter. The yarn is 100% cotton and comes with a wooden dowel and enough macramé cording to create a second woven color-block art wall hanging.
Dried Bouquet
Weaving Colorway
The soothing hues in this colorway remind us of a timeless dried botanical arrangement, filled with wildflowers and muted leaves. This bundle also comes with more macramé cord and another dowel—enough materials to make one complete color-block art wall hanging.
Spellbound
Weaving Colorway
Create an additional woven wall hanging in 'Spellbound,' a bewitchingly beautiful color palette of soft Italian-made cotton yarn in four luscious hues.
Celestial
Weaving Colorway
Weave another color-block art wall hanging using 100% cotton yarn in these ethereal colors. The additional dowel and macramé cord will allow you to complete one more woven hanging when combined with the original kit.
Maple Weaving Comb

This handmade hardwood weaving comb will keep your woven rows neat and tidy as you work. The handy wooden tool is used to push down (beat) the weft yarns into place and features an ergonomic handle and thick, sturdy teeth.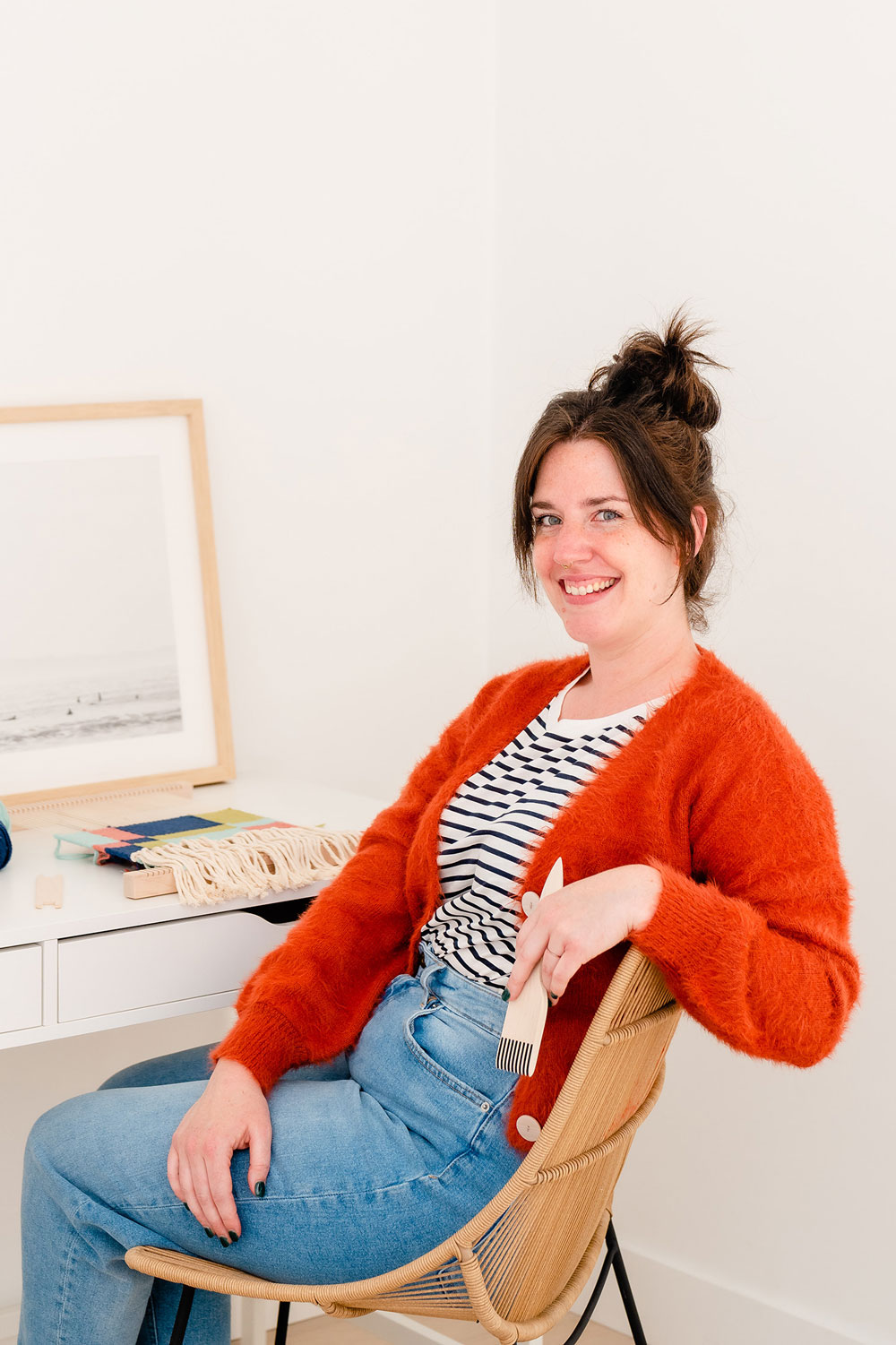 About the Artist: Annie-France Bowker
Annie-France Bowker discovered weaving in 2018, at a time when, as a new mother, felt the need to reconnect with herself. Shortly after, her online weaving store, WOVVVEN, was born. Her work is ever-evolving, colorful and eclectic. A true representation of her quest to express and find herself in the chaos of our modern lives. Since the beginning of her career, she has created and sold hundreds of pieces that now live around the world. She works from her home studio and lives in the lush countryside near Ottawa, Ontario with her husband and her two children.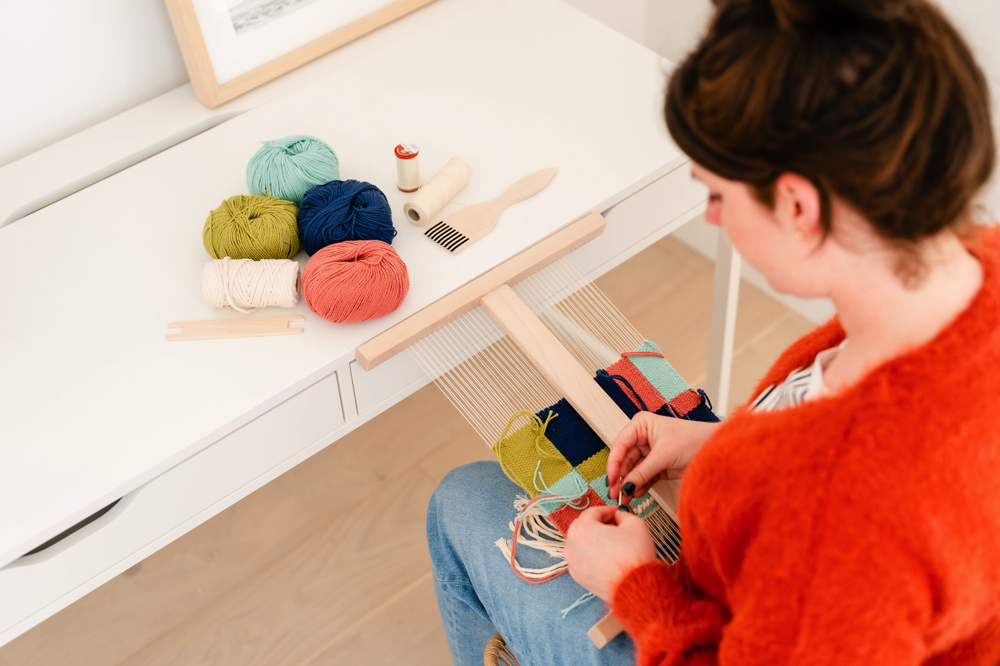 We look forward to sharing this fulfilling and joyful experience with you and cannot wait to see how your project turns out. Share your creative journey and finished creation with us by tagging @thecraftersbox + @wovvven in your social posts. Don't forget to use #thecraftersbox so our community can also see your Color-Block Art Weaving project come to life. Happy making!