AMANDA CARYE
MACHINE QUILTING WITH COLORFUL BLOCKS
Savor the satisfying process of machine quilting as we create a geometric throw quilt with Amanda Carye, the designer and writer behind Broadcloth Studio. Amanda has been quilting for 25 years and shares her expert tips for making a rectangular or square quilt while enjoying the sewing and organizational experience along the way.
In this workshop, Amanda demonstrates the entire process of creating her "Cabin Fever Quilt," from fabric prep and rotary cutting to piecing and finishing. We learn Amanda's streamlined approach to keeping our rectangular pieces organized, and how to chain piece for sewing efficiency. She shares different options for layout, stitching, and overall shape to further customize our quilt. For a polished final project, we also learn tips for pressing seams, assembling the quilt top, and binding.
"My hope is that you'll walk away from this workshop with a greater understanding and confidence to approach any quilt pattern," shares Amanda. "We'll also cover best practices for how to approach any quilting pattern, from understanding how to efficiently make a quilt through staying organized so that it doesn't become overwhelming and how to speed up repetitive tasks, so it doesn't become tedious."
OUR MACHINE QUILTING KIT
With years of experience and testing, Amanda's curated kit includes everything needed to create a machine-sewn quilt in your favorite Robert Kaufman Kona Cotton colorway—an ideal fabric for quilting. To assist with clean piecing and sewing, Amanda has also included safety pins, sewing pins, and painter's tape. The optional Cutting Tools Bundle includes a cutting mat, ruler, Olfa rotary cutter, and extra blade that pair together to make quick and precise cuts on fabric. If you're just starting on your quilting journey, the workshop kit and cutting bundle make  an excellent quilting tool kit for beginners.
MINDFUL CRAFTING
Above all, Amanda reminds us to relish the whole quilting process as we go to truly appreciate our mindful crafting time. "Slow it down! Quilting is a wonderful opportunity for folks to take a breather. Whether it's when you're cutting your fabric, hand stitching, pressing your seams, or putting the finishing stitches on your final project, many steps demand your focus. Which can be hard to do in our world of constant interruptions and demands on our attention."
The Curated Kit of Tools & Materials
This workshop includes: 
A detailed digital workshop led by Amanda Carye of Broadcloth Studio

A live Maker Chat Q&A to join in on a creative conversation with the artist

Tools & materials to make a quilt size 60 x 60" or 60 x 72" 

PDF pattern with instructions to complement the video tutorial

The tools & materials included in this workshop:
A colorway of your choice which includes:

9.5 yards of Robert Kaufman Kona Cotton fabric

Cotton batting

3 spools of Aurifil Mako 50 WT cotton thread for piecing and quilting 

One pack of safety pins

One pack of sewing pins

Magnetic pin cushion

Thread snips

Two hand-sewing needles

Hera marker

Painter's tape, 10 yards

Quilt pattern with detailed instructions

Materials to have at home:
Sewing machine with walking foot

Iron and ironing board

Optional Cutting Tools Bundle:
Cutting mat with grid, 18 x 24"

Quilt ruler, 6 x 12"

Olfa large rotary cutter, 45mm

Extra 45mm rotary blade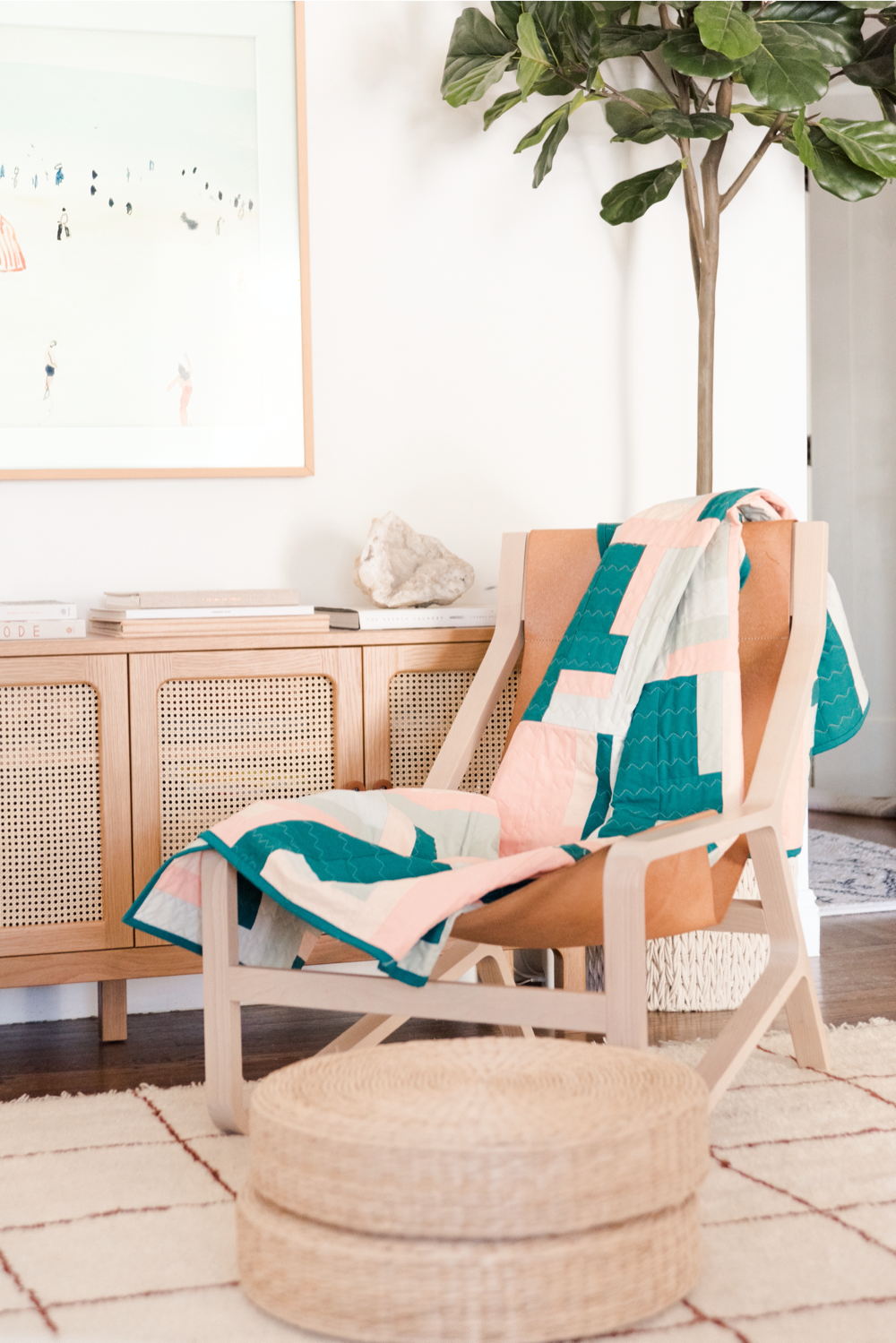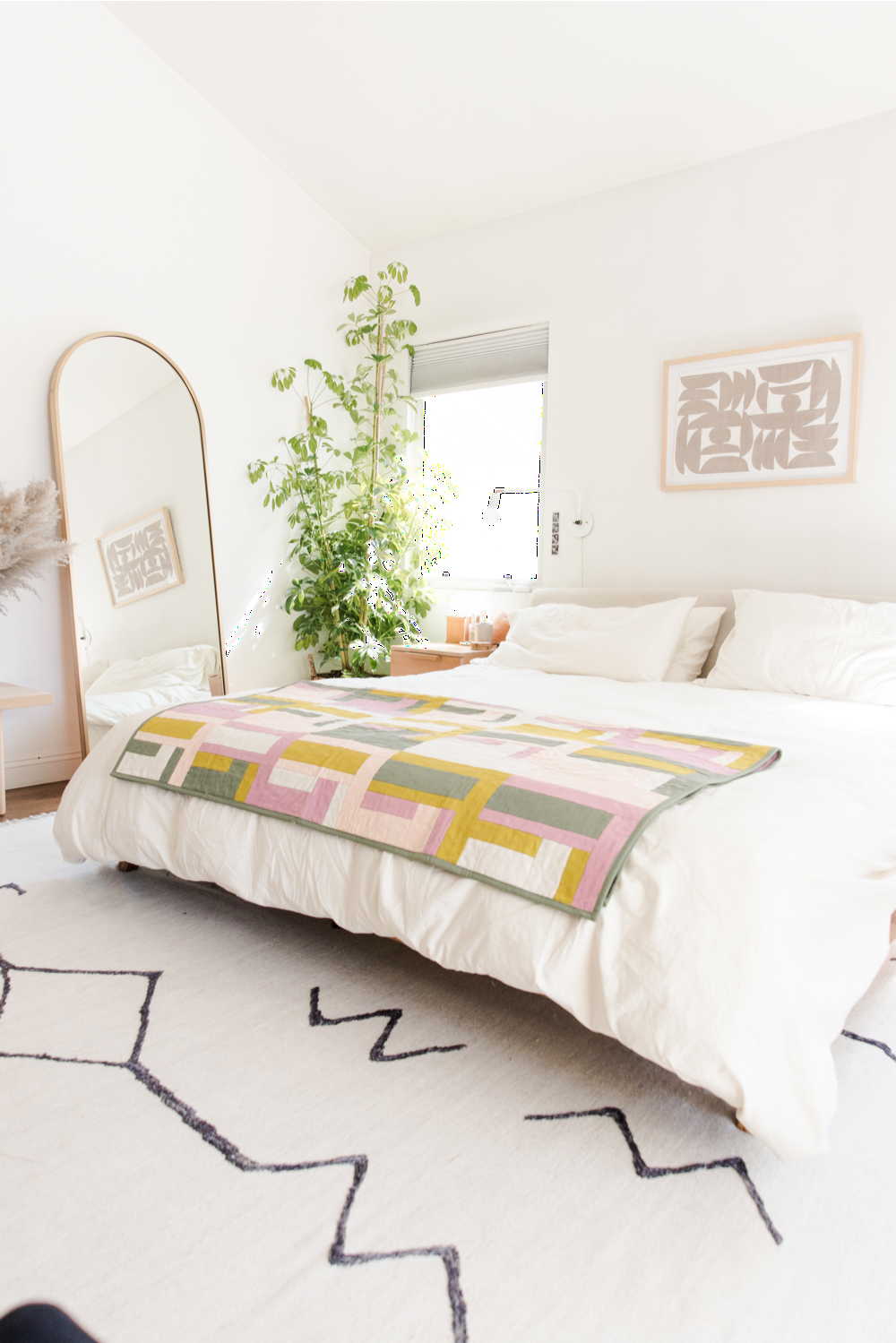 Tools & Materials for More Exploration:
Quilting Cutting Tools Bundle
Make quick and precise cuts through several layers of fabric with these cutting essentials. The cutting mat serves as a work surface and pairs with two quilt rulers, and rotary blades to streamline your process.
Vegan Leather Blanket Strap
Take any quilt on the go with this custom-designed carrying strap. Made from vegan leather, its adjustable straps feature two buckles making it easy to use and suitable for blankets of any size.
More About our Artist: Amanda Carye of Broadcloth Studio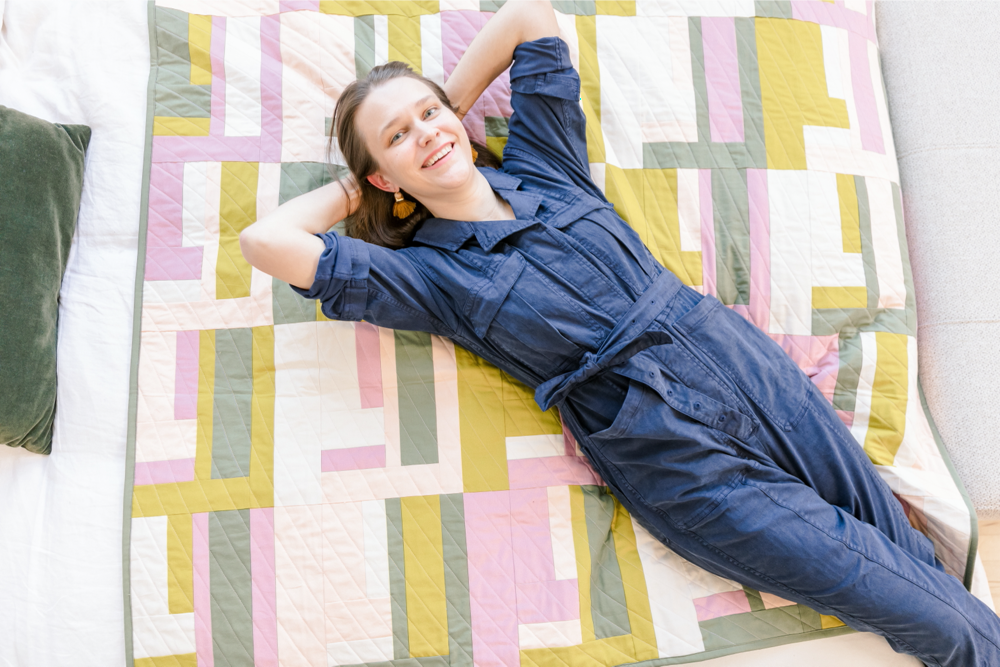 Amanda is the quilter, designer, and writer behind Broadcloth Studio, as well as the co-host of the Quilt Buzz podcast.  A serial entrepreneur with her MBA, she spent most of her career in the arts world before starting her first company (which had absolutely nothing to do with quilts!). In 2017 she started her second company, Broadcloth Studio, a collection of bold and modern quilt patterns. Amanda has been sewing since before she can remember and quilting since middle school.
Amanda is based in New York City. Beyond her sewing machine, she is most likely to be found with her nose in a book, playing the viola, or out on the hiking trail.
We're so excited to have you join us again, Amanda.
Amanda Carye's
Podcast Interview
We look forward to sharing this fulfilling and joyful experience with you and cannot wait to see how your hand-sewn patchwork  turns  out. Be sure to share your creative journey and finished creation with us by tagging @thecraftersbox + @broadclothstudio  in your social posts, and use #thecraftersbox so our community can also see your workshop come to life! Happy making.