AMANDA CARYE
HAND-SEWN PATCHWORK
Discover how gratifying hand sewing can be as we slow things down and create a unique wall hanging or crib-sized patchwork throw. Amanda Carye, the designer and writer behind Broadcloth Studio, shares her passion for this meditative craft as she walks us through each step of the quilt making process. 
With 25 years of quilting experience, Amanda surprisingly didn't own a sewing machine until about four years ago."The lack of a sewing machine was quite an education!" she says. "Working at a slower speed and spending time with each piece drove home the mechanics of patchwork and would be my personal recommendation to anyone just taking up sewing."
In this workshop, Amanda walks us through every aspect of hand quilting—from preparation and measuring to improv curves and quilt assembly. Along the way, she shares lots of tips for creating neat and tidy patchwork pieces, troubleshooting, and advice on incorporating a sewing machine if desired. She also demonstrates several different quilting design options to finish and customize our special patchwork blanket.
WHAT WE'VE INCLUDED IN OUR PATCHWORK QUILTING KIT
Amanda has curated everything needed to create either two lap-size or one crib-size hand-sewn quilt in your favorite Robert Kaufman Kona Cotton colorway. Years of experience and testing have informed her materials selection so that students can continue to make well into the future. She's chosen the best tools to elevate our hand sewing, making the process clean and enjoyable. Marking the seam allowance is essential, and the process is made quick and accurate with the seam guide, marking tool, and marking pens. A magnetic pin cushion keeps your table clean, and the breathable leather thimble keeps your fingers happy as you sew the day away.
"My hope is that you will walk away from this workshop with an understanding of how to switch between hand and machine sewing (once you know which method makes you happier!), how to construct improv curves, and how to prep and execute a big-stitch hand quilting project," shares Amanda.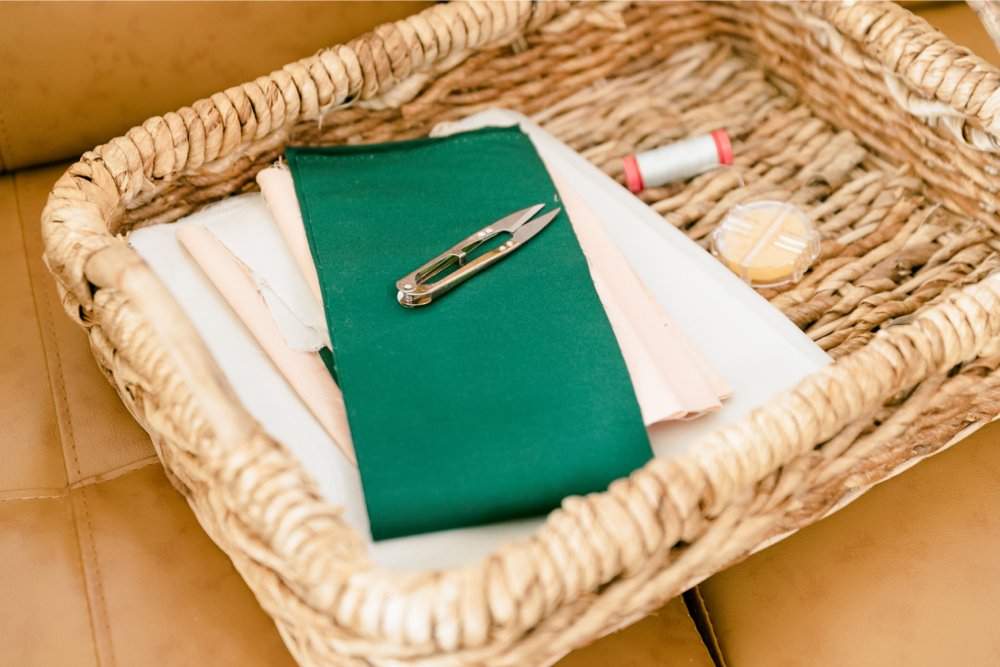 The Curated Kit of Tools & Materials
This workshop includes: 
A detailed digital workshop led by Amanda Carye of Broadcloth Studio

A live Maker Chat Q&A for creative conversation with the artist

Tools & materials from artisan suppliers, curated for you by Amanda

PDF download with written instructions to complement the video tutorial
The tools & materials included in this workshop:
A colorway of your choice which includes enough materials to make two wall hangings or one lap-sized quilt: 

4.5 yards of Robert Kaufman Kona Cotton fabric 

Binding and backing

Crib size batting (45 x 60")

1 spool of Aurifil Mako 40 WT 100% cotton piecing thread

3 spools Aurifil Mako 12 WT 100% cotton quilting thread

Thread snips

Fabric pencil

Blue transfer pen

Beeswax with holder

Hand sewing needle

Quilting needle

Sewing pins

Magnetic pin cushion

Hera Marker

Leather thimble

Seam guide
HISTORY OF QUILTING IN AMERICA
Quilting itself dates to the time of the Crusades at least, though the quilts of back then were mainly utilitarian and used only for adding extra warmth and padding to clothing or bedding. When settlers from Europe began to colonize what would become America, they brought their quilting traditions along. Fabric wasn't readily available, and quilting was much more of a necessity so patchwork blankets were often pieced together from garment remnants or older bits of fabric that were still usable. 
Around 1750 quilting became more artistic and elaborate, thanks to the availability of affordable manufactured fabrics. Quilting began to incorporate and combine all sorts of techniques including appliqué and embroidery. Though the sewing machine was introduced in the mid 1800s, many quilters preferred to continue hand sewing their works. As the years went on, quilting became less of a necessary task, and more of an artistic or even charitable endeavor. During WWI and WWII, citizens were encouraged to quilt for the troops or fundraising. The craft lives on today in quilters who continue to experiment with new designs, concepts, and patterns. 
QUILTING CIRCLES
What better way to indulge in your craft than gathering with makers who share the same passion? Quilting circles (or quilting bees) began in the mid-1800s and served as a social and support network for women of the community. If a home had space for a quilt frame—perhaps in a cozy room with a fireplace—it could become the center of the neighborhood. Quilting circles still exist today, but often with a modern twist. With the ability to connect virtually, quilters are no longer restricted by location. Not only do you get to connect with other quilters, but you can experiment with new techniques and patterns you may not have tried otherwise. Often these circles will work together to create one quilt for each member, for charities, or a combination of both.
Colorways & Materials for More Exploration:
Evergreen & Pastels Colorway
The bold & deeply saturated evergreen pops next to soothing peach and cream shades in Amanda's original colorway. This bundle includes 4 yards of Robert Kaufman Kona Cotton fabric in four colors, batting, piecing thread, and quilting thread (enough to make two wall hangings or one lap-sized quilt).
Sage & Fir
Colorway
Cool hues of green, blue, cream and gray complement the improv curves in this calming colorway. This bundle includes 4 yards of Robert Kaufman Kona Cotton fabric in four colors, batting, piecing thread, and quilting thread (enough to make two wall hangings or one lap-sized quilt).
Sage & Spring Blooms Colorway
The dusty pinks and soft green shades in this colorway remind us of the eye-catching foxglove blooms of spring and summer. This bundle includes 4 yards of Robert Kaufman Kona Cotton fabric in four colors, batting, piecing thread, and quilting thread (enough to make two wall hangings or one lap-sized quilt).
Recommended Add: Cutting Tools Bundle
Part of the fun in any quilting project is making clean and precise fabric cuts. The cutting mat makes an ideal work surface that pairs perfectly with the rotary cutter and ruler for quick and accurate measuring and cutting. Invest in high-quality quilting materials for plenty of future making.
ABOUT THE OLFA ROTARY CUTTER INSIDE OUR CUTTING TOOLS BUNDLE
While quilting dates far back, one of its biggest technical advances happened only a few decades ago. Mr. Yoshida Okada, the founder of OLFA, invented the rotary cutter in 1979. This revolutionary hand-held tool has a circular blade that rotates as you cut, making cuts quicker and more accurate. While first created for garment sewing, quilters quickly saw the advantages for their own craft.
Before the rotary cutter, quilters had a laborious task of tracing patterns onto the fabric, cutting each piece one-at-a-time, and were left with marks showing through. The advent of this rotating cutter, paired with plastic templates, grid rulers, and cutting mats, meant that you could cut accurately and immediately, without the added step of marking with a pen or pencil. The user can also cut through several layers of fabric at once with ease. Mr. Okada also invented the snap-off utility blade in 1956—his inspiration was none other than a segmented chocolate bar!
More About our Artist: Amanda Carye of Broadcloth Studio
Amanda is the quilter, designer, and writer behind Broadcloth Studio, as well as the co-host of the Quilt Buzz podcast.  A serial entrepreneur with her MBA, she spent most of her career in the arts world before starting her first company (which had absolutely nothing to do with quilts!). In 2017 she started her second company, Broadcloth Studio, a collection of bold and modern quilt patterns. Amanda has been sewing since before she can remember and quilting since middle school.
Amanda is based in New York City. Beyond her sewing machine, she is most likely to be found with her nose in a book, playing the viola, or out on the hiking trail.
We're so excited to have you join us, Amanda.
Amanda Carye's
Podcast Interview
We look forward to sharing this fulfilling and joyful experience with you and cannot wait to see how your hand-sewn patchwork  turns  out. Be sure to share your creative journey and finished creation with us by tagging @thecraftersbox + @broadclothstudio  in your social posts, and use #thecraftersbox so our community can also see your workshop come to life! Happy making.