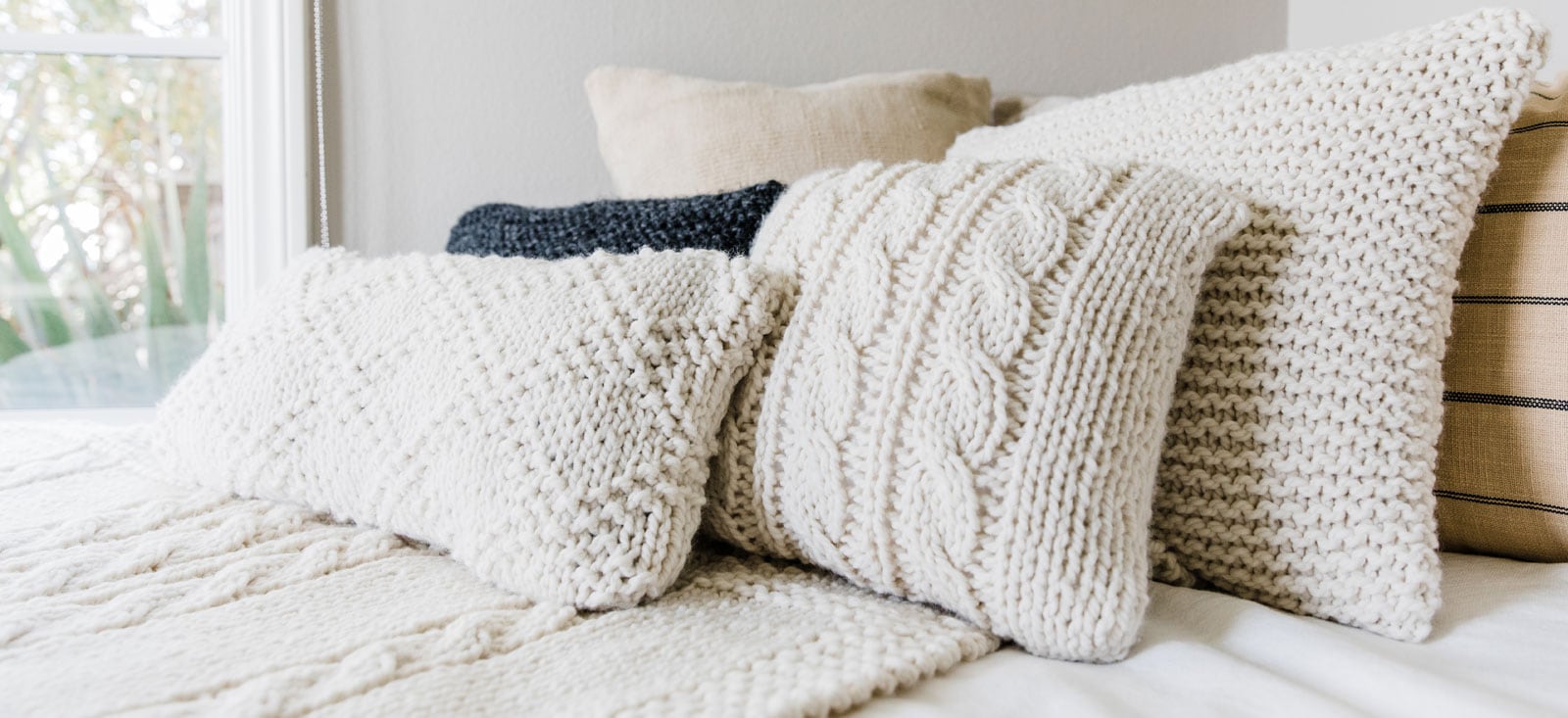 ALISON ABBEY
COZY KNITTED PILLOWS 
Welcome to our knitting workshop! Alison Abbey is the maker behind La Reserve Design, a cozy knitwear shop for modern, everyday knitting projects. In this workshop, Alison shares three knitting tutorials for pillow covers that range in difficulty and skill. We'll start with an introduction to a basic knit/purl design and then graduate to an intermediate textured 'diamond' pillow and finally tackle an advanced cable knit pillow.
Knitting has a diverse and unique history. In application, knitting is a technique for producing fabric from a material such as yarn. It has existed for centuries primarily because historians believe the size and ease-of-use of its tools make it an advantageous skill to practice and teach (no looms or large equipment needed to start). Today so many of us practice knitting as a hobby because it's relaxing, comforting, meditative, and yes, still so practical & lovely.
Based in Montreal, Quebec, Canada, Alison was taught to knit by her grandmothers at a young age. Since then she has been working on her craft, eventually leaving her job in the corporate textile industry to pursue her shop as a full time maker. Alison's designs are driven by the ideas of comfort, ease, relaxation and warmth. Her background in textile design pushes her to combine different fibers together, playing with texture and dimension in every garment she makes. She shares with us that knitted homewares make her especially excited to pick up her needles as she believes a happy home is handmade, and having handmade items displayed in your home is an instant conversation starter.
Learn more about Alison on her Instagram account: @la.reserve.design. We can't wait to see how you are inspired to explore your own creativity using these new techniques! Be sure to share with us your process and your projects using #thecraftersbox, we'd love to see your work. Happy making.
Alison Abbey's
Podcast Interview