TYLER AXTELL
LEATHER BAG MAKING
Tyler Axtell is a craftsman and artist with a passion for leatherworking and a focus on building sustainable, durable, high quality personal goods for adventurous living.
I started leatherworking out of the pure curiosity of it. A friend showed me how to make a leather belt and I immediately fell in love with the medium -- the paradoxical way that leather cuts so easily with a sharp knife and yet how incredibly durable it is sparked my interest. I soon was off like a tornado making all kinds of things on the floor in my apartment: bags, banjo straps, wallets, key fobs.
Tyler launched Bradley Mountain in 2012 to feature a range of custom outdoor goods handmade and designed by his team of San Diegan artisans. The spirit of Bradley Mountain intends to inspire a fresh perspective on modern adventure. It serves as a reminder that each day brings an opportunity for finding growth and beauty even in everyday experiences. Today, find Tyler perched in his studio/shop measuring leather, running his commercial sewing machine or sizing his next pattern for release. Timeless, minimal design - inspired by vintage English luggage - small batch production and quality remain central focus.
In this workshop, Tyler introduces the fundamentals of leatherworking in its raw form, a workshop designed to inspire making across the board in this beautiful medium. For our very first project together, we'll built a hand-sewn leather messenger bag from the ground up from a cut of hide. Inspired by old-fashioned leather mail satchels - a leather good intended to hold plenty, offer a comfortable fit, a style that wears wonderfully over time - Tyler leads a thorough introductory leather craftsmanship workshop in how to saddle stitch your own leather messenger bag in one of two sizes. The larger bag measures at 15" wide x 11" tall x 3" deep, while the medium bag measures at 13.5" wide x 10" tall x 2.25" deep.
Imagine: begin with a piece of exceptional leather, a quality tool collection and proper guidance and end with a beautifully constructed bag that, with proper care, can last a lifetime. The techniques explored in this workshop allow for continued creation in leather making. Explore our materials kits (we'll release them throughout the year) and additional supplies in our Marketplace.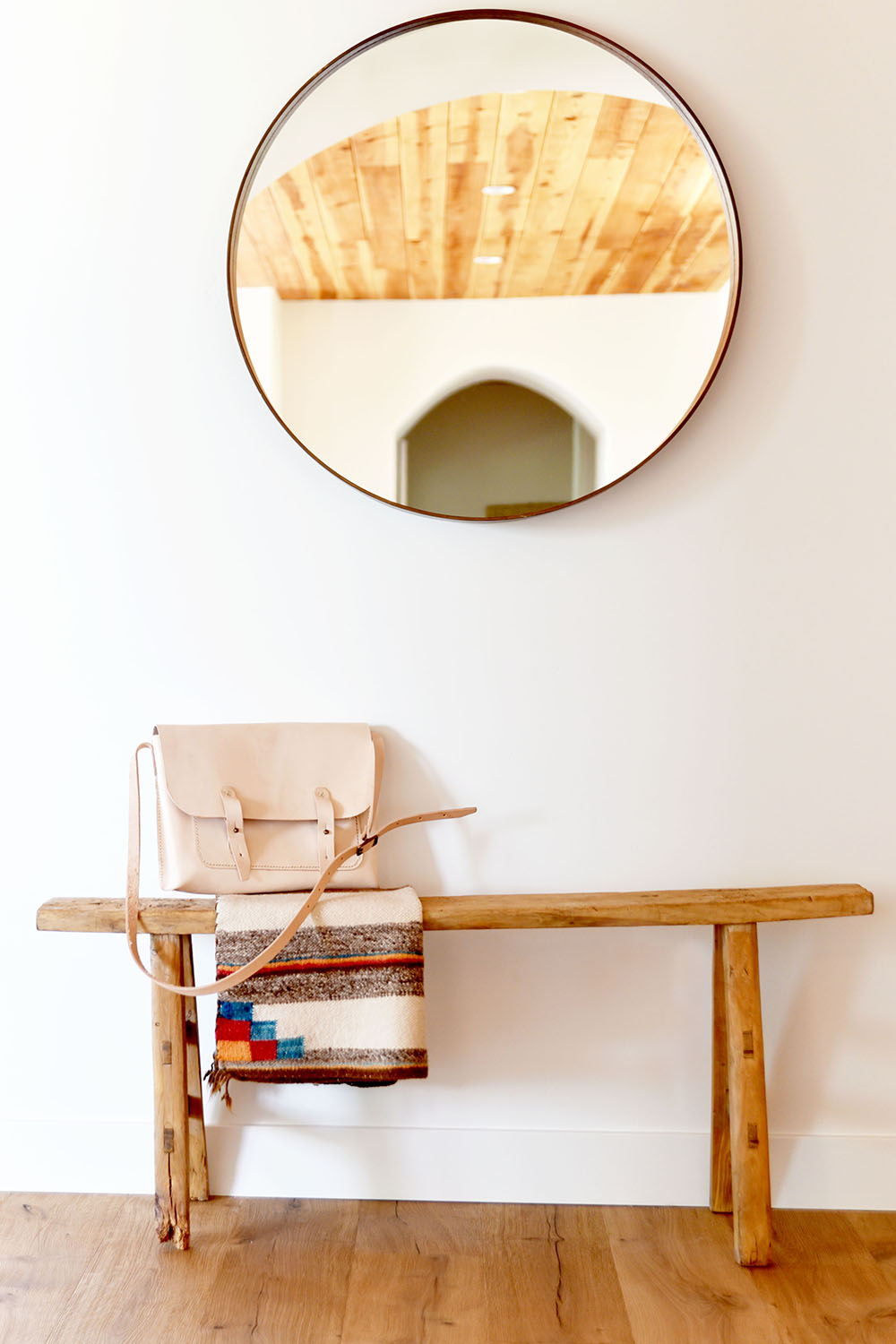 The Tools & Materials Shared in this Workshop:
This Premium Workshop Includes:
An in-depth, 2 hour digital workshop by Tyler Axtell on the fundamentals of leather craftsmanship.

Curated tools and materials by Tyler.

A live Maker Chat Q&A for our community (and a wonderful way to explore further and ask all the questions!)
Specialty Tools & Materials: 
a custom paper pattern by Tyler
4/6 oz veg-tan leather shoulder in natural or chestnut
8/9 oz strap leather
24x36" self healing cutting mat
24" straight edge
a sharp leather knife
I-head mallet & a hammer
an awl
1 mm natural color leather stitching thread
thread trimmers
2 needles
2 collar buttons with posts
3 double cap rivets in unique sizes
rivet setter anvil & rivet setter concave
diamond hole punch set
1/8" hole punch
steel divider wing
leather slicker
leather adhesive tape
a beeswax bar & a lighter
antique brass center bar buckle
small binder clips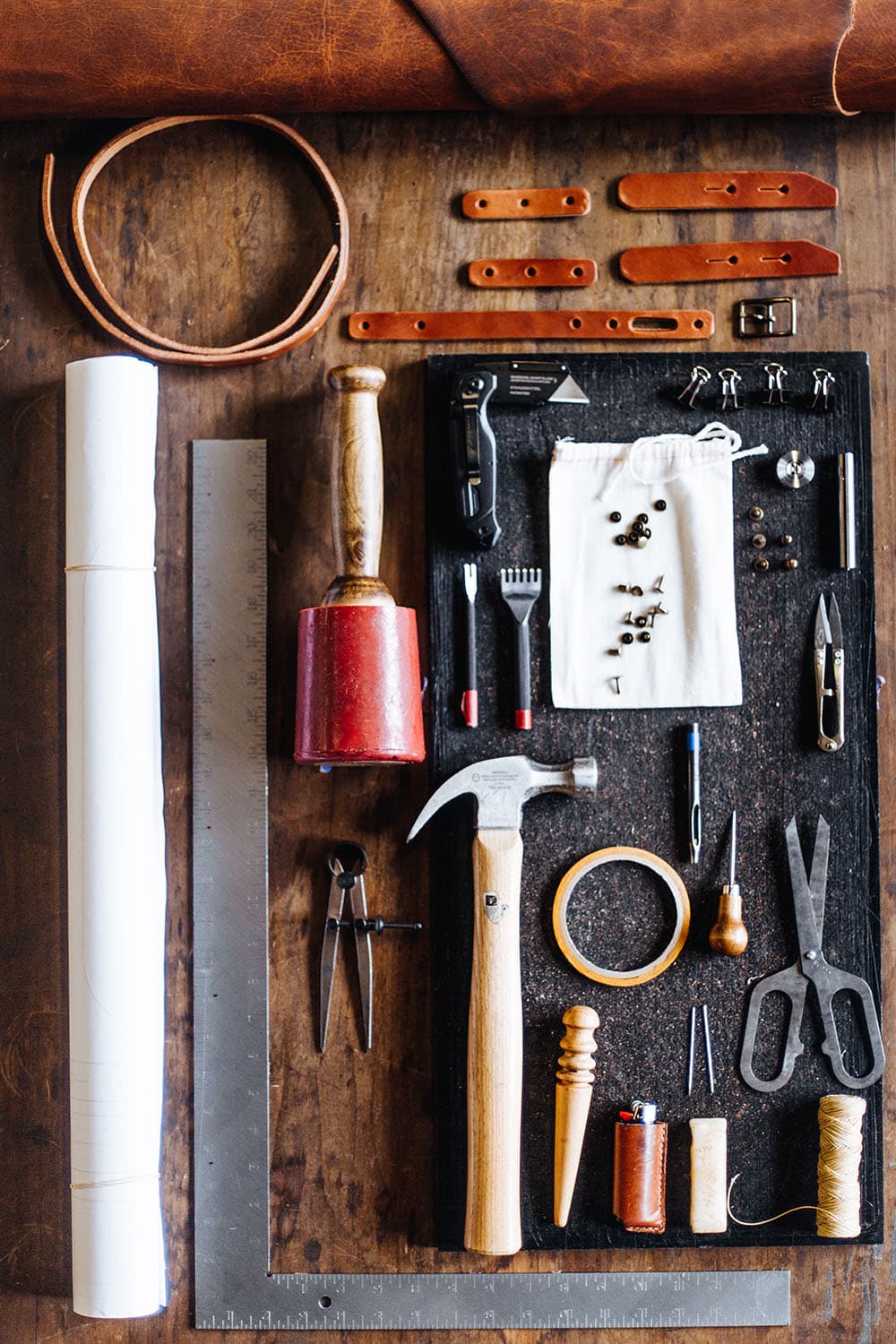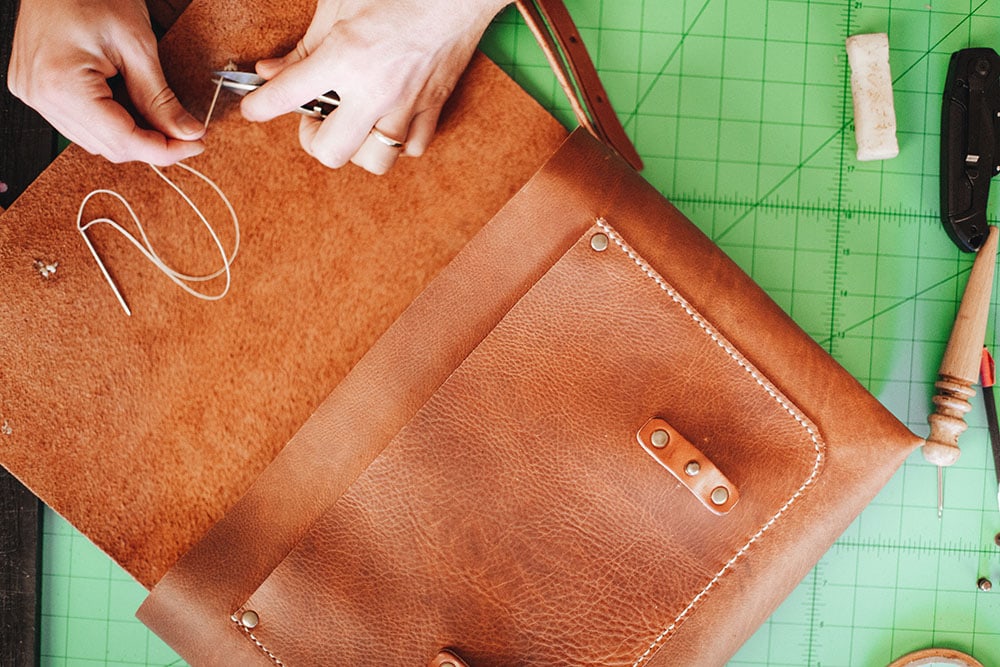 The Original Messenger Bag
One pattern, two sizes.
Tyler designed his custom pattern with two bag sizes in mind. The larger messenger bag easily fits a laptop, books and all the extras for the day at the office or a trip to the local cafe to dive into work. The medium-sized pattern fits a smaller frame and accommodates a trip around town with your wallet, sweater and kindle while on the go.
Large messenger bag measurements: 15" wide x 11" tall x 3" deep
Medium messenger bag measurements: 13.5" wide x 10" tall x 2.25" deep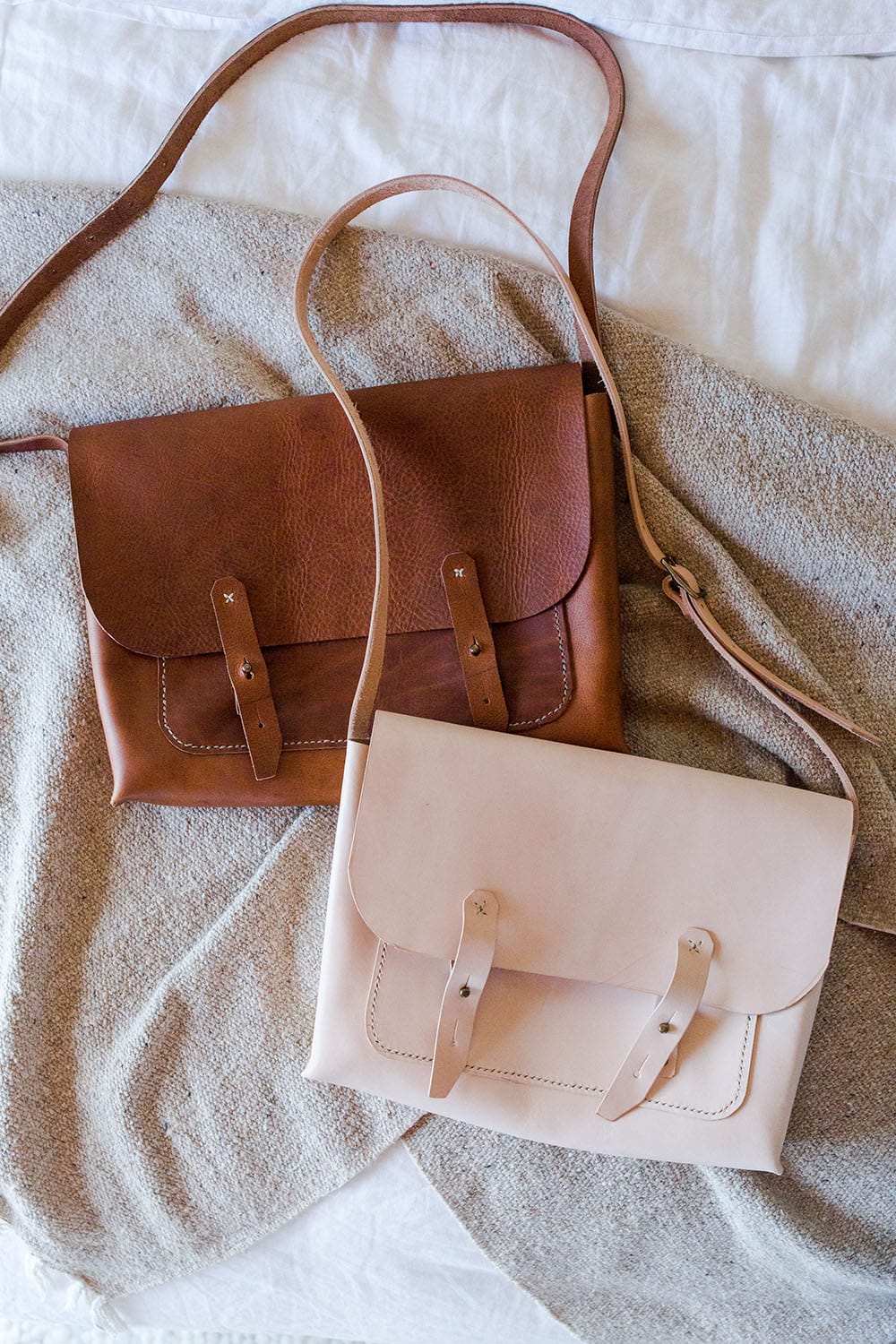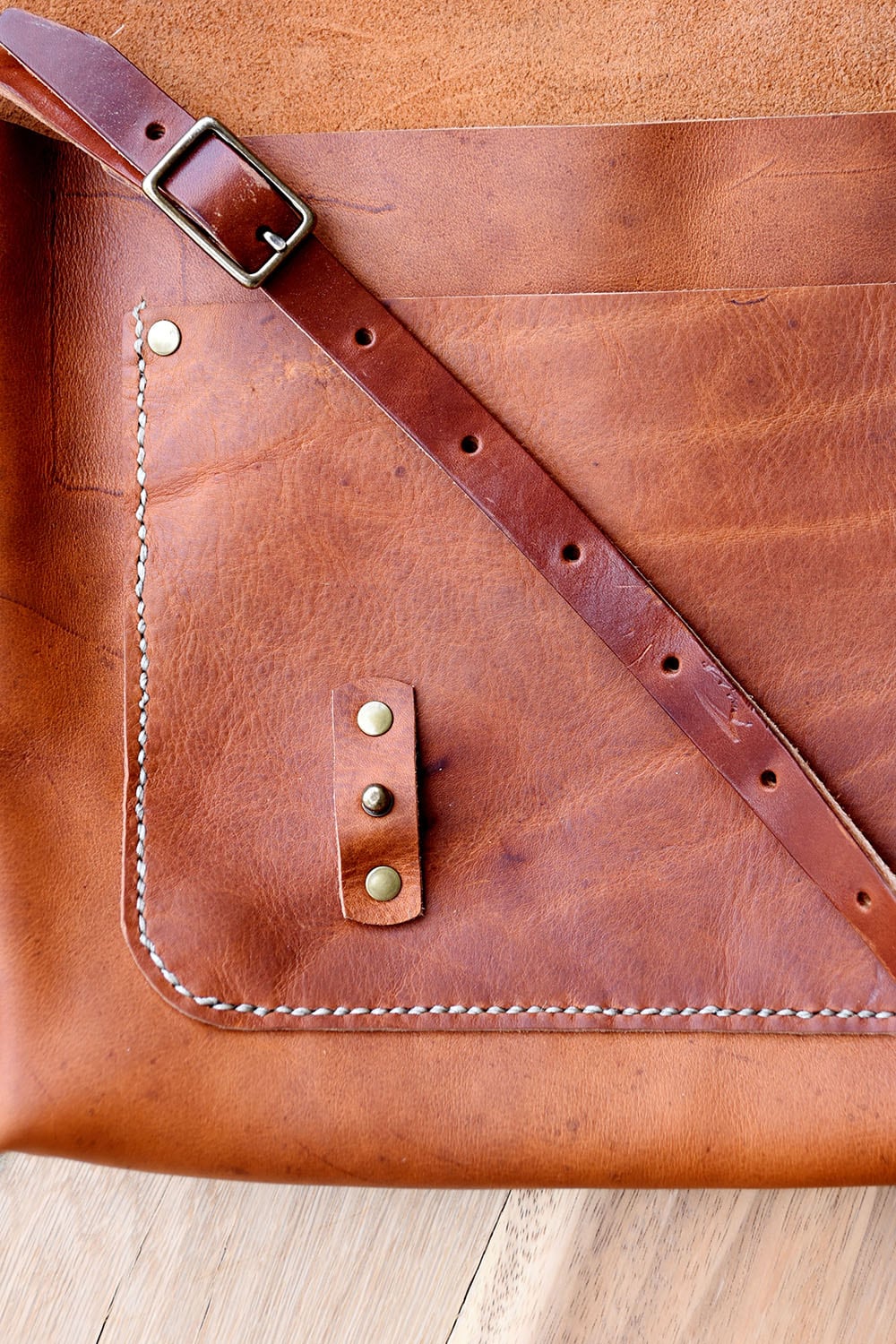 Tyler Axtell's
Podcast Interview
More About Our Artist: Tyler Axtell
My passion is two fold: Learning how to make new things to the highest quality that I can and helping show others their fullest potential.
Bradley Mountain was born in 2012 and Tyler began to promote and sell his goods online and through Instagram. Tyler shares: "the name comes from the idea that you need to choose a destination to go to before you'll ever get off the couch. A destination is a metaphor for where you are headed, I wanted the name to signify the adventurous future that we all have to seek out in front of us." Today, the Bradley Mountain brand represents craftsmanship, small batch production, and the rich, wonderful world of leather craftsmanship.
I have been doing this now for 8 years and am loving every bit of it. Every chance I get to sit down and make a bag for someone - start to finish - it feels like I am living out a core piece of who I am. I plan to be around for the long haul, learning new things every year, and hopefully sharing those skills with others wherever I go. I think that learning and teaching go hand in hand and that is one reason I love the mission of The Crafter's Box. I get to pass down what I've taught myself, and equally I get to learn from those around me.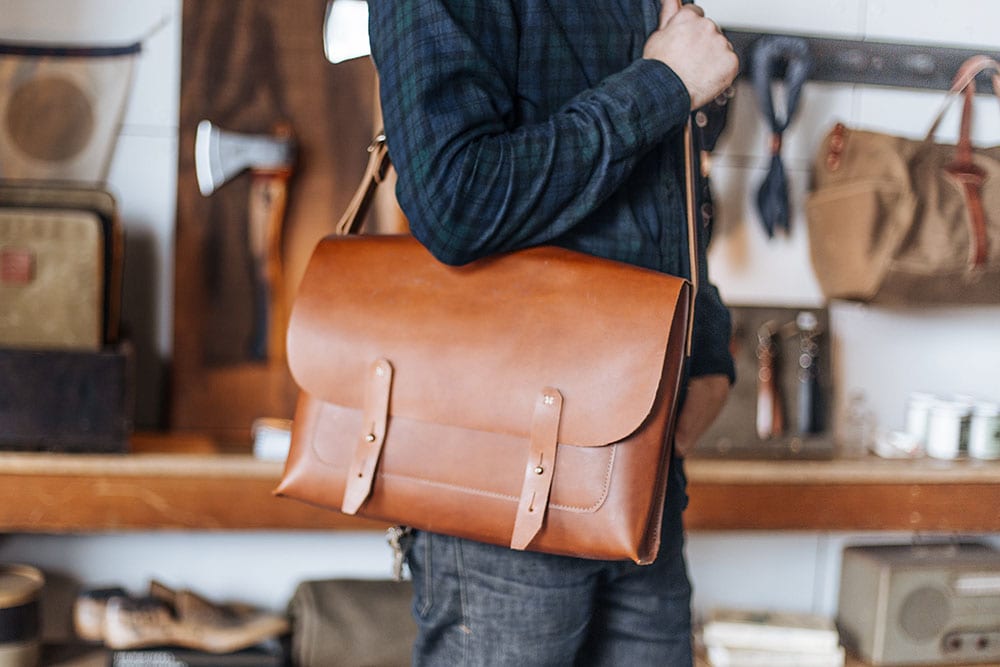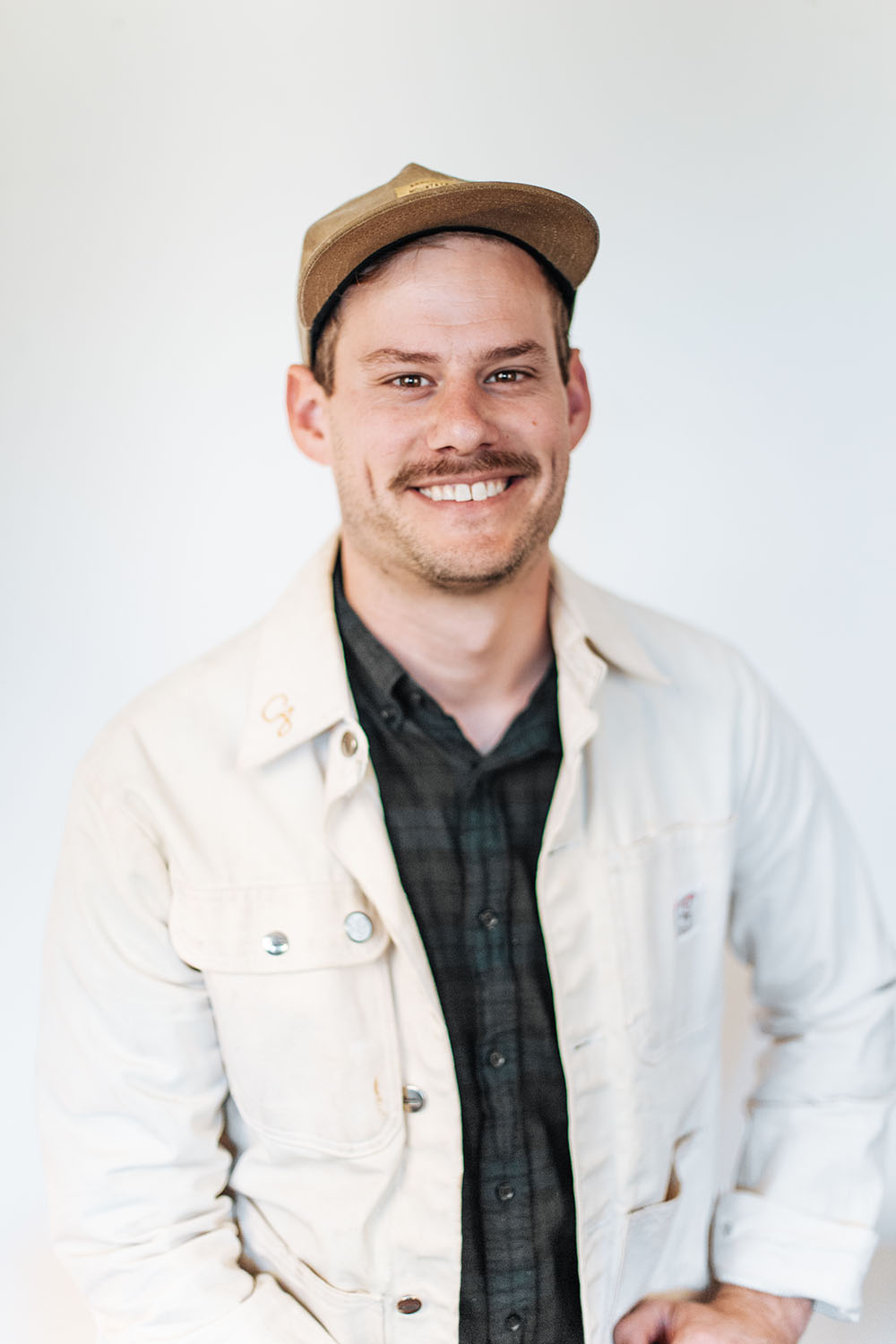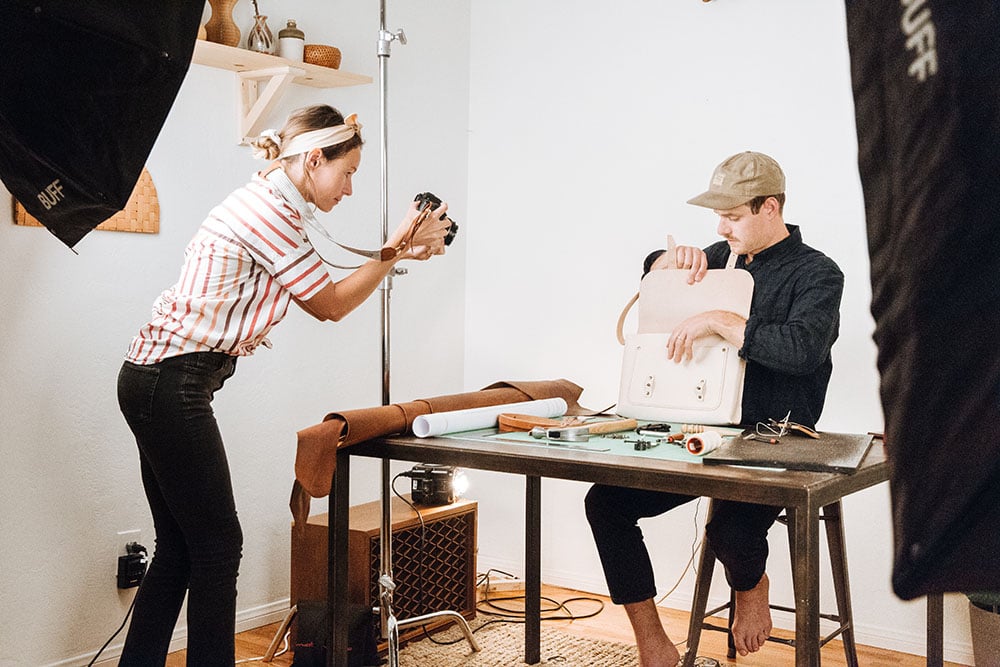 Materials Kits for More Exploration
Using leather scraps from the full workshop, Tyler has designed two additional leather wallet patterns to create a bifold wallet and a card wallet. In an effort to be sustainable in our leather use, these patterns help to use up all of those beautiful extra scraps.